YAY! I am super excited that you have decided to begin your journey to getting your home and life organized!
The Home Management Binder Starter Set will be sent to you shortly via your inbox!
The very first thing to do is get your Starter Set printed. There are 2 options for printing – the first is on your home binder. When you download the Starter Pack, you can click on the print button from your computer. If you don't have a home printer, you can print at your local office supply store like Staples or Office Depot.
The easiest way I have found to do that is – after downloading the printables to your computer, then save them to a flash drive. Then take the flash drive to the store and ask them to print the copies for you. Some stores also offer the service of emailing the PDF of the printables to them to copy.
You can have them printed in either black and white or color. At most stores, the black and white version is less expensive, but it's totally up to you and how you want your binder to look.
We designed the printables so there is very little color on them. However, the store will not charge you based on the amount of color, only if they have color on them.
Home Management Binder FREE Printables Starter Pack includes:
Daily To Do List – see how we use this page in our Daily System
Weekly Goals
Dates to Remember
Medical Information
Emergency Contacts
Cleaning Schedule
Home Maintenance Page
Vehicle Maintenance
2020 Calendar

If you are ready to take your Home Management Binder to the next level, we have more printables for you!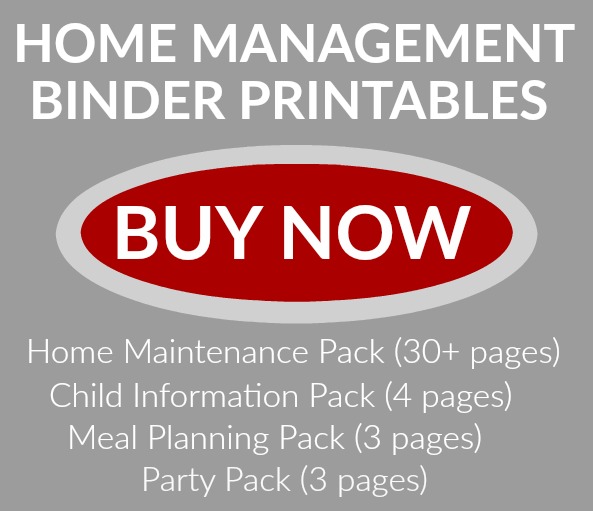 The Home Maintenance section of the Home Binder has each room broken into a separate sheet for you, as well as the exterior of your home. Here is what is included:
Home Maintenance Interior:
Master Bedroom
Master Bathroom
Bedrooms (5)
Bathrooms (2)
Dining Room
Den/Office
Living Room
Kitchen
Laundry Room
Home Maintenance Exterior:
Exterior
Garage
Landscaping Details
Landscaping Graph for Design
Shed/Out Building
Having your meals figured out ahead of time is not only a time saver, but also cuts down on your grocery budget. I know for us if I have the meals planned out, we eat out far less.
Meal Planner Set:
Meal Planning
Shopping List
Pantry Inventory
Keep all the information you need for your children in one spot!
Child Information Pack:
Child Information
Chore Chart
Notes for Babysitter
Babysitter Contact Form
Are you planning a Party soon? This Party Pack will help!
Party Planning Pack:
Schedule with tasks
Schedule to fill in
Details