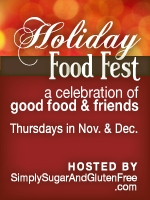 Join us as we celebrate the holiday season by sharing your favorite recipes at our Bloggy Holiday Food Fest. We want to see your favorite dishes of the holiday season. So if you celebrate Hanukkah, Kwanzaa, Christmas, Thanksgiving, or any other holiday please linkup or stop by.
This is a celebration of good food and friends – regardless of how you cook you are invited to join in the fun. Good home cooking, gluten-free, sugar-free, raw, organic, frugal – everyone is welcome to participate.
There will be a fantastic give-away each week too, including fun aprons and great kitchen gadgets. To enter, you can link up, leave a comment, tweet, or link back. We'll be tweeting about Holiday Food Fest too, so make sure to follow us.
Thanksgiving Fall Desserts – November 5th
Stop back right here for the best of the blogosphere's fall desserts. Share what you're going to make this Thanksgiving or what you've been making already since the leaves have started to change and you've pulled out your fall sweaters. Follow me on Twitter @HoosierHomemade.
Thanksgiving & Fall Dishes – Thursday, November 12
We know you have your favorite tried and true Thanksgiving or fall dish that your family and friends just can't live without. Share it with us at Tasty Eats at Home,hosted by Alta.You can follow Alta on Twitter @TastyEatsAtHome.
Gifts of Good Taste – Thursday, November 19
The best part of cooking is sharing it with others. How are you going to give your edible gifts this holiday season? We can't wait to see your favorite gifts of good taste and how you wrap them up. Phoebe at Cents to Get Debt Free is our gracious hostess. Follow Phoebe on Twitter @GettingFreedom.
Holiday Cocktails, Mocktails, and Appetizers – Thursday, December 3
What are you serving your holiday guests while they're anxiously anticipating the main course? Any great cocktails, mocktails, or holiday kiddie drinks? Hosted by Amy at Simply Sugar & Gluten Free. Find Amy on Twitter @Amys_SSGF.
Holiday Dishes – Thursday, December 10
Join Shirley at Gluten-Free Easily as we share our favorite holiday dishes with each other. Anything goes – sides, main dishes, soups. Follow Shirley on Twitter @ShirleyGFE.
Holiday Desserts – Thursday, December 17
Jessica, a.k.a. Fishmama, is hosting the final day of Holiday Food Fest 2009 at Life As Mom. Bring your favorite holiday dessert for everyone to enjoy. Follow Jessica on Twitter @FishMama.