A couple weeks ago, we celebrated my son's High School Graduation. Even though I bake, almost every day, there were lots of other things that needed to be done for the party, so when Walmart asked if I would like to try out their new bakery cakes, I thought it was perfect timing.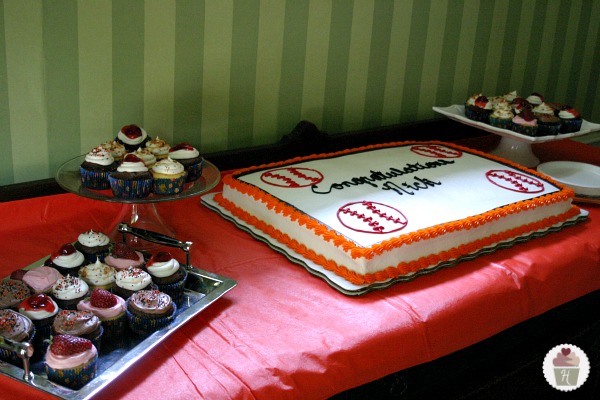 I ordered a full sheet cake, not really knowing how many guests to expect. And even though the cake would have been plenty, I just had to add some cupcakes; Butterfingers, Black Forest, plain chocolate and vanilla and some with Duncan Hines Strawberry Shortcake and Chocolate Marshmallow Frosting.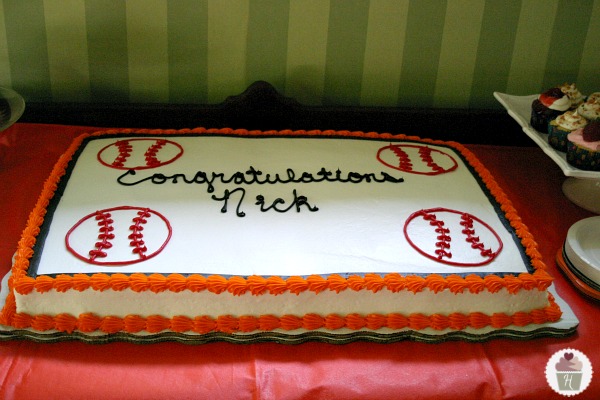 The cake was marbled with chocolate and vanilla and had buttercream frosting. Because we went with a Baseball Themed Graduation Party, I had them put the baseballs in the corner and asked for a little orange and black to tie in the school colors.
In the past, when I have purchased a store bought cake, at other stores, it has had a ton of frosting and the cake wasn't very good. We all enjoyed the cake, and even my son's girlfriend that typically won't eat any cake except chocolate, really liked it.
There are several other custom bakery options…
all of the below are available to be iced in buttercream or whipped icings (our red velvet cake is iced in cream cheese icing)
sheet cakes either filled or unfilled: 1/8 sheet, ¼ sheet, ½ sheet, full sheet
cake flavors: white, chocolate, marble, yellow & our two new flavors: Red Velvet and Confetti
filling flavors: lemon, strawberry, Bavarian
party combo cakes (5" cake with 10 cupcakes) available in chocolate or white cake
8" round cakes in double or single layer, filled or unfilled in chocolate or white cake
6ct, 12ct, 24ct, 48ct cupcakes – chocolate or white cupcakes
12 or 24ct cupcake cakes – chocolate or white cupcakes
2-tier and 3-tier cakes – chocolate or white cake; filled or unfilled
12" chocolate chip message cookie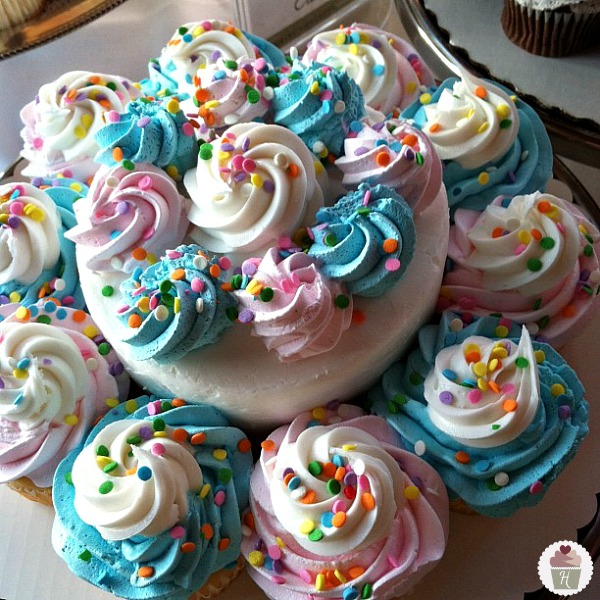 We had the party about a week too early, because they now are offering these Cotton Candy and Bubble Gum Frosting filled cake and cupcakes. I had the pleasure of trying them at the Walmart Shareholder's Meeting a couple weeks ago, along with an Oreo Frosting filled as well.
So, if you are in the market for a cake this Summer, be sure to check out the new and improved Walmart Bakery.

Disclosure: This post is part of a campaign I am participating in with the Walmart Moms. Walmart has provided me with compensation and product for this post. My participation is voluntary and opinions, as always are my own.