I'm thrilled to have my friend and fellow Creative Circle Blogger, Amy from Positively Splendid join us today! She is sharing a delicious recipe for Glazed Coffee Squares that would go perfect with your Mother's Day Brunch!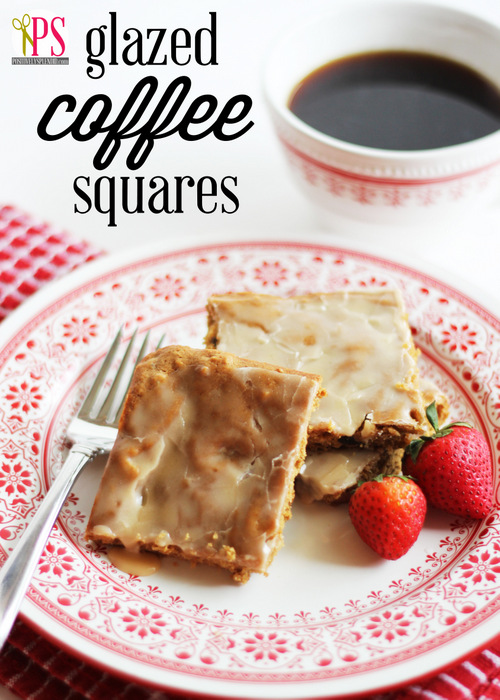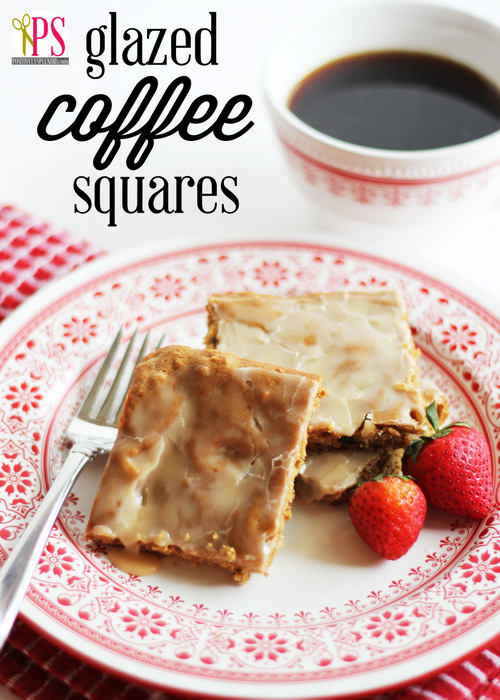 Hello, everyone! My name is Amy, and my blogging home is called Positively Splendid.
Having grown up in a home brimming with sewing notions and paintbrushes, I have a profound love for all things creative. On any given day, you'll find me knee-deep in my latest creative endeavor, with projects ranging from sewing and crafts to home decor, recipes and kid-friendly ideas. I believe that everyone, regardless of skill level or experience, possesses the ability to create something beautiful, and Positively Splendid was born of my passion to help others harness their innate creative potential. I would love for you to stop by for a visit!
It's no secret that I am a huge coffee lover, and the Glazed Coffee Squares I am sharing today are infused with rich coffee flavor and an irresistible, spicy crumb. These are terrific as a breakfast treat, but they also make a marvelous afternoon snack!
On the lookout for more terrific morning treats? Check out my Baked Cranberry-Orange Doughnuts…
…or my Cream Cheese Filled Sweet Bread.
Thanks so much to Liz for having me over today. Y'all are welcome to stop by Positively Splendid anytime, or you can also find me hanging out on Pinterest, Facebook, Instagram, Twitter and Google+!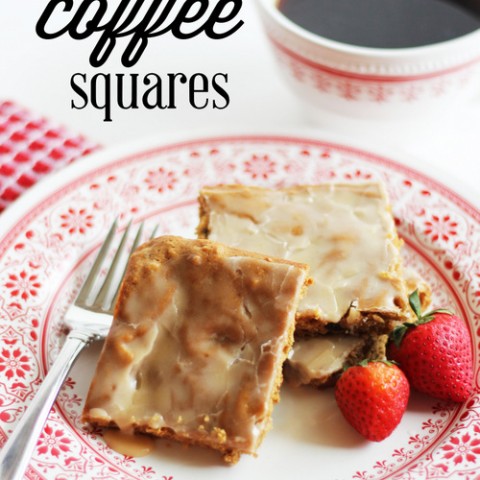 Glazed Coffee Squares
Perfect addition to Mother's Day Brunch or an afternoon treat! Recipe from Positively Splendid
Ingredients
1/2 cup brewed coffee
1/4 cup raisins
2 tablespoons molasses
1/2 cup butter (softened)
3/4 cups dark brown sugar (packed)
1 large egg
1 1/2 cup all-purpose flour
3/4 teaspoons ground cinnamon
1/8 teaspoon ground nutmeg
1/2 teaspoon baking soda
1/2 teaspoon baking powder
1/2 teaspoon salt
1/2 cup chopped pecans
1/2 teaspoon vanilla extract
2 tablespoons brewed coffee
1/2 teaspoon butter (softened)
1 cup powdered sugar
Instructions
Preheat oven to 350. Place the 1/2 cup coffee, raisins and molasses in a small sauce pan and simmer 10 minutes or so, until the raisins plump. Cool.
With a stand mixer, beat the 1/2 cup butter, brown sugar and egg until light and fluffy, stopping to scrape the sides of the bowl as needed. In a medium bowl, whisk flour, cinnamon, nutmeg, baking soda, baking powder and salt; add to butter mixture and beat just until combined. Gradually pour in the raisin mixture, beating on low speed until blended. Stir in the chopped pecans.
Spread batter evenly in greased 9x13 pan using a spatula. Bake 18-20 minutes, or until a wooden pick inserted in the center comes out clean. Cool 10 minutes on a wire rack.
For the glaze, combine vanilla, 2 tablespoons coffee, 1/2 teaspoon butter and powdered sugar, stirring until smooth. Spread over warm cake, and let stand until set.