I have been a BlogFrog Community Member for well over a year now. Late last year I joined the Memories in Motion Community as a leader, and am currently a Community Leader for the Coffee Talk Community sponsored by International Delight.
You probably have heard me mention the Coffee Talk Community, as well as BlogFrog, but if you haven't…let me fill you in a little.
BlogFrog is a place where you can chat with others, share your recipes or ideas and of course, grab ideas from others. Right now, you can find chats about Fun Family Games, Summer Entertaining and even some Craft Ideas.
In an attempt to catch up on work and have a little fun with my boys this Summer, I will be sharing posts from last year every Friday. Calling it…Rewind Hoosier Homemade
I created these fun Frog Cupcakes last year for BlogFrog and shared them on Keri Lyn's Blog, She Saved.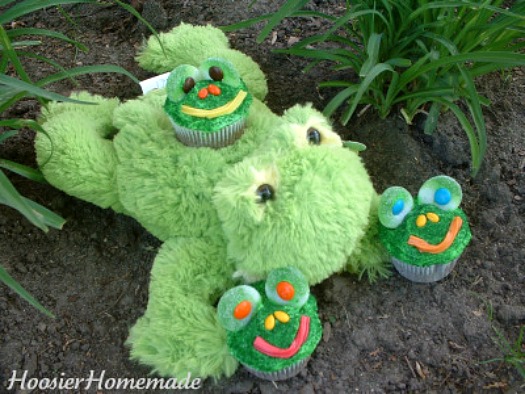 Print
Frog Cupcakes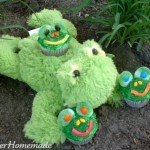 Fun Frog Cupcakes from HoosierHomemade.com
Ingredients
Cupcakes, baked and cooled
Gummi Rings
M&M's or other candy for the eyes
Candy coated Sunflower Seeds or other candy for the nose
Licorice or other candy for the mouth
Instructions
Frost cupcakes with Buttercream Frosting, mounding it up just a bit.
Dip in green sugar, dip the edges first, then the top, it's easier that way.
Make a small slit through the frosting and into the cake to secure the gummi ring.
Using a small dab of frosting, attach the M&M's to the gummi rings for the eyes, gently push the candy into the frosting for the nose and mouth.
See you over in the Coffee Talk Community!