Fight Hunger with the Golden Spark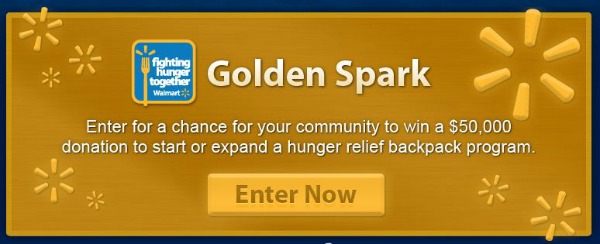 Earlier this week I told you about the Feeding America Backpack Program, Walmart's involvement in them, and how you could help. Well Walmart has started a new program that'll allow you to choose where their funding goes.
Since 2010, Walmart's "Fighting Hunger Together" campaign has given 594 million pounds of food and more than $122 million in grants to communities. By the end of their campaign in 2015 they will donate more than 1.1 billion pounds of food and $250 million in grants, all in the name of hunger relief.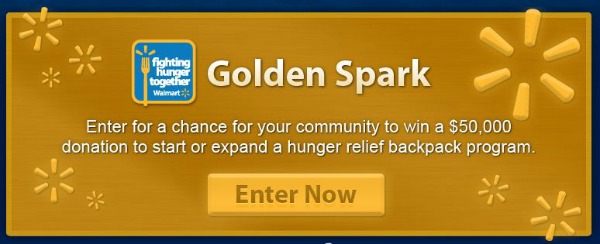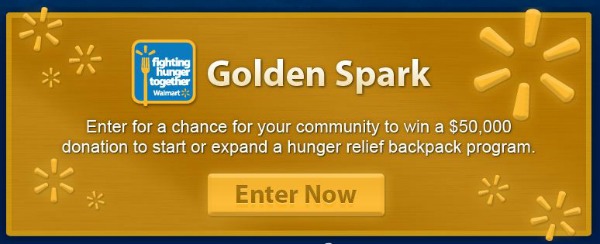 Now Walmart wants you to decide where these donations go. From now until October 14, Walmart will give out 40 Golden Sparks at random to anyone who joins the "Fighting Hunger Together Golden Spark" promotion. These Golden Sparks represent $50,000 grants which will be donated to the hunger solving programs, such as the backpack programs I've mentioned before.
Those who receive these Golden Sparks get to choose which program receives this grant. Joining this giveaway is easy; just sign up on either Walmart's website, or their facebook page. Winners will be randomly chosen through October 16. Don't forget, you can make a huge difference by volunteering to help these hunger programs.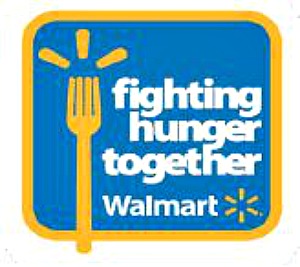 Learn more about how you can help at these great resources…