Pillsbury™ Frosted Snowmen Treats with DOVE® Hot Cocoa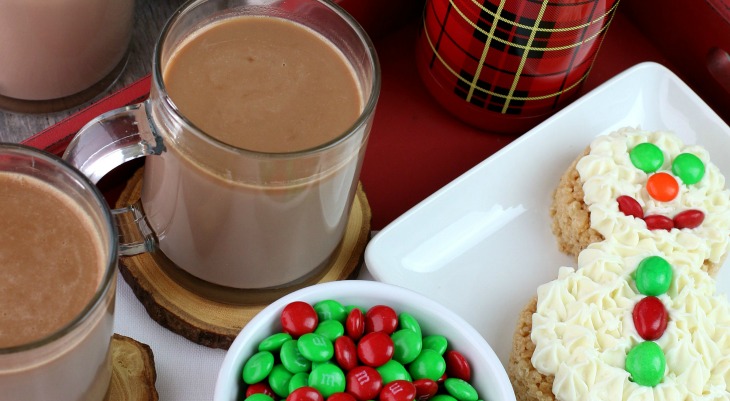 Grab the family – it' time to whip up these easy Family Friendly Holiday Treats including Hot Chocolate with only 2 ingredients and Rice Krispies Snowmen decorated with frosting.
This post has been sponsored by Mars Wrigley Confectionery, US, LLC, Pillsbury™, & © 2017 Kellogg NA Co. All thoughts and opinions are my own.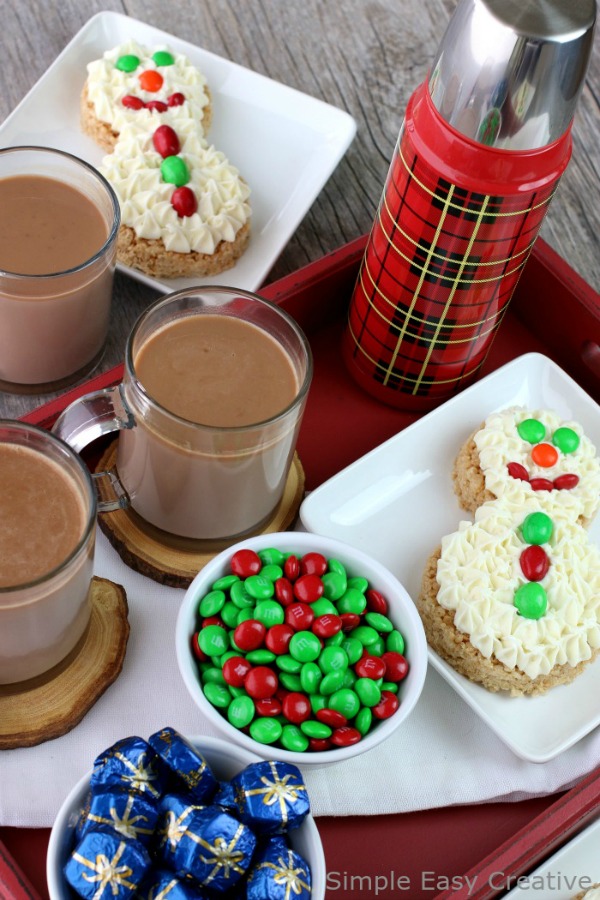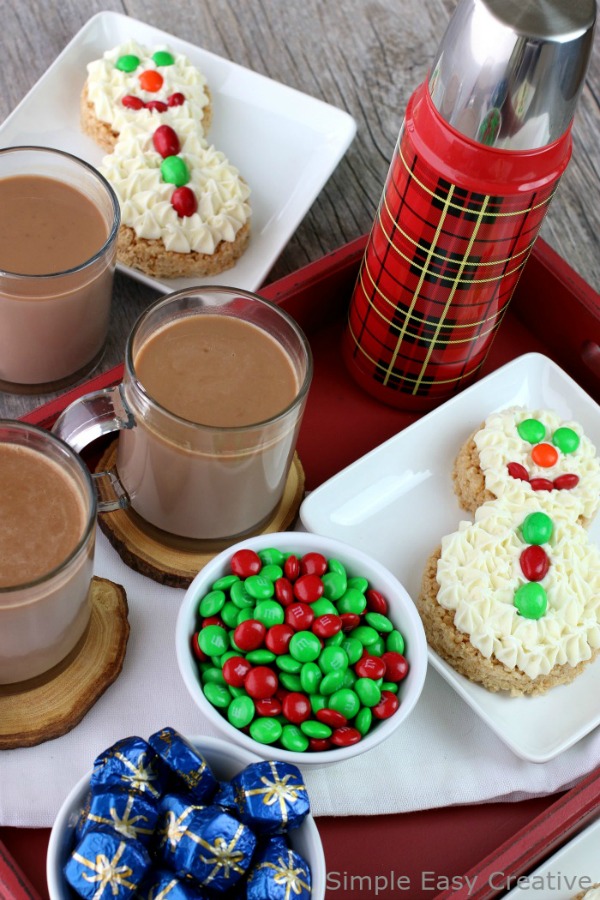 Having fun activities to do with the family doesn't have to be super involved or take a lot of time. The family will have a blast creating and eating these Family Friendly Holiday Treats! From start to finish – everyone can be involved.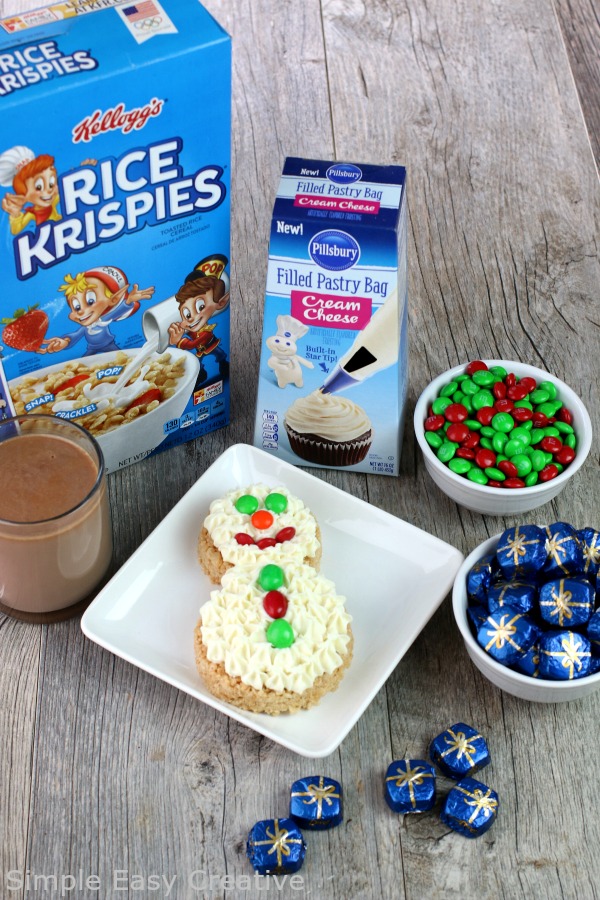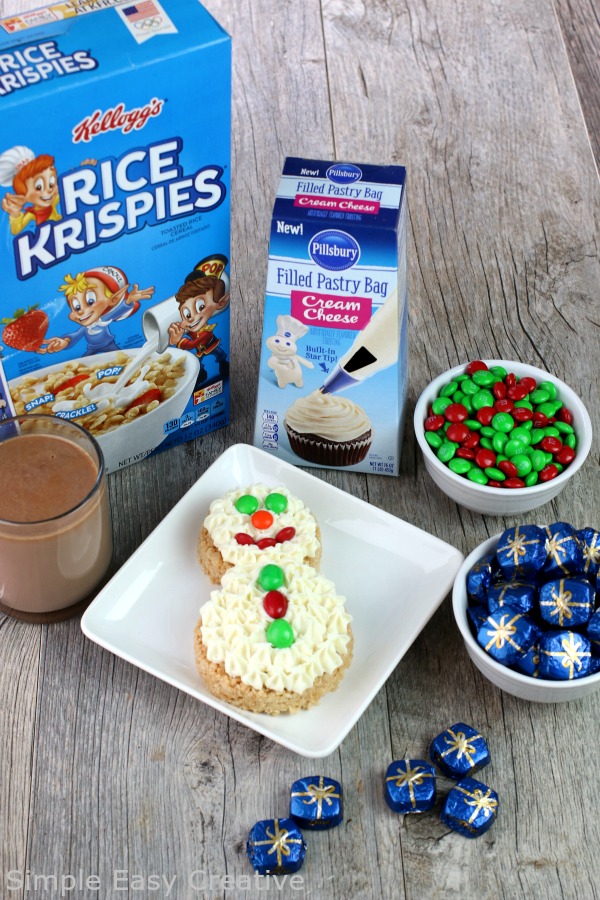 Hot Chocolate is a favorite treat for every child – and adult too! It doesn't get any easier than this 2 ingredient Hot Chocolate Recipe that is rich and creamy! The Rice Krispies Treat are cut into fun snowman shapes using round mason jar rings, then decorated using the new Pillsbury Filled Pastry Bag.
Let me show you how easy these holiday treats are…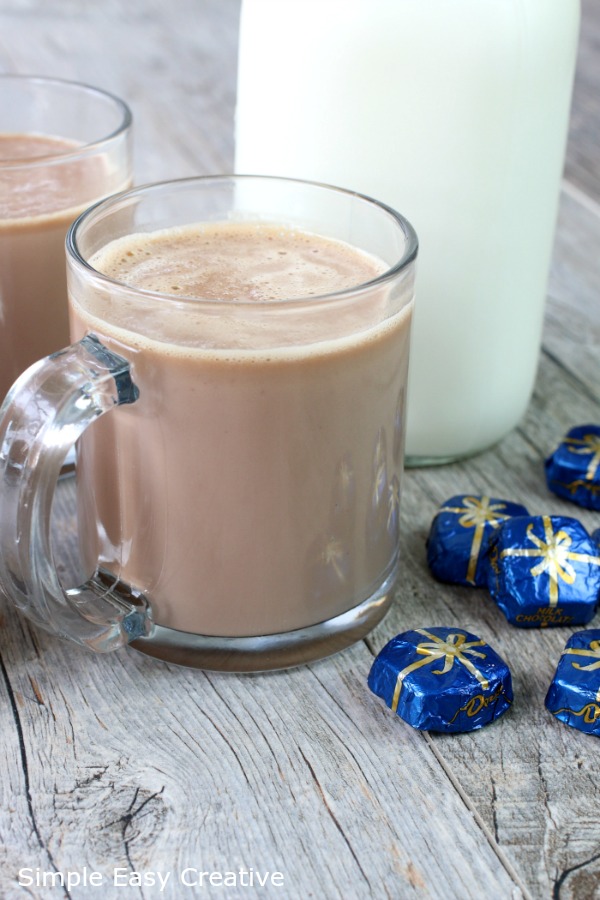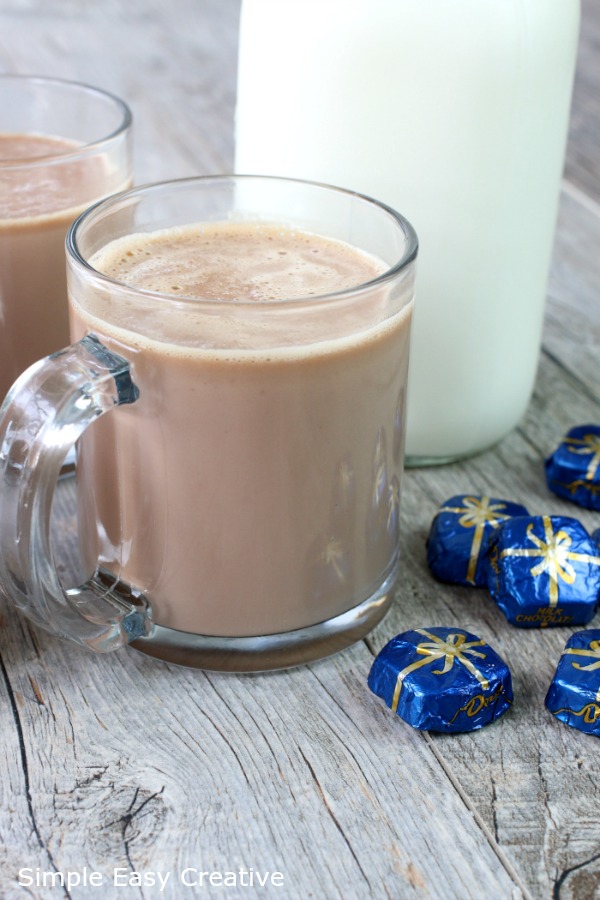 Hot Chocolate Recipe
This 2 ingredient Hot Chocolate Recipe goes together in minutes, it stores really well in the refrigerator as well, so you can easily make it ahead.
Milk
DOVE® PROMISES® Milk Chocolate
For every serving – use 1 cup milk and 7 pieces of DOVE® PROMISES® Milk Chocolate
Add milk to a heavy saucepan, unwrap chocolates and add to the milk.
Stir until chocolate is melted and milk is hot. Bring the mixture to a simmer, do not boil.
The DOVE® PROMISES® Milk Chocolate Gifts can be found exclusively at Target. Also look for DOVE® PROMISES® Sea Salt Caramel & Dark Chocolate Holiday Tree-ts in the candy aisle.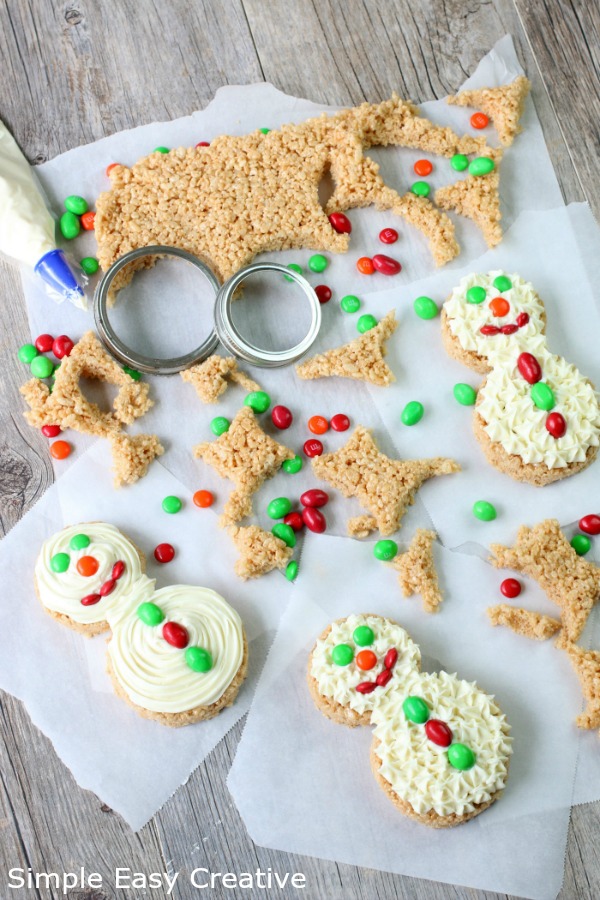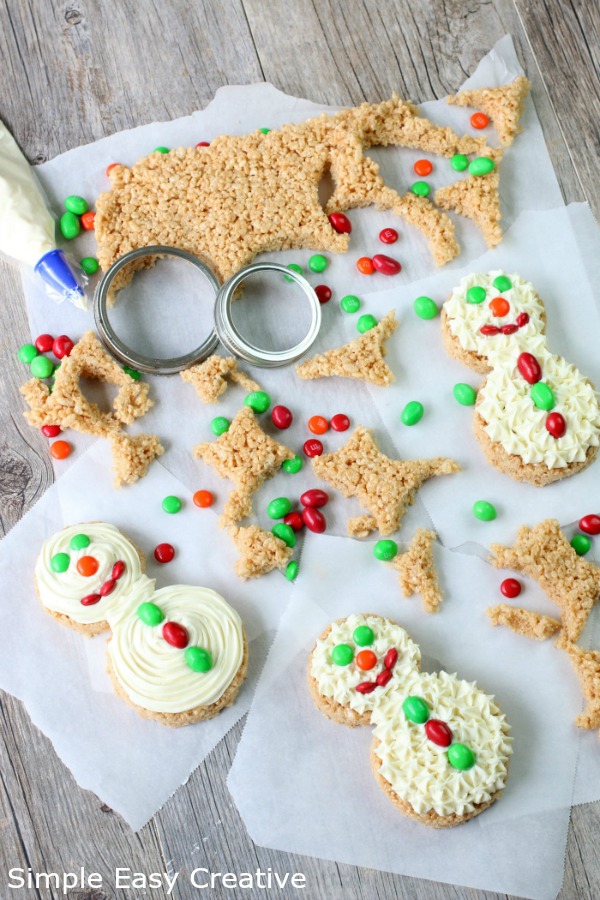 Rice Krispies Treats are fun for any occasion, but cut them into fun snowmen shapes for the kids to decorate and they are even more fun! The rings from mason jars worked great to form the circle for the snowmen bodies.
During this holiday season for every original photo of a Rice Krispies treat posted to Facebook, Twitter, or Instagram non-private account between September 1, 2017 and January 1, 2018, including the hashtag #treats4toys in the post, Kellogg Company will donate $10.00 to Toys for Tots(R) (up to $50,000 total), which will be used to help buy toys for needy children in the U.S. And, don't forget to check for a Cartwheel coupon offer on the Target app before you head out to pick up your Rice Krispies either!
For the Rice Krispies Snowmen, you can use the recipe on the Rice Krispies box, found in the cereal aisle at Target. Or you can use my recipe (serves 8)-
6 cups Rice Krispies Cereal
1 cup granulated sugar
1 cup light corn syrup
1 cup peanut butter, creamy
Instructions
Line 13 x 9 pan with parchment paper, spray lightly with cooking spray
Add cereal to large bowl
On the stove, combine sugar and corn syrup, bring to a slight bubble. Be sure not to boil the mixture
Remove from heat and stir in peanut butter until smooth
Pour over cereal and stir to combine
Transfer into pan, spread evenly
Let set on counter until set – about 2 hours
Remove from pan by lifting parchment paper out
Using a round cookie cutter or ring from mason jar to cut shapes out of Rice Krispies Treats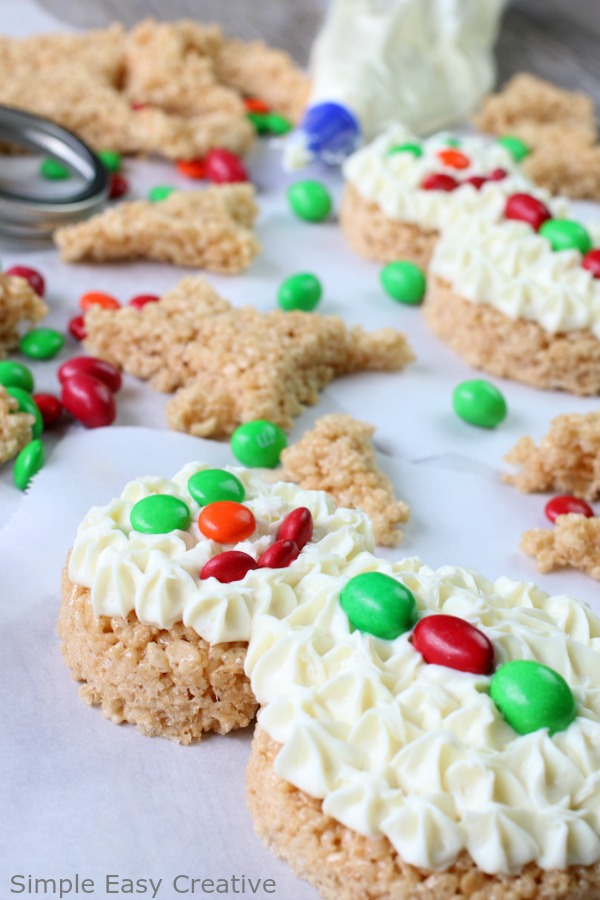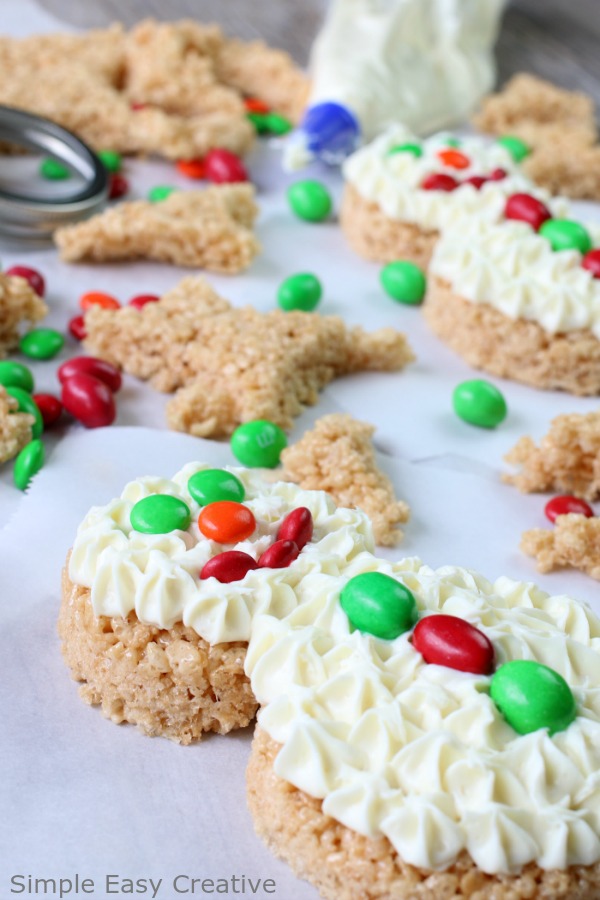 Now it's time to decorate – using the new Pillsbury™ Filled Pastry Bag Cream Cheese Flavored Frosting to decorate the snowmen. The family will have fun decorating their snowmen with M&M candies. Make sure to take advantage of the 25% Cartwheel offer for Pillsbury™ Filled Pastry Bags, valid through 12/24/17.
The Pillsbury™ Filled Pastry Bags come with Cream Cheese Flavored Frosting, Vanilla and Chocolate Fudge as well, and can be found in the baking aisle at Target. Each box contains the pastry bag that is already fitted with a star tip – no need to spend time filling a bag with frosting – it's simple and easy – just what we like!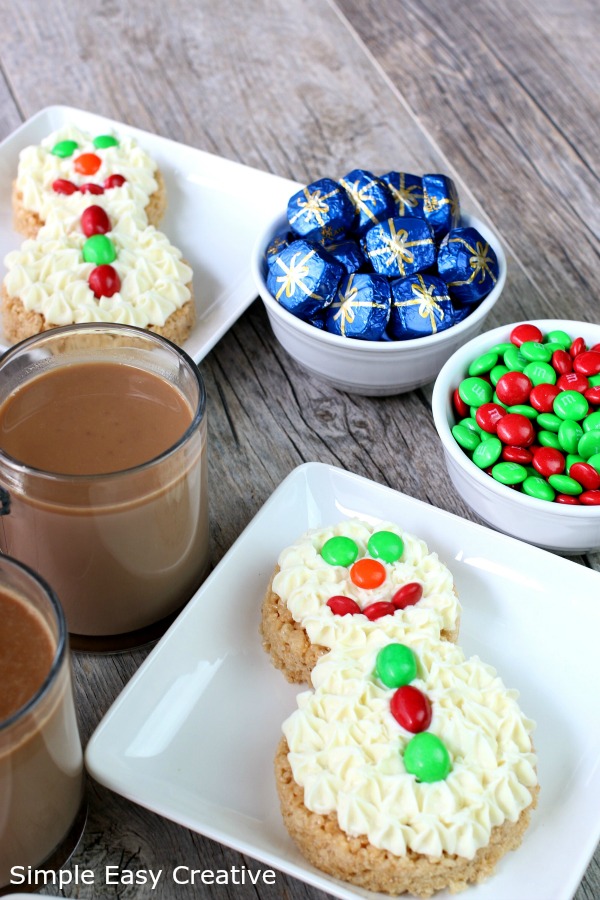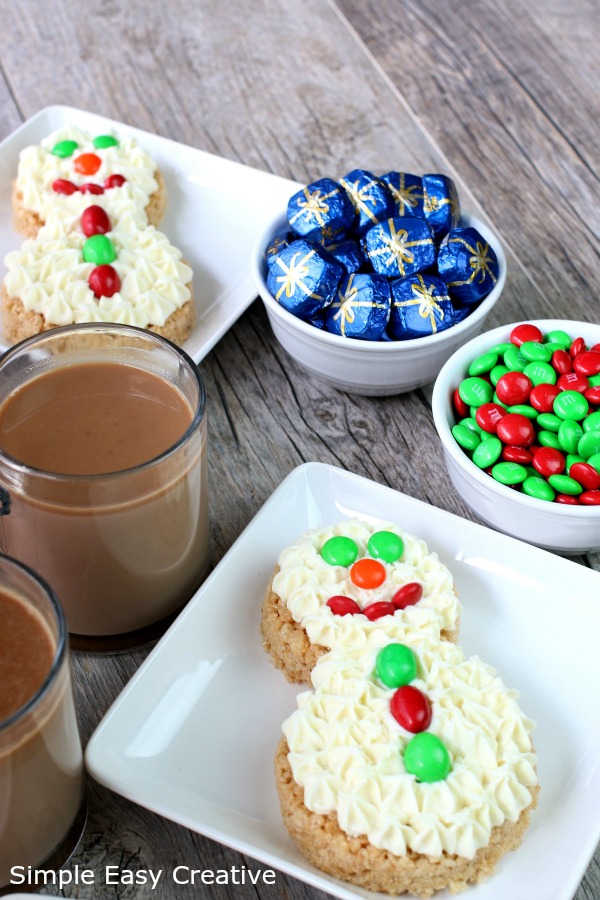 Now it's time to enjoy the treats!