Decorating is one of those homemaking chores that I do, that I really enjoy. And if I can do it without spending any money or very little, even better.
On a recent trip to visit his Father, my husband brought home some of his Mom's aprons, knowing that I love to bake and cook and that I love aprons. My Mother-In-Law passed away a couple years ago, and the family has been dividing her treasurers to enjoy and pass on to our families.
I wasn't really sure what to do with them, but knew that I wanted to display them in our home. I first thought of putting them in a basket, but then decided that if I did that, we wouldn't enjoy each of them.
That's when I thought about hanging them on the wall. I laid them all out so that I didn't hang two that were similiar in color or style together.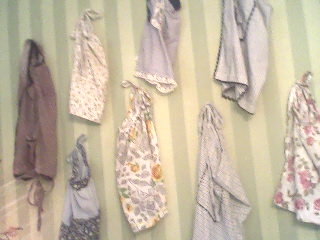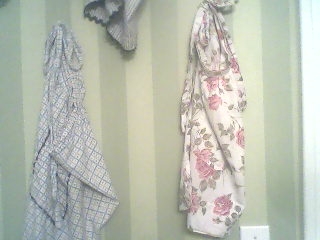 I also hung some pictures of all the grandparents along with my Mom's apron and my Mother-In-Law's favorite apron, next to their pictures.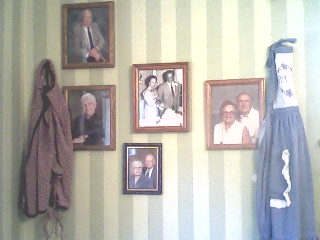 Take a look around and see what you have stashed away. You might just come up with some great no cost decorations 🙂
For more great blog carnivals, please visit:
~Frugal Friday hosted by Life As Mom
~Finer Things Friday hosted by The Finer Things in Life