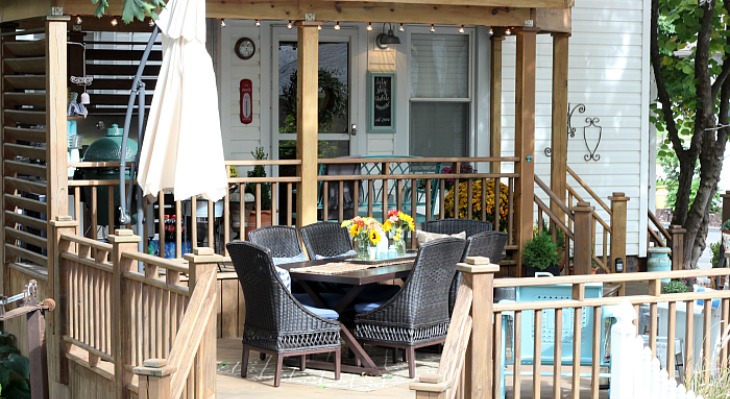 Creating the deck of your dreams can seem overwhelming, but with planning, the right tools and some helpful tips – it's easier than you think. These Deck Inspiration Ideas will help you dream as well as answer your questions about decks from an expert.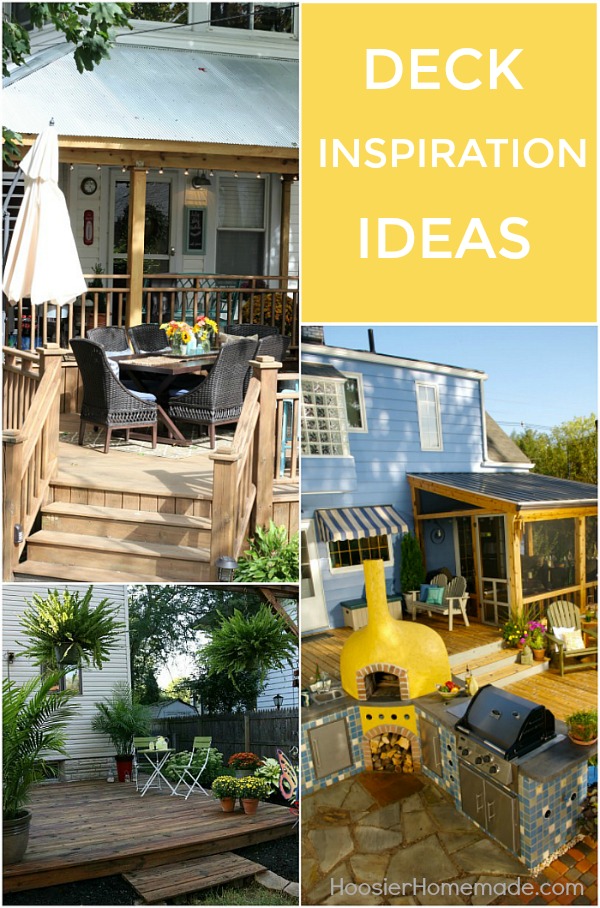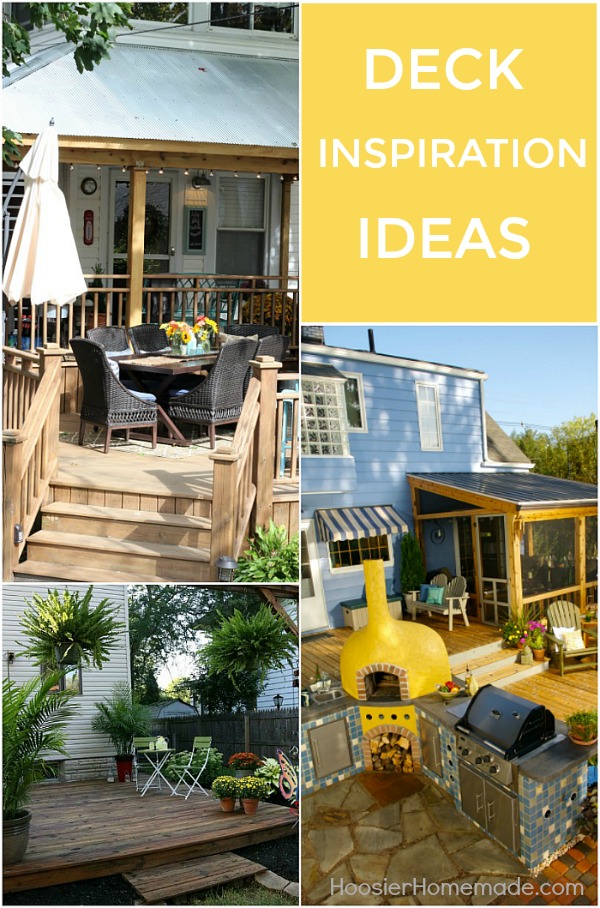 Recently, we were honored to attend the Deck Party of Your Dreams, sponsored by Thompson's WaterSeal. Kristy from Robb Restyle, a lifestyle DIY blogger right here in Indiana was this year's lucky Grand Prize Winner. She received a consultation with Jeff Wilson, Thompson's WaterSeal spokesperson and TV personality, where he suggested the idea of adding a roof to their already beautiful deck (FYI – Kristy stained her deck with Thompson's WaterSeal Signature Series Stain & Sealer – Transparent in Timber Brown earlier this summer). Kristy and her husband loved the idea and decided to move forward with adding a tin roof to create an outdoor kitchen.
We also had the opportunity to speak with Jeff Wilson and he answered our questions about decks.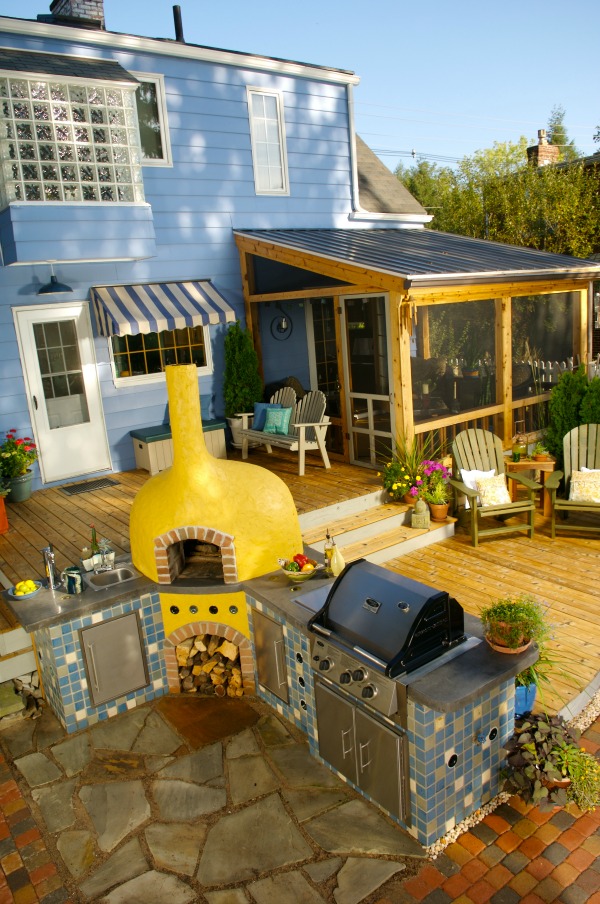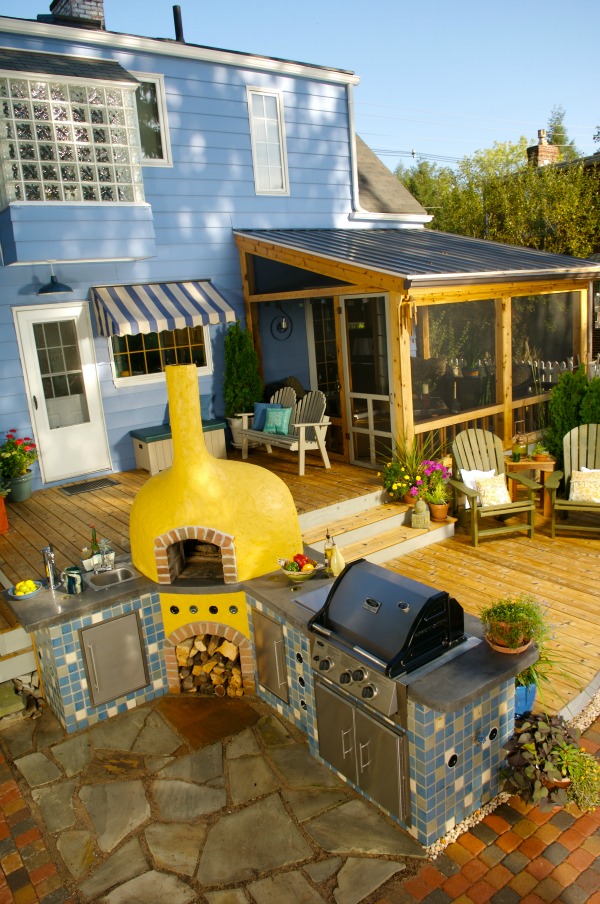 First, let's dive into deck inspiration. We recently finished our She Shed and are planning on putting a deck around the shed next spring, so we were really excited to begin researching and looking for deck inspiration.
This gorgeous outdoor space is owned by Jeff Wilson, Thompson's WaterSeal spokesperson and TV personality. Clearly, he figured out what type of deck and outdoor space would work best for his home. From the screened in room, to the outdoor kitchen, to the fantastic pizza oven, this deck is definitely a space that works well. So during our interview with Jeff, we asked "What are 3 things that make a great deck?" Jeff's response was:
Safety – make sure your deck is connected to your home properly.
User friendly – watch how the sun hits the space where the deck will be, and make sure it's a comfortable space. Ask yourself – what am I going to use the deck for? How much am I going to use it? And what kind of features will I need?
Your deck has to add to the beauty of your home, it should be a place to unwind.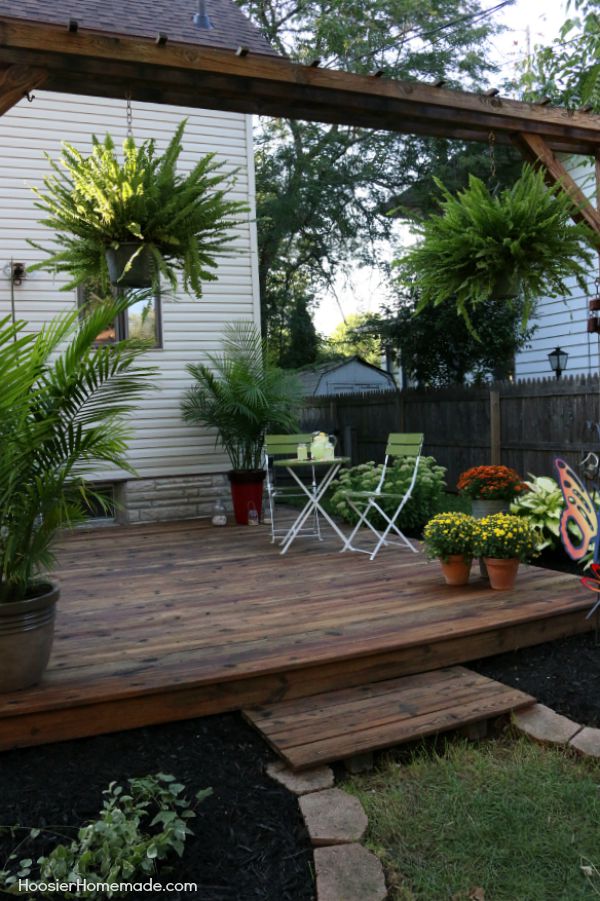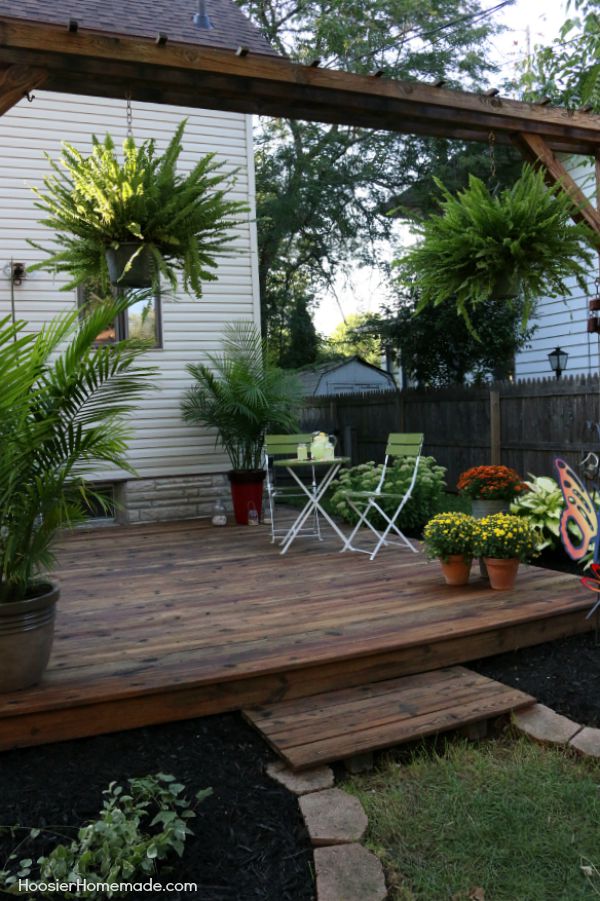 This deck is one that Doug cleaned and stained for a friend of ours with Thompson's WaterSeal Penetrating Timber Oil. It is a very basic deck, but it's well built. The transformation that happened was incredible.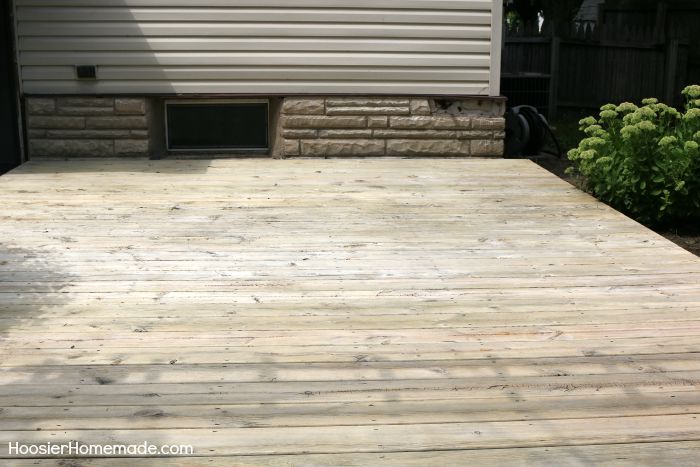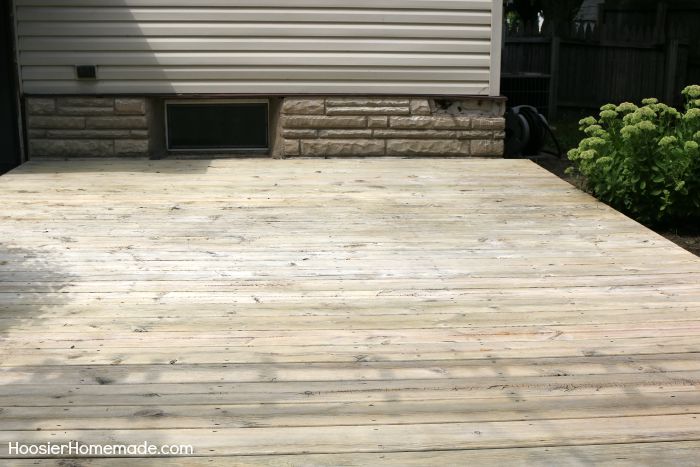 During our time with Jeff, we also asked "What is your best tip for a beginner looking to build a deck?"
He answered –
Spend a lot of time thinking before acting.
Live with your space for a while so you can figure out what is going to be best for you and your family.
Set up posts or stakes to give you some idea of where you would like the deck.
Take a long time to plan – dream really big but then make it modular. (like the deck in the photo above)
Modular means to start with a square deck because that's what you can afford and it's simple construction. Then build out from there, adding onto the space when time and money allow.
Liz: What are the most common mistakes homeowners make with their decks? How can they avoid them?
Jeff: People cut corners on the original structure – they don't build it as robustly as they should, they don't do the proper footings or they don't connect it to the home correctly. 
Maintaining your deck is key, and it doesn't take long to do that. Every 2-3 years you should begin by checking for loose screws, bolts, and see if it's still fastened to the house securely.
Be sure to clean and treat your deck with Thompson's WaterSeal. Thompson's WaterSeal 3 in 1 cleaner is a great product that actually helps to restore the woods natural beauty. Taking time to clean your wood properly can help extend the life of your deck significantly.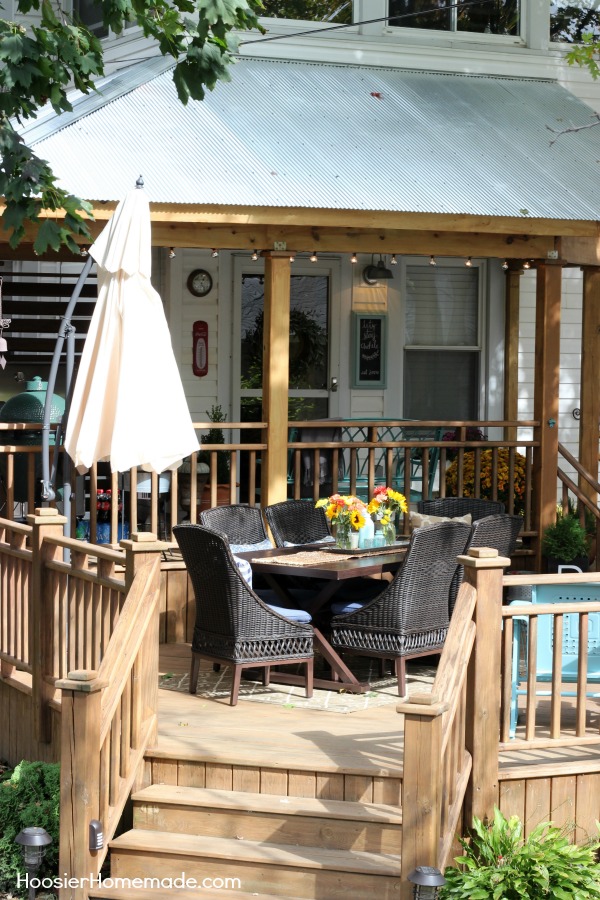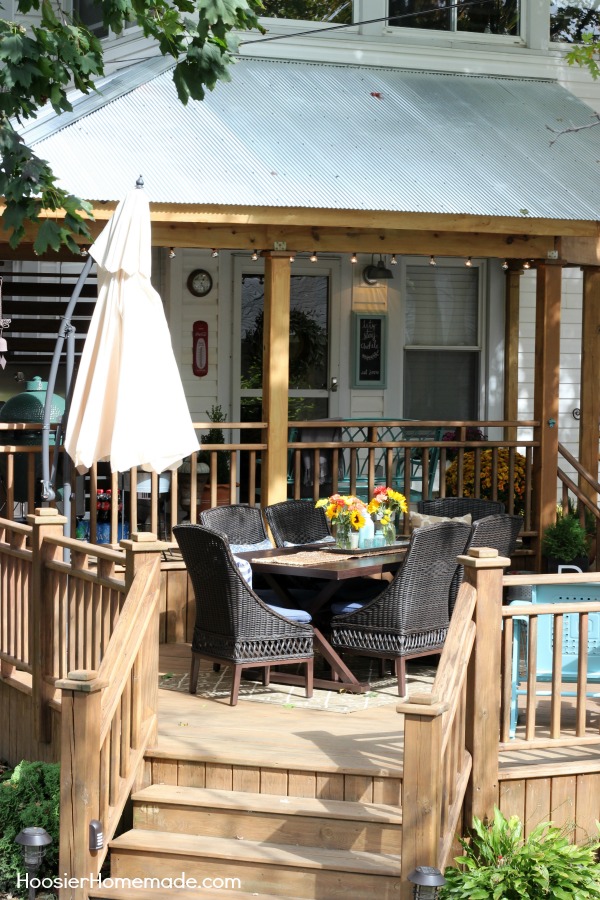 The Robb's home is simply gorgeous, and their outdoor space and deck turned out amazing. I was able to grab Kristy for a couple minutes before the party started to ask her some questions as well.
Liz: What is your favorite spot of the new space?
Kristy: The roof for sure. When we found out that we had won the Thompson's WaterSeal deck contest, we really were not thinking of adding a roof onto our deck. But then Jeff met with us and suggested it. I had always wanted an awning because it was really hard to get into the house quickly with groceries when it's raining, or when we have guests visit and the weather is bad. So adding the roof worked out perfectly. We used the tin roof on our playhouse (photos below), it's cheap, efficient and goes with the style with love – vintage and farmhouse.
Now we can be outside and enjoy the space even more. And the rain and leaves hitting the tin roof sound so calming.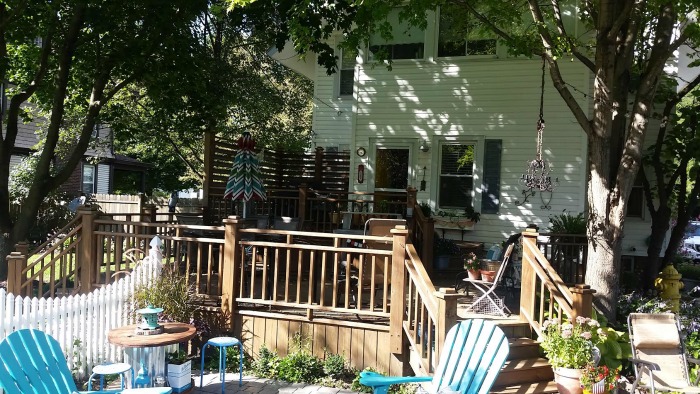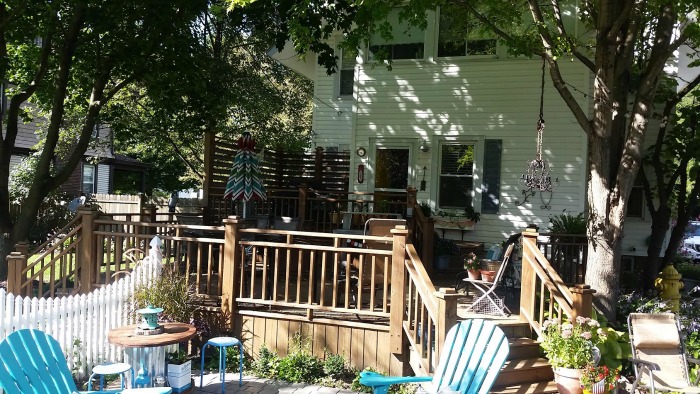 Here is where the deck began.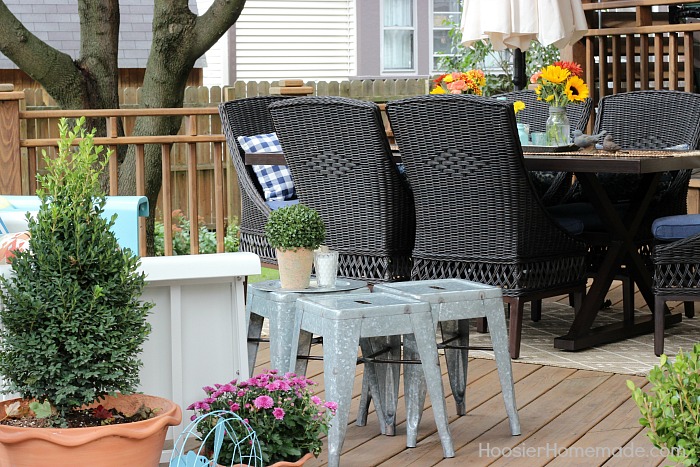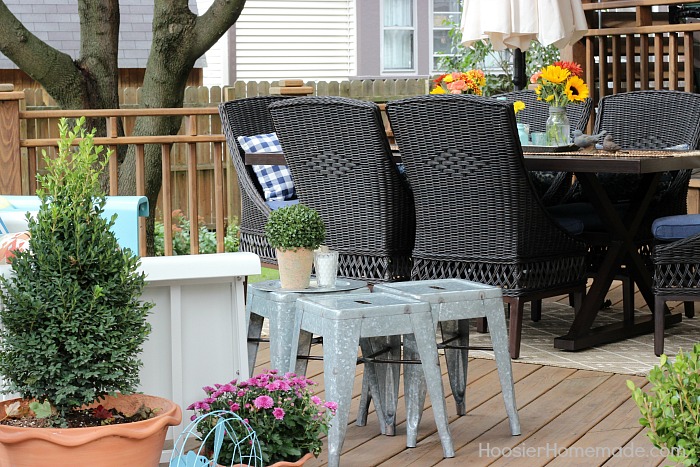 The new outdoor space is truly inspirational. Not only is the new deck great, but all the decorations and furniture work perfectly. I love how Kristy added 3 short stools together to form a coffee table of sorts.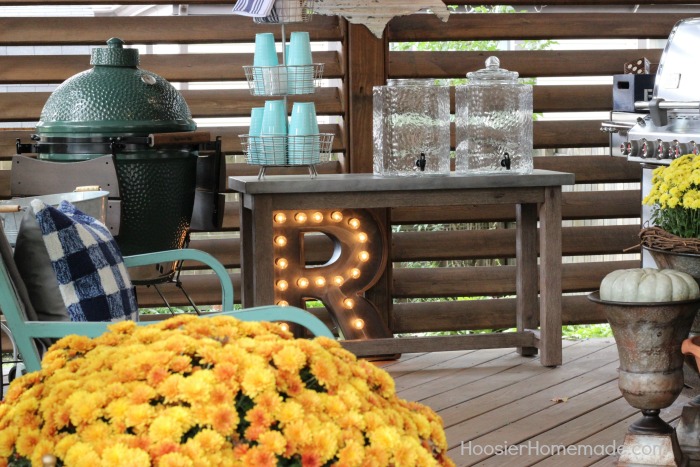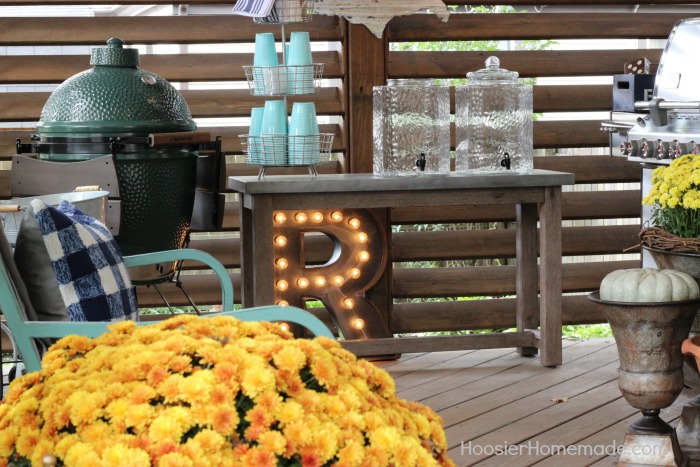 The outdoor kitchen space is one that Doug and I both loved. With the addition of the roof, they can now grill outdoors any time of year – rain or shine (or snow!)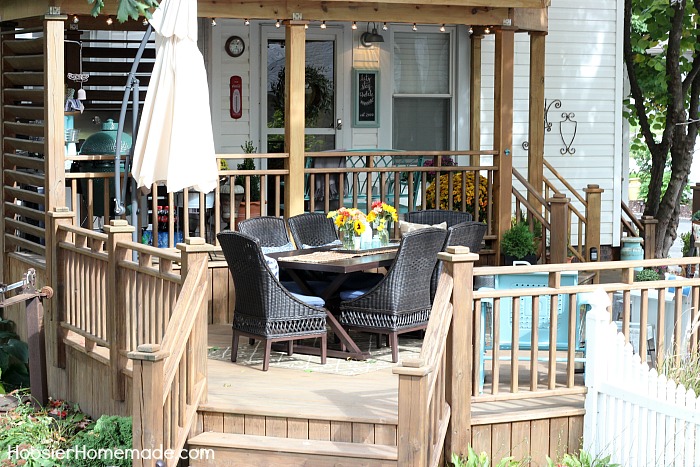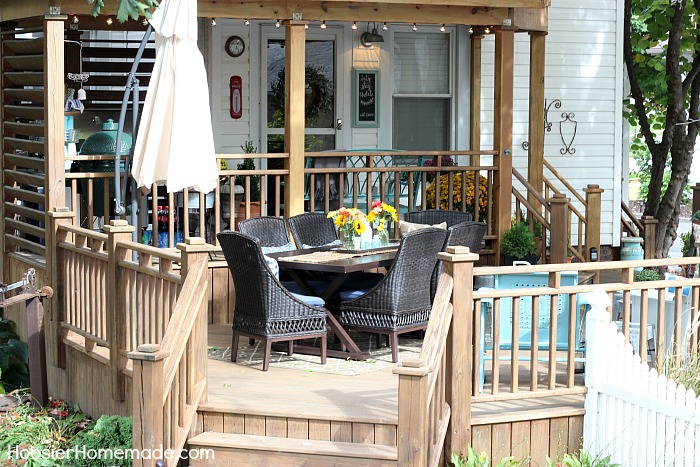 The different levels create a bit of separation between the outdoor kitchen and eating area, which I think is genius!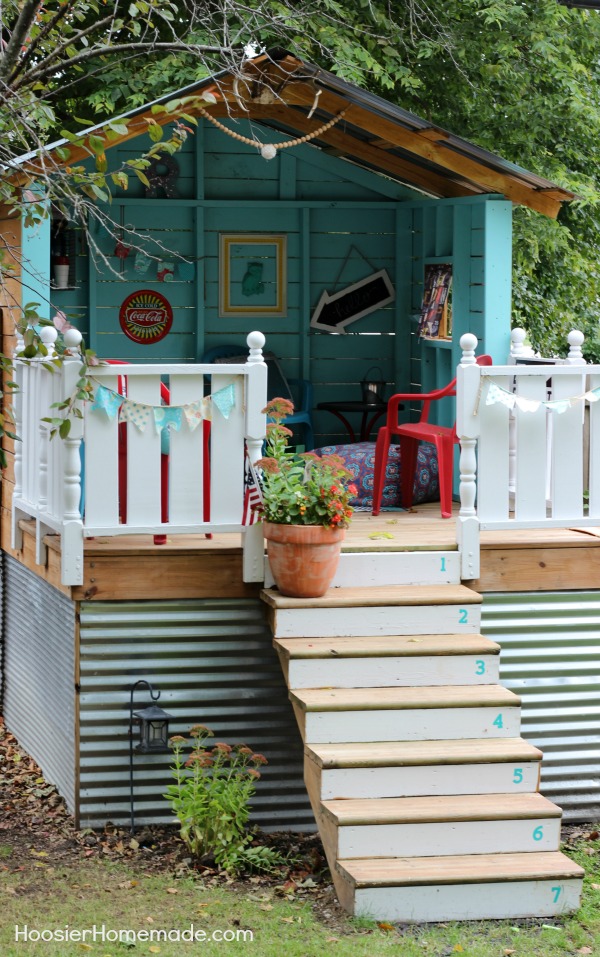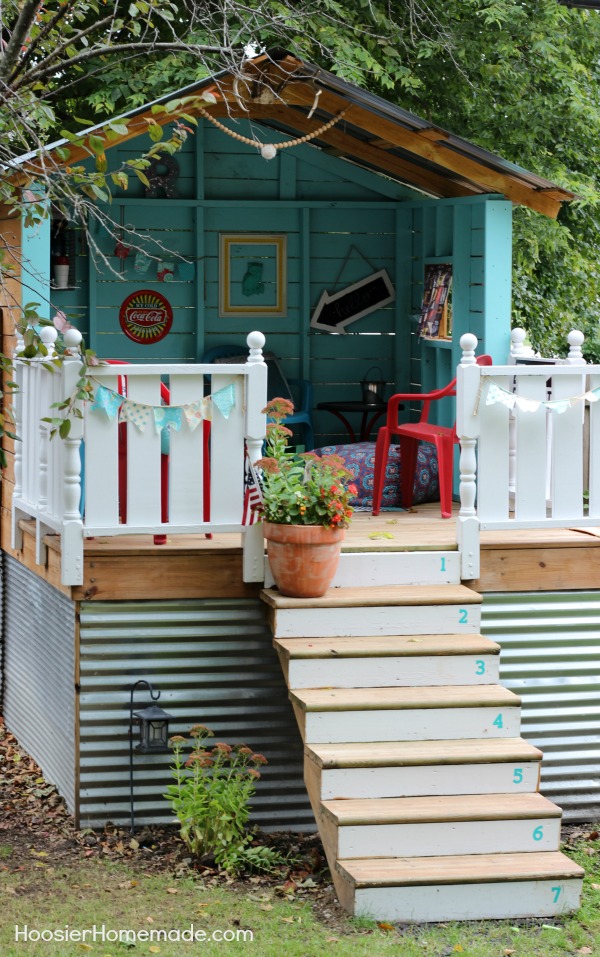 The rest of the Robb yard is truly inspirational as well. The little playhouse is so cute. I love my She Shed, but I think I need a playhouse too.
Follow Thompson's WaterSeal on Pinterest, Facebook, Twitter and YouTube. And be sure to keep your eye out for next year's contest!