Cottage Garden Landscaping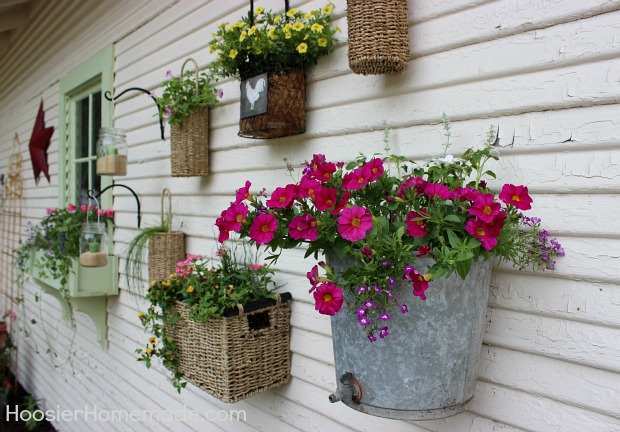 This is a sponsored post written by me on behalf of HGTVgardens.com. Although I love our home, I have always dreamed of owning a cottage, even if it's just a weekend retreat. Since I don't see owning a cottage in my near future, we decided to try our hand at turning our backyard into the feel of a cottage.
Over the last couple of years, we have been concentrating on the front yard, but now is the time to tackle the back yard. We started with the side of the garage and totally changed the look with our Cottage Garden Landscaping.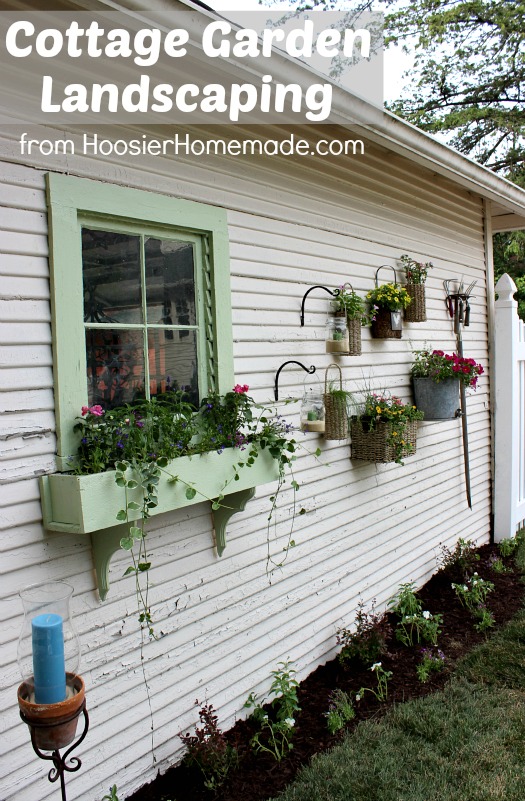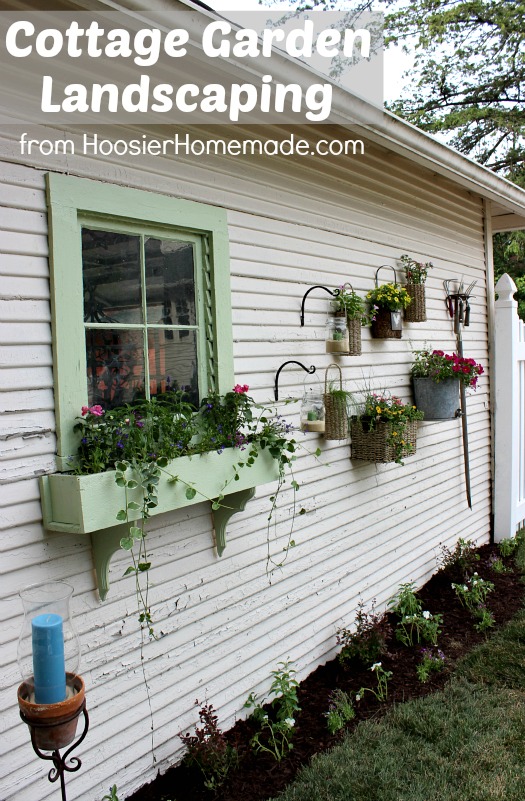 We are absolutely thrilled with how it turned out, let me show you how we turned the side of our garage into a Cottage Garden…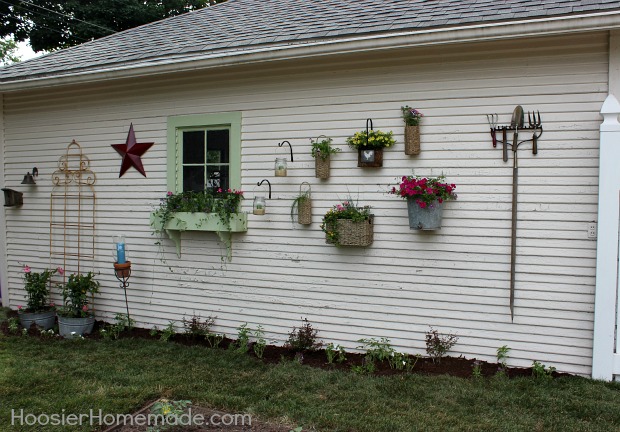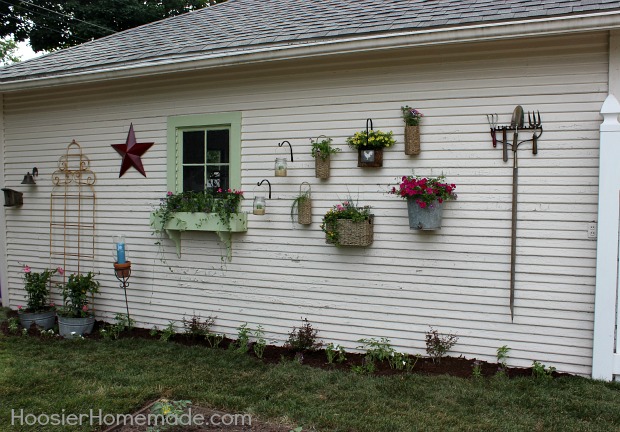 Over the last 6 years since moving into our home, we have hated the back yard. The people that lived here before us had a swimming pool, so the whole yard is full of pea gravel, absolutely no grass at all, making it very ugly, uncomfortable to walk on and also hot in the Summer. So with a little help from a new gardening website, HGTV Gardens, we began the process of turning the side of our garage into a Cottage Garden.
Let me show you our journey…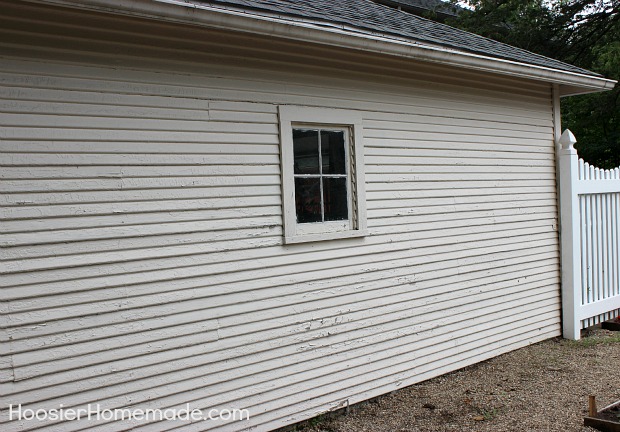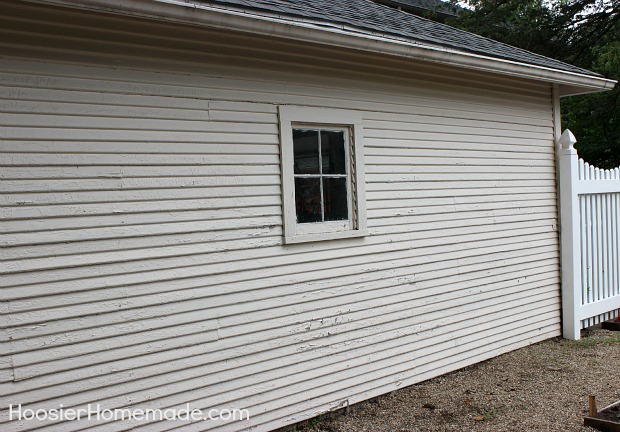 Here is it…the dull, boring, ugly side of our garage. It definitely needs a coat of new paint, but that will have to wait for now. You can also see the pea gravel that covers the entire yard.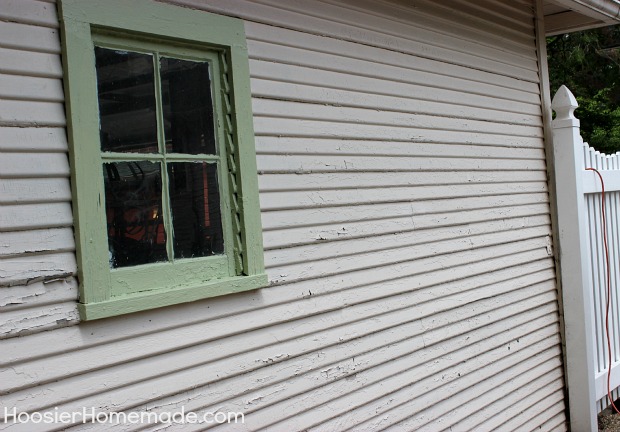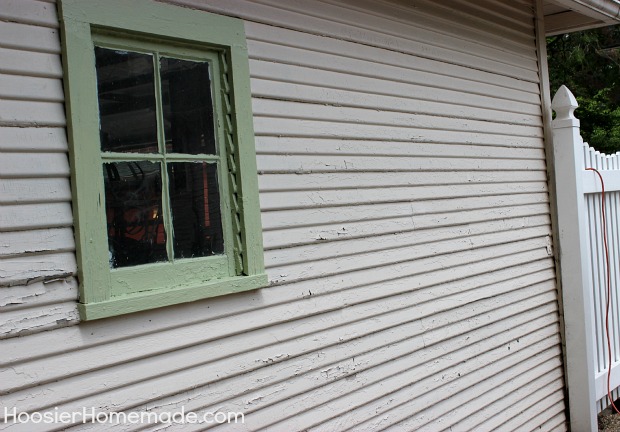 First step was to paint the window frame, we used Behr Exterior Satin in Rejuvenate and just did a quick couple of coats. We weren't 100% sold on the color, although we loved the color for the Cottage Garden, we aren't really sure how it will look on the entire house. So this time around, we thought it was best to just buy a quart of paint, give it a quick makeover and see what we thought of the color.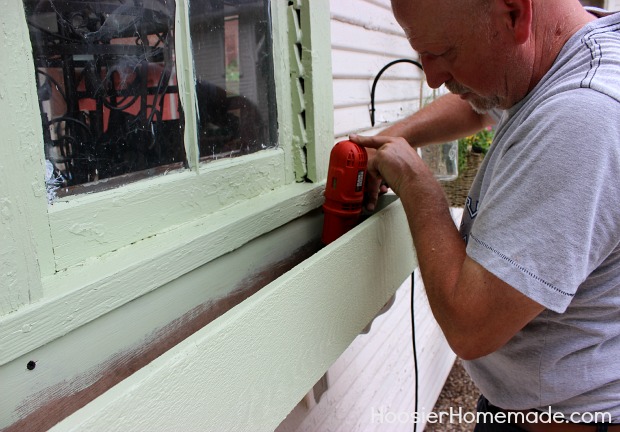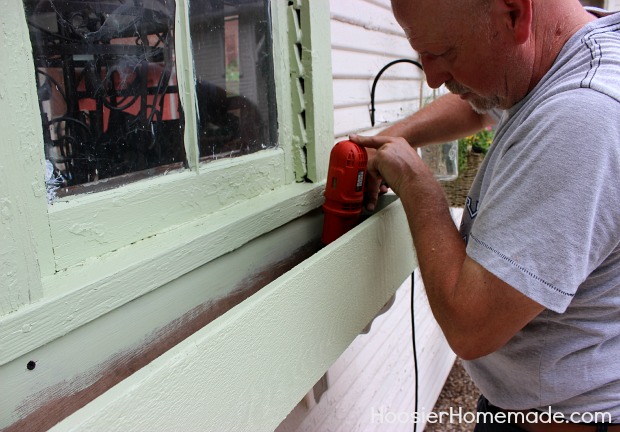 Then Doug built a window box from reclaimed lumber that was left from when he built my Office Desk. The window box is painted with the same color as the window trim to pull it all together.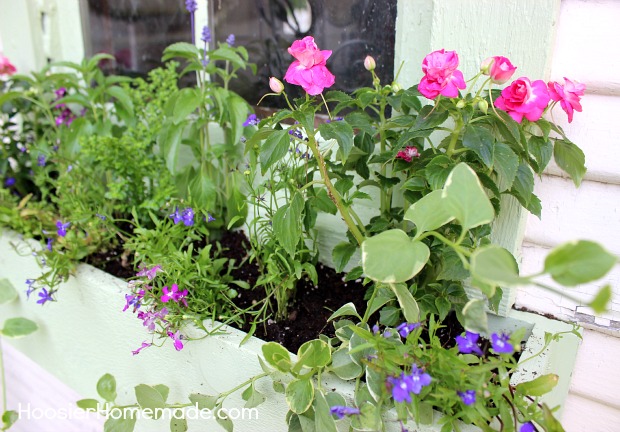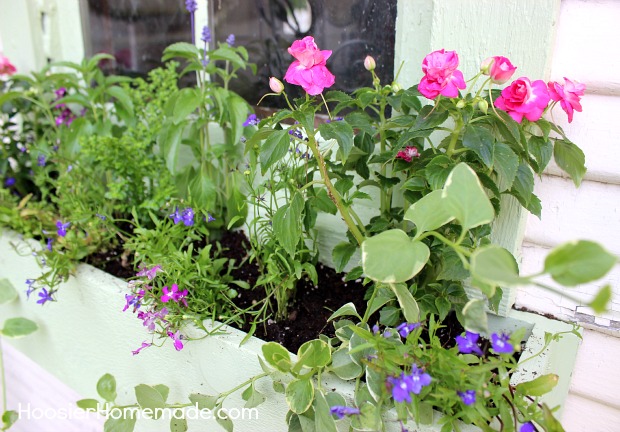 We planted vinca vine to trail over the edge and saliva in the back to cover the window some. Then double impatiens and lobelia in pink and purple.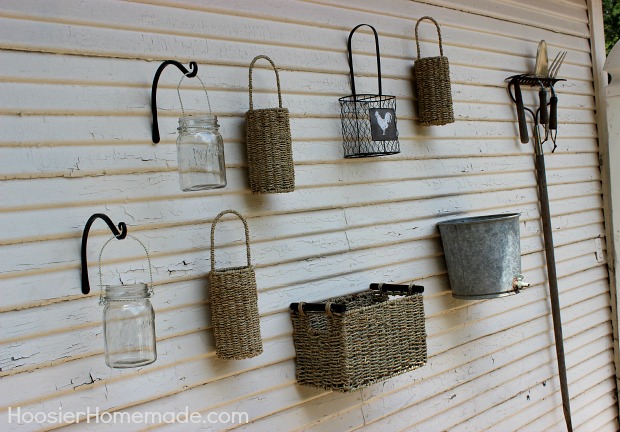 Next came the fun part, designing the garden. We used several different items with different textures to create interest, the baskets are all from TJ Maxx, the glass jars are from Kirkland's and the Galvanized Bucket is from my collection. The old rake is one that we had and the handle was broken on the bottom. Doug screwed each of them directly into the garage.
Since the baskets already had holes, there is good drainage. The rooster basket is lined with coconut fiber to keep the soil in and the bucket has holes drilled in the bottom for drainage.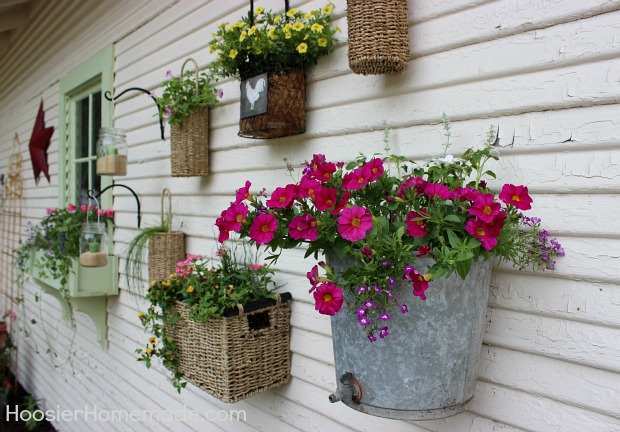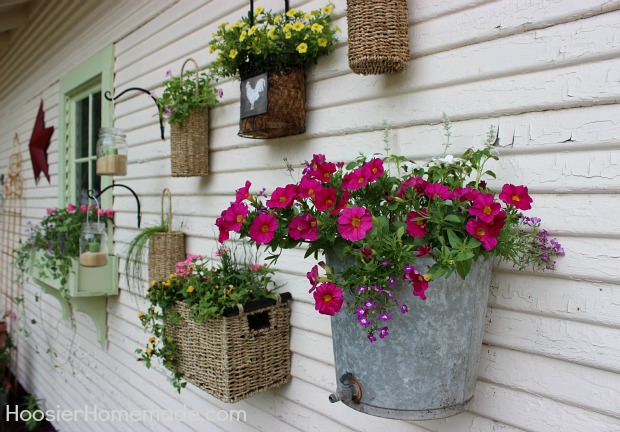 We filled the containers with a variety of plants, again creating texture and interest. And the glass jars are filled with play sand and votive candles.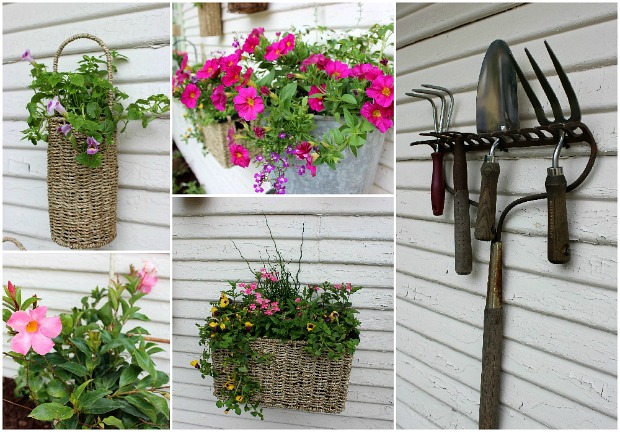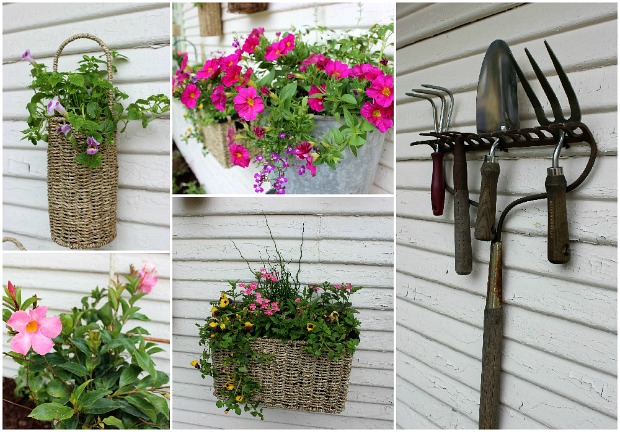 Some of the plants we used are Torjenia (top left), Wave Petunia in the bucket, and the spiral looking plant (bottom center) is Spiral Rush, it's an Ornamental Grass, and the Mandeville Vine (bottom left). If you are looking for more information on a specific plant, check out the HGTV Plant Finder, it's targeted for your zone and tells you what plants work well in your area. You can create a profile, share your photos and be inspired by others as well.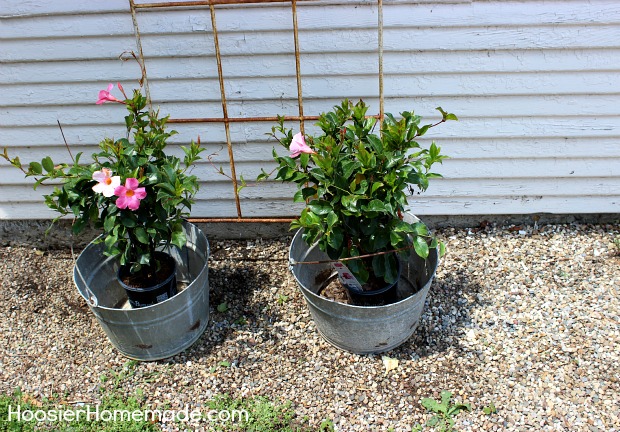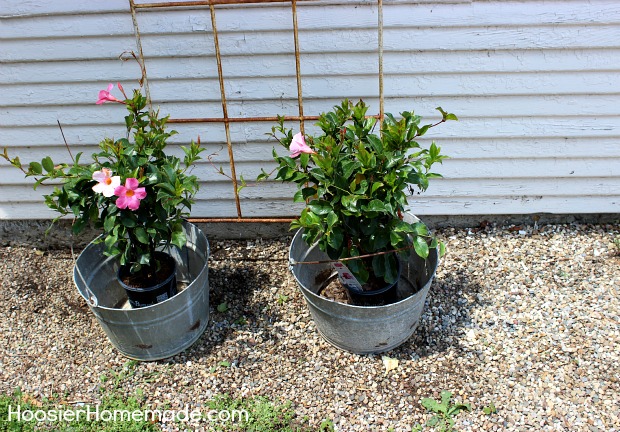 Now it was time to tackle the other side. I have been wanting to use Mandeville Vine in our garden for a few years, so when I spotted them at Walmart, I thought they would be perfect. We added a vintage trellis for more interest and a couple Galvanized Buckets to go with the bucket we hung up.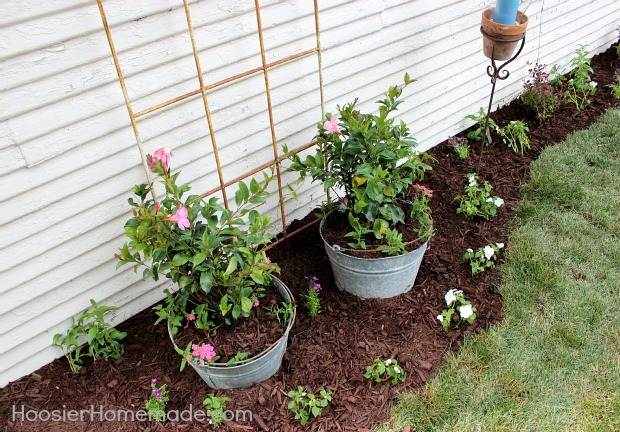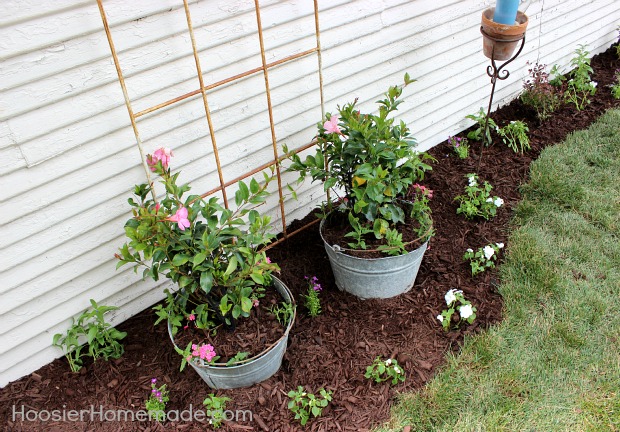 Huge difference…wouldn't you say? As I said before, the whole yard is covered with pea gravel, so we had 2 options…1) dig it all out and try and find somewhere to get rid of it or 2) cover it with soil and sod. We chose the second option. Doug and the boys laid down soil that we bought from our local excavating company and then came the sod.
The sod came from Red Hen Turf Farm, and Doug was able to purchase only 150 square feet for now. We will make our way around the yard, designing the landscaping and covering the ugly pea gravel, so stay tuned for that.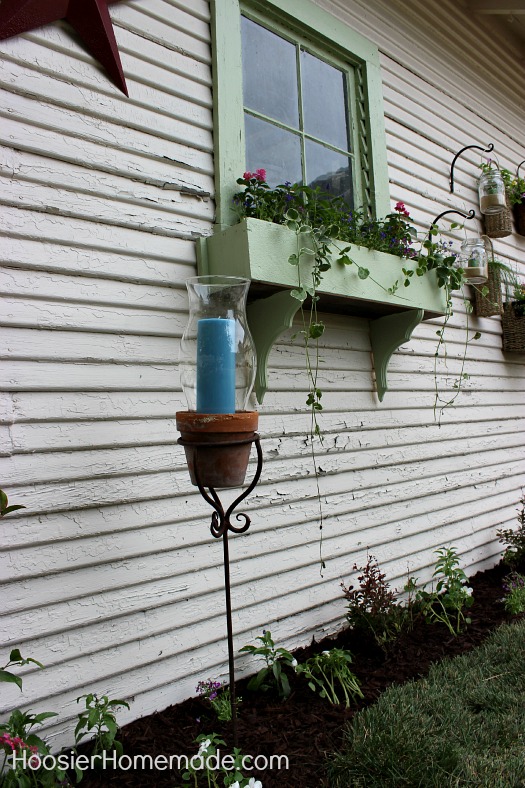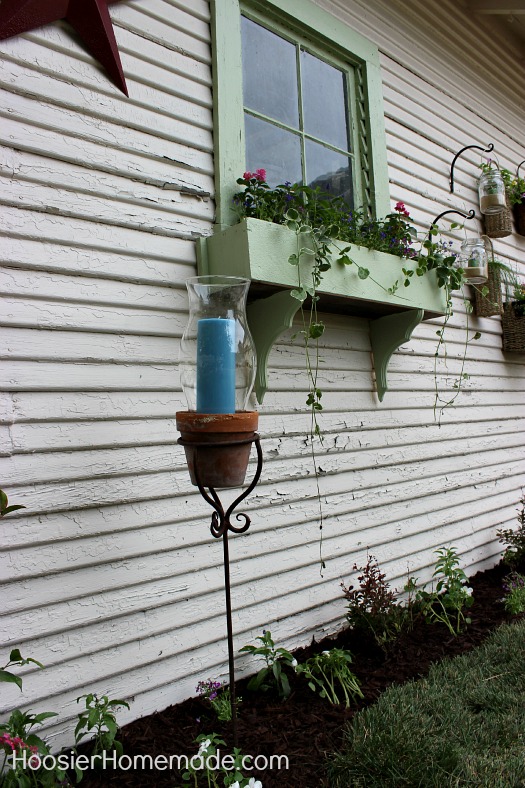 A terra cotta pot was added to a plant stand, filled with sand and a glass hurricane. A blue pillar candle adds a pop of color, we are still on the lookout for a flameless candle though.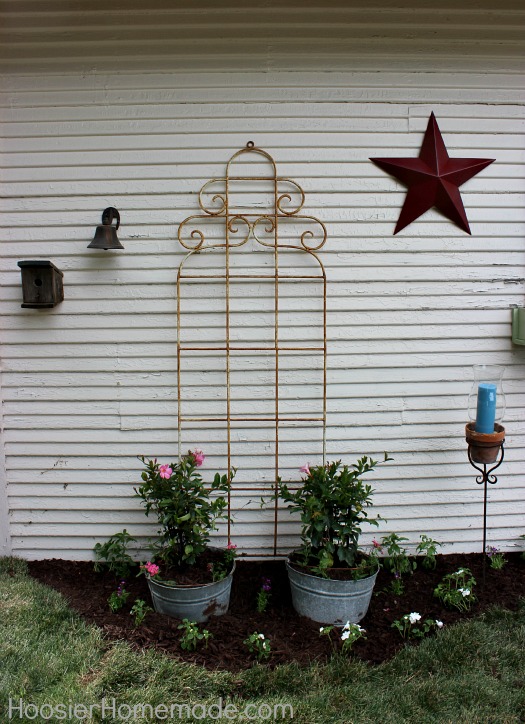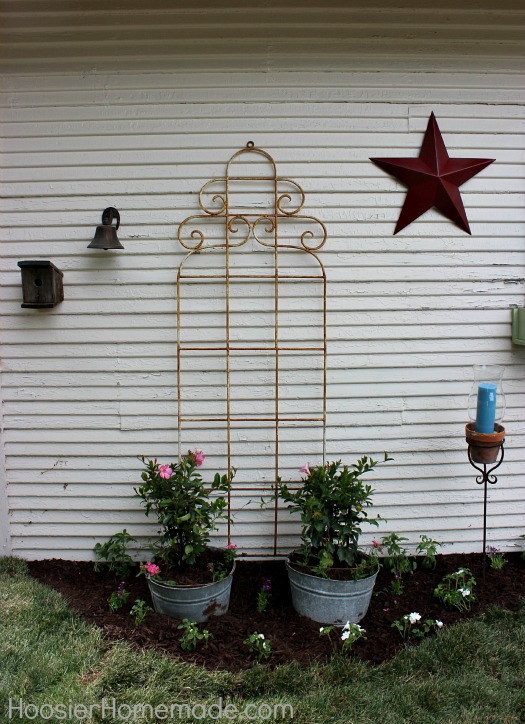 To finish it all off we painted a star with Krylon dark burgundy, and added a bird house and a vintage dinner bell for a little whimsy.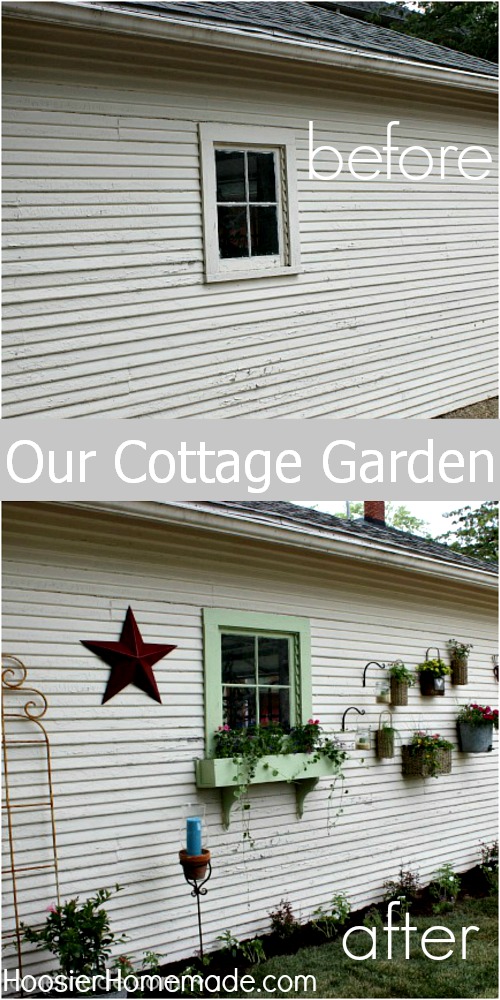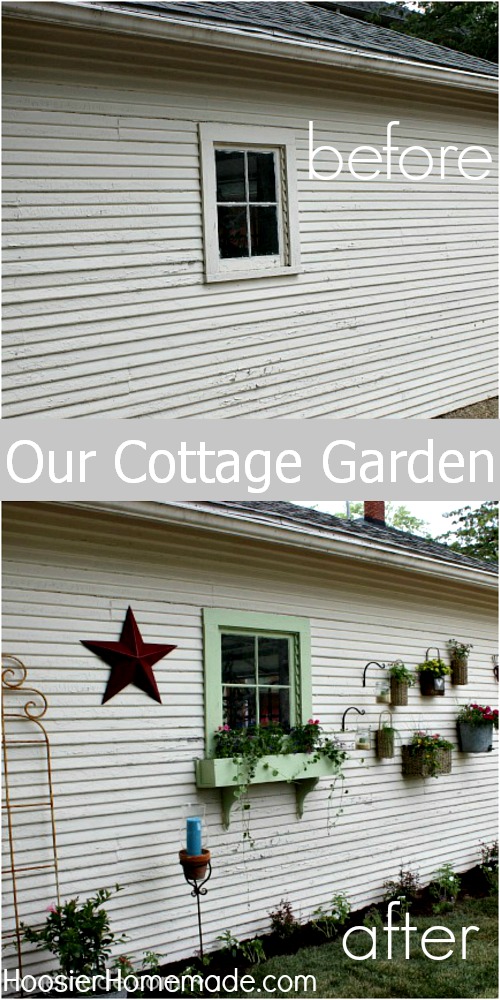 If you need me anytime soon, you can find me with my cup of tea sitting next to my new Cottage Garden!


Linking to…Garden Party