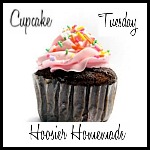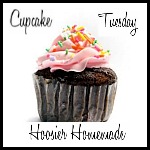 Welcome to Cupcake Tuesday! I'm so glad to have you! I have updated the Cupcake Heaven page, there are over 150 designs and recipes! Check it out!!
Well we are near the end my friends…another year of Christmas Cupcakes almost done! WOW! Where did the time go? I had SO much I wanted to share…and just not enough time.
Today…the best of both worlds collide when Christmas Cookies meet Christmas Cupcakes in these Sugar Cookie Cupcakes!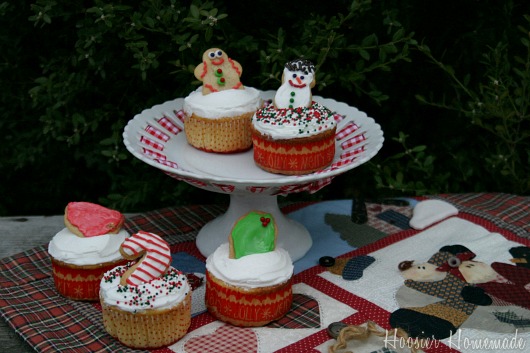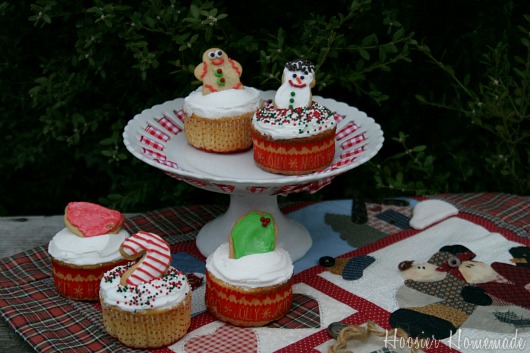 I love baking…you all know that, but honestly I don't make a lot of cookies. Partly because I'm usually baking cupcakes but also because they take a lot of time. Domino Sugar has solved that problem, at least some of the problem. They have a Cookie Starter Mix Recipe that is perfect to put together, store in the fridge or freezer and then you can make lots of different cookies all from that starter mix.
While making my list of Christmas Cupcakes that I wanted to share with you, I added Sugar Cookie Cupcakes, so when Domino Sugar asked that I share their 1001 Cookie Starter Mix with you, I knew it would work perfect for these Christmas Cupcakes.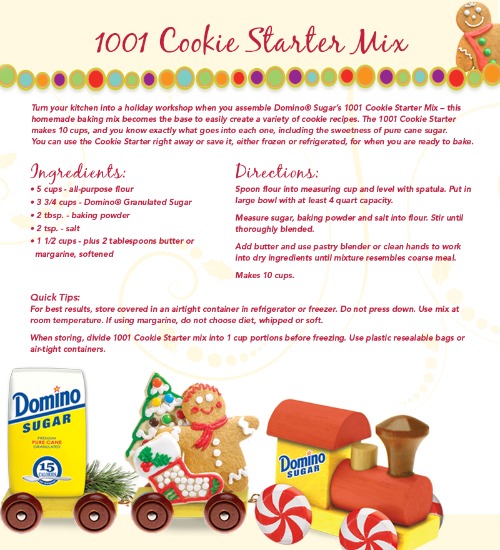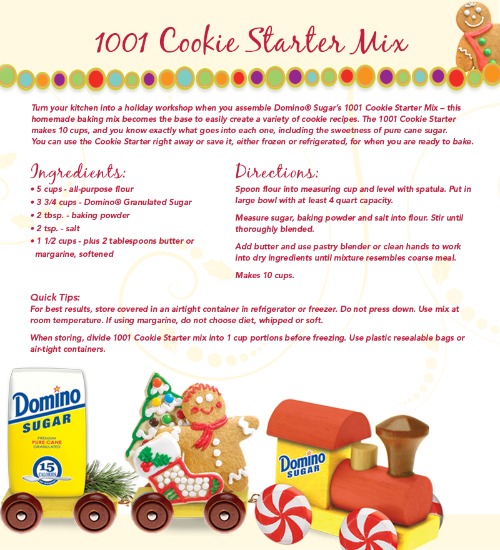 You will need the largest bowl you have in your cupboard though. This recipe makes 10 cups. Then for the Cut out sugar cookies you will need…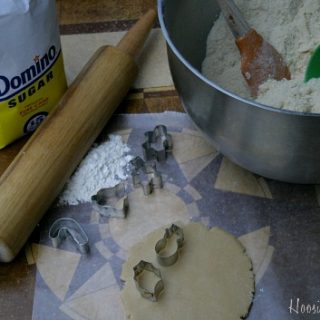 Sugar Cookies
Sugar Cookie recipe from HoosierHomemade.com
Ingredients
4 cups Domino Sugar 1001 Cookie Starter Mix
1 1/2 teaspoons vanilla
1 egg, lightly beaten
Instructions
Mix all ingredients together, you may need to use your hands to form a ball
Wrap in plastic and place in fridge for a few hours to chill
Roll dough out between 2 pieces of wax paper
Cut with cookie cutters, I used mini cookie cutters for the Christmas Sugar Cookie Cupcakes
Bake at 375 degrees for about 8-10 minutes – be sure to check on them frequently if you are baking the minis
Cool and frost cookies
Be sure to share your cookies using the cookie starter mix on the Domino Sugar Facebook page. They are hosting a contest with prizes. Prizes include one grand prize baking gift basket valued at $350 and four runner-up prizes of baking gift baskets valued at $100 each! You will also receive a Domino Sugar coupon and a promo code good for 40% off Chicago Metallic bakeware just for entering your recipe!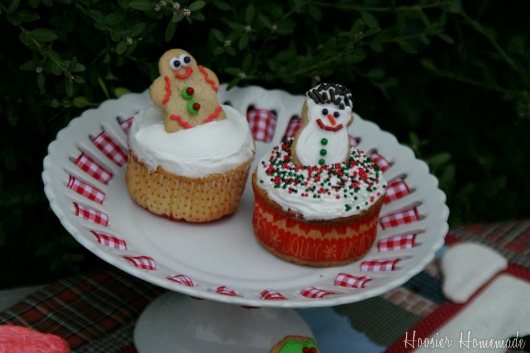 Now let's chat about the Sugar Cookie Cupcakes. I found the recipe over at Baked Perfection, a cute little blog with delicious recipes.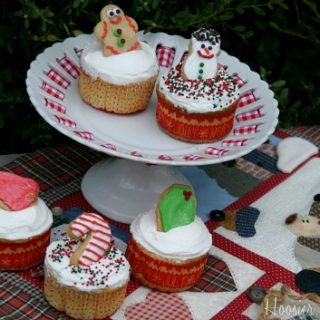 Christmas Sugar Cookie Cupcakes
Best of both worlds collide, Christmas Cookies and Christmas Cupcakes. Recipe from HoosierHomemade.com, adapted from Baked Perfection
Ingredients
1 cup butter, soft
2 cups sugar
3 eggs
2 teaspoons vanilla
3 cups flour
1 teaspoon baking soda
1/2 teaspoon baking powder
1/2 teaspoon salt
2 cups sour cream
Instructions
Preheat oven to 350 degrees
In a bowl, combine the dry ingredients; flour, baking soda, baking powder, and salt
In a large bowl, cream together the butter and sugar
Add the eggs one at a time
Add vanilla and mix well
Add the flour mixture, alternating with the sour cream
Mix well, the batter will be thick
Fill cupcake liners with about 1/3 cup batter
Bake at 350 degrees for 20 - 25 minutes or until a toothpick comes out clean
Cool and frost
Add decorated sugar cookie if desired
Nutrition Information:
Amount Per Serving:
Calories:

0
Total Fat:

0g
And in case you missed Cupcake Chronicles Newsletter last week, I shared these fun Gingerbread House Cupcakes!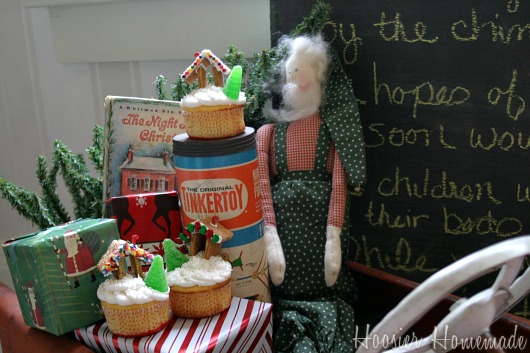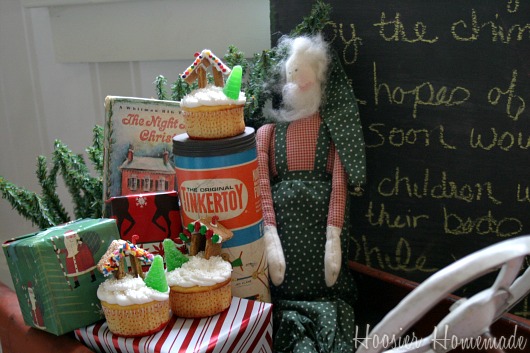 I think they are just darling!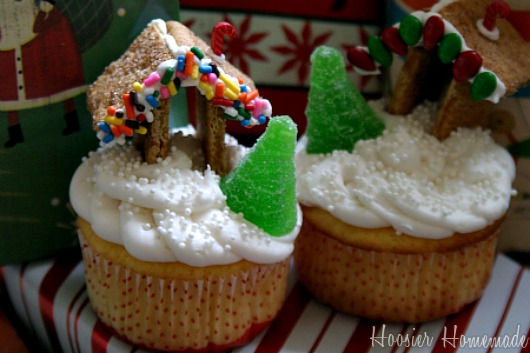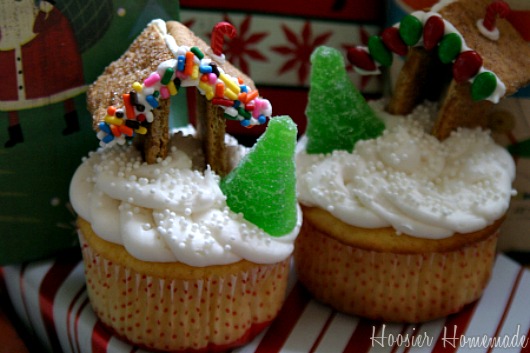 Disclosure: I received a gift card from Domino Sugar. As always, the opinions are always my own.
Now it's your turn…show off your cupcake creations! Be sure to link back so others can enjoy the cupcakes and check out the other cupcakes!

'); // ]]>