Christmas Kiddie Breakfast + Gumdrop Trees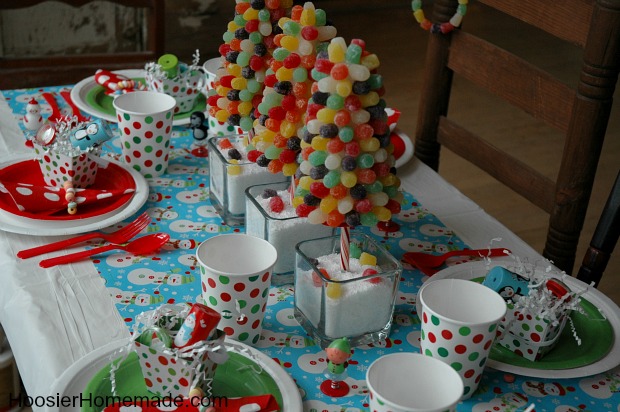 Hosting a special breakfast for the kiddos on Christmas morning is a lots of fun! The key is to keep it simple and have fun! With just a few simple supplies and easy recipes, you can create this whimsical Christmas Kiddie Breakfast too!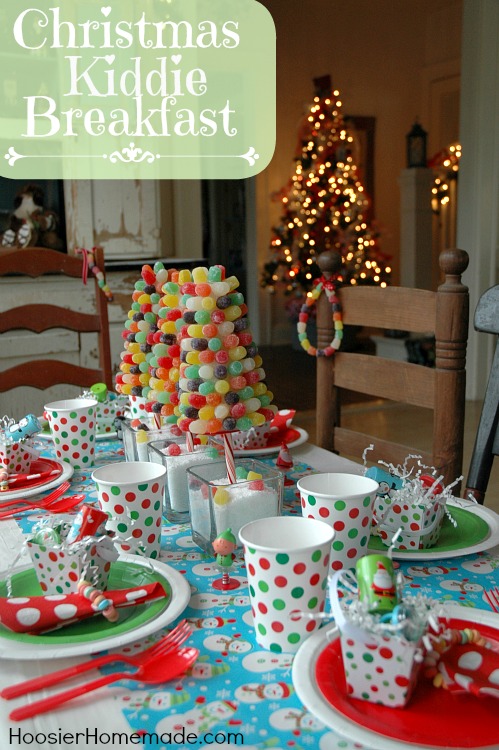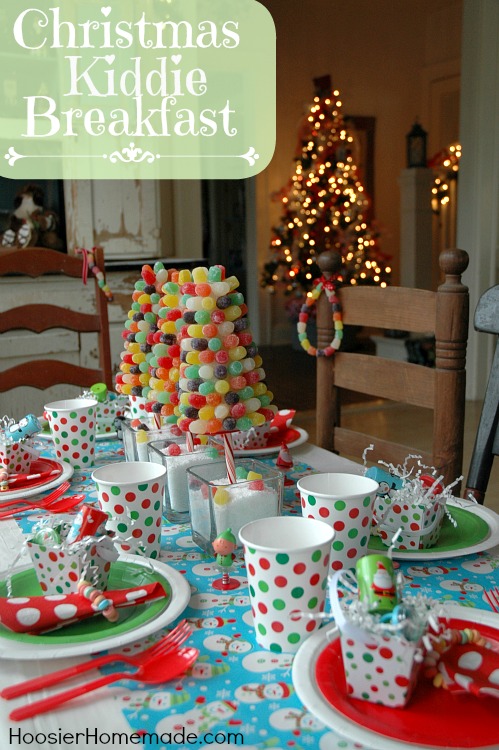 Our inspiration for the Christmas Kiddie Breakfast began with Gumdrop Trees and grew from there. I will show you how easy they are to make, but first, a little bit of the whimsical Christmas Kiddie Breakfast…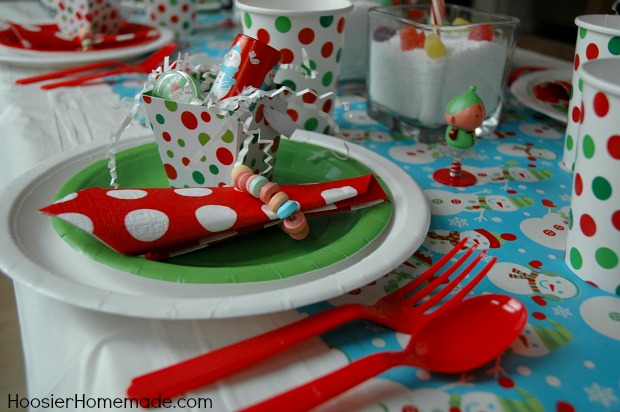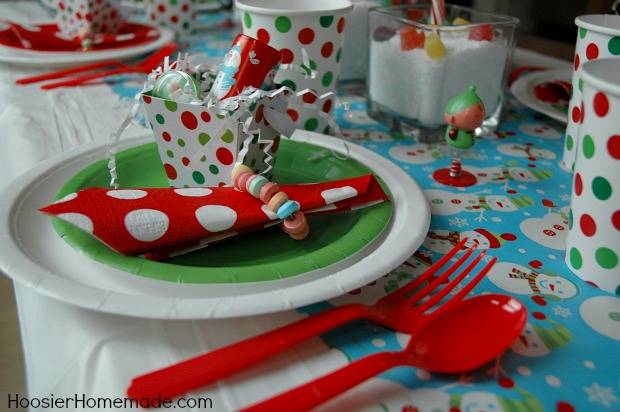 We began with a white plastic tablecloth, and added wrapping paper down the center. Each place setting has a large paper white plate, and then a smaller red and green plate, red plastic silverware and a polka dot cup.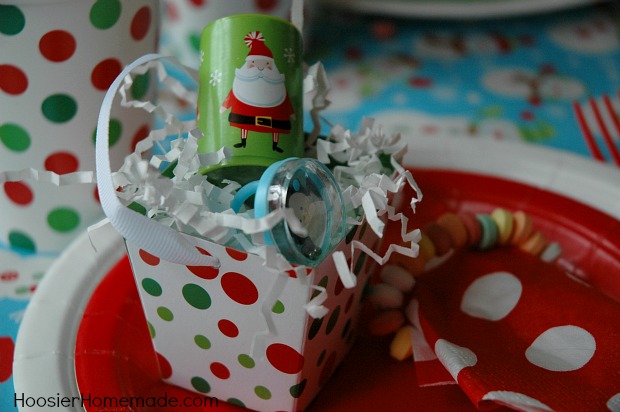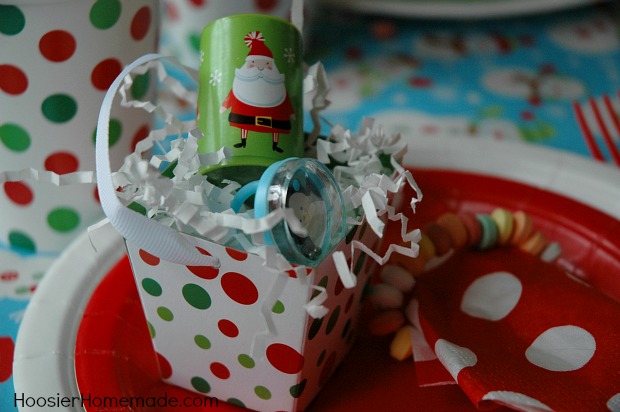 The treat boxes were filled with small toys and the napkins are held together with a candy bracelet ring. We bought all the paper goods and treats at Walmart.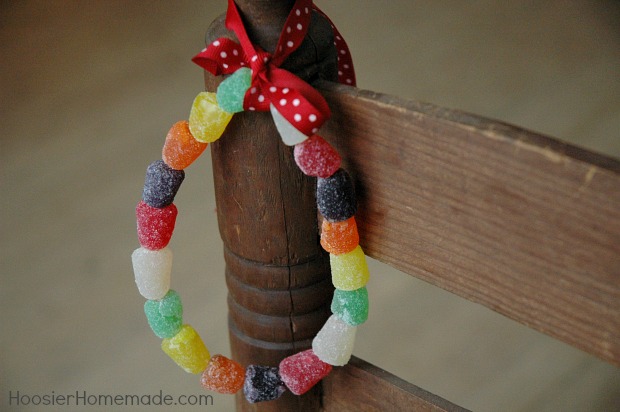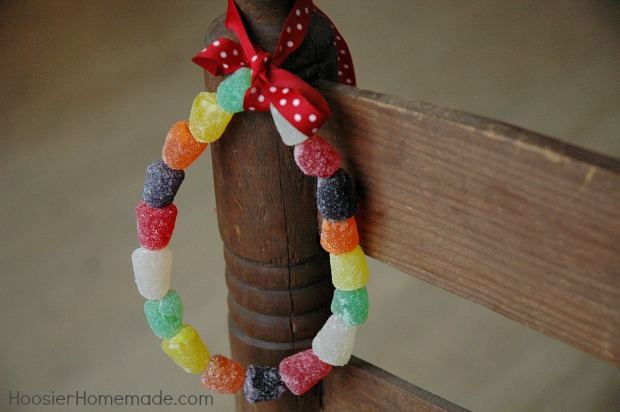 We hung a Gumdrop Wreath on each chair, made with wire and Gumdrops and tied with a ribbon.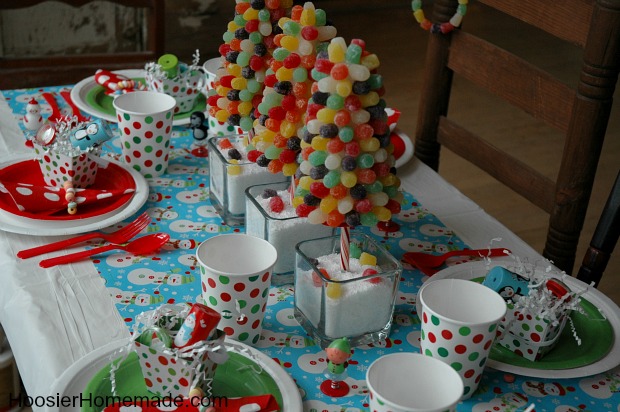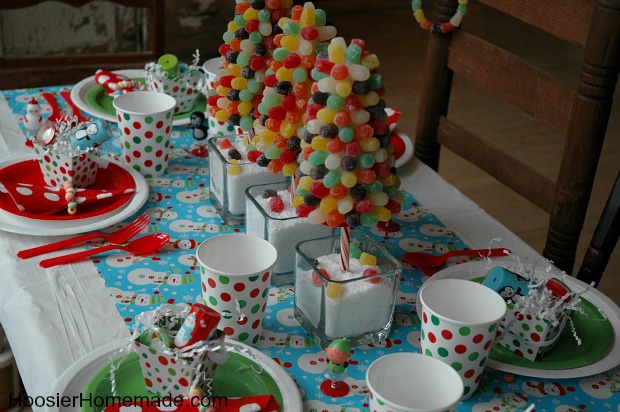 The Christmas Kiddie Breakfast was such fun to put together! I think in my next life, or at least my next blog, I need to be a party planner!
Oh but…we can't forget about the food!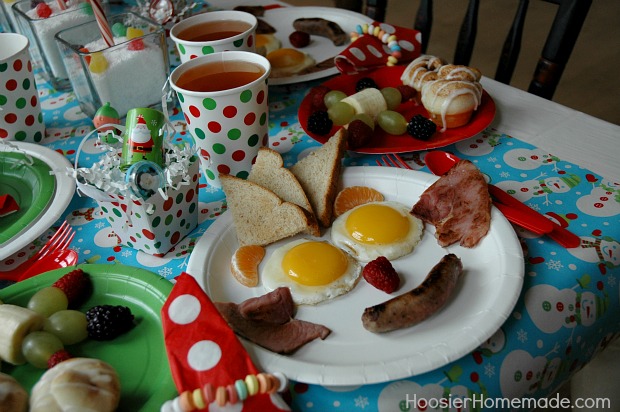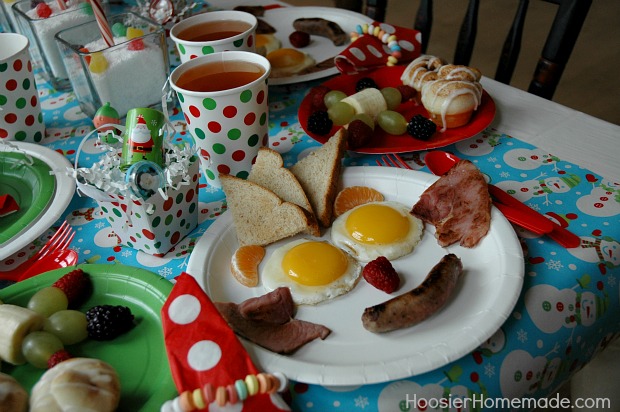 An Elf Face, Fruit Star and Mini Cinnamon Rolls…yummy! For the recipes and instructions, head on over to Pocket Change Gourmet!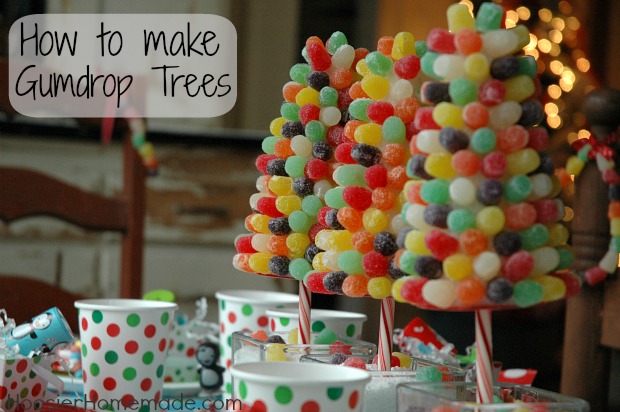 Now let's chat about the Gumdrop Trees! First we need some supplies…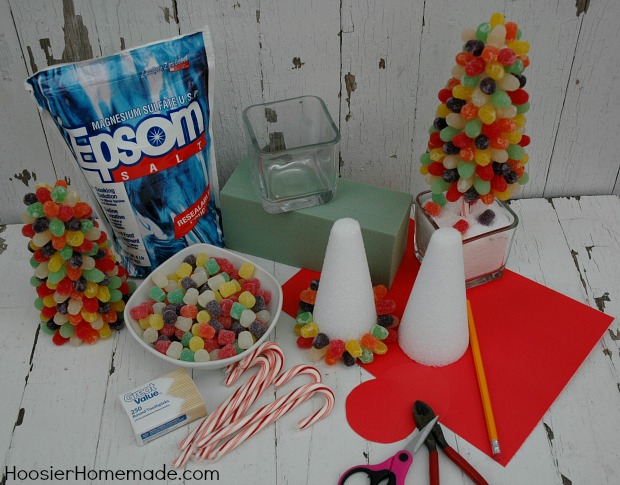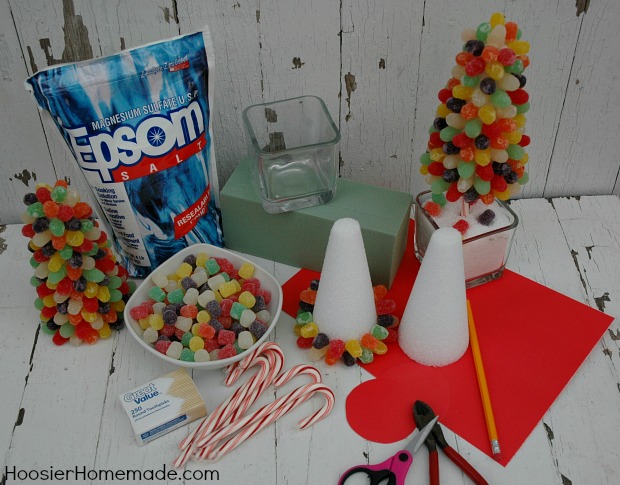 Gumdrop Tree Supplies
Gumdrops – these are actually spice drops
Cone shaped stryofoam
Toothpicks
Candy Canes
Red paper – for the bottom, optional
Small vase or clear container
Epsom salt or other filler
Floral foam or styrofoam
Tools
Wire cutters or heavy, sharp scissors to cut the toothpicks
Scissors
Pencil
Glue or glue dots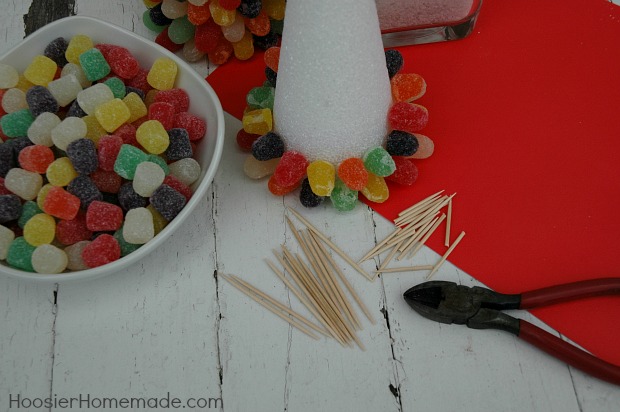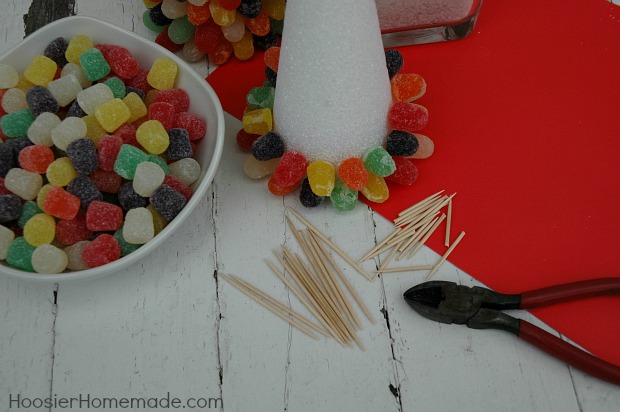 Step 1
Cut the toothpicks in half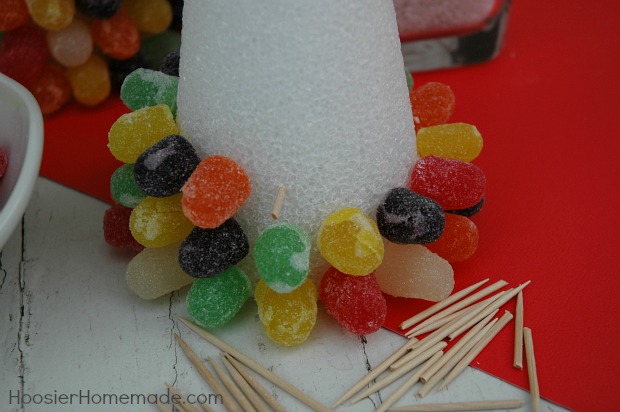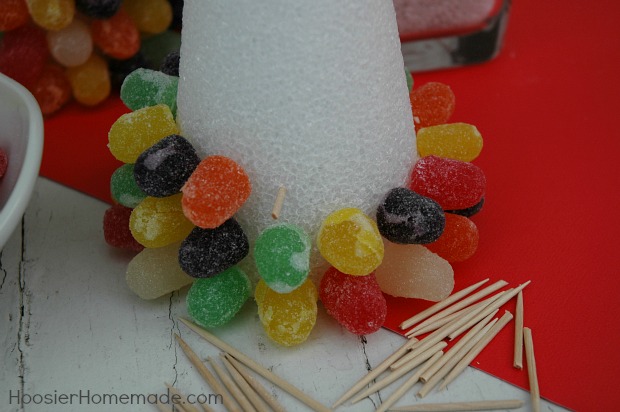 Step 2
Insert toothpick into cone and gently push on gumdrop. I started on the bottom, then placed them in between for a random look.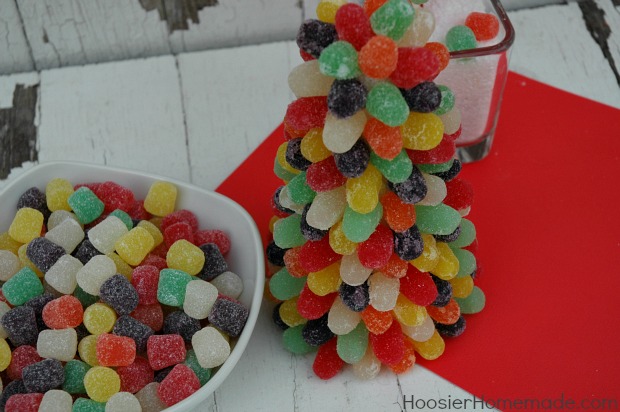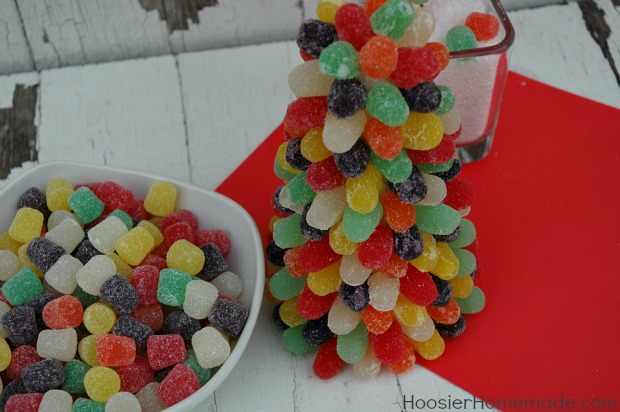 Step 3
Continue until entire cone is full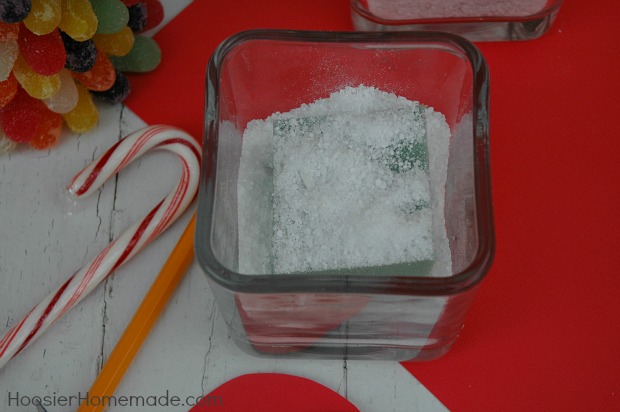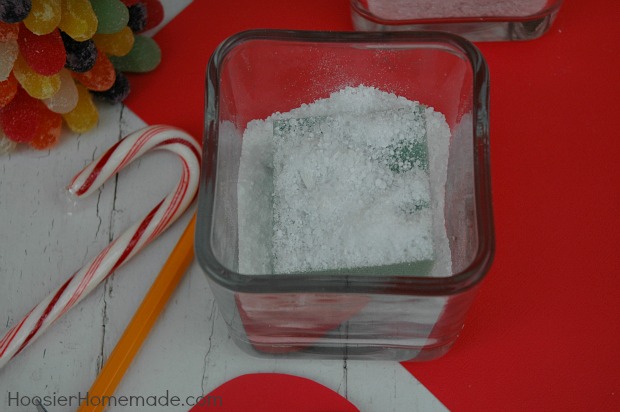 Step 4
Cut a piece of foam to fit into your container, leaving a little room around the edge for the filler, this will hide the foam. Fill with Epsom salt or other filler.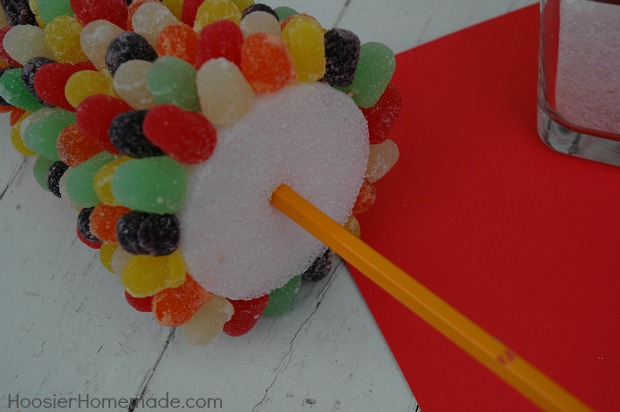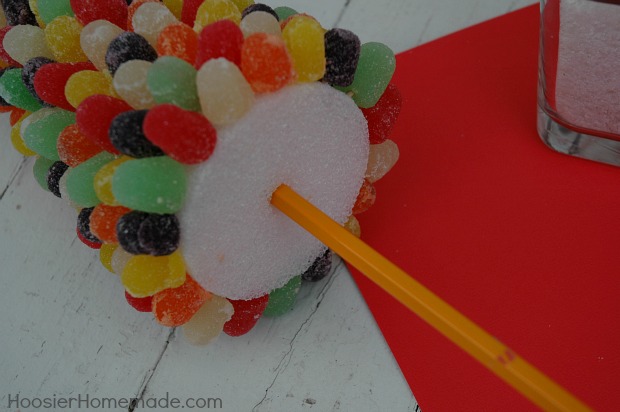 Step 5
Using the pencil, make a hole for the candy cane in the bottom of the cone.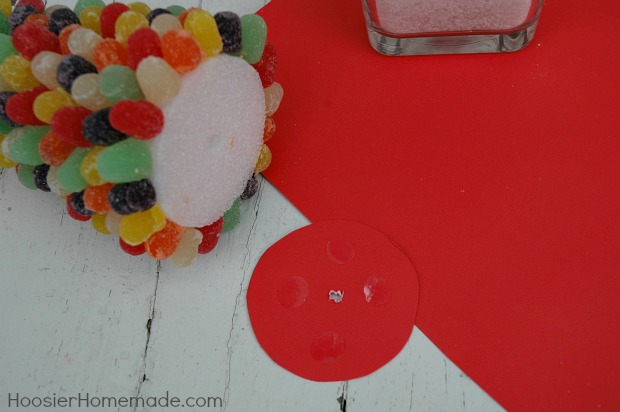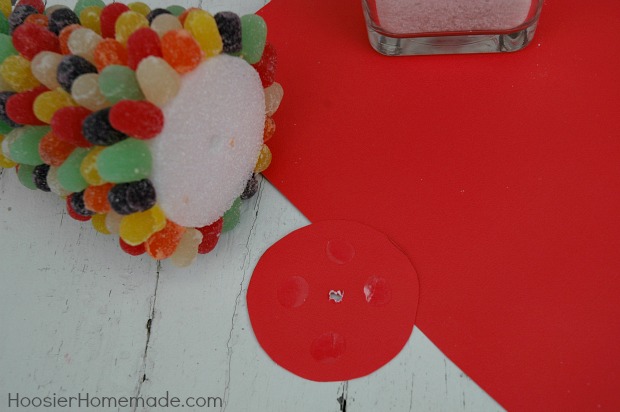 Step 6
Cut a circle to fit the bottom of the cone, using small sharp scissors, make a hole in the center. Add glue or glue dots.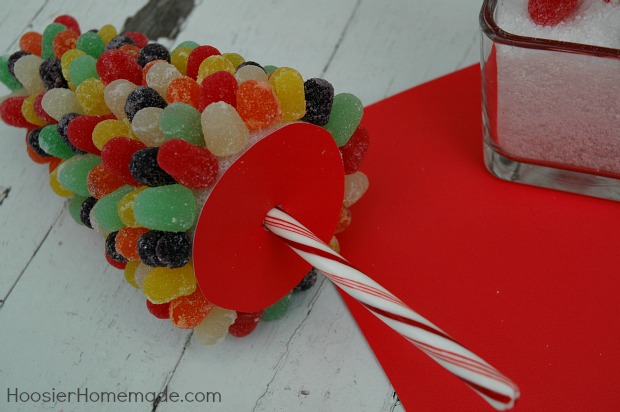 Step 7
Add the paper to the bottom. Break the curved part off the candy cane and carefully insert it into the the hole.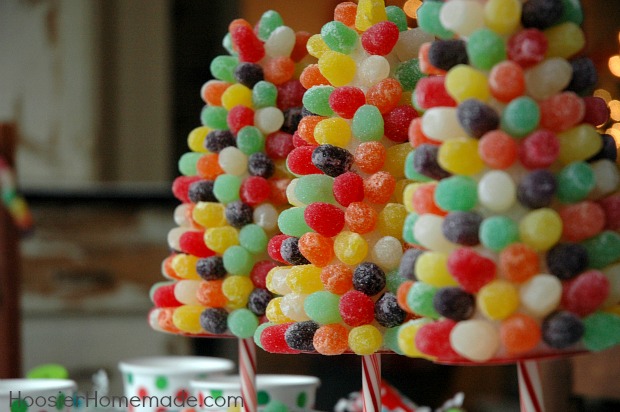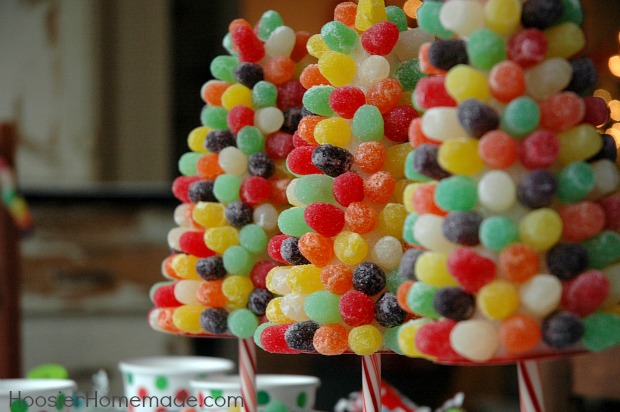 Step 8
Push the tree into the foam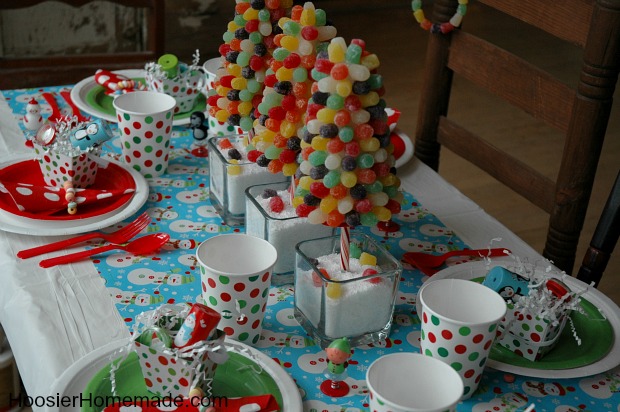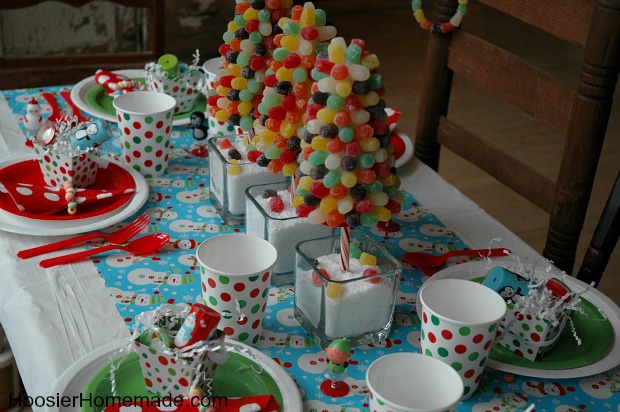 The Christmas Kiddie Breakfast was a blast to put together! Do you fix a special breakfast for your family during the holidays? Share with us what you do!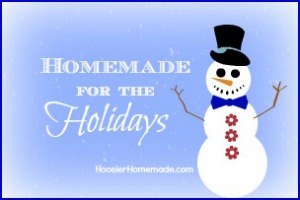 Linking to…Holiday Home Party, Show and Tell Friday, Weekend Wrap Up Party