One of our favorite Holiday desserts, is Chocolate Meringue Pie. We all love it and it's always gone before anything else.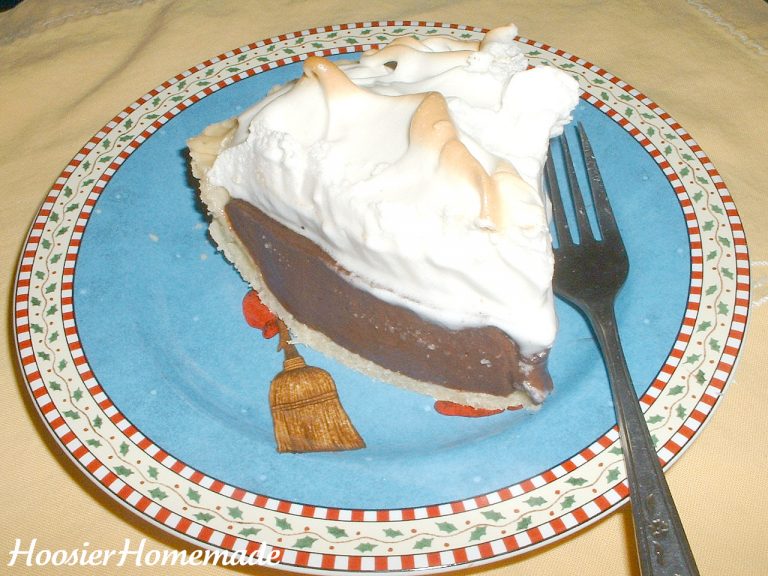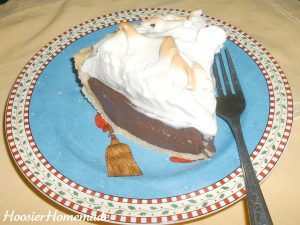 I'm not really sure why I only make it for special Holidays or occasions, because it's not really that difficult. It does take a little time, but it's well worth the time.
I usually make Chocolate filling, that's what we like the most, but you can certainly use lemon, butterscotch or any other flavor your family likes. I use 1 large box of Chocolate pudding (cooking, not instant) and make my own crust.
Ingredients for Meringue:
4 Large Eggs Whites, I use 4 eggs so that the meringue is tall and thick
1 t. Vanilla
1/2 t. Cream of Tartar
1/2 c. Sugar
Directions:
Because I wanted to show you step by step pictures, I've combined them so that the post isn't too long.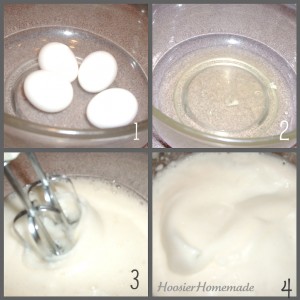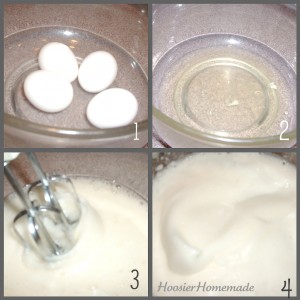 Place eggs in bowl and let warm up to room temperature, this step is very important
Seperate egg whites into bowl, let warm up a little more if needed
Beat egg whites, vanilla and cream of tartar at medium speed…
Until soft peaks form
Gradually add sugar, beating after each addition on high speed, until stiff peaks form
Begin spooning meringue at the edge of the pie, this seals the edge and helps prevent shrinkage
Fill in the middle
Use a small spatula or the back of a spoon to form peaks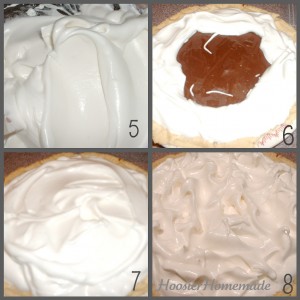 Bake at 400 degrees for about 10 minutes, watching closely so the peaks won't burn.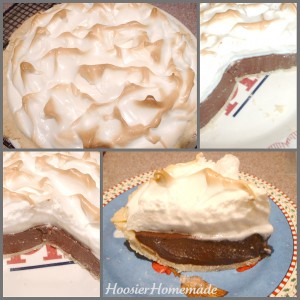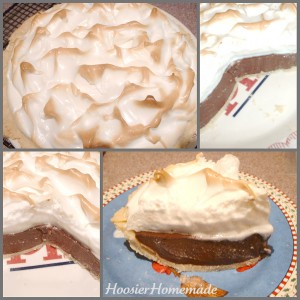 Today is the last day of the Holiday Food Fest. I hope you all have enjoyed it as much as we have! A big Thank You to Amy from Simply Sugar & Gluten-Free for organizing the Food Fest.
FishMama over at Life As Mom is hosting the Food Fest and Ultimate Recipe Swap. And The Holly Bloggy Christmas Bash hosted by Simply Sweet Home has lots of great recipes for the Holidays.
This post also linked to:
~Foodie Friday hosted by Design by Gollum
~Food on Fridays hosted by Ann Kroeker
~Finer Things Friday hosted by The Finer Things in Life