What do you get when you combine caramel apple and sugar cookies? Well – Caramel Apple Cookie Truffles – of course. Made with simple ingredients, these are perfect for any occasion.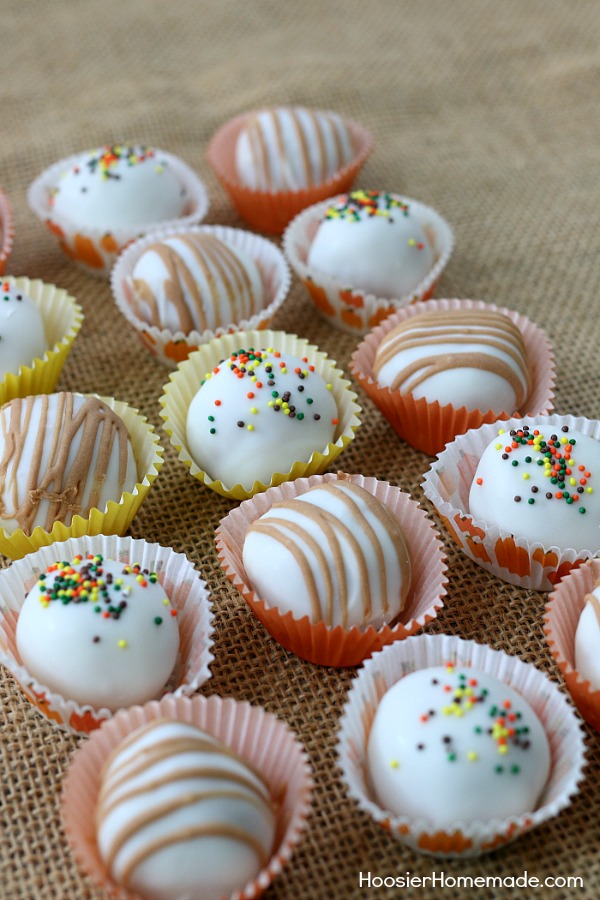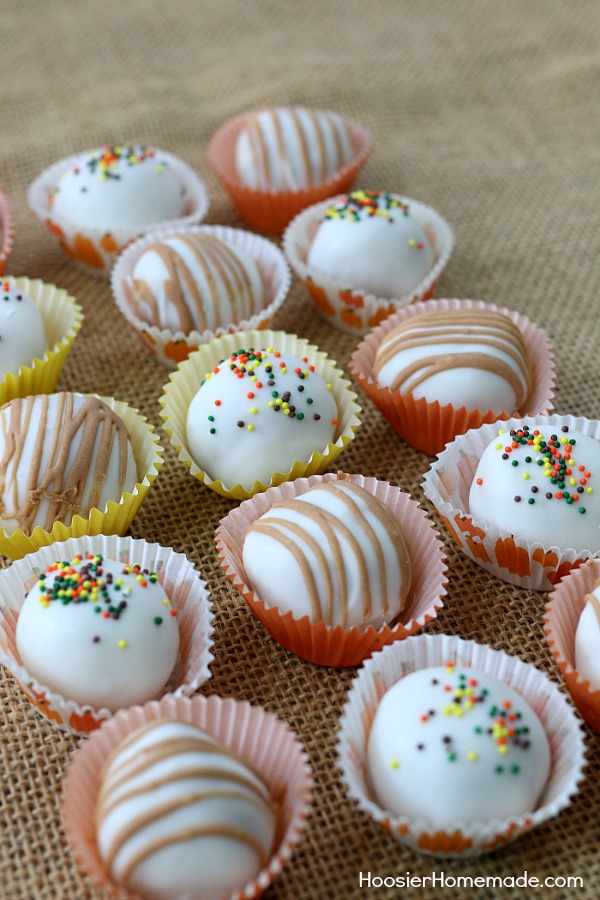 Are they a cookie? Are they candy?
How about a little bit of both? I have made cookie dough truffles for just about every occasion. It's one of my youngest son's favorite treats that I make, so we have had many times. My favorite though is giving them as gifts for Christmas. These truffles though are a little different, because they start with a baked sugar cookie.
You can use whatever sugar cookie you like – store bought, made from scratch or made from a box mix like I did. Recently we shared our Fall Dessert Table, filled with quick and easy treats like Pumpkin Whoopie Pies, Caramel Apple Cupcakes, Cinnamon Swirl Bread and two kinds of fudge – Caramel Apple Fudge and Funfetti Fudge. And of course, the Caramel Apple Cookie Truffles.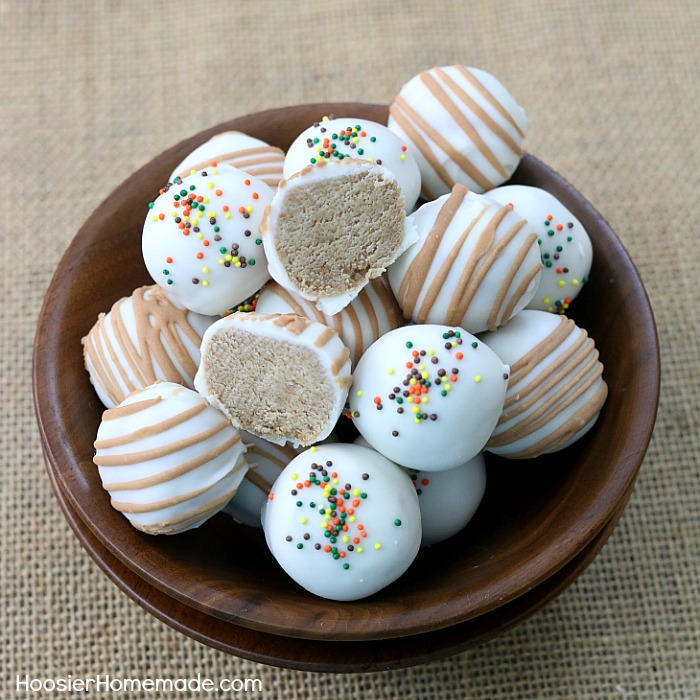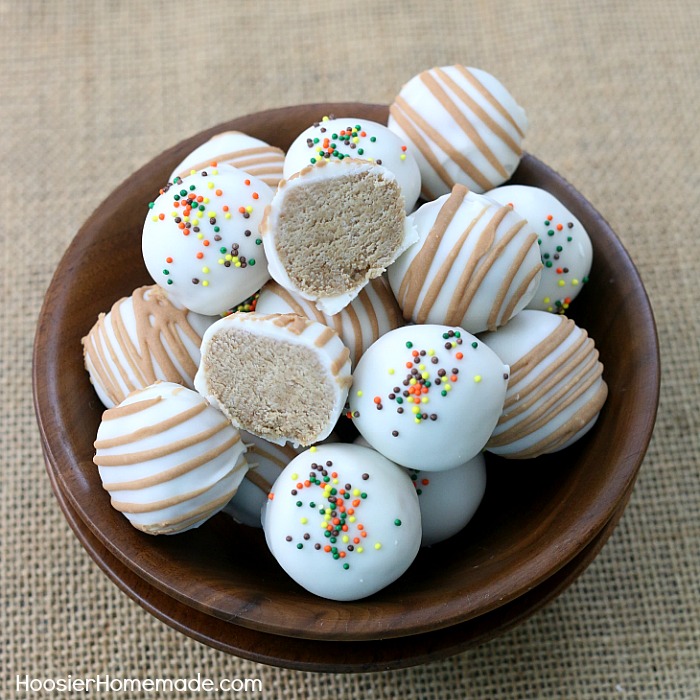 After the cookies are baked and cooled, it's time to put together the rest of the ingredients – the cookies get crumbled in the food processor, and then cream cheese and Caramel Apple canned frosting are added. Then roll the balls and into the fridge to chill for about 15 minutes.
Then the fun beginnings – dipping the balls into chocolate. I have tried many different kinds of chocolate for dipping, and have found that Almond Bark melts the best and is the easiest to use.
I start with a cookie sheet lined with wax or parchment paper and two forks. Then I remove the balls from the fridge and using the forks, dip each ball into the melted chocolate. The fork tines serve as a strainer and let the chocolate drip out into the bowl. I usually give the fork a little tap on the side of the bowl.
Then transfer the ball onto the cookie sheet using the second fork. Immediately add the nonpareils to the top of decoration.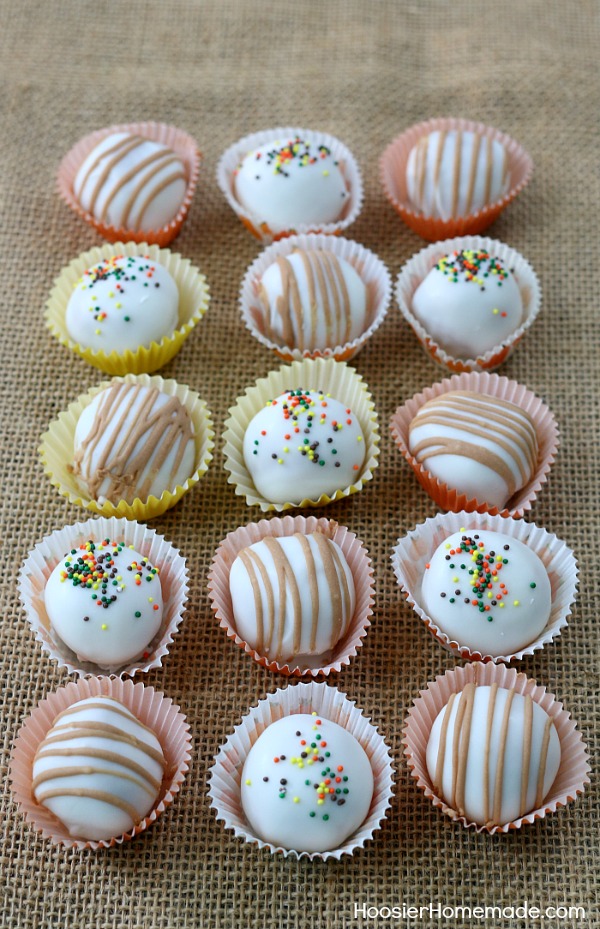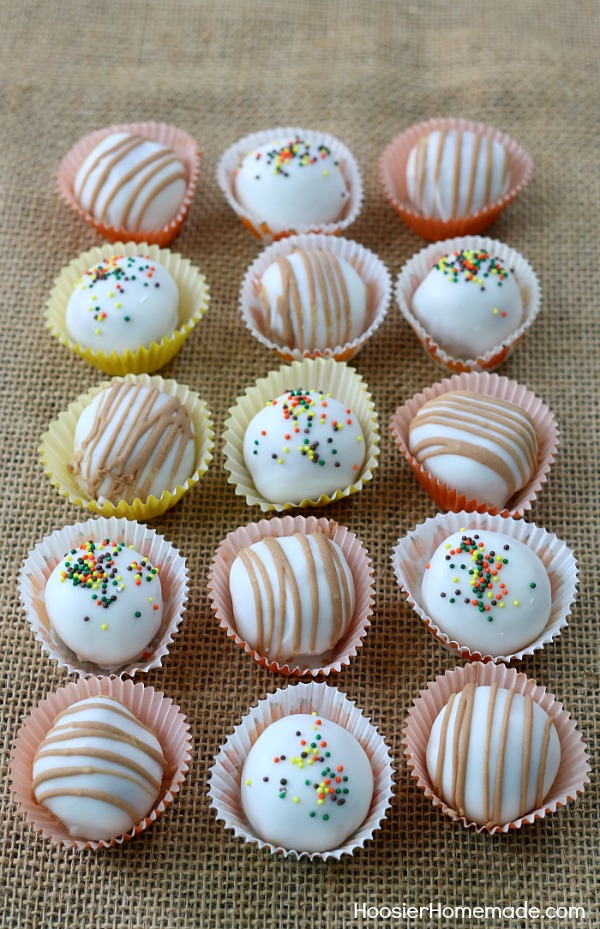 The chocolate coating will set up pretty fast, so you need to work swiftly. After it's set, you can also drizzle on Caramel Apple frosting. In this recipe you use only 1/2 cup of the frosting, so you have some left for drizzling. Heat the frosting in the microwave – it doesn't take long, about 10 seconds only – then pour it into a plastic squeeze bottle and drizzle the balls.
After they are completely dry, you can add each of the Caramel Apple Cookie Truffles to mini cupcake liners and then give them as gifts, or add them to your dessert table, like we did.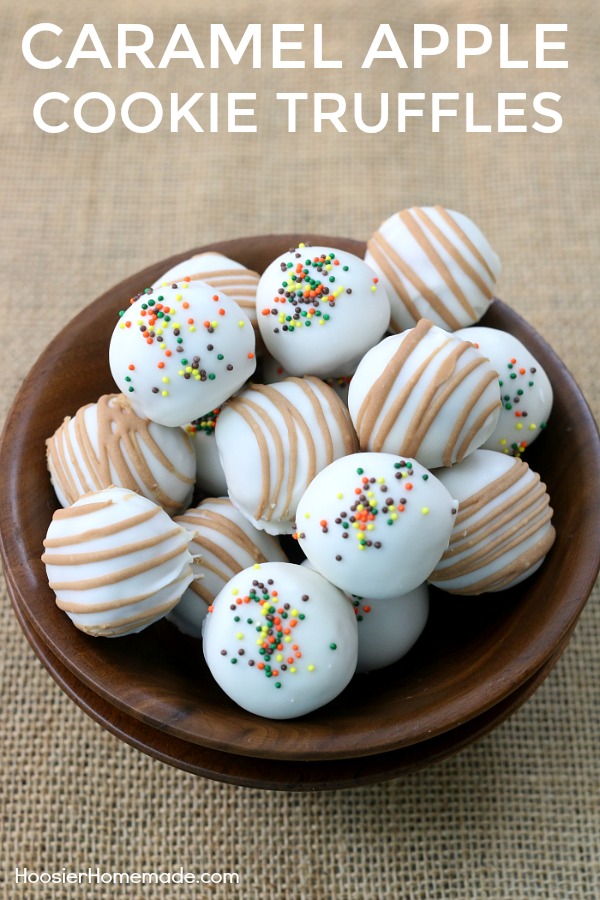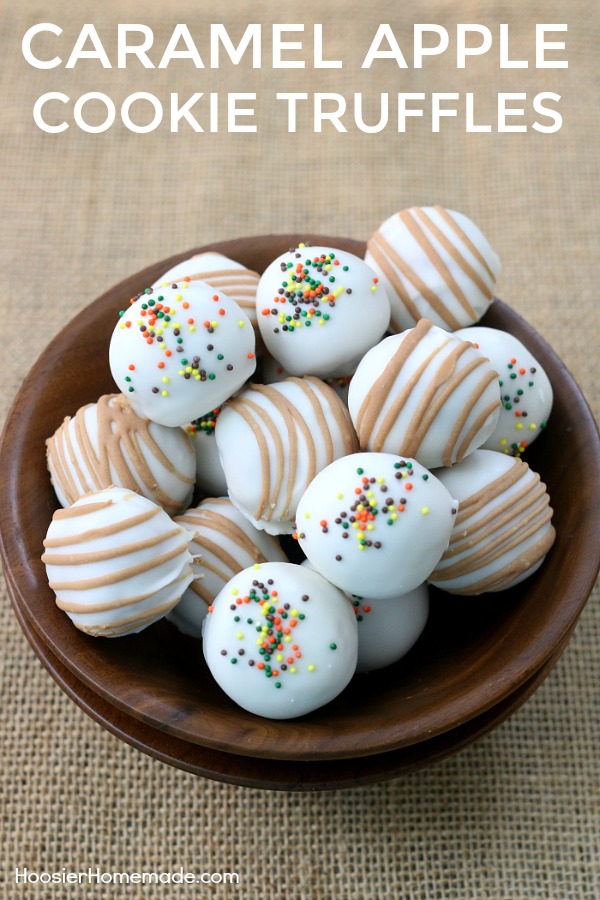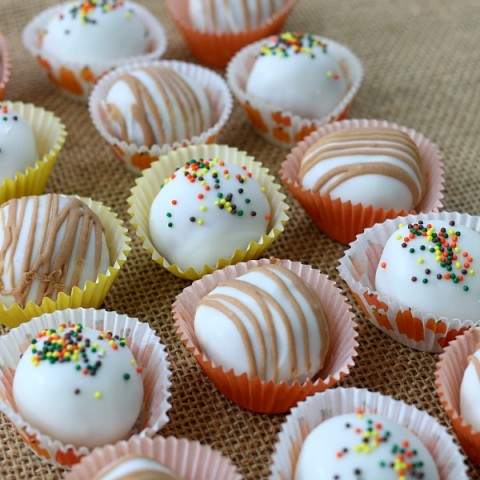 Caramel Apple Cookie Truffles
CARAMEL APPLE COOKIE TRUFFLES -- The perfect Fall treat for any occasion!
Ingredients
24 (2 inch) sugar cookies - made from scratch, store bought or box mix
1/2 cup Caramel Apple canned frosting
2 ounces cream cheese, softened
1 (16 oz) block Vanilla Almond Bark - I used 1/2 block
Sprinkles or Nonpareils for decoration
Supplies
Cookie Sheet
Food Processor
Bowl
Fork
Plastic Squeeze Bottle
Instructions
Bake and cool cookies
Crumble cookies in food processor until fine crumbs
Add 1/2 cup frosting and cream cheese, blend well
Shape into balls, place on lined cookie sheet and chill for about 15 minutes in refrigerator
Place 3-4 squares of Almond Bark in a microwave safe bowl and heat for 1 minute, stir and continue cooking in 10 seconds increments, stirring after each heating. Remove when chocolate is almost melted but not completely. Stir until smooth.
Using 2 forks, dip balls into melted chocolate, tap off excess chocolate into bowl with fork and place on cookie sheet using second fork.
Immediately add decoration
For drizzle - heat a small amount of canned frosting in microwave for 10 seconds, pour into plastic squeeze bottle and drizzle over balls.
Let set for about 15 minutes to harden.
Notes
These cookie truffles can be made with any flavor of frosting.