Happy Cupcake Tuesday! I'm so excited you are here! Looking for a cupcake recipe? Be sure to check out the Cupcake Heaven page, there are over 250 cupcake recipes and decorating ideas!
Do you have a wedding in your future? Maybe you or a loved one is getting married and you are planning a Bridal Shower. These Strawberry Cupcakes with Marshmallow Frosting are perfect to serve at a Bridal or Baby Shower.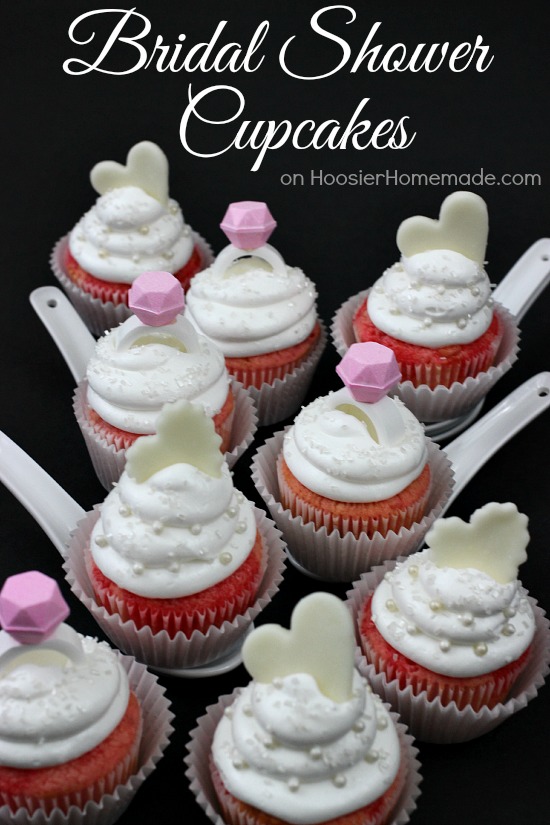 When I think of dessert to serve at a Bridal Shower, I think of light, refreshing flavors like strawberry. So I started with Strawberry Cupcakes, added Homemade Marshmallow Frosting, then simple yet elegant decorations.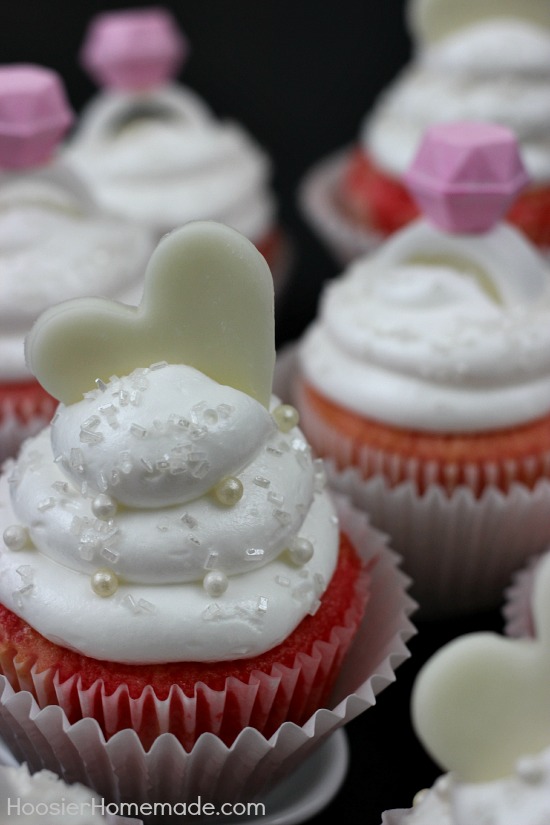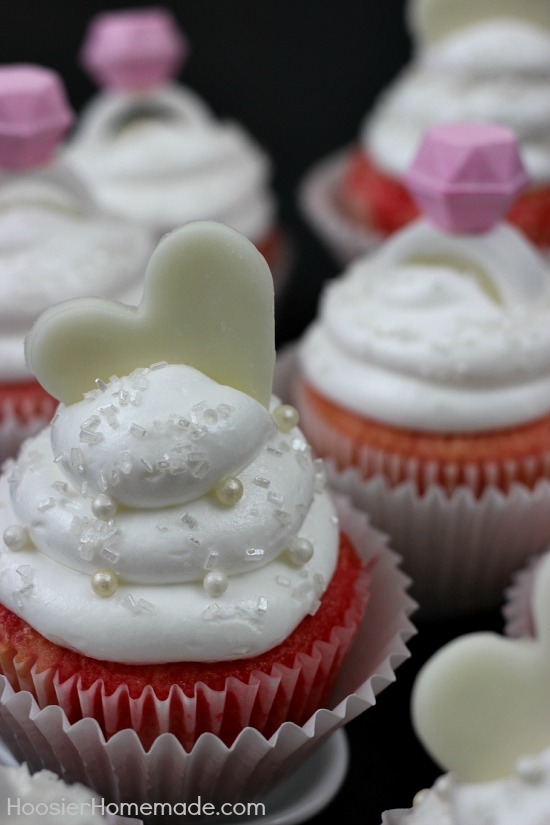 These Strawberry Cupcakes are also very versatile. You can certainly serve them for any occasion, Baby Shower, Birthday or even Valentine's Day.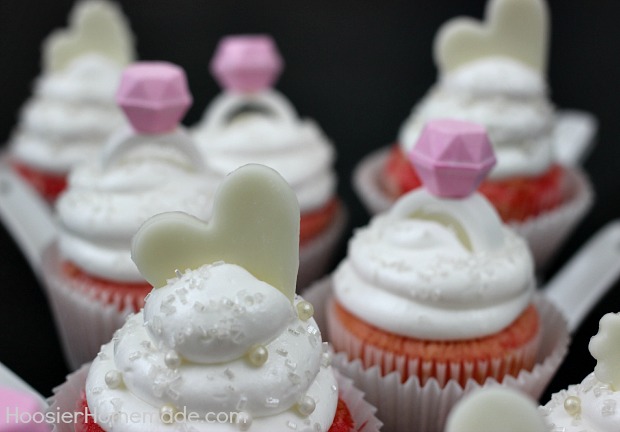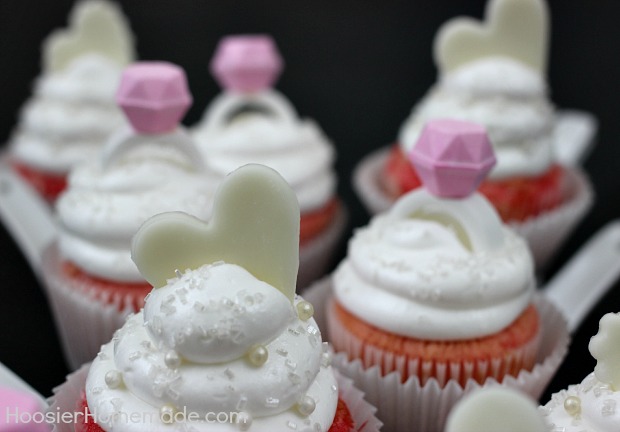 Mini hearts made from Candy Clay sit on top of Marshmallow Frosting decorated with Glitter Crystals and Sugar Pearls. Learn how to make Candy Clay.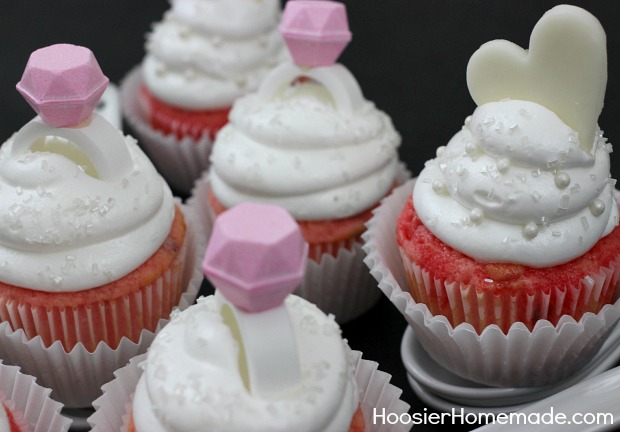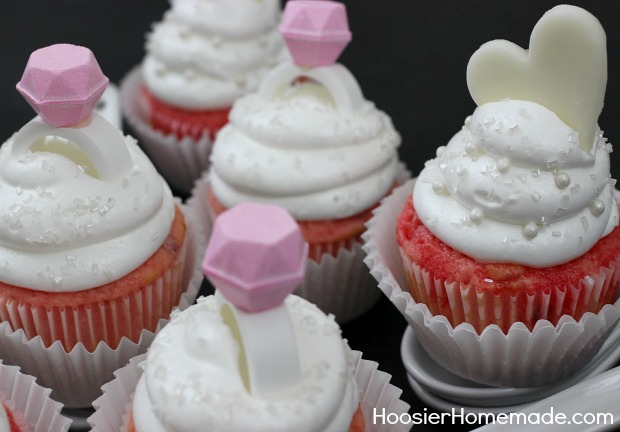 And on some, Wilton Candy Rings from Walmart. Did you know that they have a wide range of items for Weddings and Bridal Showers? You can find them in the Party Section of your store.
I remember when I got married, 25+ years ago, it was difficult to find things for the Wedding, especially at a good price. It's nice to see that Walmart is carrying these.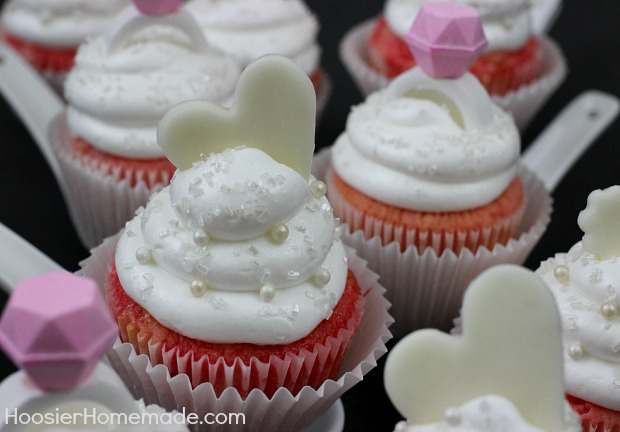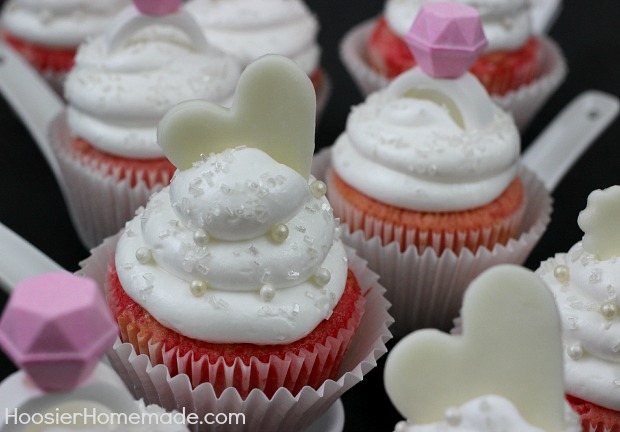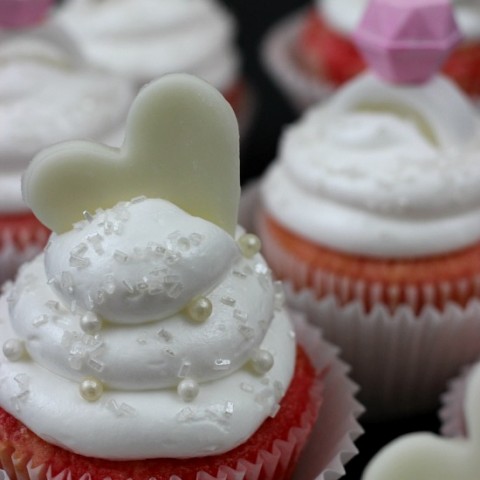 Strawberry Cupcakes with Marshmallow Frosting
Light, refreshing cupcake perfect to serve at a Bridal or Baby Shower. Recipe from HoosierHomemade.com
Ingredients
Cupcakes
1 box Duncan Hines Supreme Strawberry Cake Mix
4 eggs, room temp
1 cup Buttermilk (splash of vinegar in a measuring cup, fill with milk, let set a few minutes)
1/2 cup (1 stick) butter or oil
Marshmallow Frosting
1 cup of sugar, granulated
1/3 cup water
1/2 teaspoon cream of tartar
4 Egg whites, room temp
Instructions
Cupcakes
Preheat oven to 350 degrees and fill pan with cupcake liners
Mix together all cupcake ingredients until smooth, fill liners 2/3 full
Bake at 350 degrees 12-15 minutes or until a toothpick inserted in the center comes out clean
Frosting
In a saucepan, add sugar, water and cream of tartar.
Bring to boil, do not stir, until temperature reaches 245 degrees. Bubbles should be clear.
While the syrup is cooking, beat egg whites until soft peaks form.
When syrup reaches 245 degrees, remove from heat, and carefully, slowly pour into the egg whites, while the mixer is running. Beat on high speed for 5-7 minutes until stiff peaks form.
Decorating
Fit a decorator bag with a Large Round Tip, fill with frosting and pipe onto cupcakes
Add Glitter Crystals and Sugar Pearls
For Candy Clay hearts - follow the directions on How to Make Candy Clay
or add Wilton Candy Rings