With some sand paper, spray paint and a little elbow grease, this Beverage Cart Makeover adds a whole new look to the deck.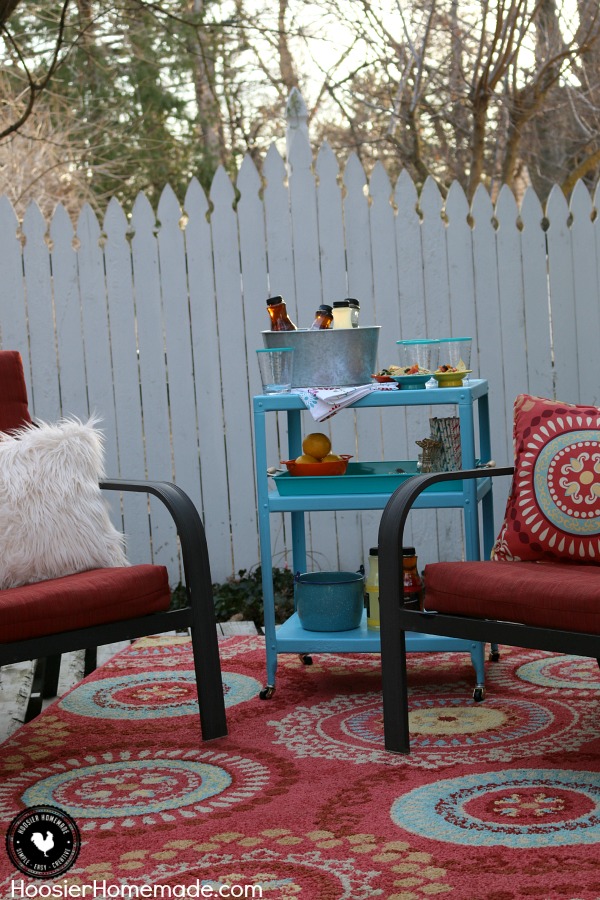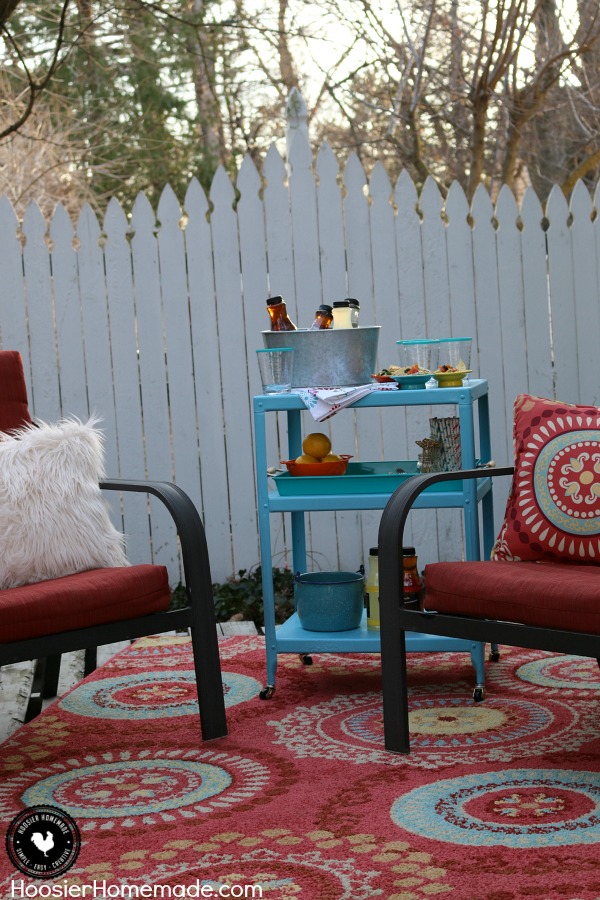 Last Summer, we went to a couple auctions, we really didn't buy too much, but it's always fun to go and see what you can find for not a lot of money. Well, we happened to see this metal cart and I wasn't really sure what I wanted to do with it, I simply couldn't pass it up, it was only $2.
I had seen several gorgeous bar carts on Pinterest, the options were endless for our new cart. Fast forward to this year, when it was time to bring out the rug and chairs for our Wood Pallet Deck, I remembered that we had found the beverage cart last year. It was the perfect time to do our Beverage Cart Makeover.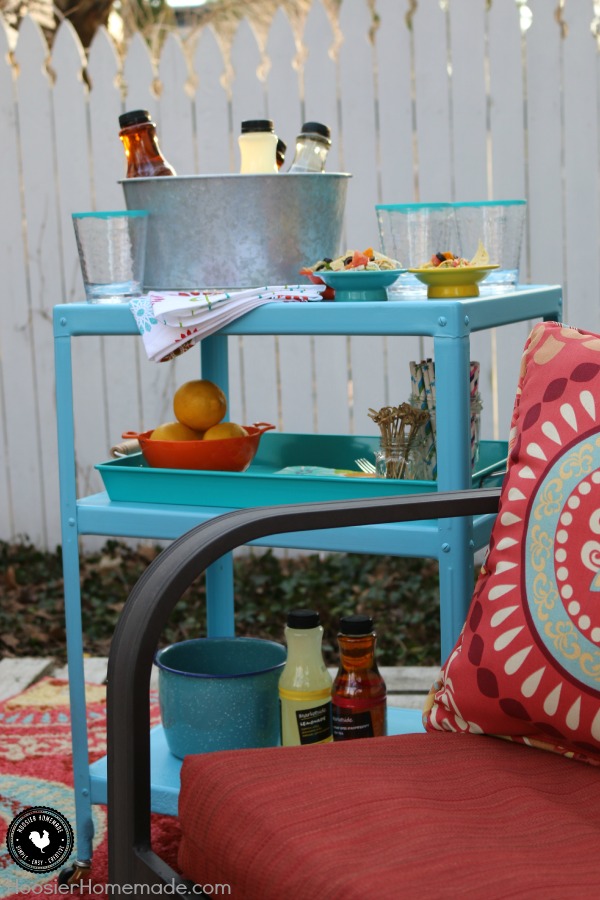 I love how the aqua blue color really pops with the other rust colors. Let me show you where we began, you might just be shocked.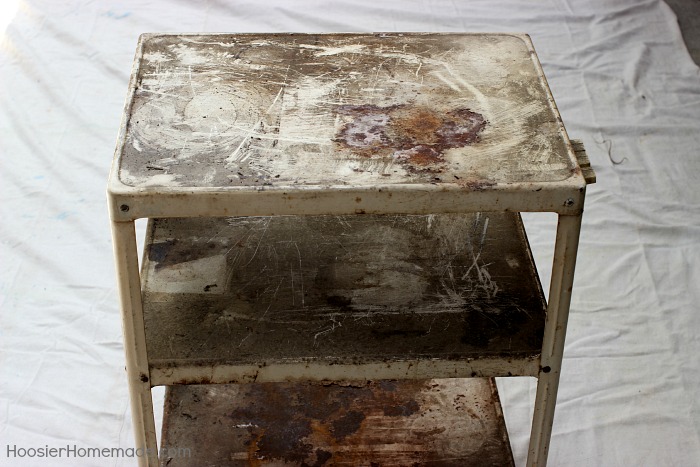 It was in really bad shape. There was rust, but most of all it was just really dirty and greasy after sitting in someone's garage.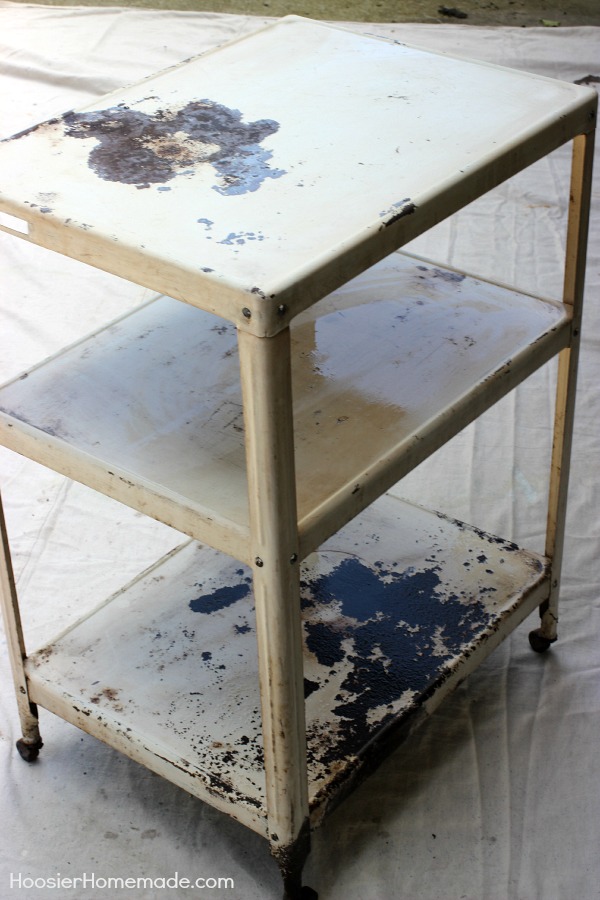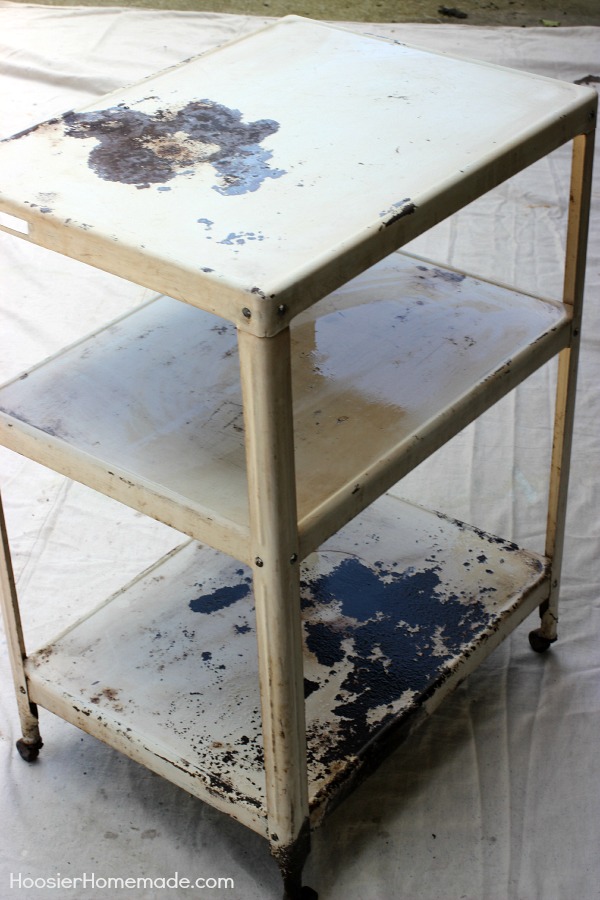 It was important to keep our budget down when we did the project, after all, we didn't pay a lot for the beverage cart and we weren't quite sure how it would turn out. So the first step was to clean it up – wash it off and give it a good scrub, we used Mr. Clean Outdoor Cleaner to remove the grease and dirt. Then it was time to tackle the rust. We headed to Walmart to find everything we needed.
Sand paper and spray paint would do the trick. To get the large pieces of rust off, we used a scraper. Then a piece of 150 grit sand paper for the small areas. To paint it, we used Krylon Cover Maxx in Blue Ocean Breeze, it has rust protection, and is a paint and primer in one.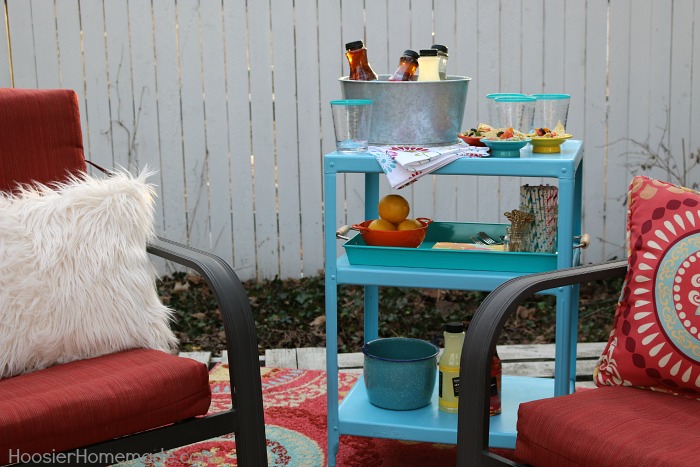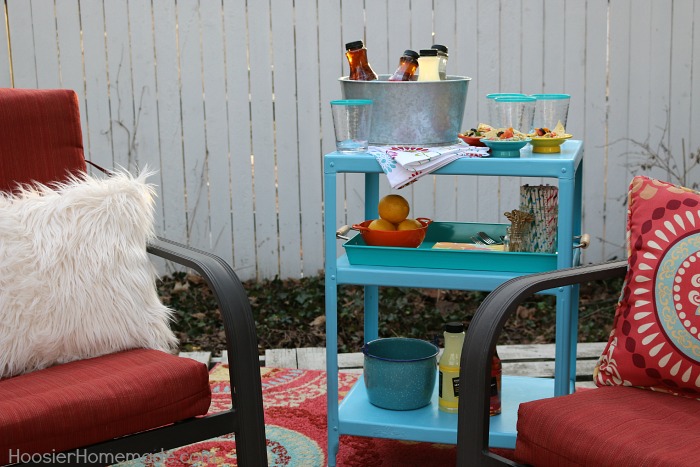 The Beverage Cart turned out a lot better than I ever expected. And it was a really easy project, that didn't cost a lot of money. We spent about $10 in supplies and about $20 in items to use on it, everything else we had already.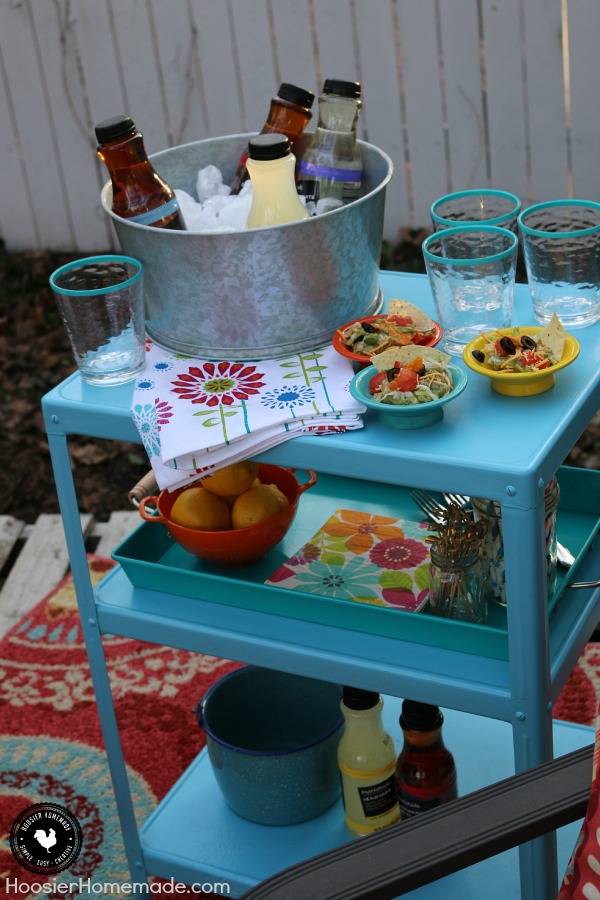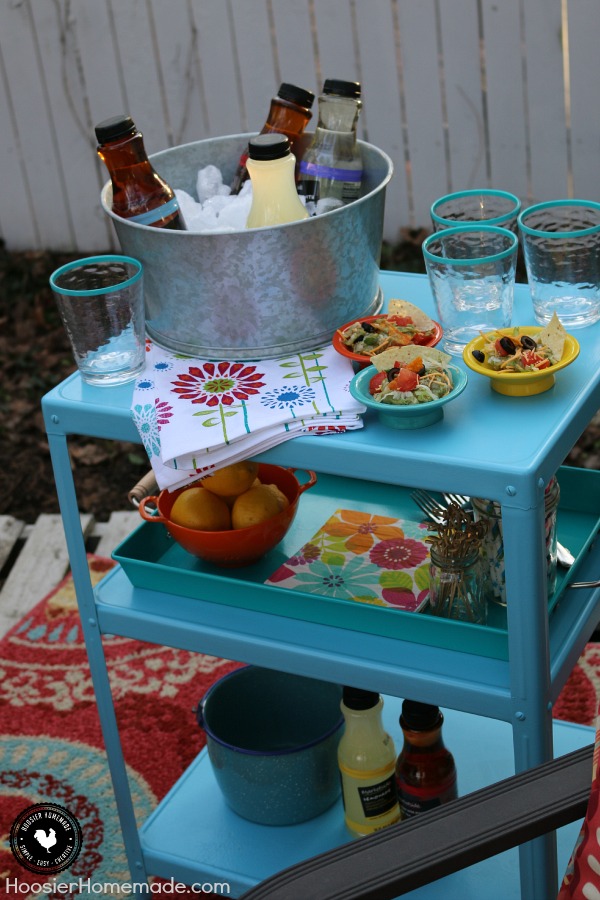 After the Beverage Cart was done, we let it dry for a couple days, just to be sure the paint had cured completely. Then it was time to have fun setting it up.
We found the beverage dispenser stand at Walmart, it's part of the Better Homes and Gardens collection at Walmart, and we just flipped it over, and added ice and drinks. The glasses are also from the BHG Live Better line, and a pretty kitchen towel for some added color. Some little colorful dishes are filled with the Vegetarian Taco Dip we made earlier this week.
On the next shelf, we added a cool metal tray from the Better Homes and Gardens collection at Walmart, paper napkins, silver ware, straws, appetizer skewers and fresh lemons for the drinks.
We decided to leave the bottom shelf for storage. You can certainly use this cart in a variety of ways – add liquor for a Bar Cart, put it by the back door to hold back packs or shoes, add some baskets to store the kid's toys, or even in the bathroom to hold towels.
The options are endless!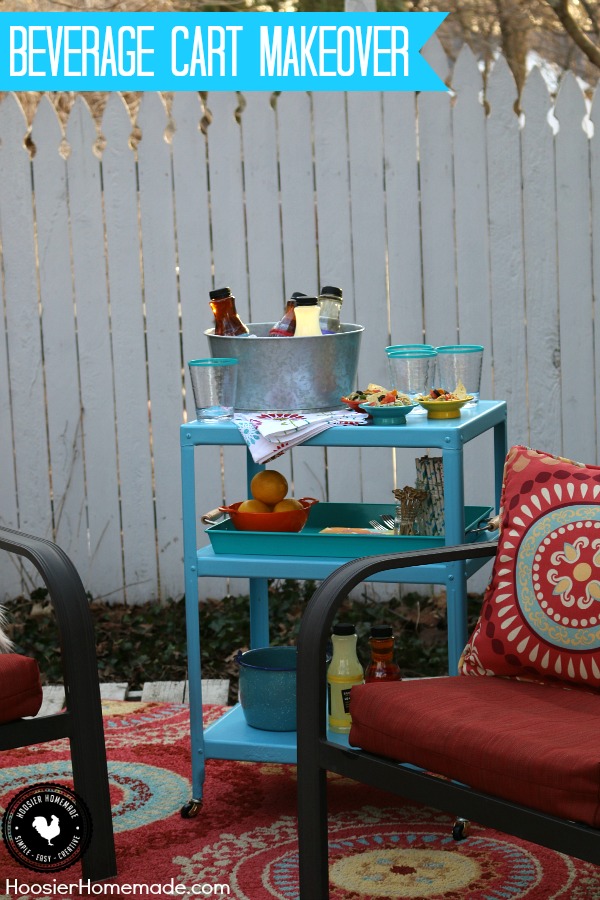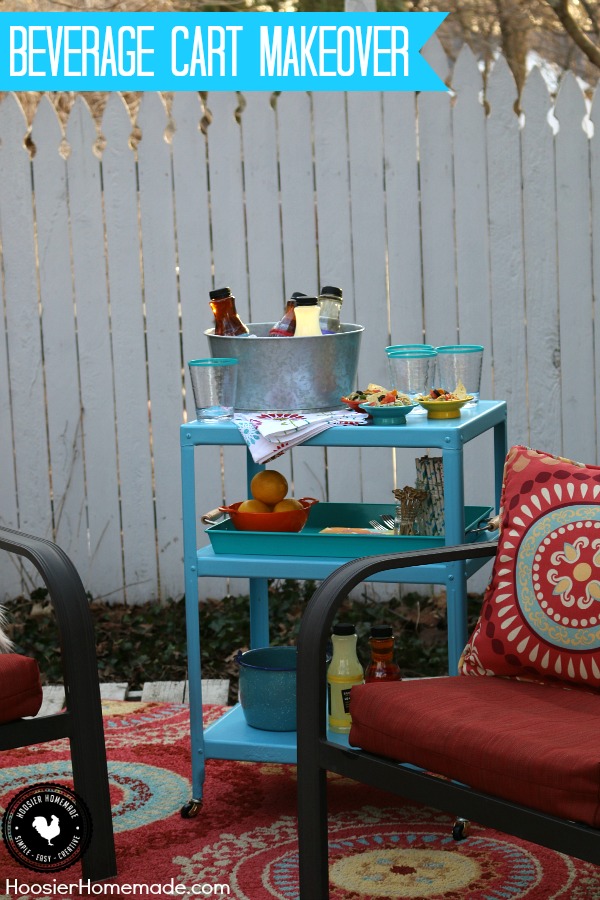 I am thrilled with how the Beverage Cart Makeover turned out! Now we just need some nice weather so we can enjoy our Wood Pallet Deck again!


Cart – buy a new one or head to a garage sale or flea market, you might just get lucky
Sand Paper – 150 grit
Krylon Spray Paint – we used 2 cans of Krylon Cover Maxx in Blue Ocean Breeze
Drinks – we like the Marketside tea and lemonade found in the deli at Walmart
Metal Tray – from the Better Homes and Gardens collection
Glasses – from the Better Homes and Gardens collection
Silverware, Napkins, Skewers or Toothpicks, Lemons, etc.
Wood Pallet Deck – you can learn more about how we made the deck and how we decorated it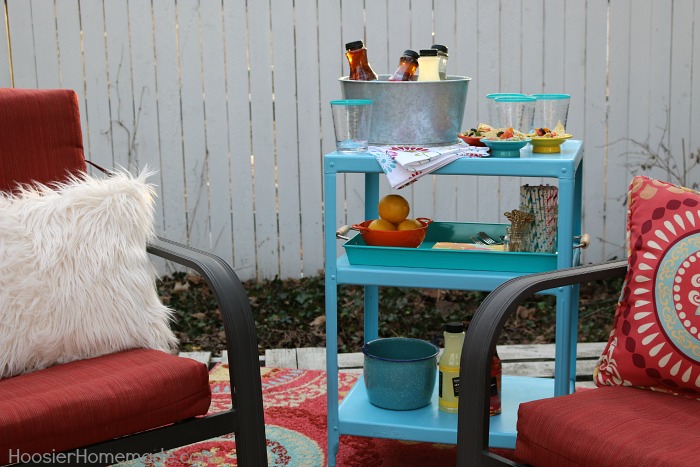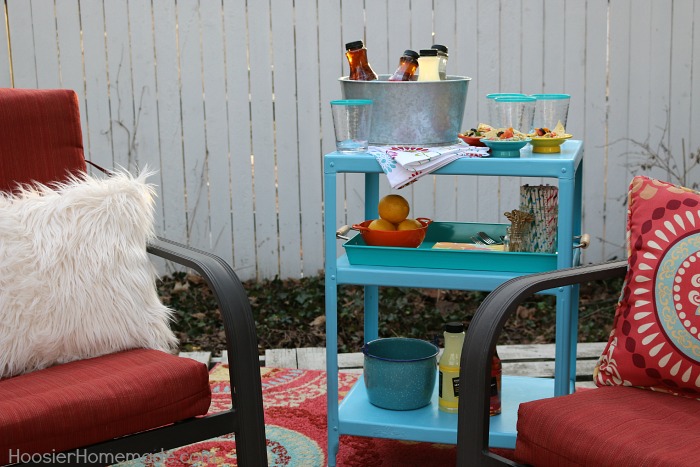 Tackle all your projects with supplies from Walmart. You can find more projects on Walmart.com