Updating a bedroom can be expensive – the bed, the bedding, shelves, storage, and the list goes on and on. When it comes to your child's room, and all the things they need, it can quickly get really expensive. Recently we updated our oldest son's bedroom, but kept it simple and on a budget. 
Several years back we painted after stripping the wallpaper, but never got around to really decorating or adding more shelves for his collections. I made a short video telling you all about what we did…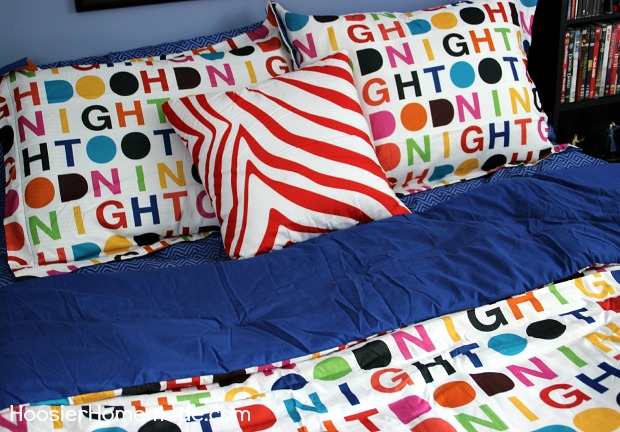 The bedding is a new line at Walmart – it's called Sweet Dreams from 9 by Novogratz, is a fun, functional and eclectic collection. They have created a versatile assortment that inspires mixing and matching pieces to suit your style and fit your budget. Featuring a bold and graphic print, Sweet Dreams is the most versatile bed. It's perfect for girls and boys from toddlers to teens.
The bed in a bag includes the comforter, standard pillowcases, standard shams, flat sheet, fitted sheet and a throw pillow. Prices range from $89.09 to $110.91 depending on the size. And the comforter is reversible.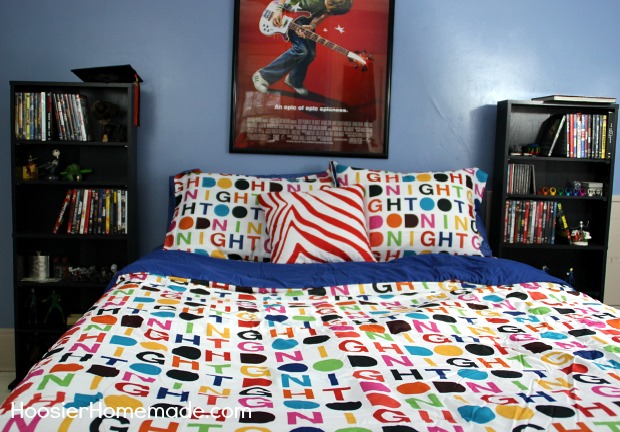 On either side of the bed, we put up a shelving unit that we bought at Walmart for under $30 each. They hold all of Andrew's things nicely and give the feel of a built in bed. Instead of a headboard, we decided to keep the cost down and hang a poster above the bed.
The bedroom turned out great and Andrew loves it! You can see more of the 9 by Novogratz line on Walmart.com