Baked beans are such a great side dish for Summertime barbecues. This simple Barbecued Lima Beans Recipe is my all time favorite.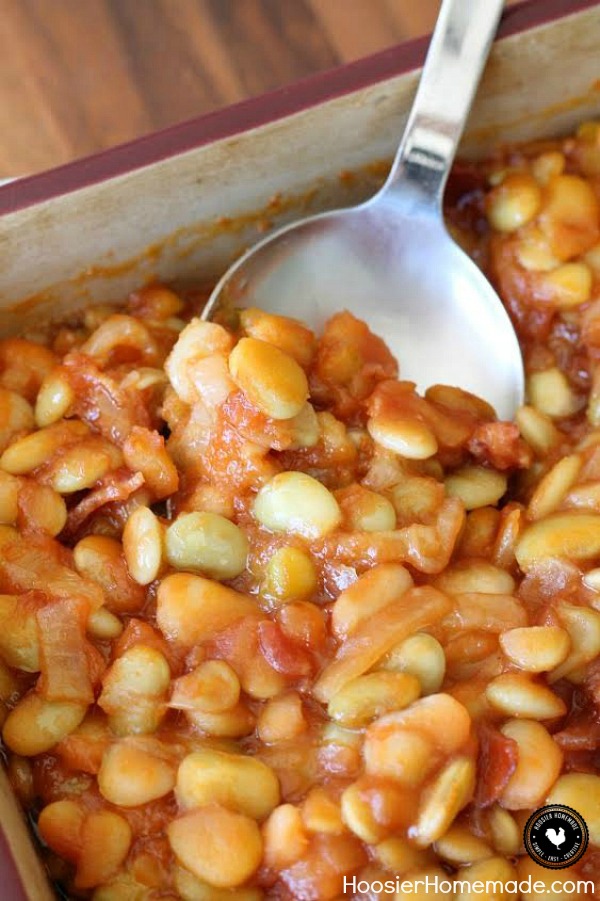 Today we welcome back our food contributor Maria from Real Life Dinner. Last month she shared the delicious Pistachio Pineapple Cake that was a hit with you all! Today she is sharing her favorite Baked Bean Recipe – Barbecued Lima Beans Recipe.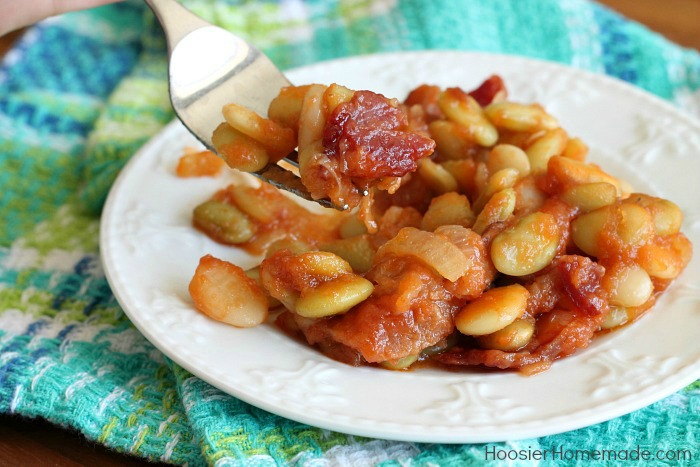 They may be a little nontraditional but they make up for it in deliciousness. If I had a quarter for every person I serve them to that says "I don't like baked beans, but I really like these." I'd be rich.
The bacon and sauteed onion give a smoky, sweet taste to the tender lima beans.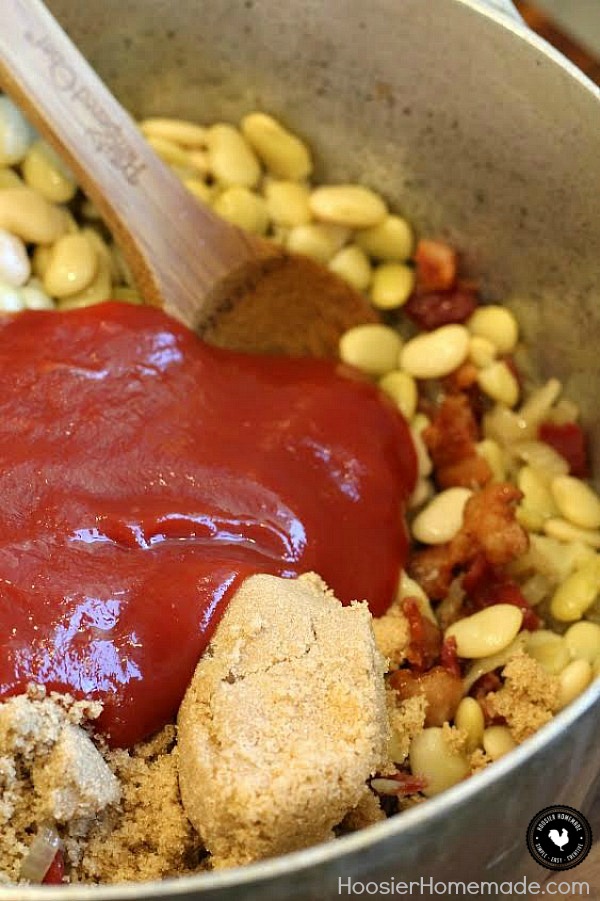 And the use of Ketchup and Brown Sugar in place of barbecue sauce adds just the right amount of tangy sweetness without overpowering the other yummy flavors in the dish.
You will be the hit of any potluck or barbecue if you come with a dish of these unique and delicious Barbecued Lima Beans.
This two ingredient Zucchini Cheese Bake is another one of my favorites and a perfect side dish for this time of year.
And next time you need ranch dip for a veggie tray or for dipping chips, give this fantastic Homemade Ranch Dip a try. It has a secret little ingredient that makes it extra special.
Can you tell I love Barbecues and Potlucks? There's just something so right about eating good food with people you love.
Next time you've got friends or family heading over for some good times and good food, throw these awesome baked beans together. You'll be glad you did.

Find Maria on her blog, Real Life Dinner. Follow her on Pinterest, Facebook, Instagram and Twitter.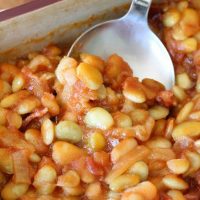 Barbecued Lima Beans Recipe
Cook Time:
1 hour
20 minutes
Total Time:
1 hour
25 minutes
Change up the ordinary Baked Beans Recipe with these Barbecued Lima Beans Recipe! Just 5 simple ingredients is all you need! Perfect for all your Summertime cookouts, potlucks and parties!
Ingredients
4 (15 oz) cans Lima beans, drained and rinsed
5-6 slices of bacon, cut into 1/2 inch pieces (it's easier to do this if it's a little frozen)
1 large onion, chopped
1 cup ketchup
1 cup brown sugar, do not pack at all
Instructions
In a large skillet or pot, cook bacon and onion until bacon is crispy and onion is almost caramelized.
Remove from heat and stir in drained beans, ketchup and brown sugar
Pour into 9x9 baking dish, cover with foil and bake at 350 degrees for 1 hour. Take foil off and bake for an additional 15-20 minutes