Keeping your heart healthy is very important, but I'm sure you know that! But just how do you keep your heart healthy when life is so busy?
Over the years, I have exercised and tried to eat well, but I have to be honest, the last several years that has fallen by the way side. As I declared in our Anniversary video, 2013 is our year! Now that our boys are older, Doug and I are focusing on ourselves a little more.
Heart disease and diabetes are part of my family history, as well as Doug's family. So taking small steps to keep our heart healthy is important. Here are 5 steps toward Heart Health…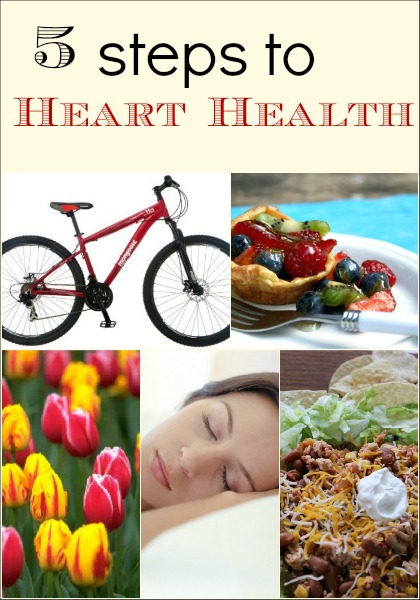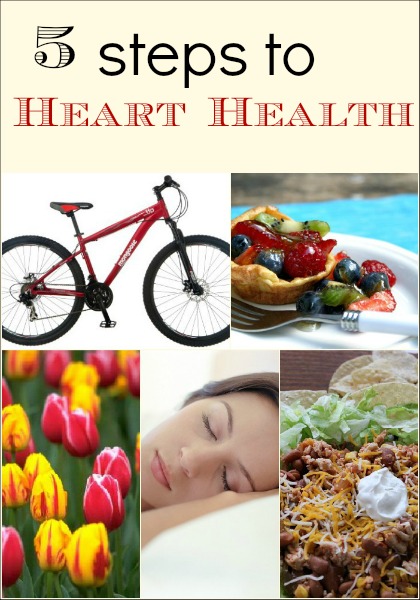 5 steps to Heart Health
Exercise – Doug and I love to ride our bikes! When my heel started hurting last year and it was difficult to walk every day, I started riding and had forgotten how much I enjoy riding. Doug also works out at our local gym.
 Breakfast – Start your day off right with a healthy breakfast. Even if you only have time for a quick granola bar or maybe a smoothie.
Reduce Stress – Stop and smell the flowers. This one is actually really difficult for me. I love the work I do, and I'm very busy, so it's difficult for me to take the time to just relax, but I know it's important.
Sleep – Get plenty of sleep. Each person is different, some require more than others.
Eat healthy – In this crazy, busy world we live in, it's often difficult to eat healthy. But if you take small steps toward that it's easier. We have recently started cooking a Meatless Meal each week. Last week we made Vegetable Lasagna Roll ups, and honestly you never missed the meat. We also love this Healthy Taco Salad.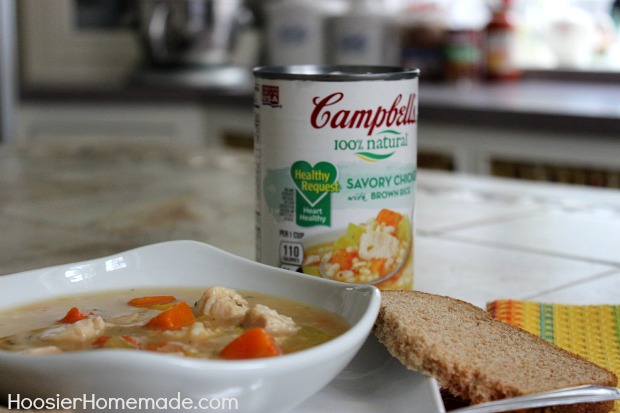 The American Heart Association and their Go Red For Women® movement launched in 2004 to increase awareness of heart disease among women and to create a call-to-action for heart-healthy lifestyle changes.  Campbell Soup Company is committed to raising awareness about the importance of heart health and providing people with choices that balance great taste and nutrition.
Enter to win a $50,000 Kitchen Makeover
February is Heart Health Month and Campbell's want to help you make a commitment to eat healthy! How would you like a $50,000 Kitchen Makeover? Sure you would! We are taking simple steps toward keeping our heart healthy!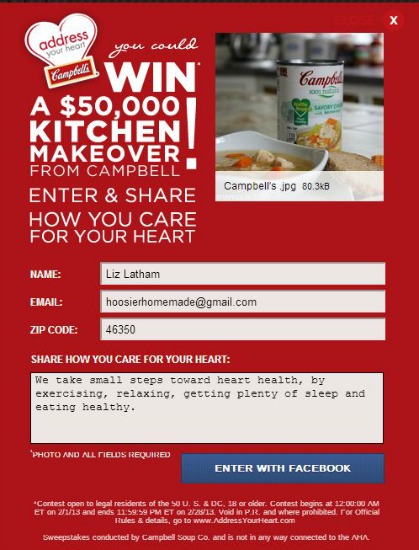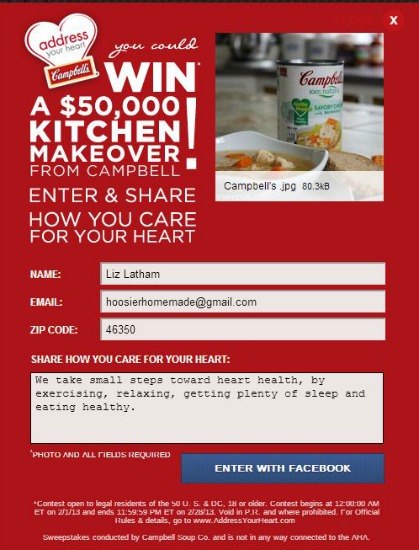 Disclosure: I am not a medical professional, these are just my suggestions. You should always check with your health care provider first.
Follow the steps below and share how you care for your heart to participate in Campbell's contest and you could win a $50,000 kitchen makeover.  Contest Rules  & Prize Page.
Step 1: Submit a photo below that shows how you care for your heart
Step 2: Fill out the information required including your name, email address and zip code.
Step 3: Write a short contest entry (up to 200 words) that corresponds with the photo and share how you care for your heart. Please be honest and sincere with all your thoughts and remember to tell us in 200 words or less.
Step 4: Confirm you've read the Official Rules.
Step 5: Log in through your Facebook account.
Step 6: Submit your contest entry.
You can share your contest entry on Facebook, Twitter, Pinterest and visit AddressYourHeart.com for recipes, tips, and downloadable coupons for heart-healthy products from Campbell.
This is a sponsored conversation written by me on behalf of the Campbell Soup Company's Address Your Heart initiative.  The opinions, text, and images are all mine.