Whether you are looking for easy Halloween party recipes or maybe a treat to take to school, these Halloween Cupcakes are as fun to make as they are to eat.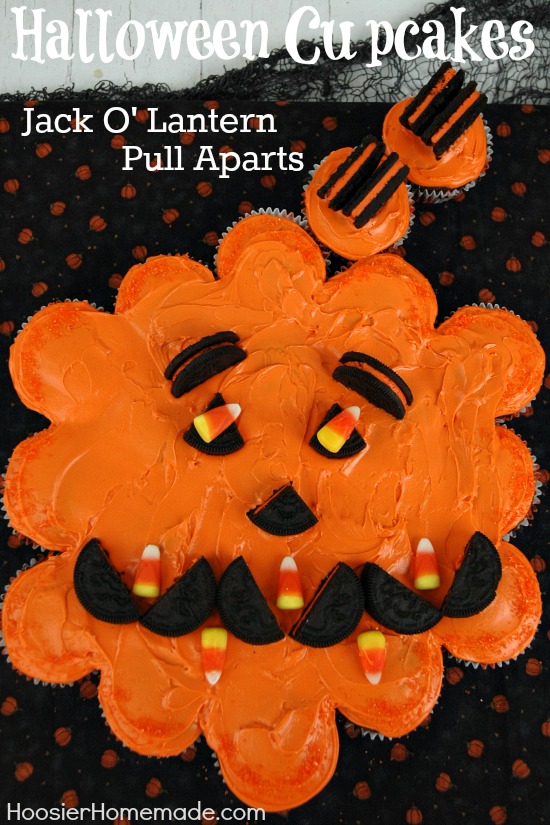 Many years ago, pretty much everyone baked cakes…large, fancy, decorated cakes, and then cupcakes became popular and everyone quickly learned how easy it was to bake and serve them. There were still many people that loved the look of a decorated cake, so Pull Apart Cakes were born.
What is a Pull Apart Cake you ask? Well, simply cupcakes put together to resemble a cake and frosted.
Halloween is a favorite time in our home. For years I have made fun Halloween party snacks to enjoy at home, take to parties, and even classroom holiday parties. I was always the Mom they asked to bring in special treats for every holiday, and honestly, I loved it, and I miss those days. Although I'm reliving it a bit now with my son at college.
Halloween holiday party food doesn't need to be difficult or take a really long time. Here are my favorite Easy Halloween Party Recipes…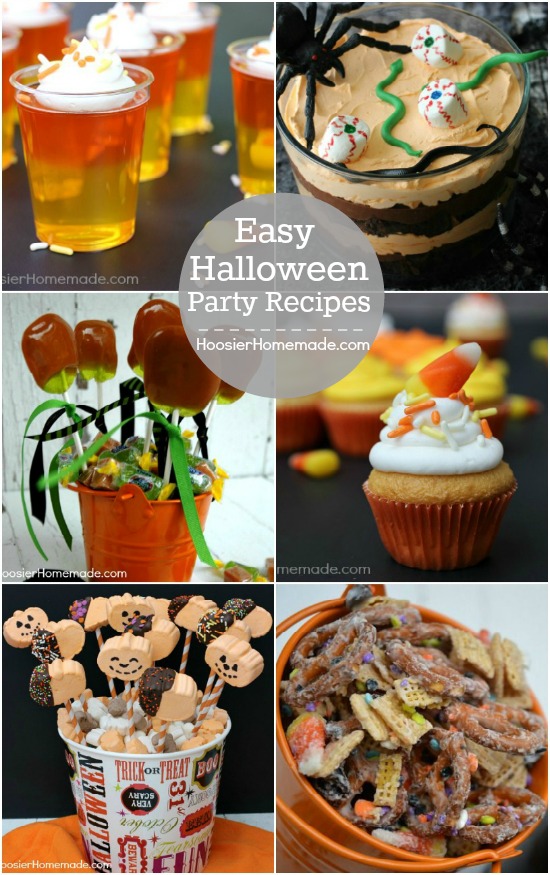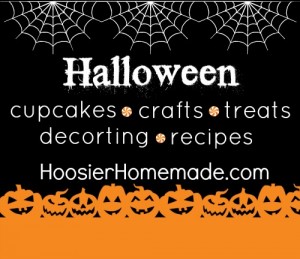 Halloween Crafts, Decorating and Treats on HoosierHomemade.com
Halloween Pull Apart Cupcakes
Fun and easy Halloween Treat. Perfect for Parties, Classroom treats or even a special after dinner treat. Recipe from HoosierHomemade.com.
Ingredients
1 box cake mix plus ingredients
Homemade or store bought frosting
OREO Cookies for decorating
Orange Coloring
Orange colored sugar
7 pieces of candy corn
Instructions
Preheat oven to 350 degrees. Place cupcake liners in pan.
Mix cake batter with ingredients listed on the box
Bake for about 10-12 minutes. Cool completely.
Place cupcakes on a large serving platter in the shape of a pumpkin, using 2 cupcakes for the stem
Frost cupcakes, sprinkle the outer layer edge with orange sugar
Decorate
Cut 2 OREO cookies in half and place on stem
Cut 3 OREO cookies into thirds to make the eyes and nose
Cut 1 OREO cookie for the eye brows
Cut 3 OREO cookies in half for the mouth
Add cookies to the pumpkin and add candy corn. Add a dab of frosting to the candy corn for the eyes
Notes
The ideas for Pull Apart Cupcakes are endless. For Halloween you could make a bat, ghost or even dracula.