This is the story of Lucky the Leprechaun. Lucky is frantically searching for his gold. He makes his way around the house, of course making a mess along the way!
Come join us on the Lucky the Leprechaun Treasure Hunt!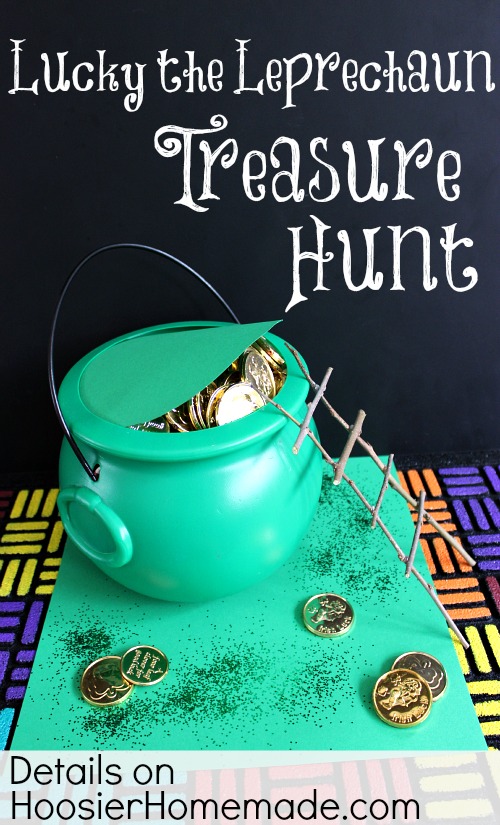 With Lucky's green foot prints and a trail of green glitter…he enters our home…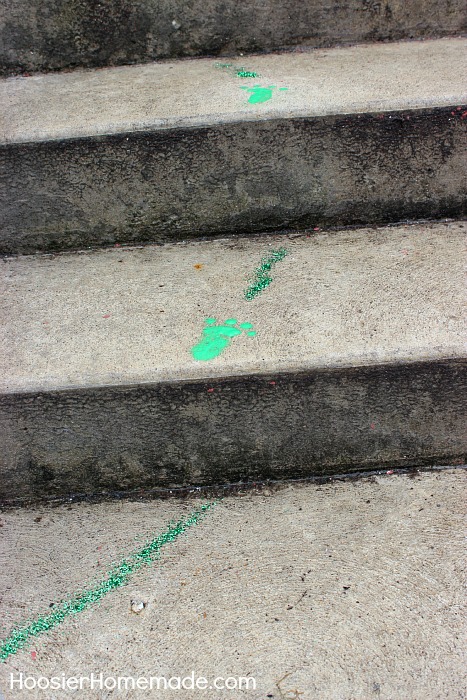 Up to steps he goes…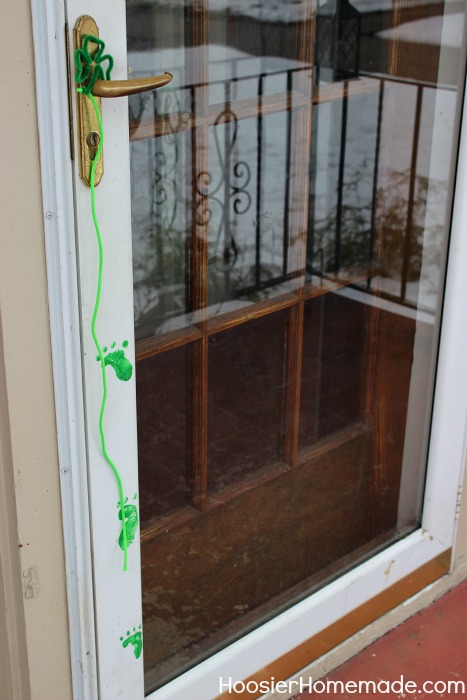 And with his green lasso, he enters through the door.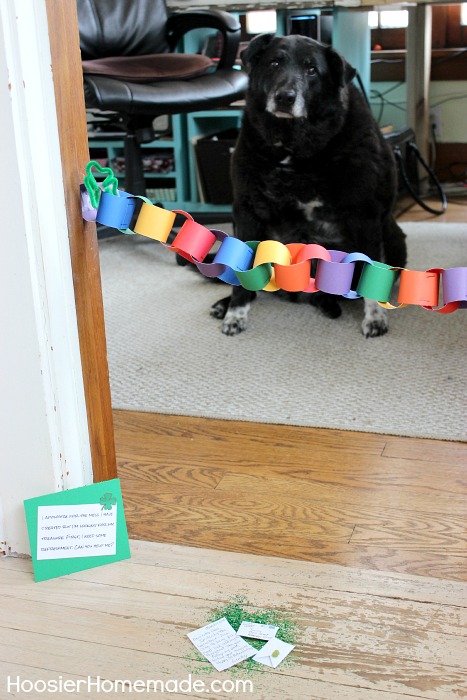 Oh no…Rocky the dog! Lucky quickly puts Rocky in the office and keeps him there with the magical rainbow rope.  But what's this? He left us a note…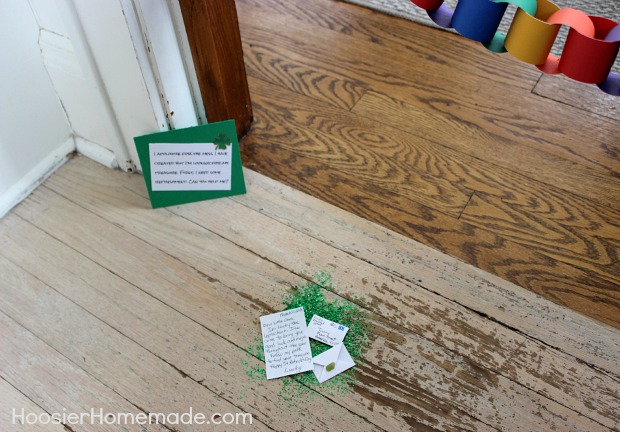 Teeny tiny letters from Lucky…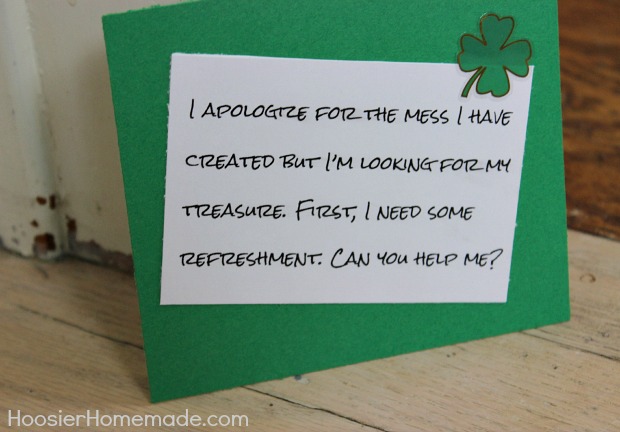 And Lucky the Leprechaun begins his hunt for the treasure…but first, some refreshment to get him started…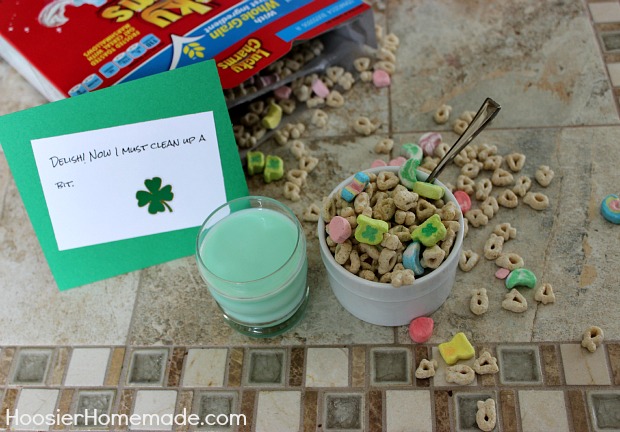 Lucky heads into the kitchen where he finds his favorite treat…Lucky Charms and milk!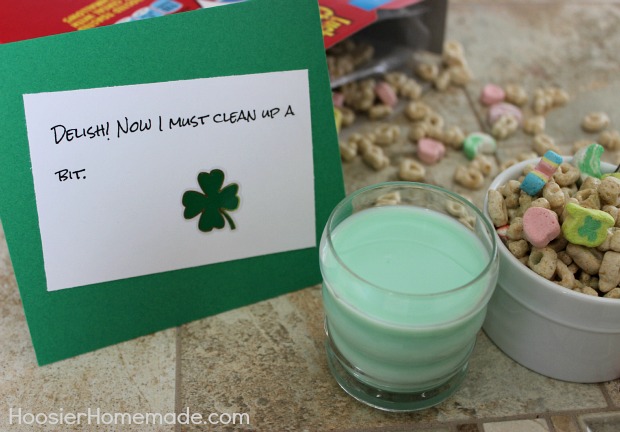 Now that his little tummy his full, he must clean up a bit…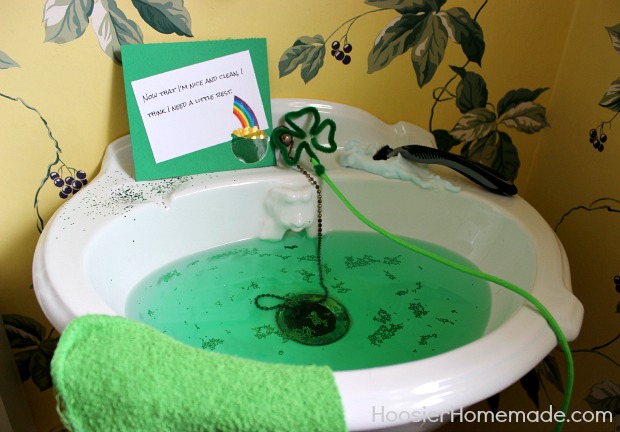 Using his green lasso, he climbs up to the sink, grabs his little green towel and proceeds to make a mess with the shaving cream!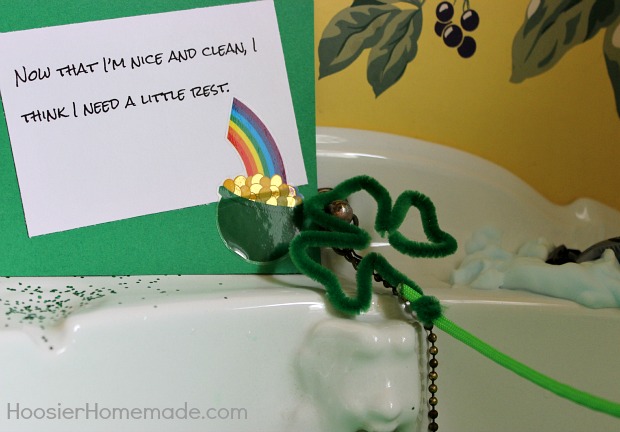 Now that Lucky is nice and clean, he's getting a little tired.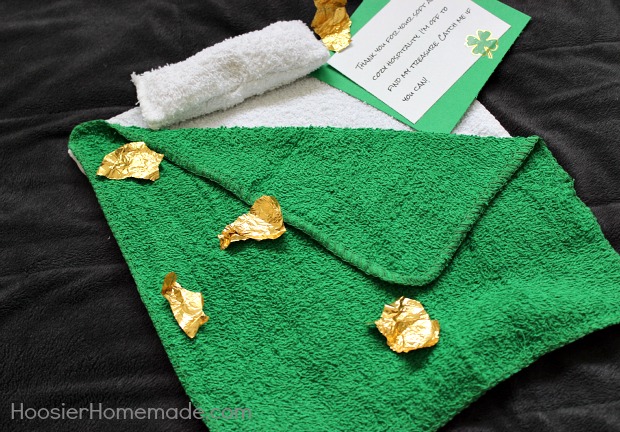 So he unrolls his bed and takes a little nap…but first, he has a little snack, and of course leaves the gold wrappers laying in the bed!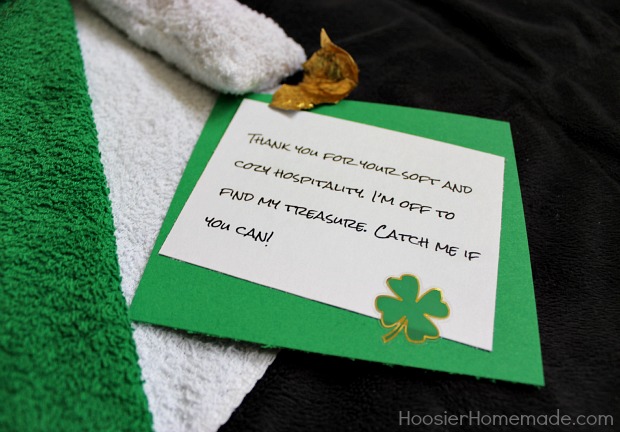 Lucky is rested and off to find his treasure!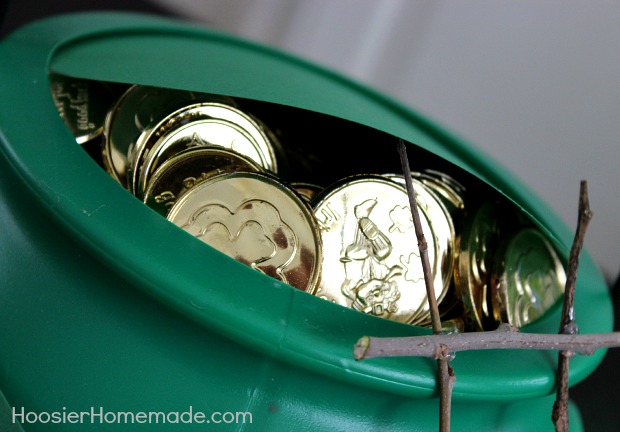 The gold treasure has been spotted!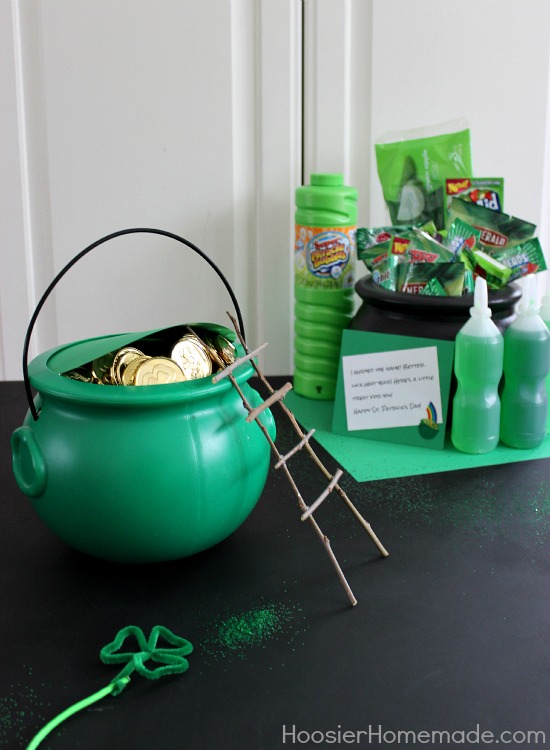 But even with his green lasso, Lucky can't seem to reach the gold. He knows if he climbs the ladder, he will surely fall into the pot of gold and be trapped!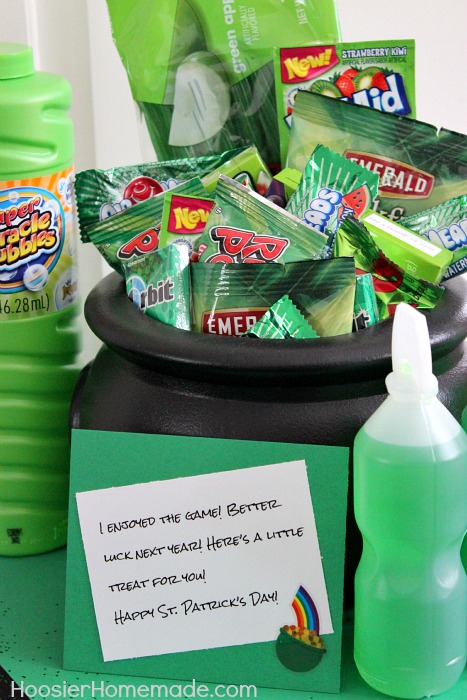 So he leaves a bucket full of treats for the family and is on his way to find more treasure!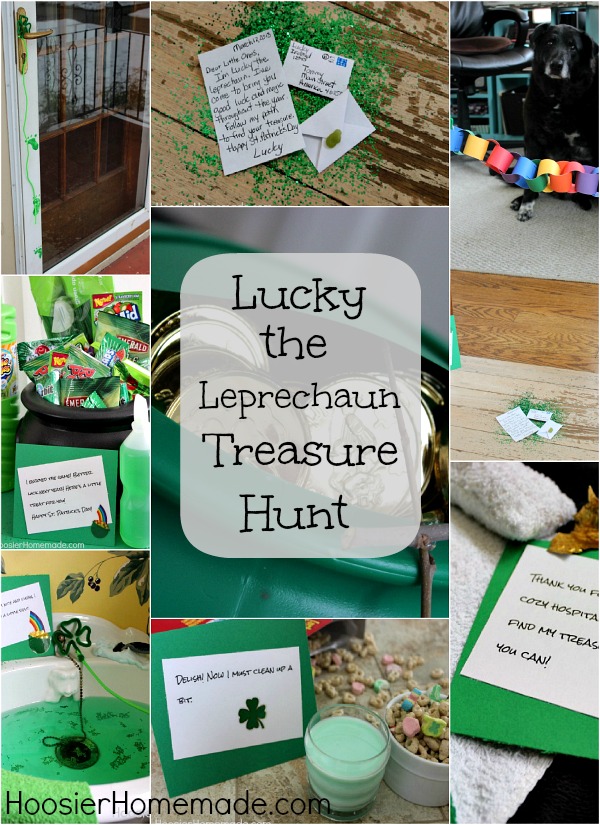 Lucky the Leprechaun Treasure Hunt Details
Leprechaun Trap
Green bucket filled with plastic gold coins, both from Walmart
Sticks from the yard, hot glued together for the ladder
Tiny Letters
Cut paper 1+3/4 wide by 3 inches long
Fold in half lengthwise, but ONLY crease a tiny bit on each end just for a reference point
Fold a triangle in on each side of the paper, creating a point. Repeat on opposite end.
Fold the points in on one side, and then fold the other side over to create the envelope
To seal, drip melted wax {we used a green candle}
Write a note on flat piece of paper and address another envelope, if you like
Trap the Animals
Cut construction or scrapbook paper in rainbow colors into strips. I used 1 1/2 wide by 6 inches long.
Create a paper chain
Lucky's Bed
Terrycloth wash cloths work well, you can also use fabric of any kind.
The pillow is a cut piece of white wash cloth, sewed around the sides and filled with popcorn kernels
The gold wrappers are from Rolo candy
Lucky's Breakfast
Lucky Charms served in a small ramekin and a small votive glass filled with green milk
Lucky's Bath
Fill sink with water and add several drops of green coloring.
Sprinkle with glitter.
Green lasso is rope from Hobby Lobby and a Shamrock formed out of pipe cleaner
Green towel cut from a terrycloth wash cloth
Shaving cream and a shaver complete the bath
Treat Bucket
We shopped around Walmart and picked up items that were green, here is what we found…
Ring pops {at the check out}
Fruit by the Foot
Emerald Breakfast on the go
Strawberry Kiwi Kool-Aid
Gum – Orbit and Extra Fruit Sensations
Air Heads
Sour Skittles
Green Apple Twizzler Licorice
Bottles of green Kool-Aid
Bottle of bubbles
Lucky's Signs
Printed out onto white cardstock and glued to green scrapbook paper
Thank you for the inspiration…Treasure Hunt from Craft Interrupted and Letters from Leafcutter Designs