Summer is here! The heat is on! The kids are running around like crazy and begging for something to do! Sound familiar? Well I have the perfect solution for you…Homemade Snow Cones!
Why in the world would you want to make your own snow cones? Well, of course it's fun…and it's easy…and it only takes 4 ingredients, all of which you probably already have on hand, 3 ingredients for the syrup plus ice!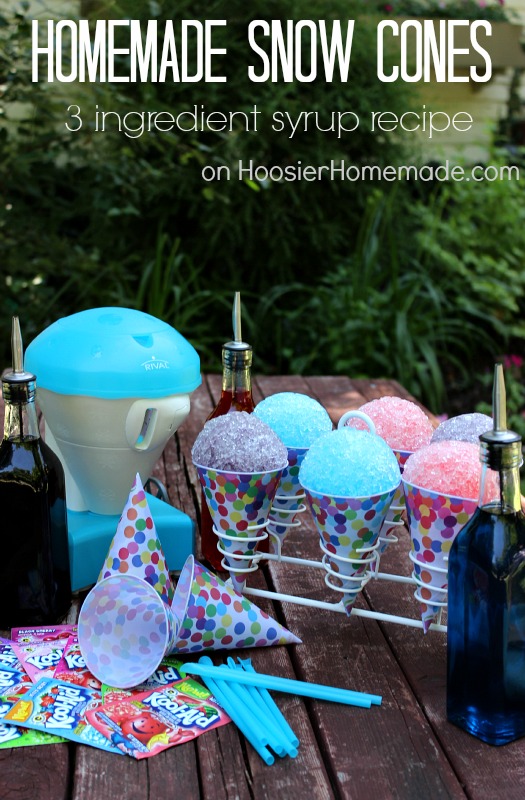 These were truly a blast to make, even my teenagers had fun, not to mention the fun Doug and I had as well!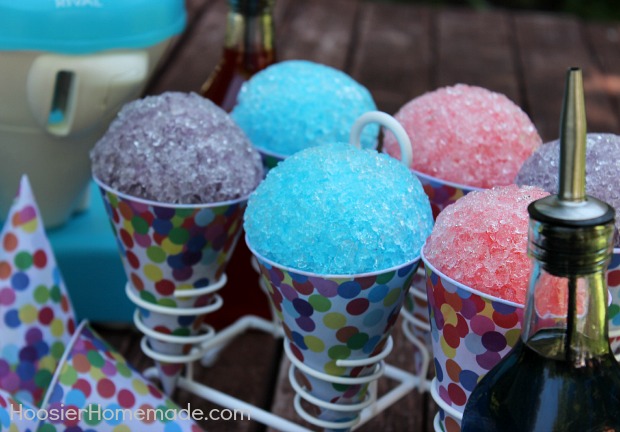 We are always up for a challenge, so when Kool Aid asked me to share a recipe using their drink mix, we knew it was going to be fun! Last year I spotted the recipe for Snow Cone Syrup on Pinterest from Southern Mom Cooks, I thought I had remembered the recipe using Kool Aid, so I searched through my Pinterest boards and found it.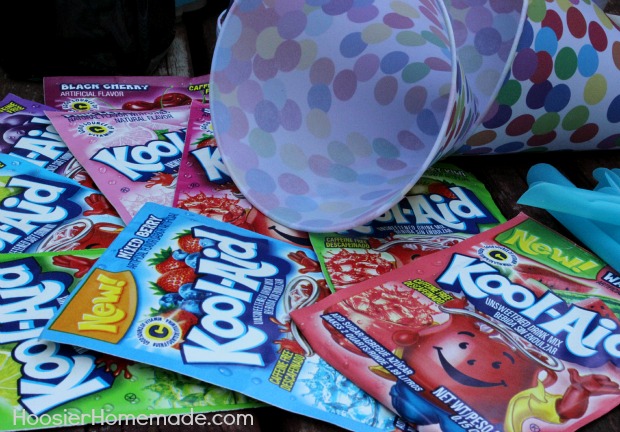 Kool Aid has been around for as long as I can remember, and it's still going strong.
So with that in mind, we wanted these Snow Cones to be extra special!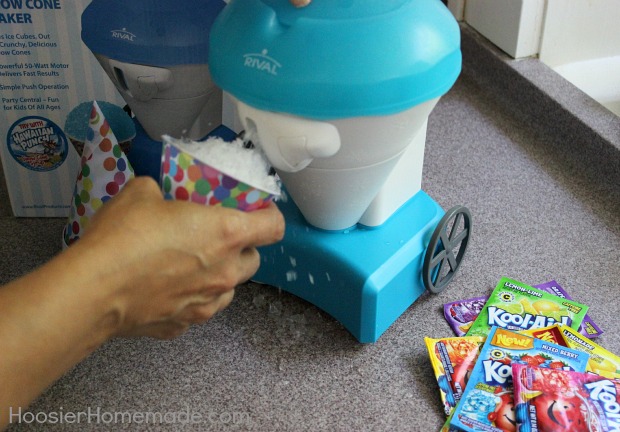 And what we found worked perfectly! The Snow Cone Maker and Snow Cone Cups were right in the seasonal dishes area, near housewares.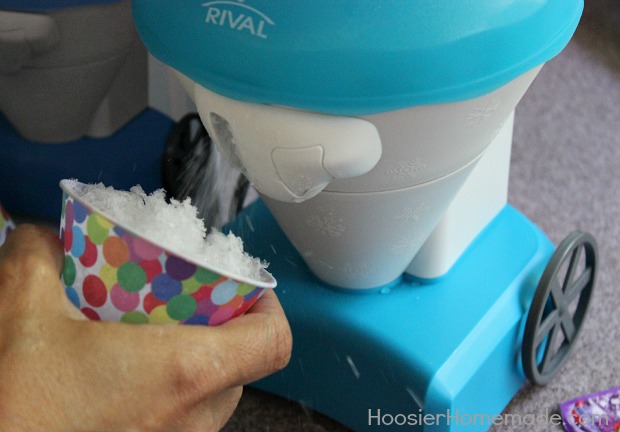 The Snow Cone Maker was under $17 and the cups were under $3, so for right around $20 this little gem makes a fun treat. You could also give them as a birthday gift, I bet any kiddo would love it!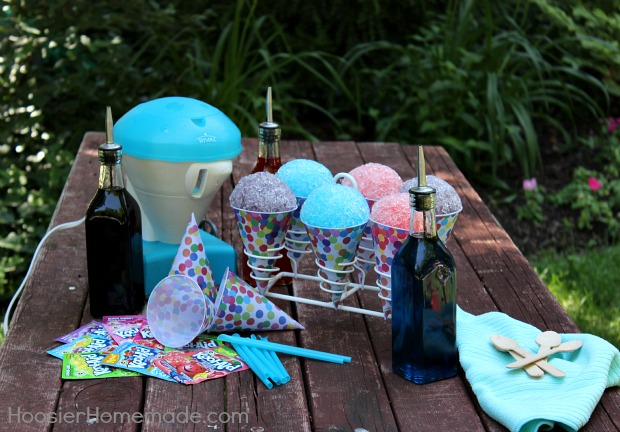 As I mentioned earlier, the Snow Cone Syrup has only 3 ingredients…sugar, water and Kool Aid. Bring the sugar and water to a boil, then after letting it simmer for a few minutes, mix in the Kool Aid flavor of your choice.
I put the syrup in bottles that I found at Walmart in the housewares department, they were only $3. You could also use squeeze bottles too.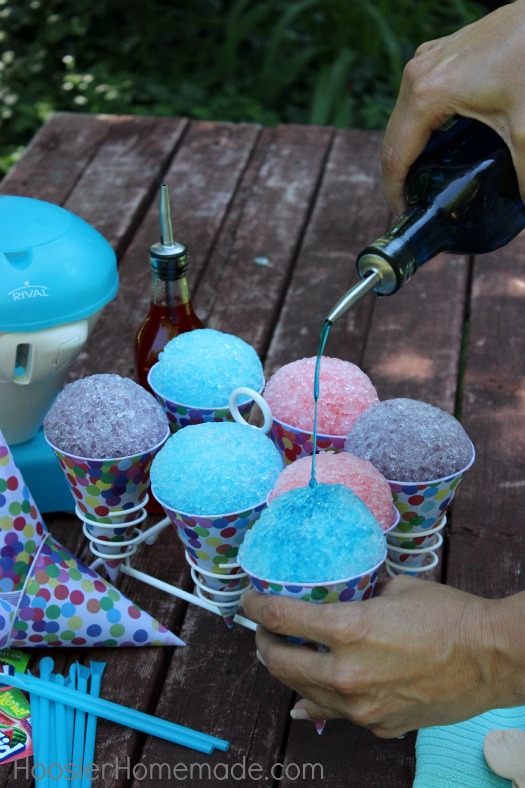 Here are a few tips we found when making the Snow Cones…
Make the syrup ahead of time to it has time to chill, it will keep in the fridge for up to 1 month
Fill the cups with ice first, then set them in the freezer. Then fill a large bowl with more ice and using a large spoon add more ice to the top to make the Snow Cones rounded.
Use an ice cream cone holder to serve them and keep them upright.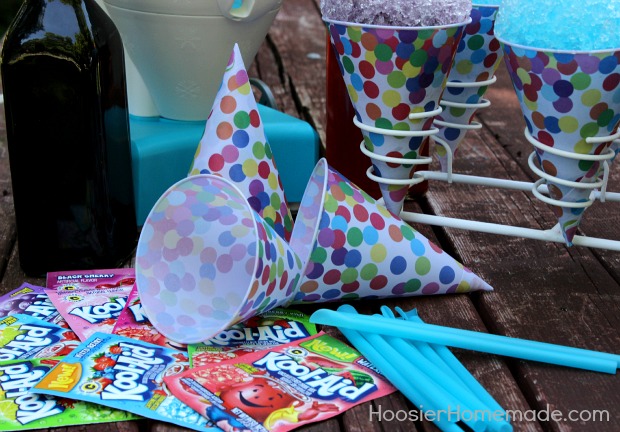 We used a couple new flavors of Kool Aid; Mixed Berry, Cherry Limeade and also Grape. I think using the blue and red flavors for a fun Fourth of July treat would be a hit with the kids!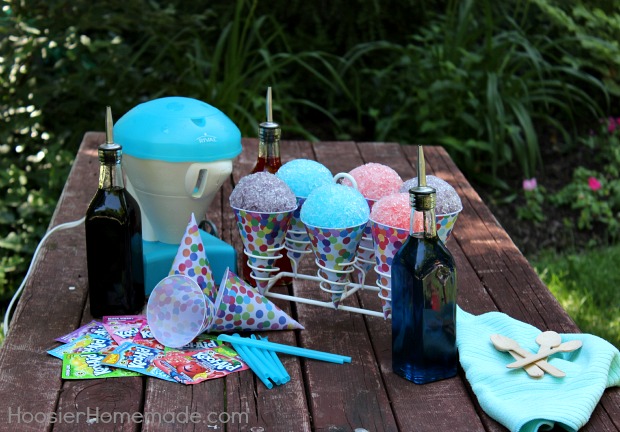 Homemade Snow Cones: 3 Ingredient Syrup Recipe
Simple 3 ingredient Snow Cone Syrup makes a fun treat for the kids and adults alike. Recipe from HoosierHomemade.com
10 minPrep Time
3 minCook Time
13 minTotal Time
Ingredients
3/4 cup sugar
3/4 cup water
1 packet (0.16 oz) Kool Aid
Ice

Tools

Snow Cone Maker or Food Processor
Bottles for Syrup
Funnel
Snow Cone Cups
Instructions
In a medium pan, combine sugar and water, bring to a boil, stirring occasionally
Reduce heat and let simmer 3 minutes
Remove from heat and sprinkle Kool Aid packet in - be sure to sprinkle and not dump, it will combine better
Stir for 1-2 minutes to dissolve completely
Using a funnel, VERY carefully pour the syrup into a bottle - depending on the size of the bottle, you made need 2 batches to fill the bottle
Place in fridge to chill

Snow Cones

Crush ice in Snow Cone Maker or Food Processor
Fill snow cone cups, add syrup
Notes
Store in fridge up to 1 month
http://hoosierhomemade.com/homemade-snow-cones-3-ingredient-syrup-recipe/
Do you have a Frozen fan in your home? This Olaf Snow Cone Maker looks fun!