Making these simple Homemade Dog Treats are a breeze for your four-legged friends. They go together quickly and have good wholesome ingredients in them – the perfect way to take care of your loved pet.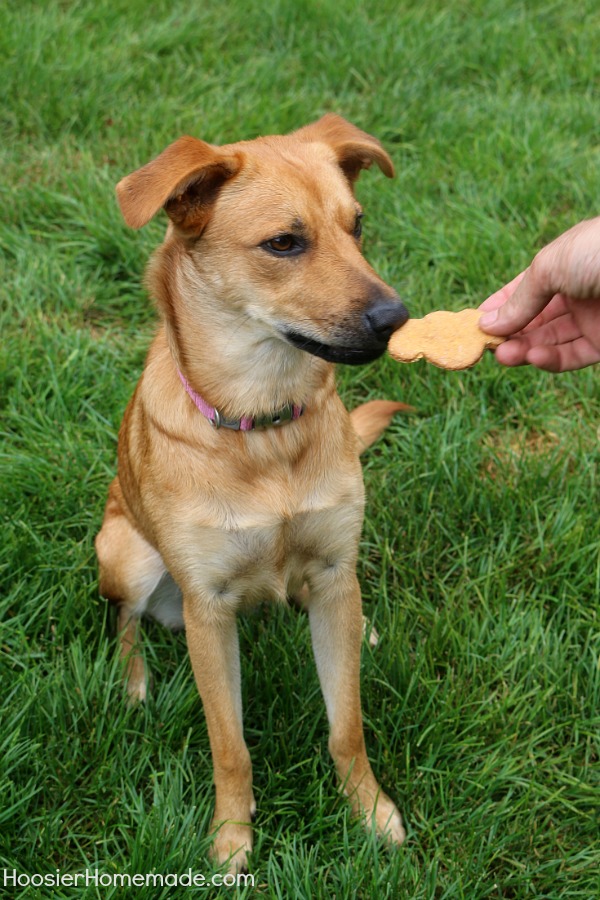 I can not begin to tell you how much joy Tiki has brought to our lives. If you have pets I am sure you know what I mean. Growing up we always had at least one cat. I remember the cat my sister had that went crazy every time my Mom would cut a cantaloupe, and there were the twin kittens that would sit on top on the refrigerator and take a swipe at you when you walked by.
It wasn't until I got married that we adopted our first dog. We have a had a few dogs over the years and this spring we adopted our puppy. Tiki is our 8 month old rescue puppy, who came to our home from the rescue agency on Easter this year and like all dogs she loves treats, especially these Homemade Dog Treats! They are made with good-for-her ingredients like whole wheat flour, pumpkin, peanut butter, and oats.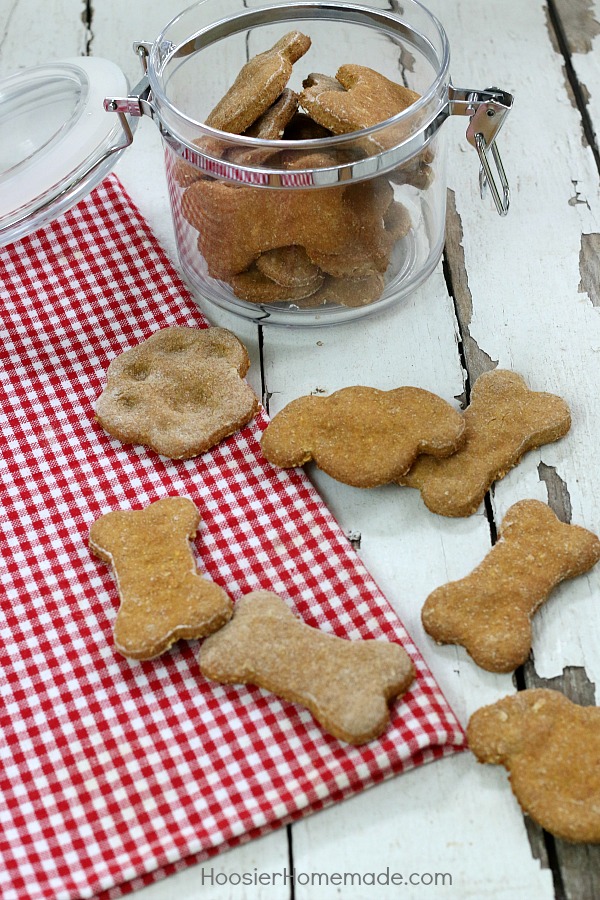 With the addition of pumpkin and peanut butter, these dog treats smelled really good too.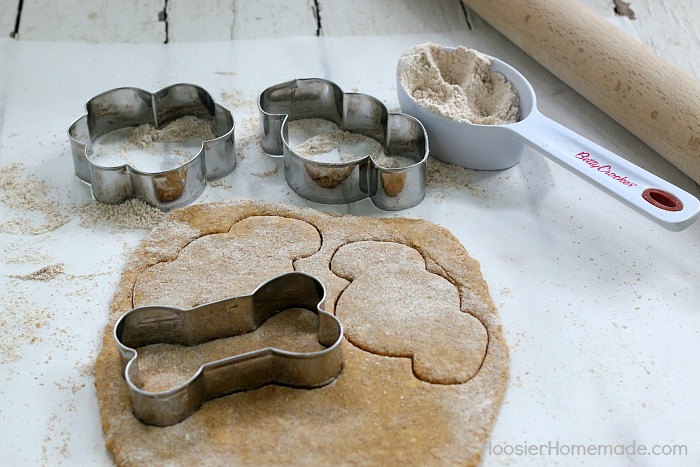 The batter went together very quickly. In the mixing bowl, I stirred together the dry ingredients – whole wheat flour, cornmeal, oats and baking powder, then mixed the wet ingredients – chicken stock, pumpkin, eggs and peanut butter in a measuring cup and added them to the dry ingredients. The dough is pretty sticky, but like with any dough that is rolled out, a little flour on the surface and also kneaded into the dough helps a lot.
I found some cute cookie cutters that worked perfectly to use for the dog treats.
These dog treats would also make a fun gift for the pet lover in your life.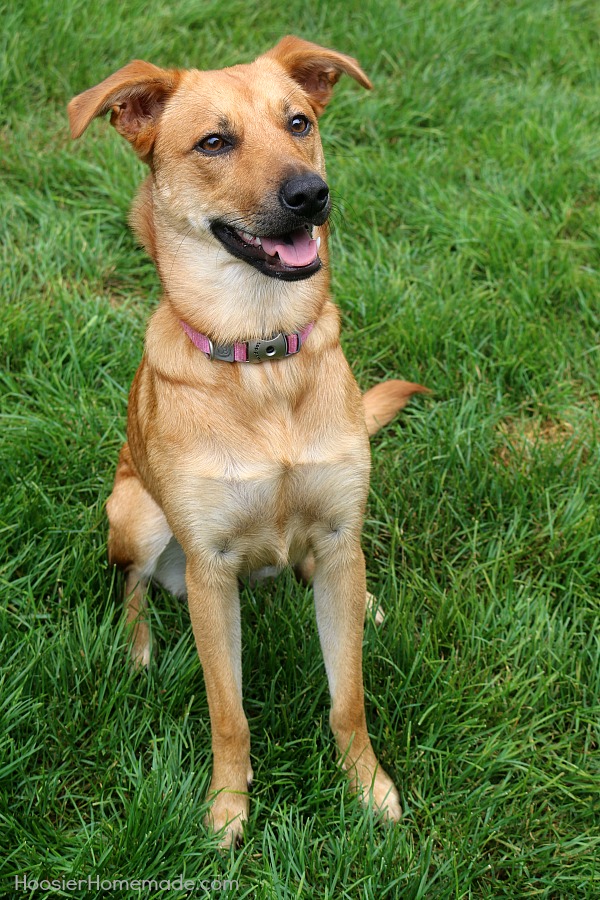 After a couple years without a dog, after the passing of Rocky, I spotted a picture of Tiki on Facebook. She was a rescue puppy that was fostered by a friend of mine. I had told her that we were in the market to adopt a puppy or dog, but we would be waiting until after spring and baseball season was over, because of the amount of travel we had ahead of us.
Well, all it took was one look and I just had to meet Tiki. We set up an appointment to meet her and decided right away that she belonged in our family, even though we would be traveling.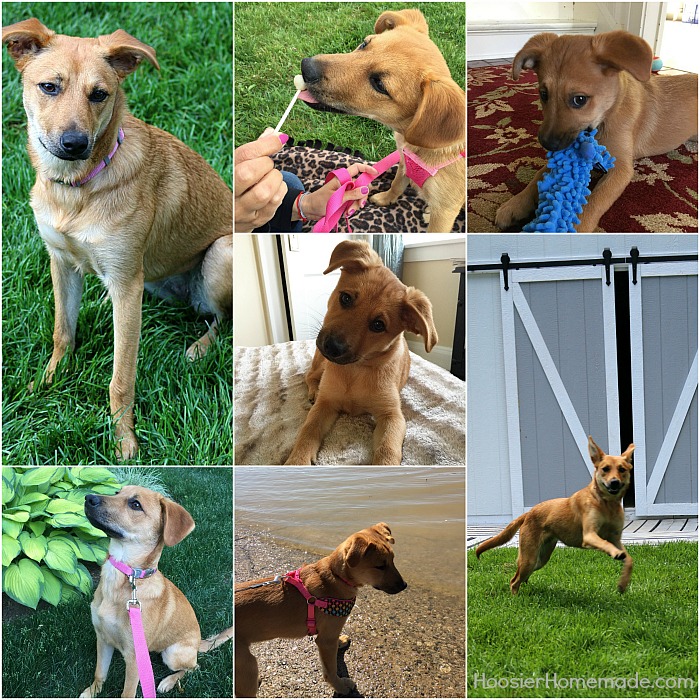 Animals can fill our lives with so much joy! Tiki has helped us in more ways than I can say. We have laughed at her daily, snuggled with her at night, traveled with her and yes – walked miles and miles with her too.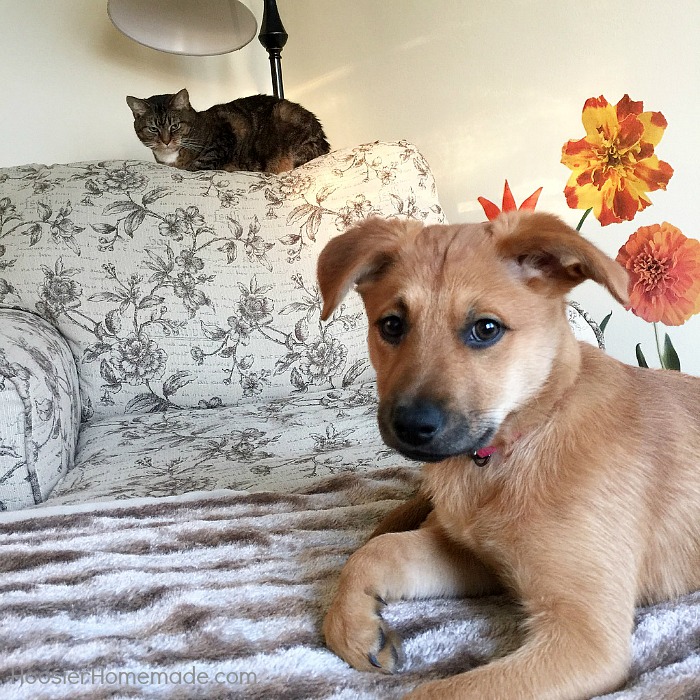 It took a few weeks, but Kali, our 10 year old cat, finally warmed up to Tiki. They still aren't the best of friends always, but they are doing a lot better.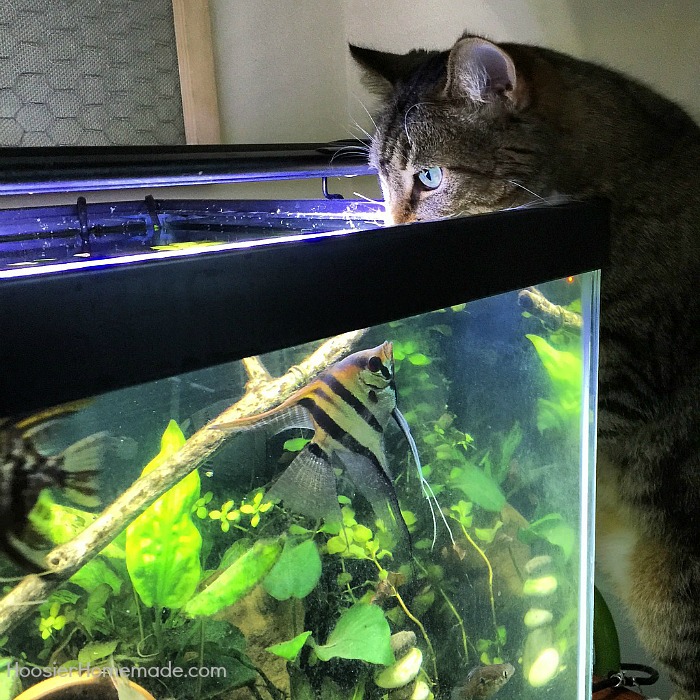 We also adopted Kali when she was just 6 weeks old. Her favorite thing is to drink from the fish tank. The funny thing is, the fish don't seem to be alarmed at all.