Doughnuts are often one of the desserts that bakers are intimated by, at least I was until I gave them a try. But with just a few simple supplies, you can easily bake your own at home.
And just in time for Valentine's Day, these Cherry Doughnuts are sure to be a hit! The heart shaped doughnuts are perfect for breakfast with your sweetie, for your kiddos or even to take as a special treat to teachers.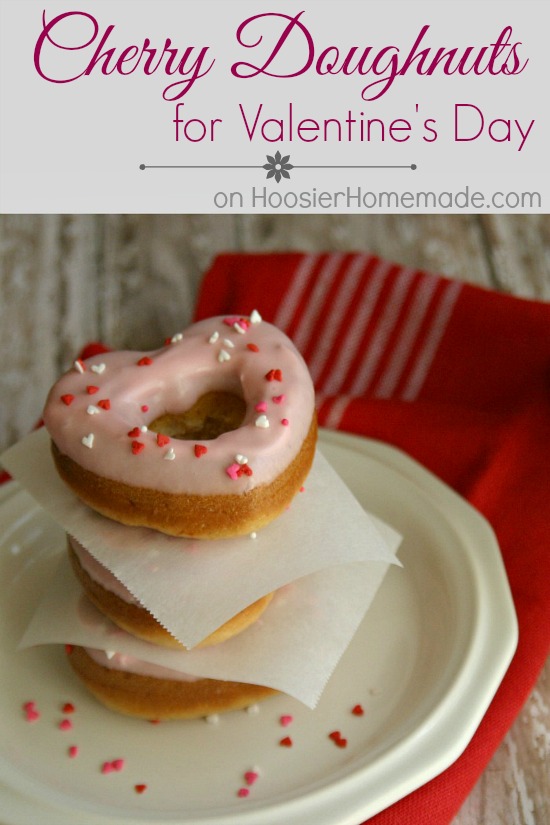 The combination of Maraschino Cherries and Cherry Flavoring make these little Doughnuts irresistible! And they are baked in a Wilton heart shaped pan, making them better for you than fried doughnuts. Maybe not quite a healthy dessert recipe, perhaps better than some though.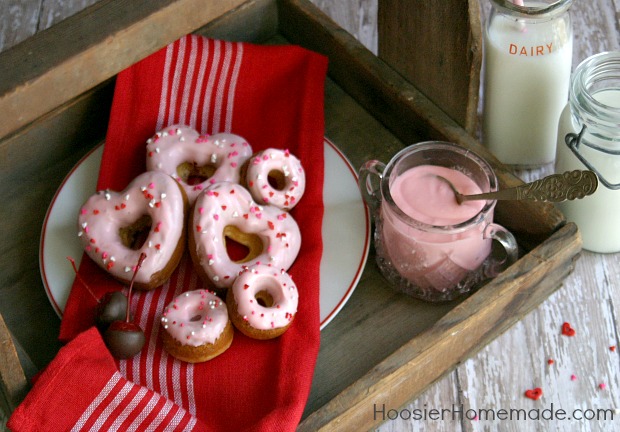 I've made doughnuts a handful of times, and each time I bake them, I wonder why I don't make them more often. They really are quite simple. The Mini Rainbow Doughnuts that start with a cake mix were one of my favorites.
If you can't find the heart shaped pan, or maybe you want to make to make these Cherry Doughnuts for another occasion, you can certainly use the same recipe and bake them in a regular doughnut pan.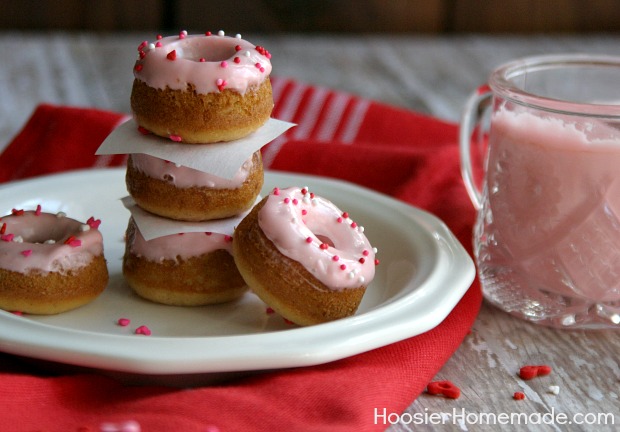 Everyone loved these, the only change I will make next time is to add maybe 5 or 6 more cherries and a little cherry flavoring to the batter. Other than that, they were a hit in our house!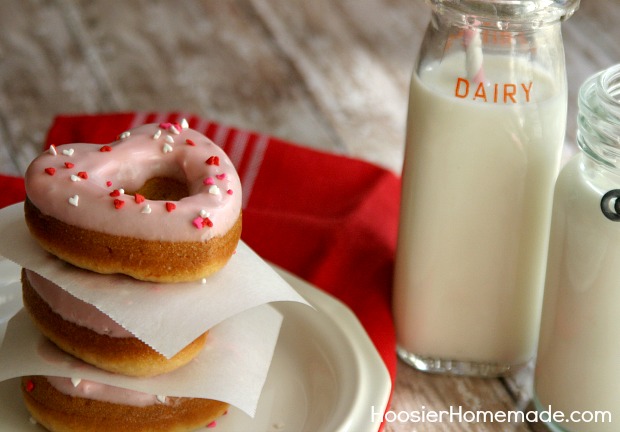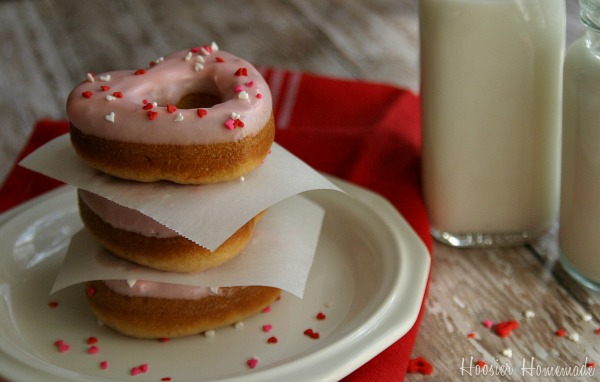 Easy doughnuts for a special treat. Recipe from HoosierHomemade.com.
Ingredients
Doughnuts

2 cups flour
3/4 cup sugar
1 teaspoon baking powder
1 teaspoon baking soda
1 teaspoon salt
1/2 teaspoon ground nutmeg
2 eggs
1 teaspoon vanilla
3/4 cup milk
2 tablespoons butter, melted
15 maraschino cherries, chopped

Glaze {can be doubled depended on how many doughtnuts you make}

1 cup powdered sugar
1/2 teaspoon cherry flavoring
2-4 tablespoons heavy whipping cream
Rose Pink Coloring
Valentine Sprinkles, optional
Instructions
Preheat oven to 325 degrees
In a large bowl, combine dry ingredients; flour, sugar, baking powder, baking soda, salt and nutmeg. Whisk together until combined.
Add eggs, melted butter, vanilla and milk. Mix well.
Fold in chopped cherries.
Place a large resealable bag in a tall glass and fill bag with batter, close tightly.
Snip off corner, pipe batter into doughnut pan.
Fill only 1/2 full, making sure not to cover the inside hole with batter.
Bake for 8-10 minutes, cool completely.

Glaze

Add powdered sugar and flavoring to small bowl, gradually add milk a little at a time until desired consistency.
Add coloring and mix well.
Frost doughnuts or hold upside down and dip, immediately add sprinkles
http://hoosierhomemade.com/cherry-doughnuts-for-valentines-day/
Recipe  adapted from Shugary Sweets