Well hello there, welcome to Cupcake Tuesday! I'm so excited to have you here! Looking for a cupcake recipe? Our Cupcake Heaven page has over 200 cupcake recipes and decorating ideas!
Fall is my favorite season to bake! With all the delicious flavors to enjoy – pumpkin, cinnamon, apples, caramel and more – how can you wrong? We continue Apple Week today with these Caramel Apple Cupcakes.
Starting with a doctored cake mix, then stuffed with apples, and topped with a Caramel Frosting, a sprinkle of walnuts and drizzled with caramel these cupcakes are not only the perfect Fall treat, they are also part of the OXO Bake a Difference and Cookies for Kids Cancer campaign.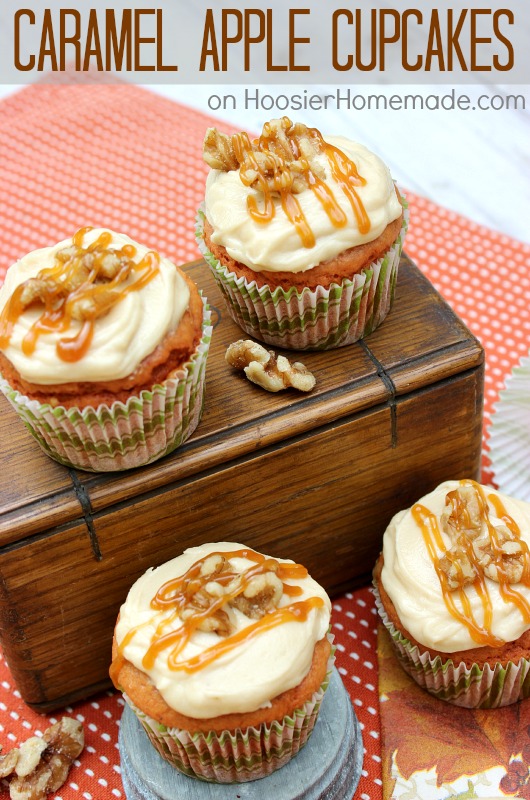 I'm super excited to be working with OXO on this campaign. Not only do they have amazing baking tools, they are also a really great company. September is Childhood Cancer Awareness Month, and they are showing their annual support for Cookies for Kids Cancer program that was founded by two OXO employees.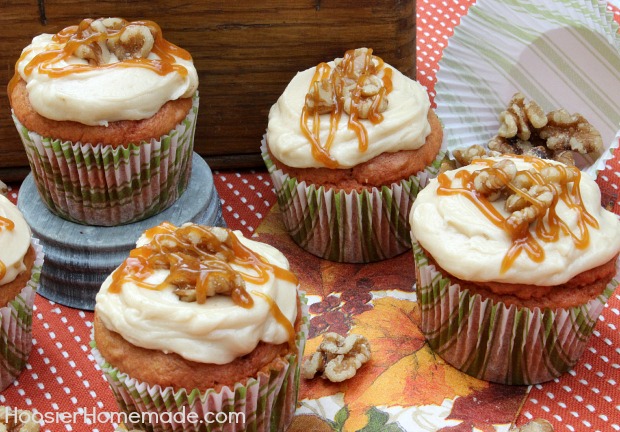 To help, I created these Caramel Apple Cupcakes and OXO will donate $100 to the Cookies for Kids Cancer program.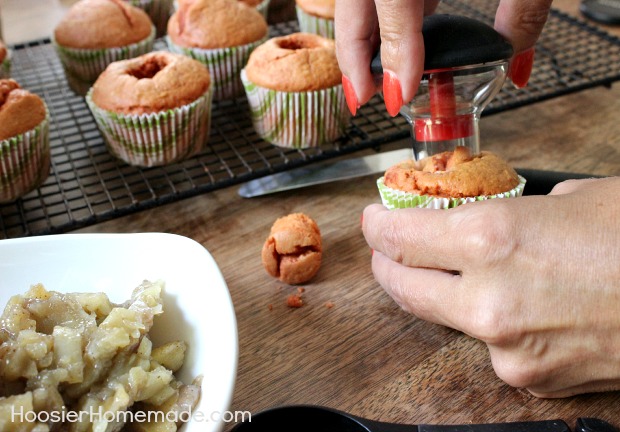 One of the baking tools I received was the Cupcake Corer, along with Measuring Cups, Spoons and a Cupcake Icing Knife, which all part of specially marked products for the Bake a Difference program. OXO will donate .25 cents for each product purchased.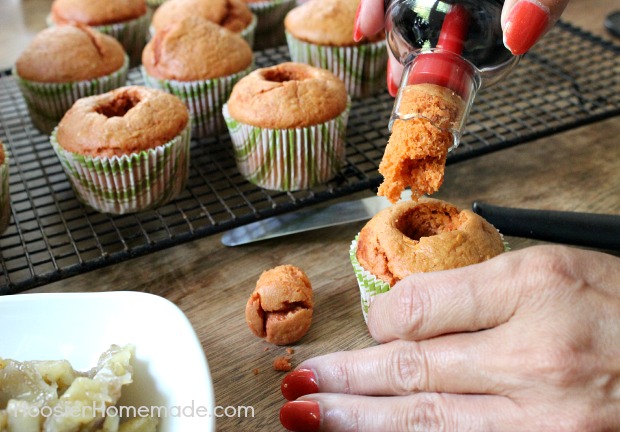 We learned how to core and fill cupcakes during Cupcake Boot Camp, and now we can add this great OXO Cupcake Corer to the list. Just push into the center of the cupcake, a quick twist and pull out the core.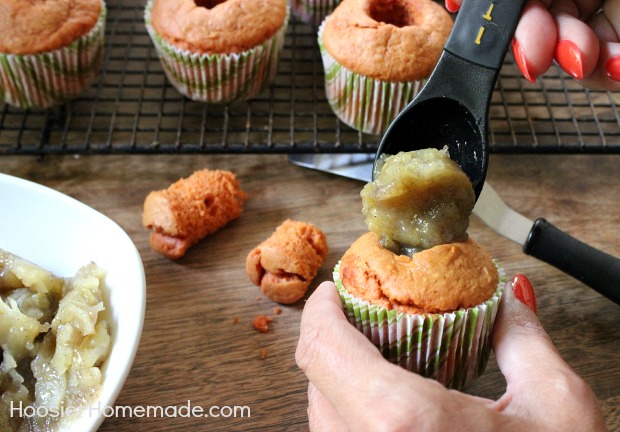 Then fill with chopped Fried Apples.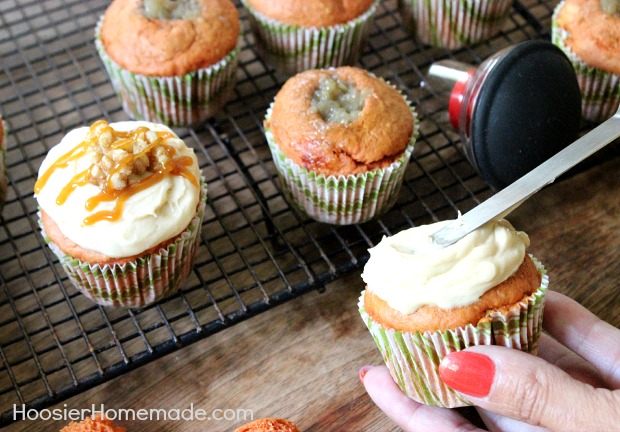 A big dollop of Caramel Frosting, then walnuts and drizzle of caramel finishes off the cupcakes.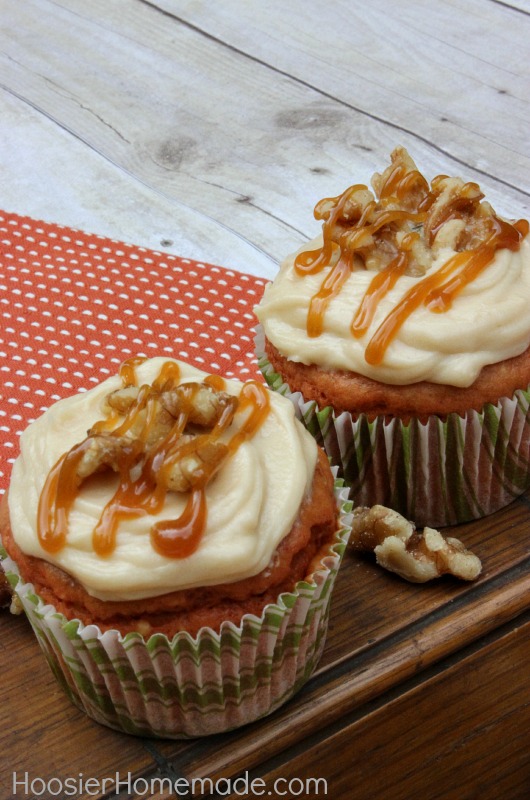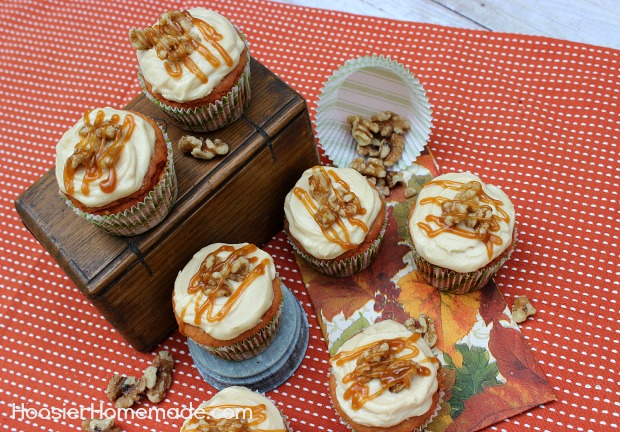 For more information on OXO Bake a Difference visit OXO Good Cookies.  Purchase a specially marked product. Or follow them here…
Facebook
Pinterest
Instagram
Twitter
Caramel Apple Cupcakes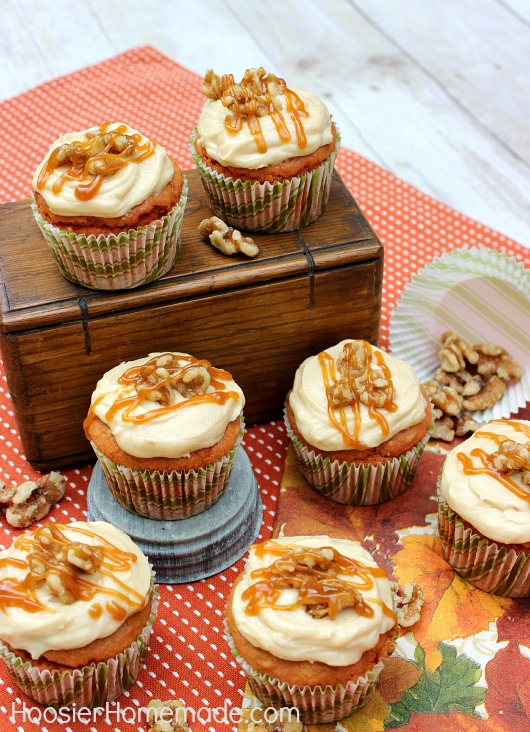 The perfect Fall treat. Recipe from HoosierHomemade.com
Ingredients
Cupcakes

1 yellow or butter flavor cake mix
1 small box instant butterscotch pudding
1 cup buttermilk (splash of vinegar in a measuring cup, fill with milk, let set a couple minutes)
4 eggs, room temp
1/3 cup oil
1 packet Duncan Hines Frosting Creations - Caramel Flavor

Filling

Use this Fried Apples Recipe or Apple Pie Filling

Frosting

1/2 cup (1 stick) Salted Butter, softened
1/2 cup (1 stick) Unsalted Butter, softened
1 cup Shortening
1 tablespoon vanilla extract
4-6 tablespoons very cold milk
8-9 cups Powdered Sugar
1/4 cup caramel topping

Topping

Walnuts, chopped roughly, if desired
Caramel Topping, if desired
Instructions
Cupcakes

Preheat oven to 350 degrees and add cupcake pan with liners
Mix all ingredients until smooth, divide batter into cupcake liners
Bake at 350 degrees for 12-15 minutes or until a toothpick inserted in the center comes out clean
Let cool completely

Frosting

In a large mixing bowl, cream the butters and shortening until smooth, about 3-5 minutes
Add vanilla and cream together
Gradually add 4-5 cups of powdered sugar
Alternating with a couple tablespoons of milk
Gradually add remaining powdered sugar, alternating with more milk until desired consistency
Mix in caramel topping until smooth

Assembly

Core cupcake and fill with apples
Frost cupcakes, add walnuts and drizzle of caramel topping if desired
http://hoosierhomemade.com/caramel-apple-cupcakes/