I make these muffins at least a couple times a month. They are really tasty and very hearty, and pretty healthy too. They're great to take for a large crowd, I've taken them quite often to feed the football, basketball or baseball teams.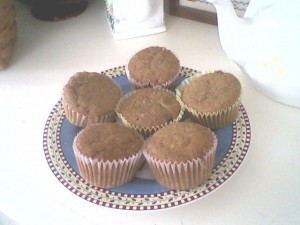 4 c. Flour                                                       
1 T. Cinnamon
1 T. Allspice                                                  
2 t. Baking Soda
1 c. Butter or Margarine, soft                
2 c. Sugar
2 Eggs                                                              
 2 c. Applesauce
2 T. Vanilla                                                    
 1 c. Raisans
Combine flour, cinnamon, allspice and soda, set aside. In a mixing bowl, cream butter and sugar, beat in eggs, applesauce and vanilla. Stir in dry ingredients just until moistened. Fold in raisans. Fill greased or paper lined muffin tins. Bake at 350 for 20 – 25 min.
Here is a little tip I do so the raisans won't stick together in a clump. First, I measure the raisans and put them in a bowl.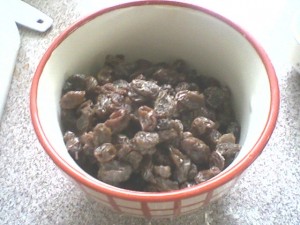 Then I throw in a finger-pinch of flour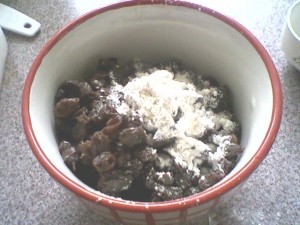 Then I mix the flour in until the raisans are coated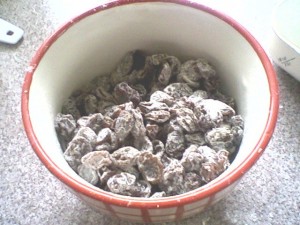 I used to buy baking raisans, but found that I can use this method and the raisans bake up just as well and are much cheaper than the baking raisans.
For more great recipes please visit these great carnivals:
~Slightly Indulgent Mondays hosted by Simply Sugar & Gluten Free
~Make Something Monday hosted by Go Graham Go
~Make Something Monday hosted by Jolly Mom
~Homemaker Mondays hosted by 11th Heaven Homemaking Haven's
~Mouthwatering Mondays hosted by From the Land of Monkeys and Princesses
~Recipe Swap hosted by Our Chaotic Life
~Make Something Monday hosted by Peanut Butter and Smelly's Dad