Weatherizing your home is very important! Whether you live in a warmer climate or a cold climate like we do in Indiana, winters can be rough. And especially this year, I've heard we should expect one of the worst ever.
A little while back I told you about the DAP Seal Your Home Blogger Challenge. Funny how these little challenges force you to get things done. There were several things on our list, and we are still working on a couple, but wanted to share with you some tips so you can start weatherizing your home.
Don't let this first project alarm you, I almost fell over when Doug showed me this hole on the outside of our home. And YES you could see all the way through to the basement..gasp!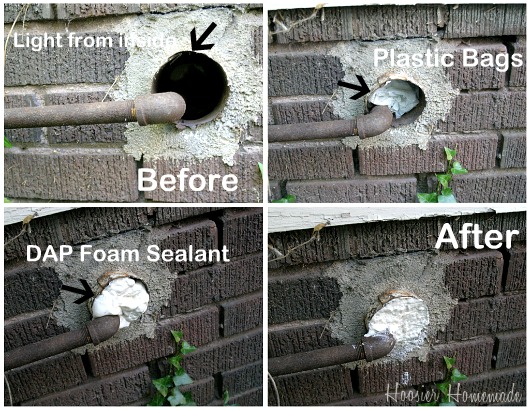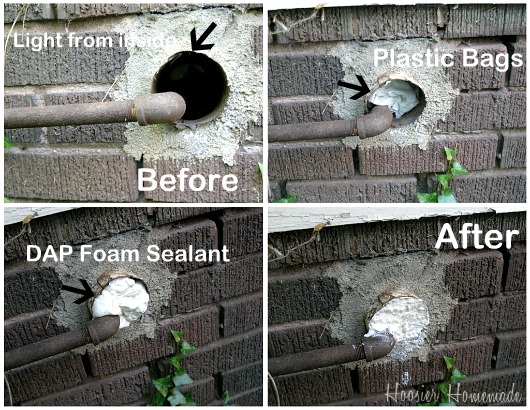 Doug filled the hole with plastic bags (a great way to re-purpose all those shopping bags) and then filled it with DAP Multi-Purpose Foam Sealant. It was quick and easy, about a 5 minute job and it will definitely keep cold air out of our home!
The next project is also on the outside of our home, not quite so drastic though.


Doug used DAP Acrylic Latex Caulk Plus Silicone and a caulking gun to complete this job. It was very simple, just remove any loose debris and old caulk and apply a bead of caulk where the siding and pipe meet. Smooth out with your finger or you can use any number of tools available at your local hardware store for just such a job.
Next we headed inside to get some of the outlets filled with foam sealant.


I'm behind the camera today and Doug is sharing with you how easy it is to fill the holes around your outlets.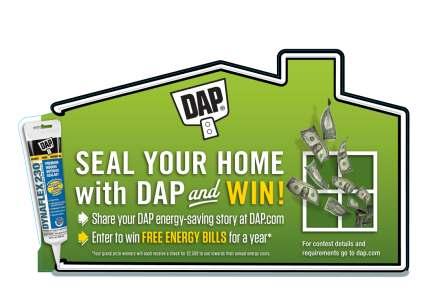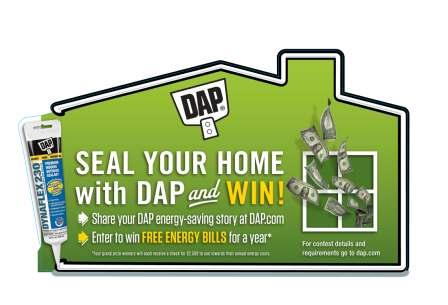 AND don't forget to enter the DAP Seal Your Home and Win Contest, all you have to do is tell them how you saved energy in your home. Four lucky grand prize winners! Each winner will receive a check for $2,500 to use towards their annual energy costs!
Remember: Always read and follow the directions on the products for the best results.
Disclosure: DAP partnered with bloggers such as me to participate in its "Seal Your Home" Blogger Challenge.  As part of that program, I received compensation.  They did not tell me what to purchase or what to say about the products used for the "Seal Your Home" Blogger Challenge. DAP believe that consumers and bloggers are free to form their own opinions and share them in their own words. DAP's policies align with WOMMA Ethics Code, FTC guidelines and social media engagement recommendations.