My love for watching and feeding the birds comes from my parents. Along with building birdhouses, my Dad would fill his multiple feeders daily and watch the birds from their deck.
This Vintage Recycled Bird Feeding Station was inspired from all the years of watching my parents feed the birds and enjoy the wildlife in their back yard. I'm honoring my Dad with this post, he would have been 85 years old tomorrow.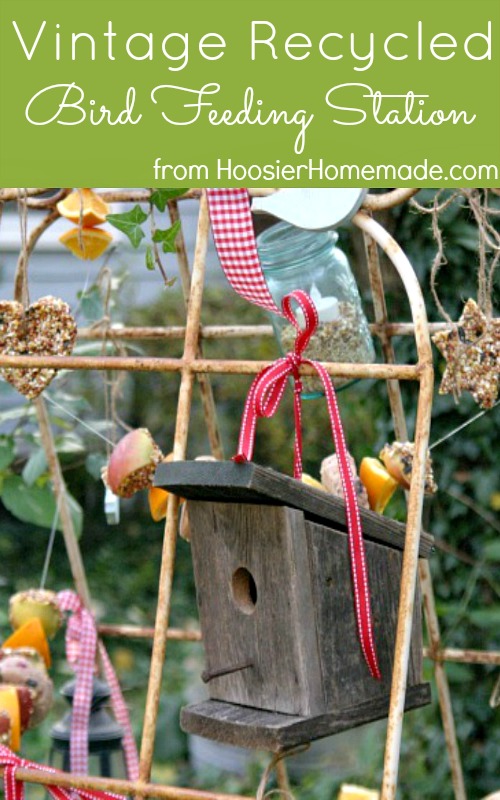 The Bird Feeding Station starts with some old garden trellises, we happened to have two that matched, but you could use some that are different, wooden trellises or even an old ladder. Not only do the birds love it, it's also a statement in the front of our home.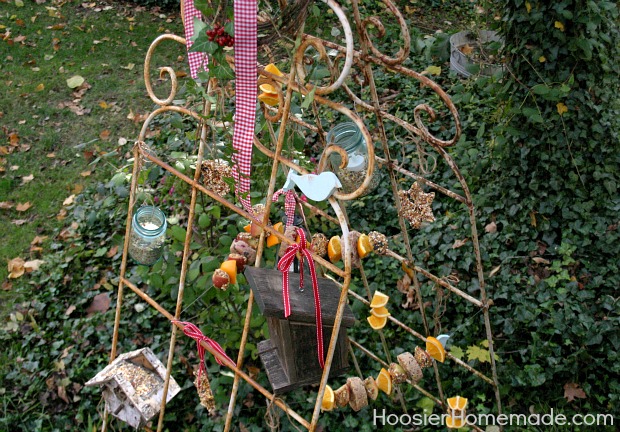 Begin by assembling the garden trellises, simply attach them together with strong wire at the top.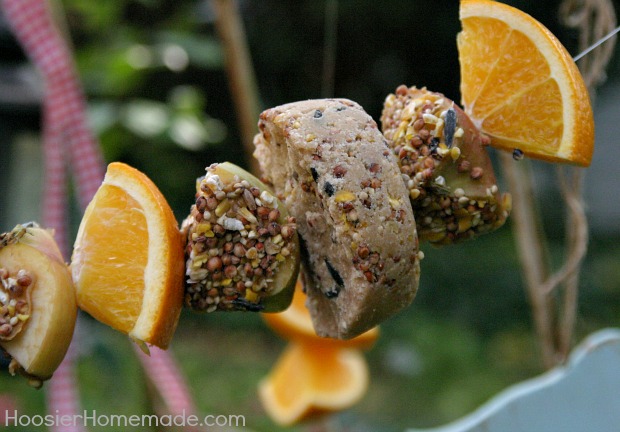 Then you will want to create the Bird Seed Garlands. The garlands are made with oranges, apples dipped in peanut butter and bird seed, and the round disks are homemade suet. The suet is very easy to make, here's is what you will need…
Homemade Suet Recipe
1 cup shortening
1 cup peanut butter
1 cup flour
3 cups cornmeal
1/2 cup each of various filler like bird seed, oats, dried fruit, cranberries, raisins or nuts
Instructions
Combine shortening and peanut butter in a large saucepan on the stove. Heat until melted, add the flour and cornmeal, and mix well. Add your filler ingredients just until combined.
Spray a cupcake pan with non-stick cooking spray. Press the mixture into the pan. Use a straw to form the hole. Let set out to dry overnight.
The suet can also be formed into balls and strung or even just placed in a feeder for the birds.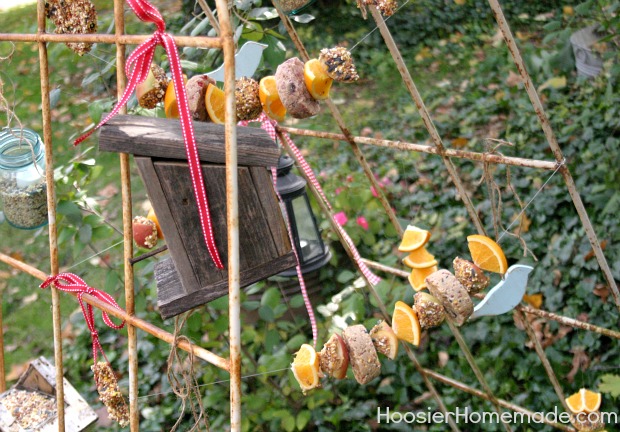 Then string the pieces onto fishing line. We left some of the orange plain and hung them straight.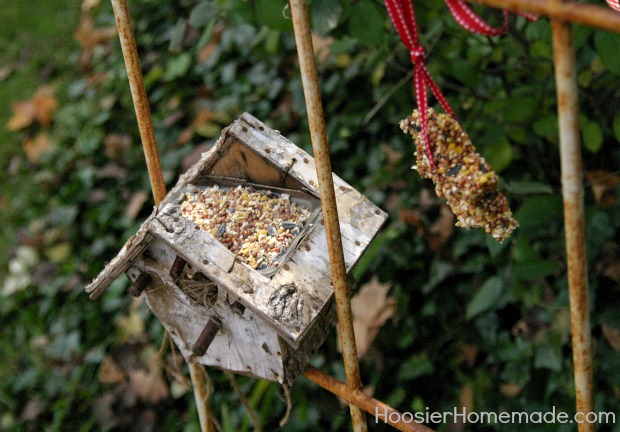 We also made a few ornaments, using the directions for the DIY Bird Seed Ornaments we shared a couple years ago.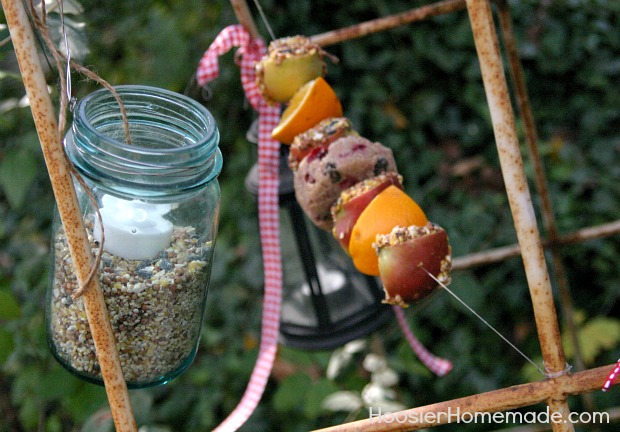 Aqua Mason Jars filled with bird seed and a tea light and an old lantern were tied on with twine.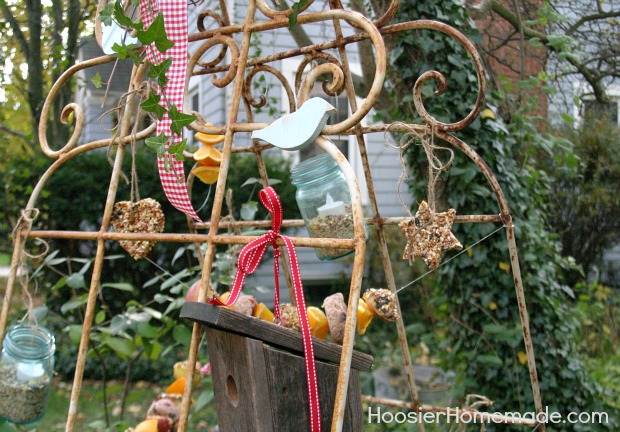 One of my Dad's birdhouses was added with a rustic ribbon.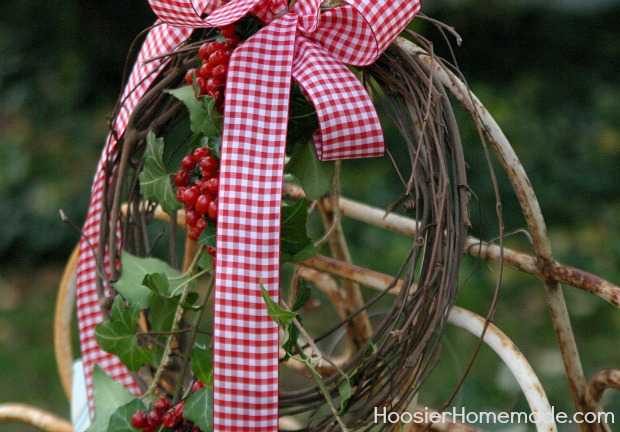 And a grapevine wreath at the top tied with a little fresh ivy and red berries, which the birds also liked.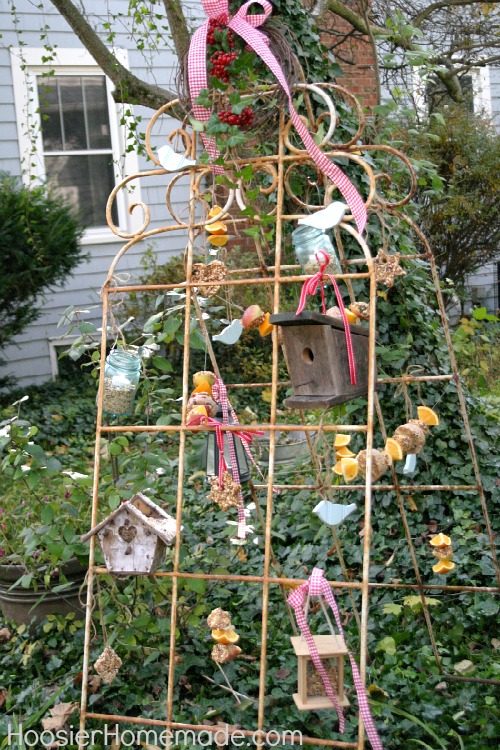 We have had a great time watching the birds.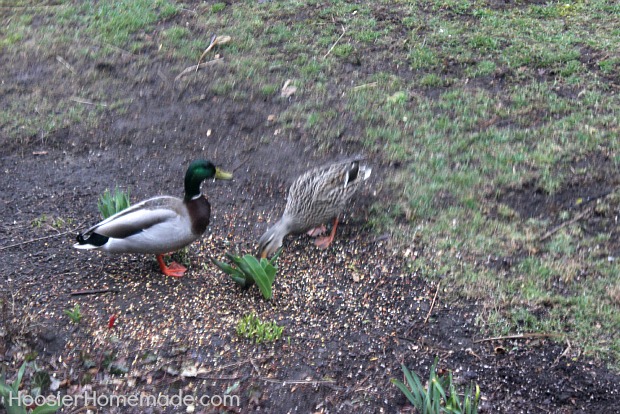 We also have a couple visitors that stop by several times throughout the day to enjoy the bird feed that has fallen to the ground. They are right outside my office window and I'm really enjoying watching them.
Do you feed the birds? Or wildlife? Share your stories, I'd love to hear them!