Thanksgiving Homemade Gifts 2011
Well the house is decorated for the big party with only two weeks to go 'til Thanksgiving. We are we are on our way to making this a special holiday to remember, but wait what can we give to our guest to show how thankful we are that they are in our lives.
Every Friday we celebrate with a holiday inspired party, today you can share your ideas for homemade gifts for the season.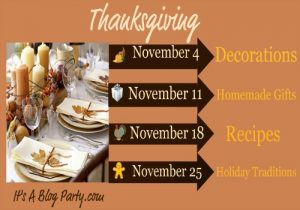 Follow us on facebook and twitter so you won't be missing out on our daily highlights during the party.
Thanks again for sharing and I would appreciate a link back so we can highlight you.