Did you know that almost 6 out of 10 women in the United States believe that they have sensitive skin but don't think there is a brand of skin care that can give them what they need for their skin. Simple, the sensitive skin experts with the #1 facial skincare in the UK has now brought their expertise to our shores. And are available now at Walmart.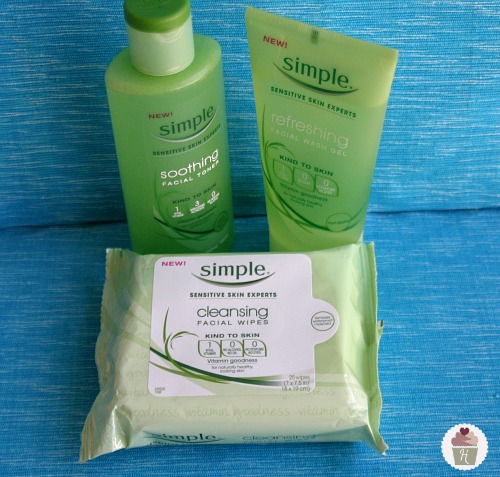 Whether you are stepping in for your morning shower, freshening up for an evening out or removing the grime of city life there is a product to suit you and your sensitive skin. Their products are Simple, you will never find any dyes, artificial perfumes or harsh irritants in any of their sensitive skin products.
They have a simple philosophy…
never use dyes or artificial perfumes that can upset your skin
settle for only the purest possible ingredients
trust the goodness in all of their products, especially for sensitive skin
natural beauty comes from goodness
From their Cleansing Facial Wipes, Soothing Facial Toner and Refreshing Facial Wash Gel, there are thirteen products for facial skincare suitable for all skin types, especially sensitive skin.
Since Nick, my 18 year old son, has problem skin, I decided to have him try a couple of the products as well.
Some of the special features of the products we tried…
Cleansing Facial Wipes
Cleanses and refreshes
Removes mascara, even waterproof
Added Pro-Vitamin B5
Soothing Facial Toner
Leaves skin feeling clean and refreshed
100% alcohol free
Added Pro-Vitamin B5
Contains skin-loving ingredients: Chamomile, Witch Hazel and Allantoin
Refreshing Facial Wash Gel
Leaves skin cleansed and revived
100% soap free
Added Pro-Vitamin B5
Liz's thoughts…
I appreciate the value that Simple brings to customers. With most products under $10, and many under $7…you don't have to spend a lot to have a good skin care regimen. I enjoyed how cool and clean my skin felt, especially with the Soothing Facial Toner.
Nick's thoughts…
The products were easy to use and made my face feel good. I really like using the Facial Wipes, they are quick and easy, especially after my baseball practice.
Have you tried any of the Simple Skin Care Products?

Disclosure: This post is part of a campaign I am participating in with the Walmart Moms. Walmart has provided me with compensation and product for this post. My participation is voluntary and opinions, as always are my own.