Simple DIY Napkin Rings and Thanksgiving Tablescape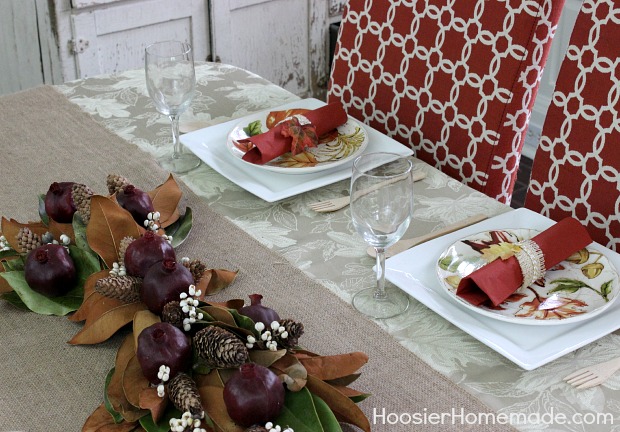 This post is brought to you by ProFlowers.  Growing up with parents who owned a floral shop, I was always surrounded by beautiful centerpieces and vases filled with flowers. Before they owned the shop, I remember my Mom heading to the yard, no matter what time of year it was, picking flowers or leaves or branches to bring into the home to decorate with.
The holidays were always extra special with the table set beautifully and the house decorated with flowers. Although our yard is filled with a few flowers, it certainly does not have what I would need to make a centerpiece for the Thanksgiving Table. ProFlowers to the rescue!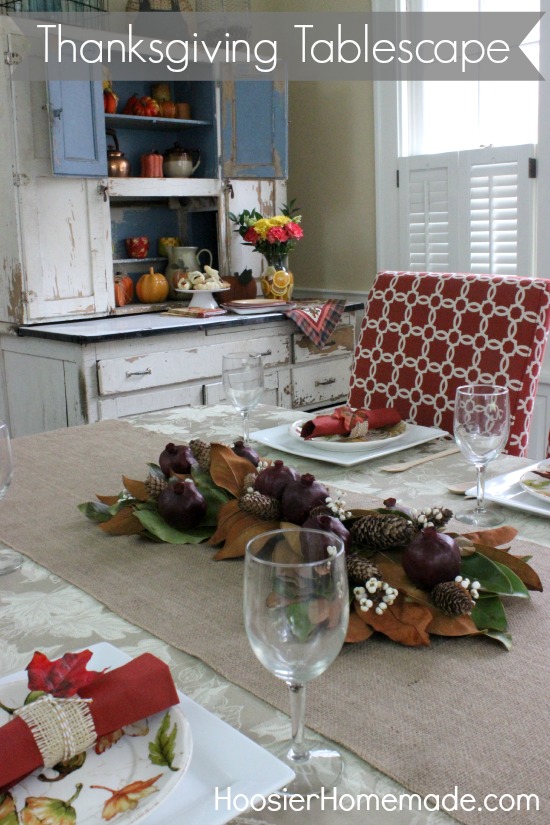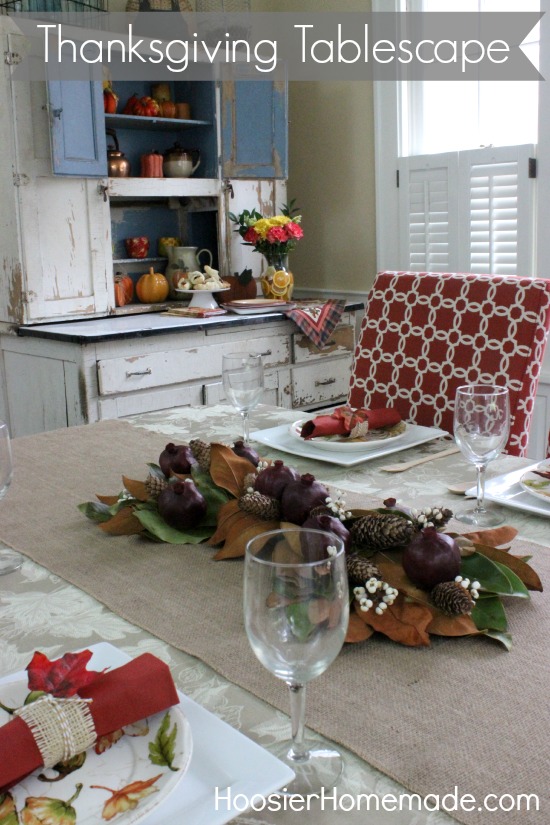 There are so many gorgeous arrangements on ProFlowers, I had a hard time choosing. But I did know that what I wanted to receive needed to have a country vintage feel to match the decor in our home.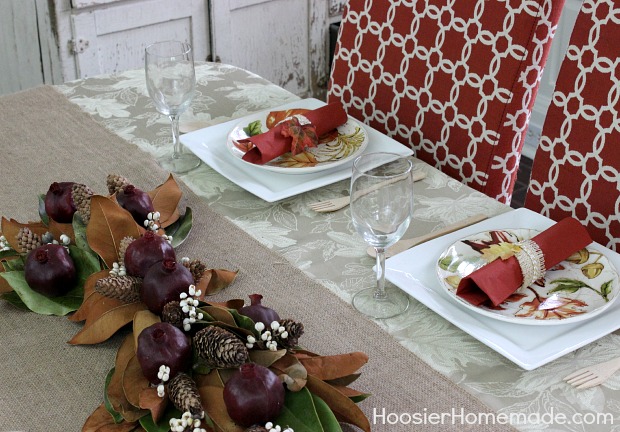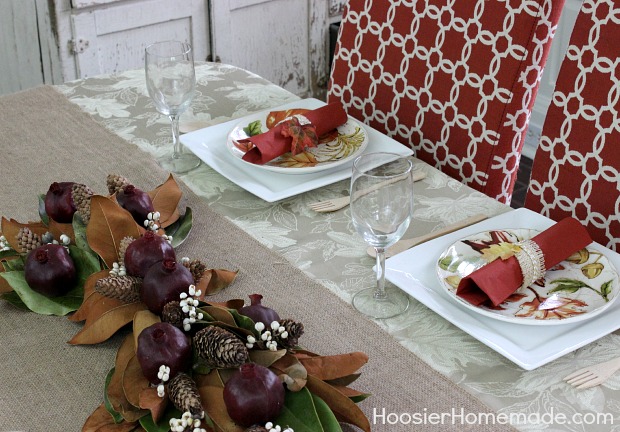 We have been slowly working on remodeling the Dining Room, you may remember the green stripe wallpaper. Well, that's gone and our walls are a soft tan color now, and we have a couple new chairs.
The table centerpiece we chose is a 24 inch Table Runner made with a collection of magnolia leaves, white tallow berries, pomegranates and pinecones. And not that I don't love fresh flowers, but I'm tickled that I can keep this centerpiece since it's preserved.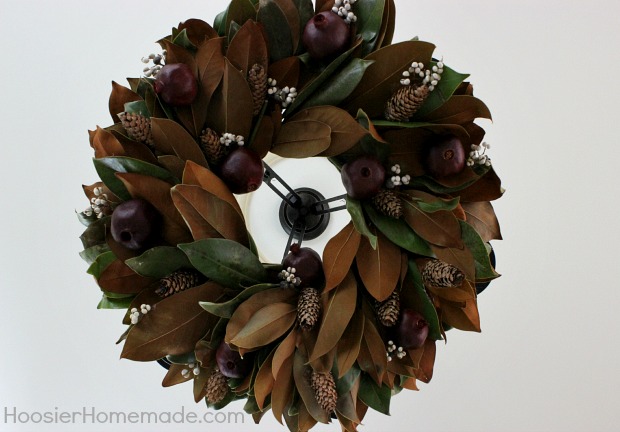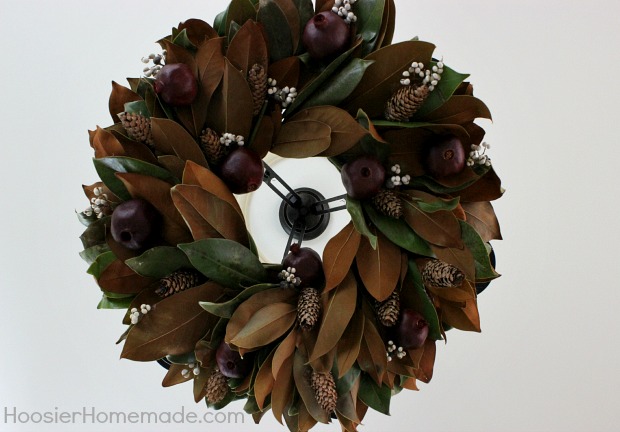 Another new addition to our Dining Room is a cool new chandelier. When I spotted the matching Magnolia Grove Wreath, I thought it would be perfect on the light.
Like the Magnolia Table Runner, the Wreath is also made with a collection of magnolia leaves, white tallow berries, pomegranates and pinecones. And also preserved.  I'm looking forward to hanging it on the wall or front door after Thanksgiving.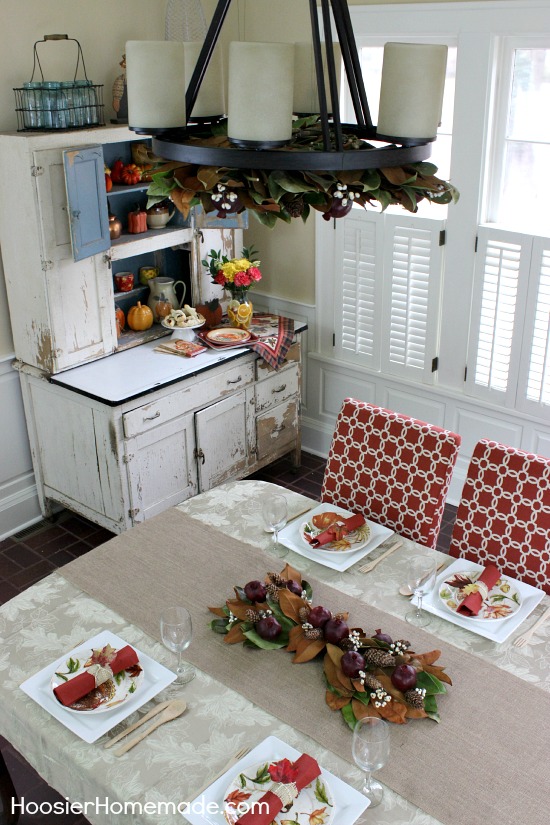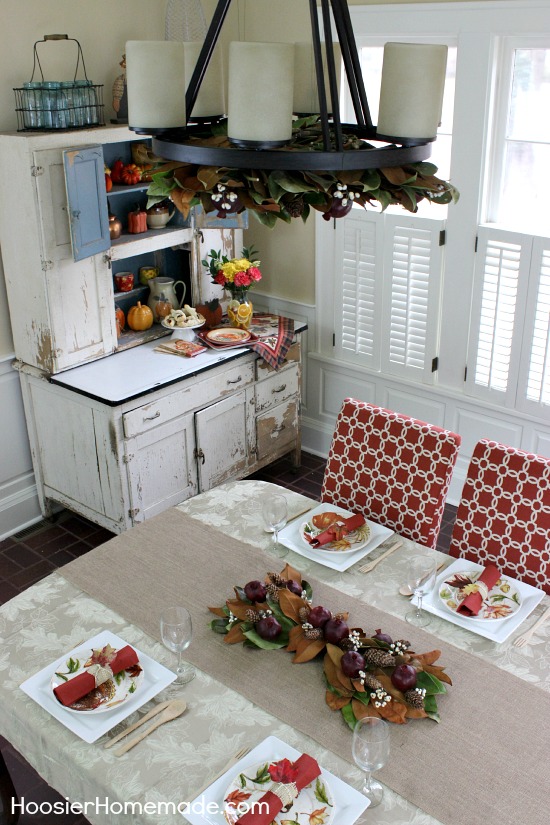 Now let's chat a bit about the table. After adding a tablecloth, I laid a burlap table runner down the center then placed the Magnolia Table Runner on top. I left lots of open area for all the delicious Thanksgiving food.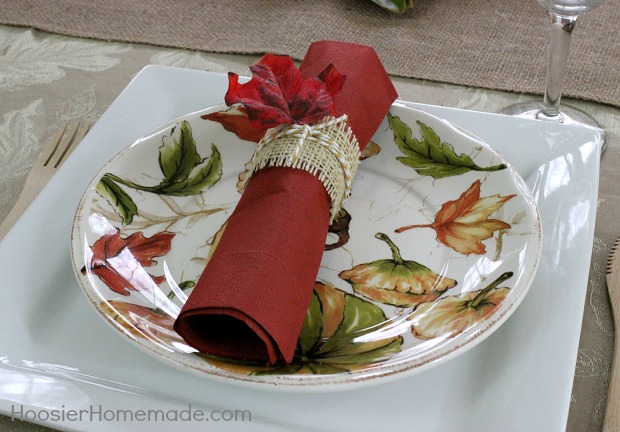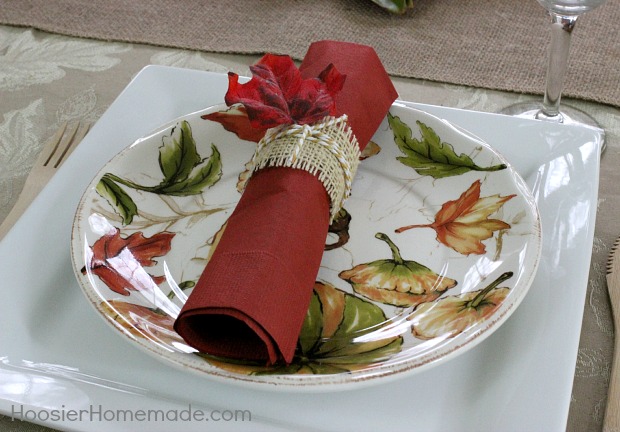 The large square white plate holds a patterned round plate and then the napkin and simple Napkin Ring finish it off.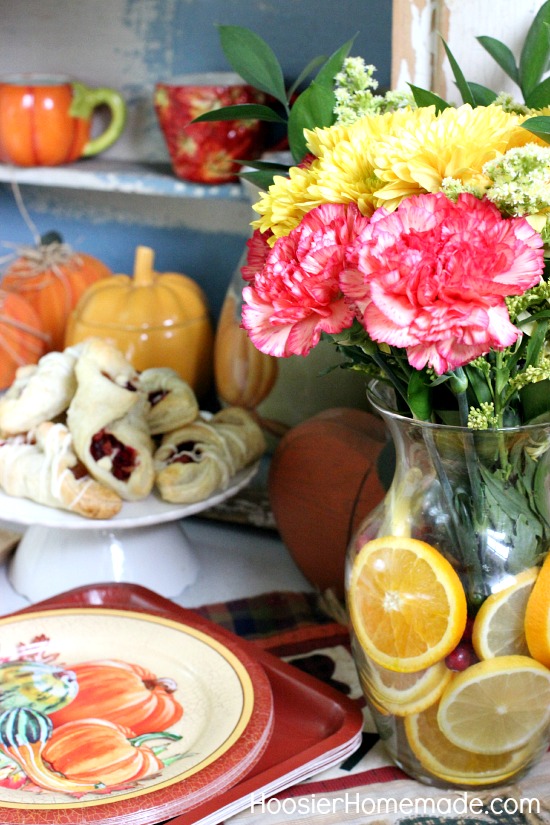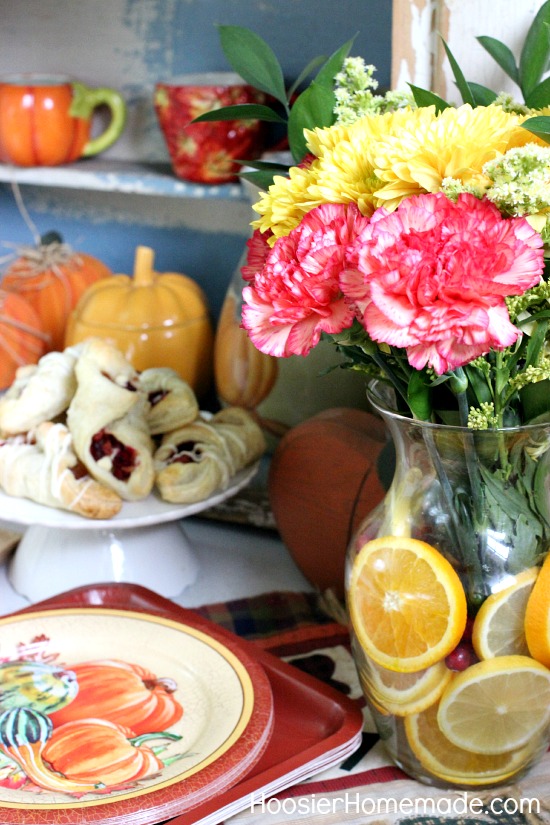 We can't forget about my favorite part of the meal – the dessert. On the Hoosier cabinet, I placed a vase that I filled with fresh fruit and fresh flowers from ProFlowers.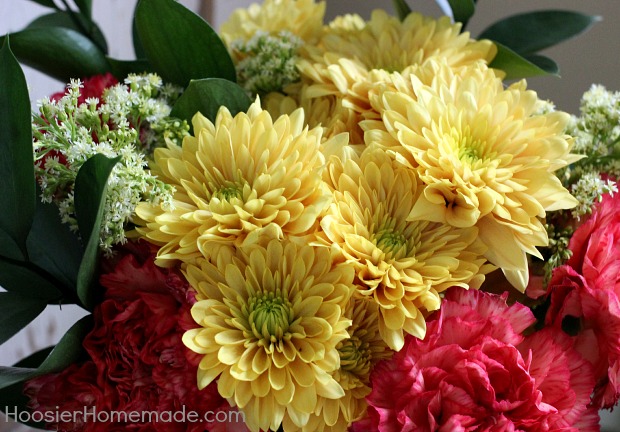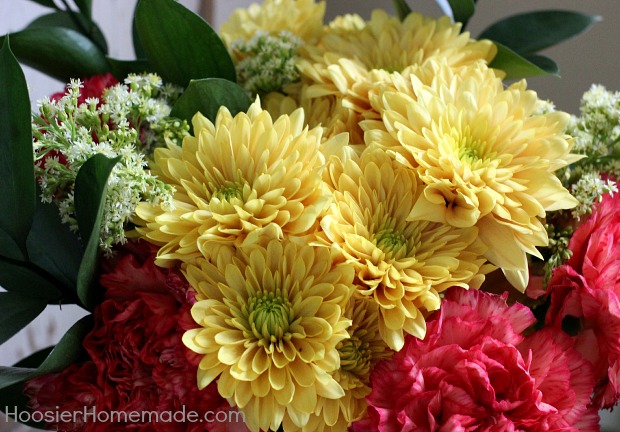 The Autumn Harvest Bouquet is filled with shades of orange, yellow, red and green to brighten any table or buffet.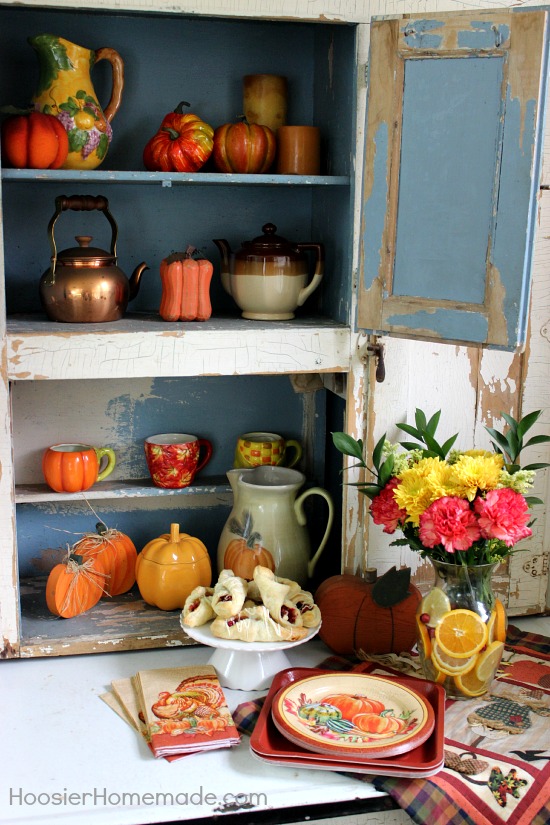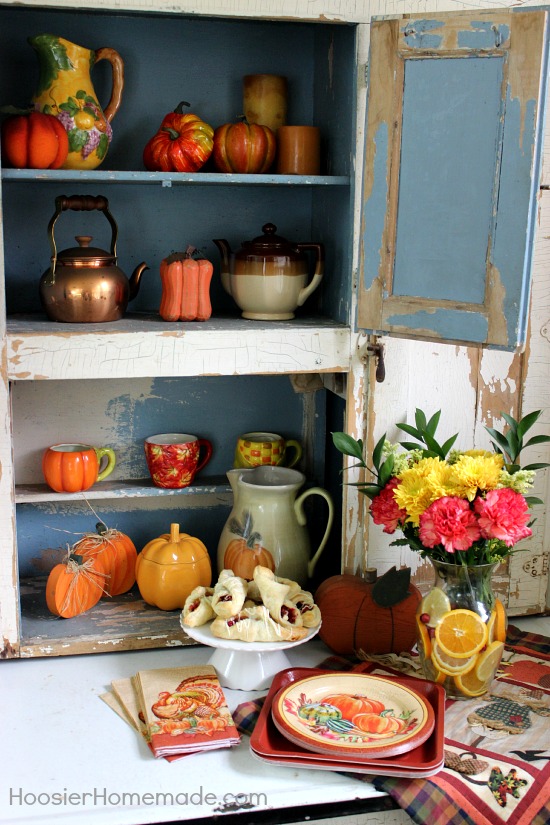 Add plates, napkins and dessert and you have a perfect area.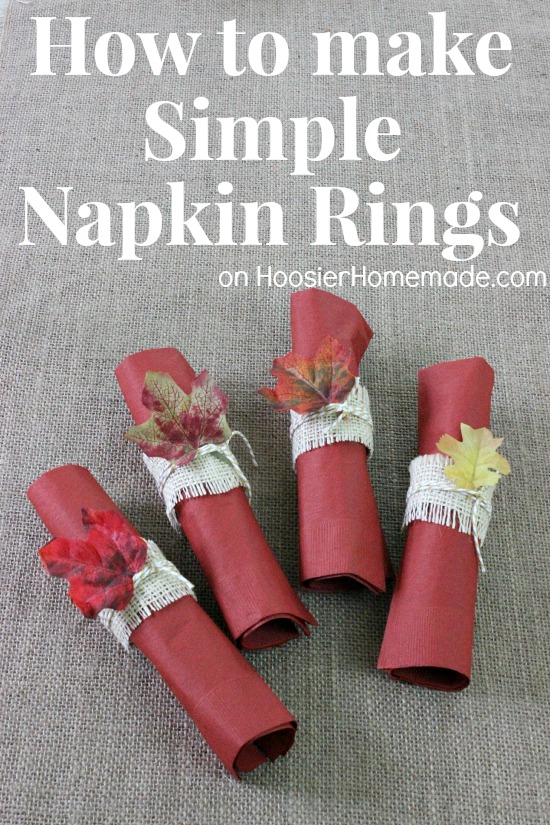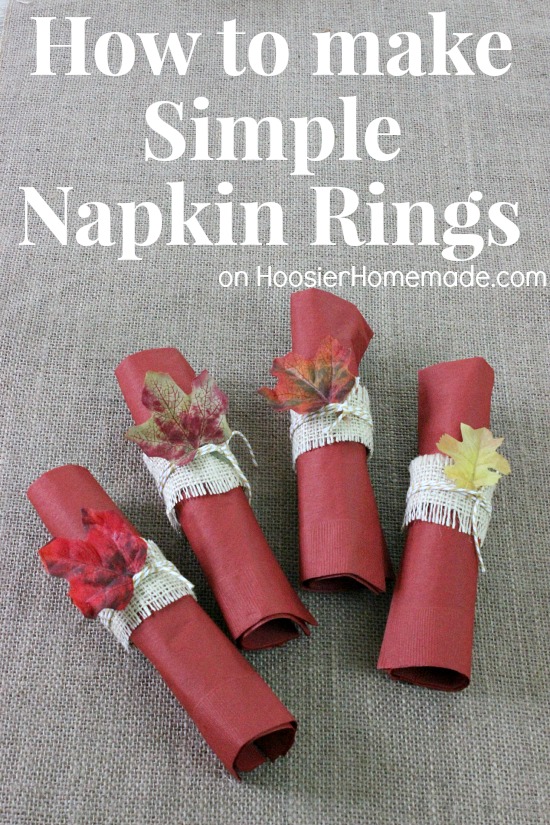 After the decorations are done and the table is set, now it's time to make these Simple Napkin Rings to add to your Thanksgiving Table.
Simple DIY Napkin Rings Supplies
Empty toilet paper or paper towel tubes
Burlap or material
String or ribbon
Silk leaves
Hot Glue Gun
Scissors or X-ACTO Knife
Instructions
Cut the toilet paper tube into 3 sections
Cut the burlap or material to fit – about 1 inch wide
Glue the burlap around the ring
Wrap with string or ribbon and add the leaf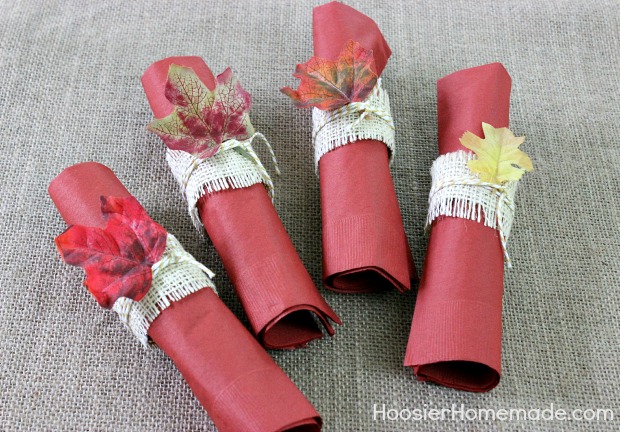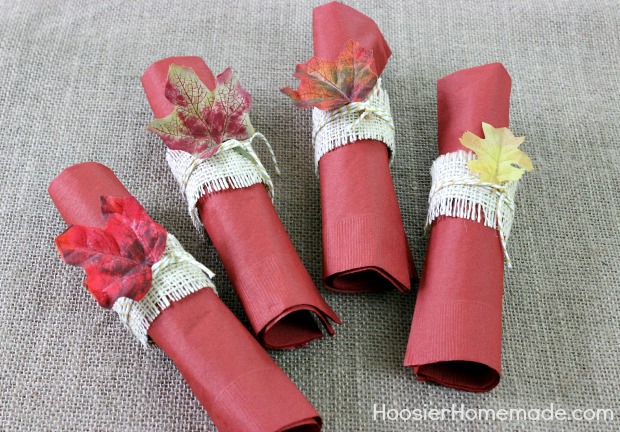 Join us over on Pinterest to be inspired by the other Thanksgiving Tablescapes and decorations!