Thank you to Kraft Foods for offering me the opportunity to recreate a recipe with PHILADELPHIA Cooking Creme. Please click here to learn more about all the PHILADELPHIA Cooking Creme flavors and recipes.
Dinnertime in our home is often a struggle, between school, practice and work schedules, things are a little crazy. But I'm not telling you anything new, I'm sure your home is the same way. With all the different schedules, I'm always looking for quick, easy recipes that I can get on the table fast and that the boys will all love.
Kraft Foods knows that everyday dinners for busy parents are all about bringing family together and connecting over food.  The simple pleasure of creating a meal with satisfying taste provides comfort to the family, especially after a long or chaotic day, is also important.
PHILADELPHIA Cooking Creme to the rescue! I've had my eye on this product for quite sometime and just never took the opportunity to try it. But now…we will be adding it to our Monthly Menu at least a couple times.
Kraft sent us some of the Savory Lemon & Herb Cooking Creme to add to the Shrimp & Broccoli Fettuccine, and we loved it! I used Shrimp in the recipe, but if your family doesn't like seafood, you could certainly use chicken instead.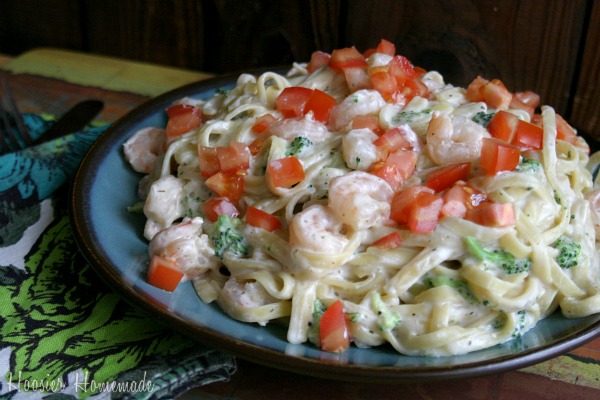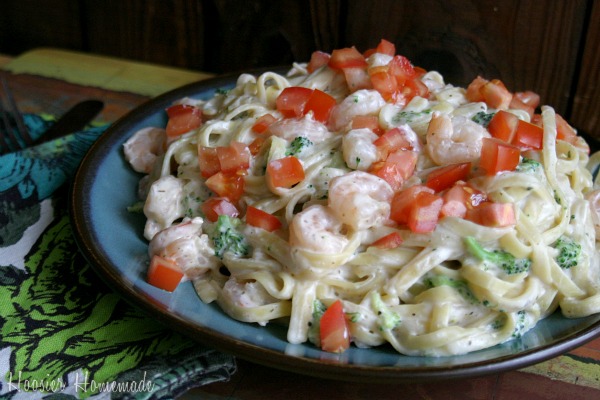 PHILADELPHIA Cooking Creme, is an easy-to-blend creme that can be effortlessly stirred into skillets, casseroles, pasta and more. With several flavor options for chicken, beef and fish, PHILADELPHIA Cooking Creme takes the guesswork out of creating new meal mainstays that the family will love and enjoy. Besides the Savory Lemon & Herb that I used in the Shrimp & Broccoli Fettuccine, there are several varieties to choose from;   New Creamy Pesto, New Reduced Fat Italian Cheese & Herb, New Reduced Fat Savory Garlic, Tomato & Basil, Italian Cheese & Herb, Savory Garlic, Santa Fe Blend and of course the Original.
Pair this Shrimp & Broccoli Fettuccine with a quick salad and you have dinner on the table in less than 30 minutes…gotta love that!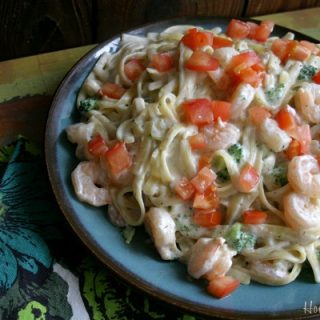 Shrimp & Broccoli Fettuccine Recipe
Yield:
4 servings, 1 cup each
Delicious, quick & easy meal your family will love. Recipe from HoosierHomemade.com. Originally from Kraft
Ingredients
1/4 lb. fettuccine, uncooked
1 cup broccoli florets, chopped
3/4 lb. frozen cooked cleaned medium shrimp, thawed
1 clove garlic, minced
1 tub (10 oz.) PHILADELPHIA Savory Lemon & Herb Cooking Creme
1/4 cup milk
1/4 cup chopped tomatoes
Instructions
Cook pasta in large saucepan as directed on package, omitting salt
Add broccoli for the last 3 min. Drain; keep warm
In large nonstick skillet on medium heat, cook and stir shrimp and garlic 2 to 3 min. or until shrimp are heated through
Add cooking creme and milk; cook and stir 2 min
Add pasta to shrimp mixture; mix lightly. Top with tomatoes.
Serve with dinner salad
Nutrition Information:
Amount Per Serving:
Calories:

0
Total Fat:

0g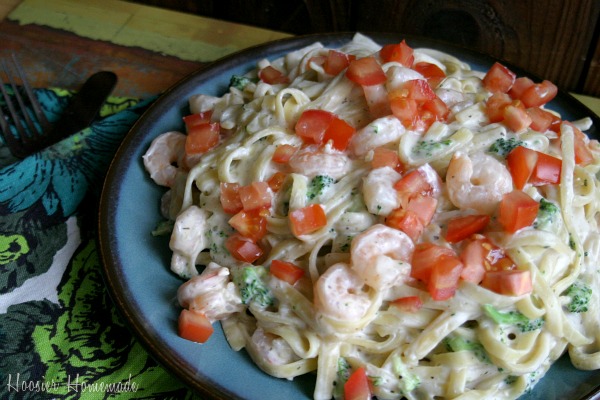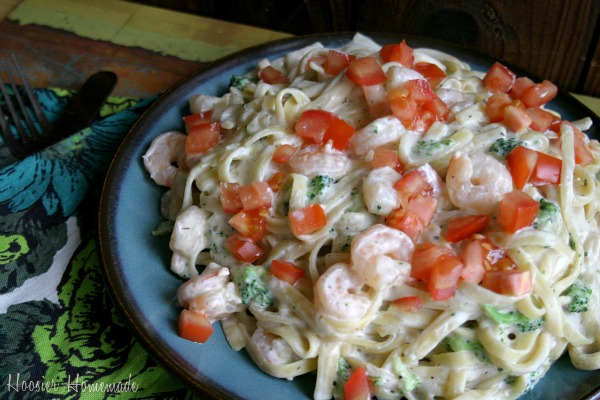 We stretched the recipe a little by adding more fettuccine noodles, and it turned out fine and was a very frugal option. It fed all five of us and we even had leftovers for lunch the next day.
Thank you again to Kraft Foods for sponsoring this blog post. I was selected as one of 20 bloggers by Technorati Media and Clever Girls Collective to participate in the Kraft Foods PHILADELPHIA Cooking Creme signature recipes campaign. While I have been compensated for my time and received the product, my opinions and experiences are my own.