Quick and Easy Holiday Centerpiece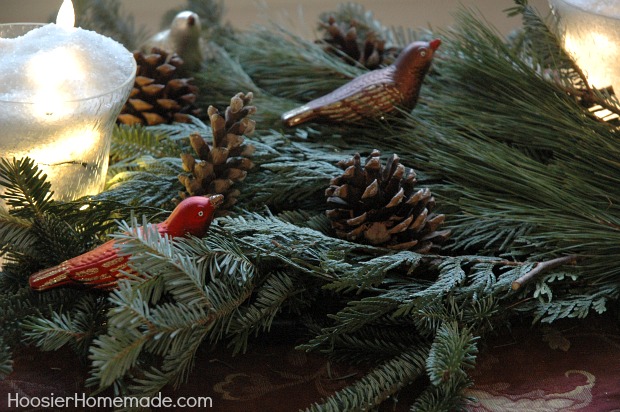 Time is running out! Christmas is only 11 days away! With all the hustle and bustle of the holidays, sometimes our table or buffet get neglected and we need a quick and easy Holiday Centerpiece to brighten up the room!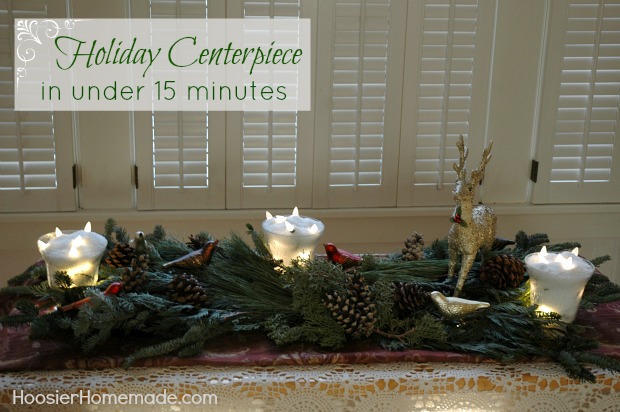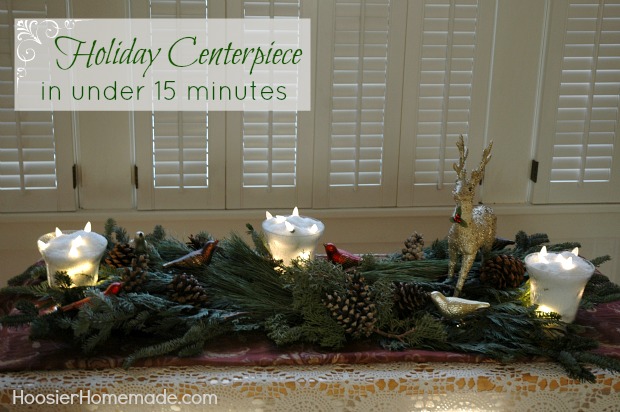 After using the Home Depot Style Guide as inspiration, we headed to the store to see what we could come up with. Did you know that The Home Depot has lots of decorating ideas for the holidays?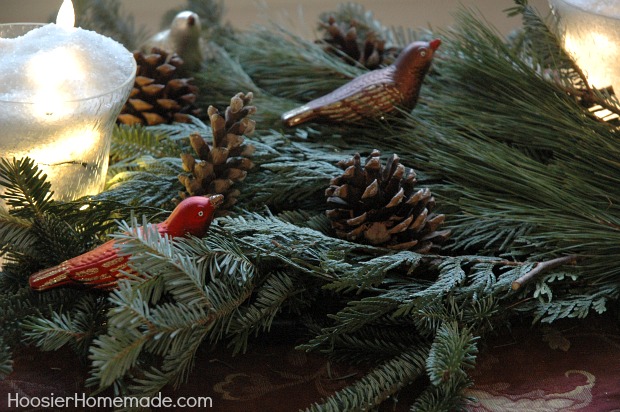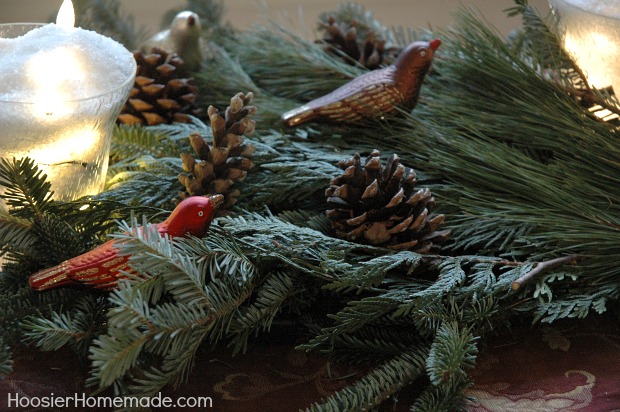 Let me show you how easy it was to put together…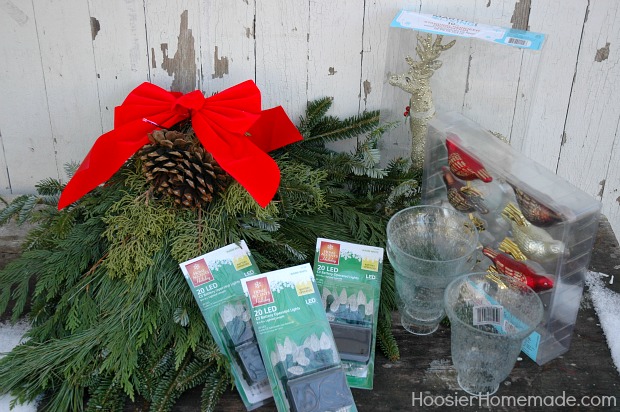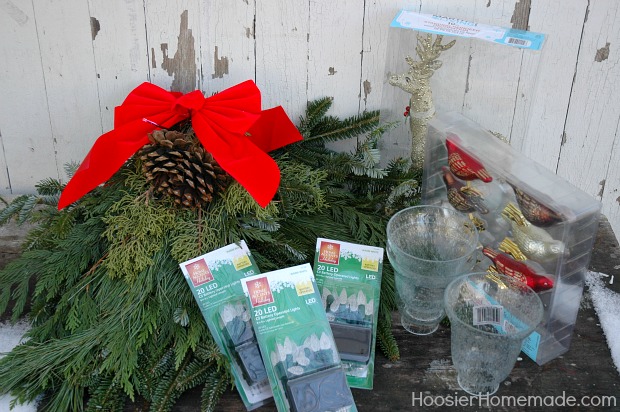 Easy Holiday Centerpiece Supplies from The Home Depot
Fresh Green Swags
Decorations – Martha Stewart Reindeer and Bird Clip-on Ornaments, both from the Winterberry Collection
Glass Globes – found in the lighting department
Christmas lights – battery operated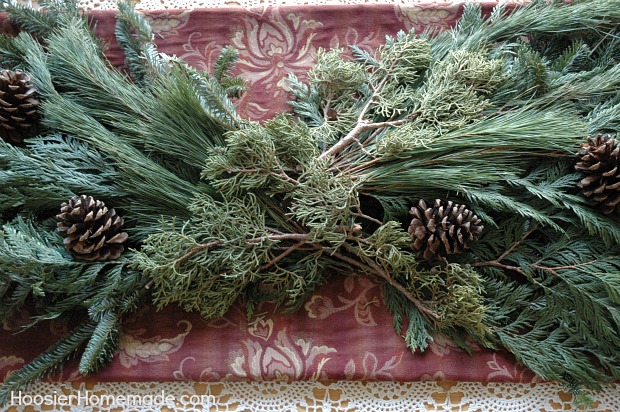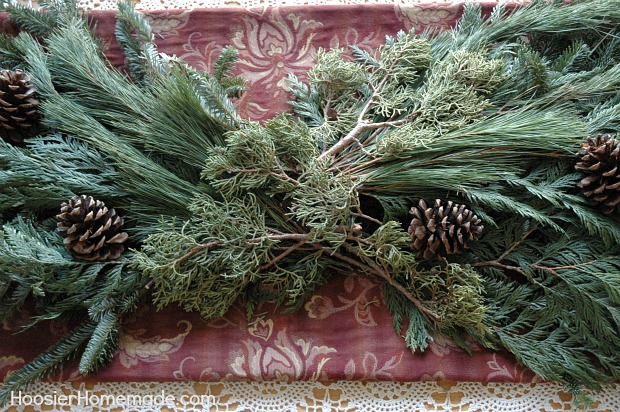 Step 1
Cover your table or buffet with cloths.
Place the fresh greens on the cloths. I took off the bow and cut the bundle apart to cover more area.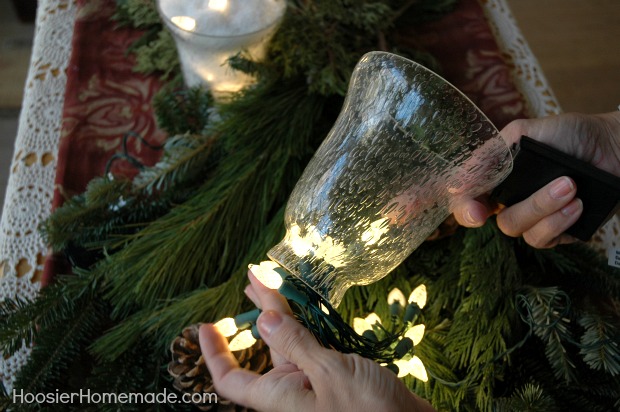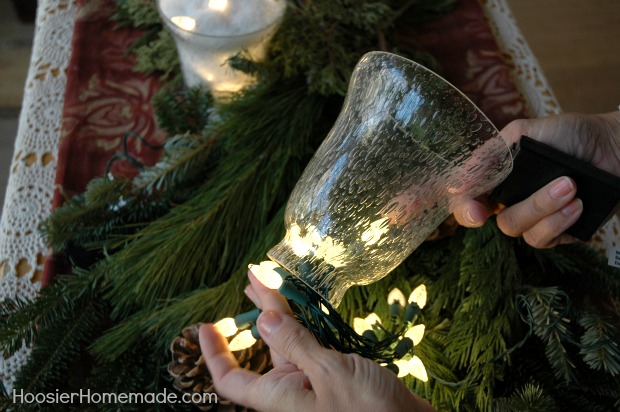 Step 2
Prepare the glass globes. You will need batteries in the lights and a small plate or bowl for them to sit on.
Feed the lights into the bottom of the globe.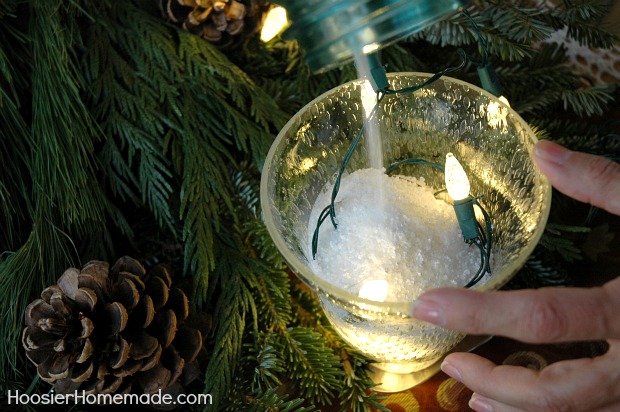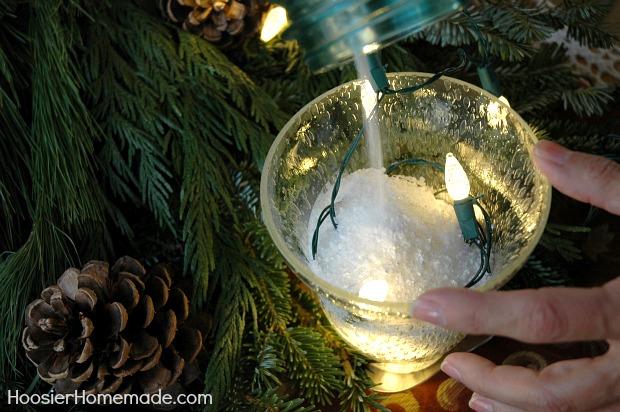 Step 3
Layer the lights and filler, like Epsom Salt, until you reach the top of the globe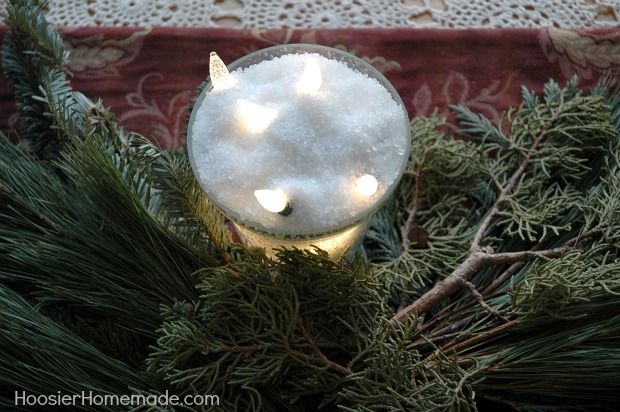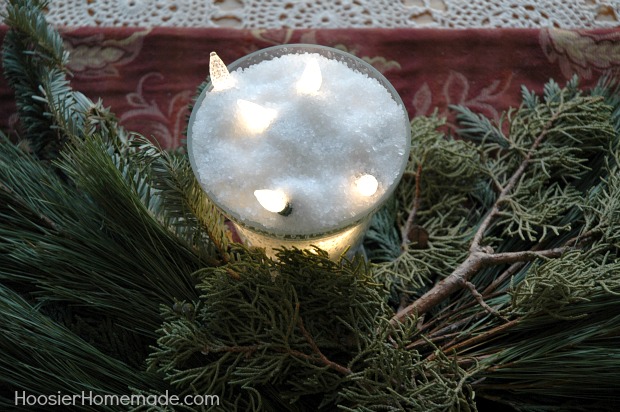 Step 4
Tuck in the cording and cover with filler as best as possible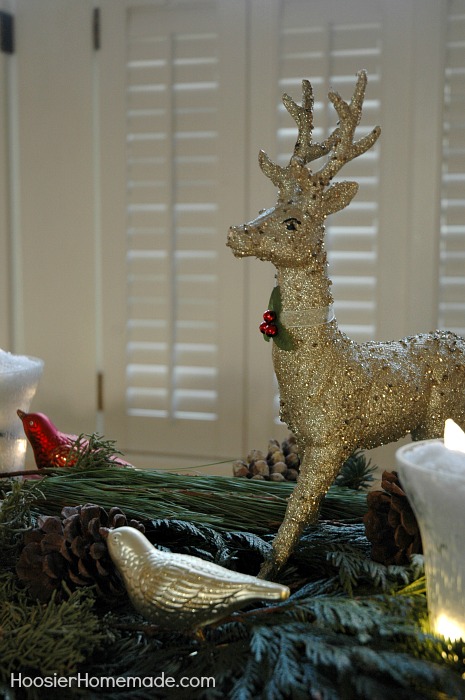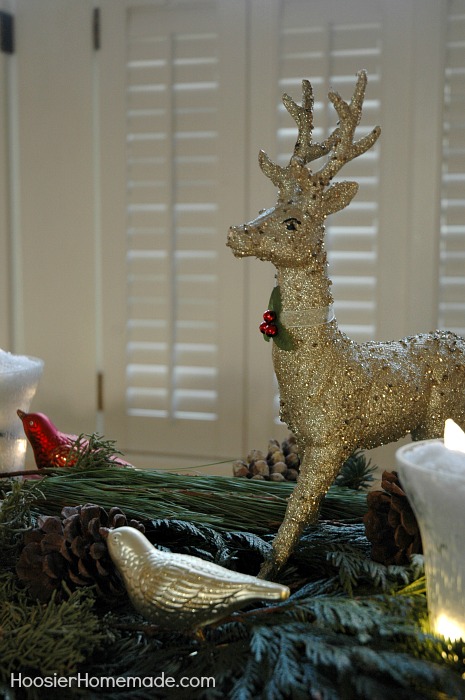 Step 5
Now it's time to add the decorations, first I added the reindeer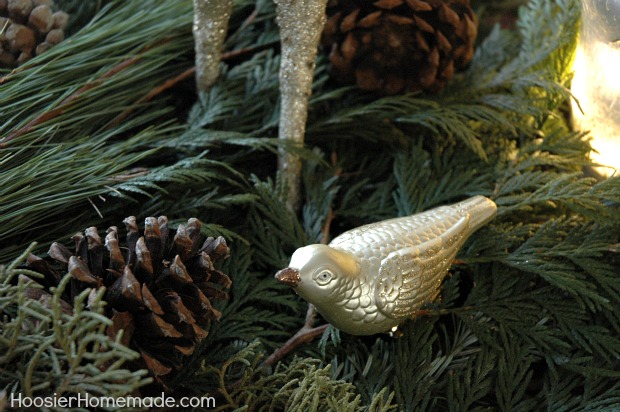 Step 6
Then add the bird ornaments and pine cones and you are done! See I told you…quick and easy!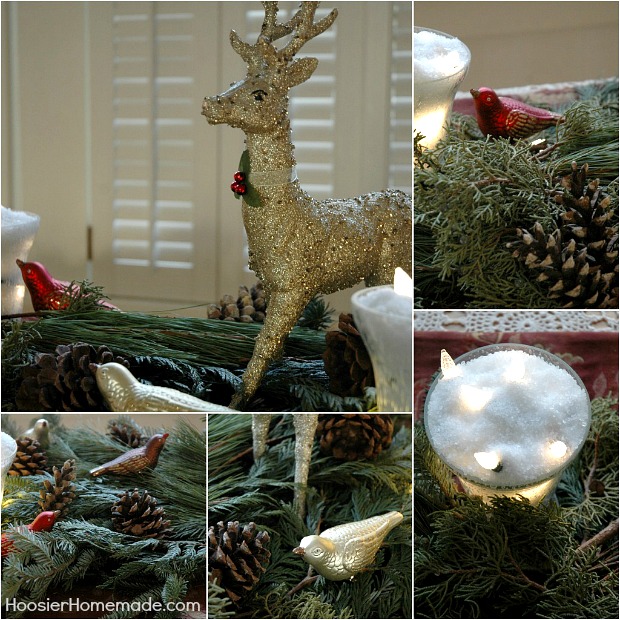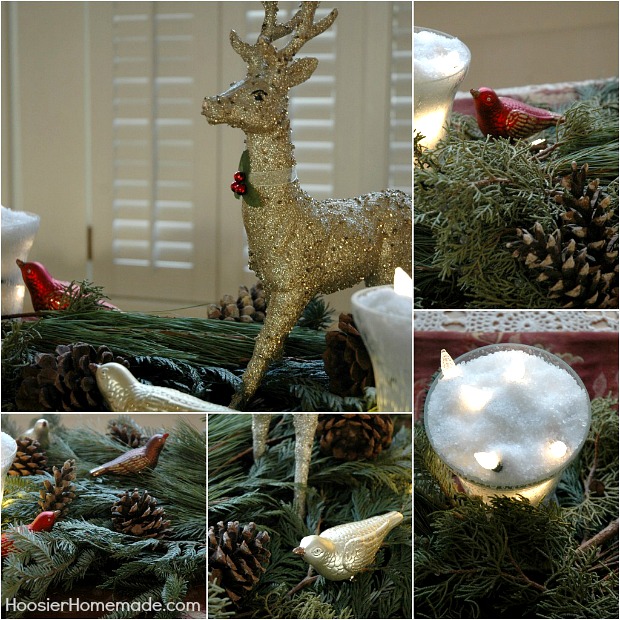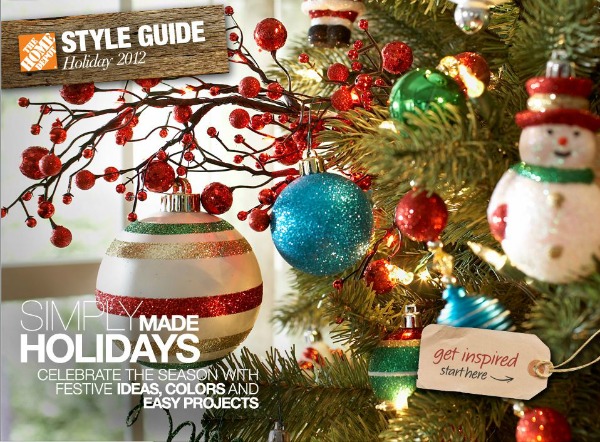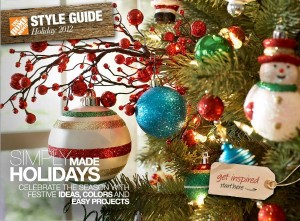 Sarah Fishburne, The Home Depot's Director of Trend and Design, highlights ways to incorporate seasonal trends into your home. The Holiday Style Guide is full of seasonal inspiration as well as home improvement projects, design ideas, décor trends, budget-friendly updates and more!
Download the latest Style Guide to enter your best Holiday Decor for the chance to win $1,000 Gift Card to The Home Depot
Subscribe to the Style Guide and get updates each time a new edition is released! Plus, you'll get exclusive Home Depot savings, offers, how-to project ideas and much more! And check out their Style Guide App!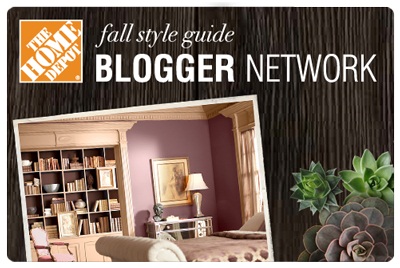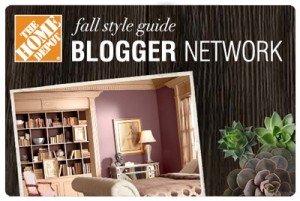 Disclosure: The Home Depot partnered with bloggers such as me for their Fall Style Guide Blog Network. As part of this program, I received compensation for my time. They did not tell me what to purchase or what to say about any product mentioned in these posts. The Home Depot believes that consumers and bloggers are free to form their own opinions and share them in their own words. The Home Depot's policies align with WOMMA Ethics Code, FTC guidelines and social media engagement recommendations.