No need to sacrifice the taste for a healthier version! This Oven Baked Onion Rings Recipe is easy to make and has less calories than fried! AND they are Dairy Free! Whip up a batch for your next party, tailgating, game night and more!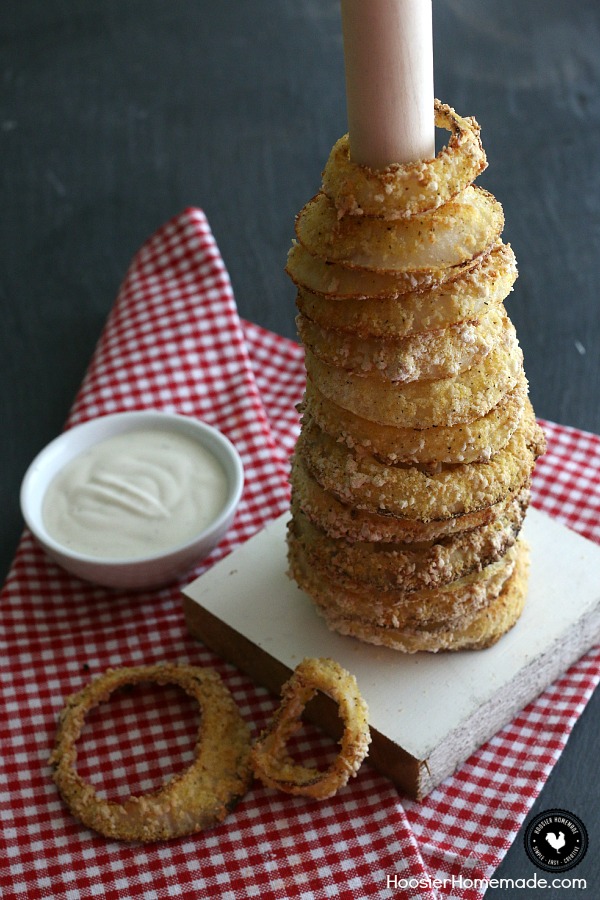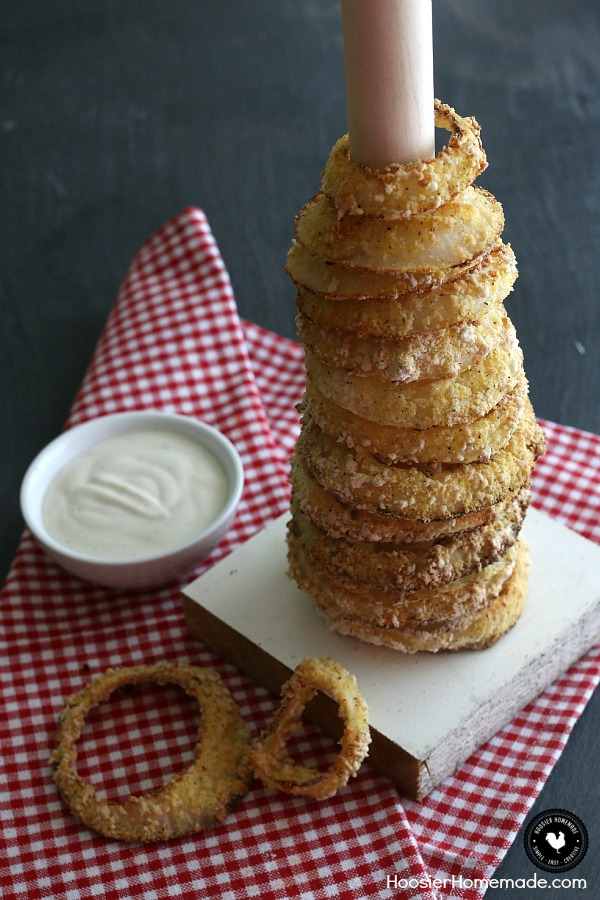 Mmmmm, onion rings. These delicious morsels are usually a deep fried treat. I can see them in my mind's eye right now – the tower that is brought to me at our local restaurant. Absolutely fantastic. So yummy. Until afterward, when the affects of the greasy deep fryer makes me feel not-so-good. Ugh. Sometimes, I have to wonder, is it worth the pain for the taste?? Since I love onion rings so much, I was on the lookout for something I could make at home with all of the flavor but not the ill after affects.
I admit I was a bit skeptical that I could get the same deep-fried flavor from the comfort of my own oven. But, I thought, it was worth a shot. I made this recipe and couldn't be happier with the results. The Panko bread crumbs made them wonderfully crispy, while the cornmeal offered a fantastic crunch. The flavor of the Walla-Walla sweet onion I used was incredibly mild.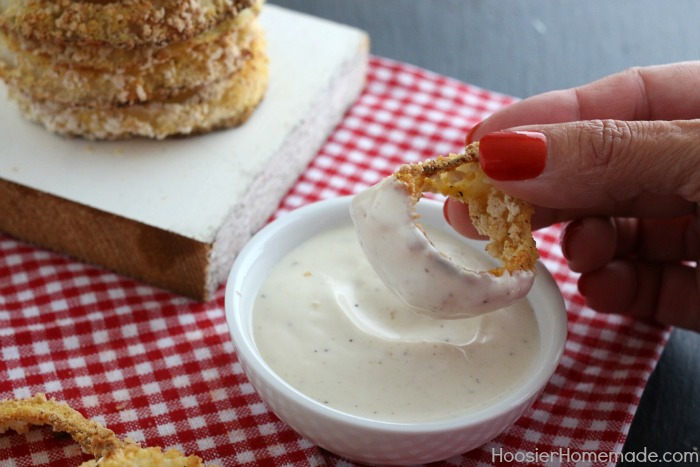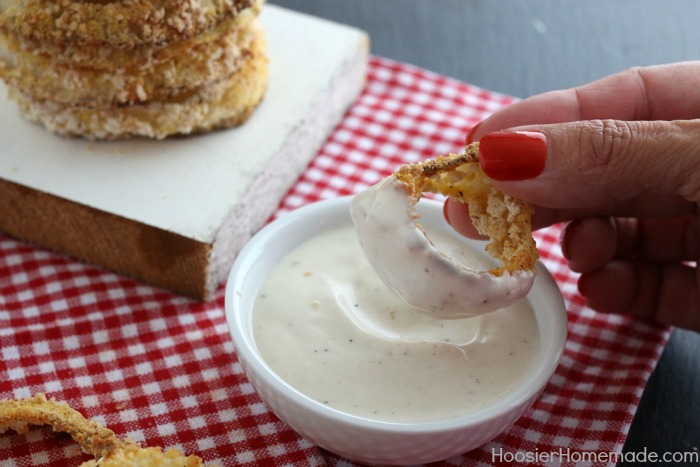 I could hardly wait for these to be out of the oven before I popped them in my mouth. To make these Oven Baked Onion Rings dairy free, we used Silk Soymilk as an alternative. I have actually been using Silk in my morning Chai Tea Latte and loving it! I honestly can not tell the difference, in fact, I like the Silk better. It's a creamy consistency, which is perfect in my Latte.
We used Light Ranch dressing for dipping, but if you want a dairy free choice try BBQ sauce or even ketchup would go great with these.
My onion was so large that I literally only needed one. It made so many rings that I didn't use them all. However, this recipe is so easy and delicious, that if making it for a crowd, I would definitely recommend doubling it.
I always think of onion rings as an appetizer, especially during football season, but these onion rings would go great on top of a big juicy burger or steak, as well. I made them during the day when everyone else was gone (insert evil laugh here). I got my fill and had quite a few left over. After trying the first few warm, I got busy with work, and later tried one COLD and thought they were even good that way. That tells you how yummy they are!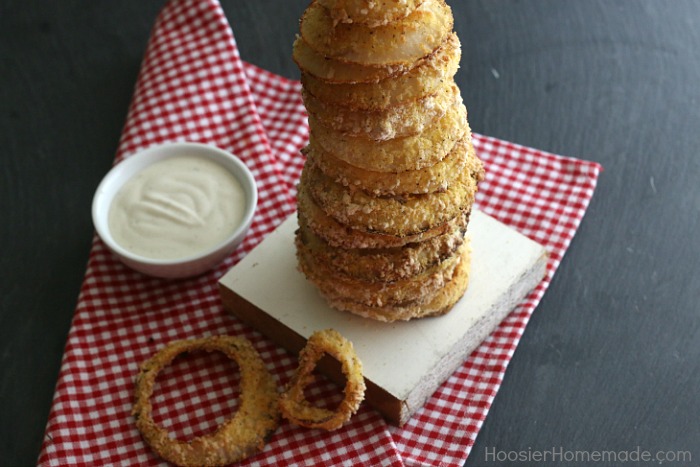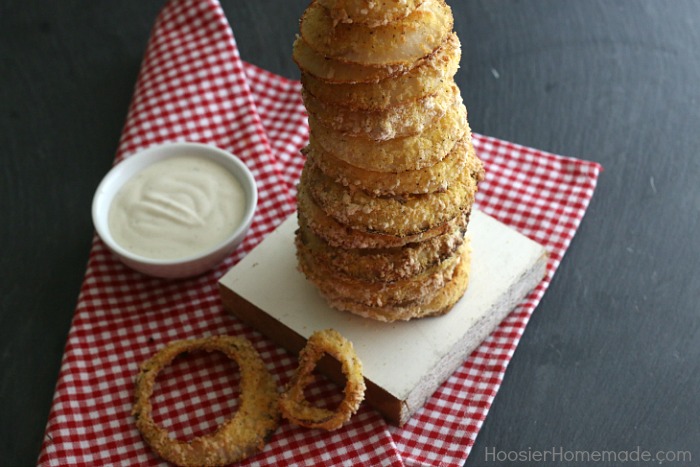 Visit Silk.com for more recipes for your #MeatlessMondayNight and enter the giveaway!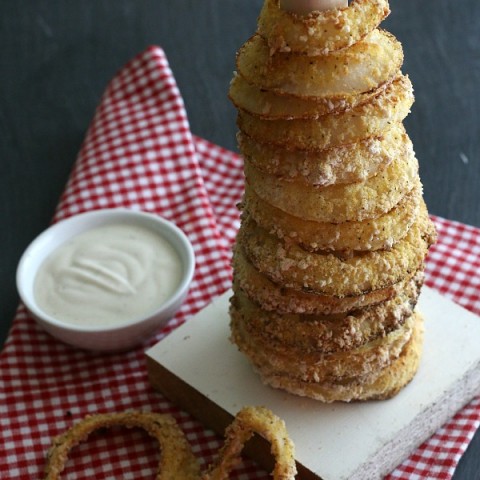 Oven Baked Onion Rings Recipe
Prep Time:
4 hours
20 minutes
Total Time:
4 hours
40 minutes
No need to sacrifice the taste for a healthier version! These Onion Rings are easy to make and have less calories than fried! AND are Dairy Free!
Ingredients
1 large sweet onion, cut into 1/2 inch slices
1/2 quart Silk Soymilk
3 eggs, whisked
1/2 cup flour - all purpose, white or whole wheat
3/4 cup Panko bread crumbs
1/2 cup ground cornmeal
1/2 teaspoon paprika
3/4 teaspoon salt
1/2 teaspoon pepper
Sprinkle of dried parsley
Nonstick cooking spray
Instructions
Preheat oven to 400 degrees and set out 2-3 cookie sheets (depending on how many onion rings you have)
Soak the onion rings in the Silk for several hours or overnight.
After the soaking process is complete - combine all of the dry ingredients in one bowl
Whisk eggs in another bowl
Dip each onion ring in the eggs, then into the dry ingredients.
Place on a sprayed cookie sheet. Do this with all of remaining onion rings until the sheet is filled up. Keep the rings separated.
Spray non-stick cooking spray on top of the onion rings. This seals the breading on the ring.
Place in pre-heated oven for about 10-15 minutes. Take out, flip the rings and put back in for another 5-10 minutes. My oven cooks hot, so I check them often. When you remove them from the oven, place them on a plate to cool.
Notes
I like to add a little more seasoning to the bread crumb mixture when I'm about halfway through dipping.
Prep time includes soaking process
This conversation is sponsored by Silk. The opinions and text are all mine.