We have been having so much fun this week, sharing our Valentine's Day ideas! A yummy dessert, a Valentine Mantel, cute Valentine envelopes and today Amy shared a Valentine mug with a cute chalkboard heart on it.
For many years, I have been putting together Love Buckets for our boys. It's one of those family traditions that you can never be too old for. I've shared our Love Buckets the last couple years, in fact exactly one year ago today I shared the small plastic Love Buckets that I put together.
But this year, I decided to get a little more crafty with these metal buckets.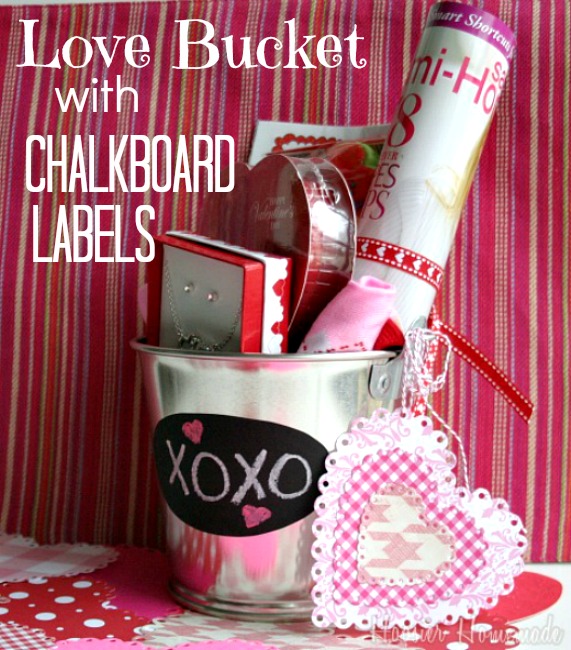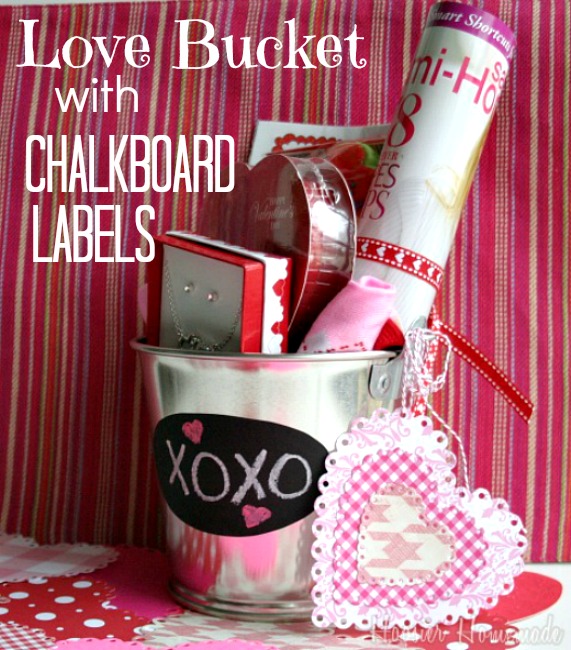 I just love all the chalkboard inspiration, so I decided to use the directions for making chalkboard labels and give it a shot. Here are the supplies you will need…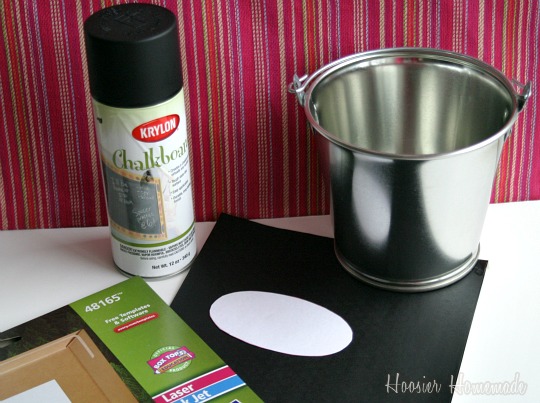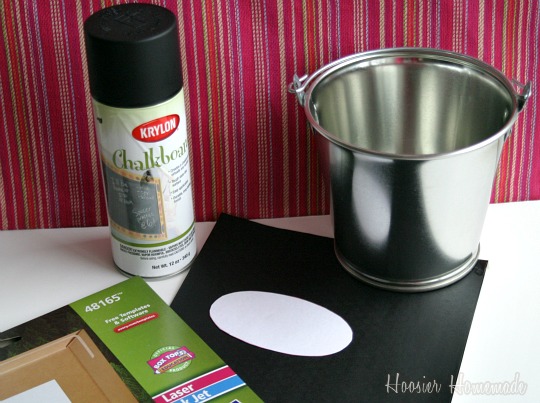 Love Bucket Supplies:
Bucket – any kind will do, we found this one at Big R Tractor Supply, it was under $4
Chalkboard Paint – found in most paint departments, I used a 40% coupon and bought this at Hobby Lobby
Labels – you can use any size or shape, I wanted an oval shape on the bucket, so we found Avery Shipping Labels that came in a full sheet, at Walmart
How to Make Chalkboard Labels:
Place label on cardboard, and spray with chalkboard paint – be sure you take it outside, just like with any spray paint
You will need 3-4 coats, letting it dry in between each coat
Then let the sheet dry overnight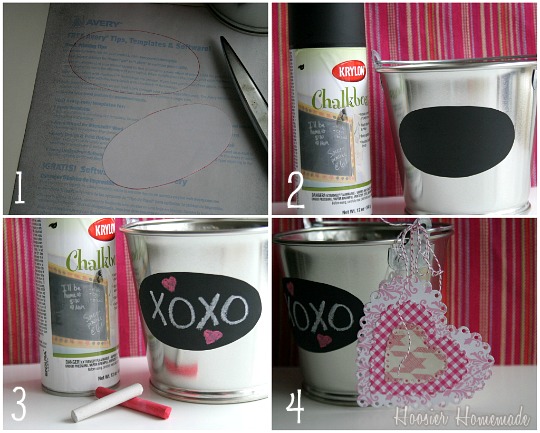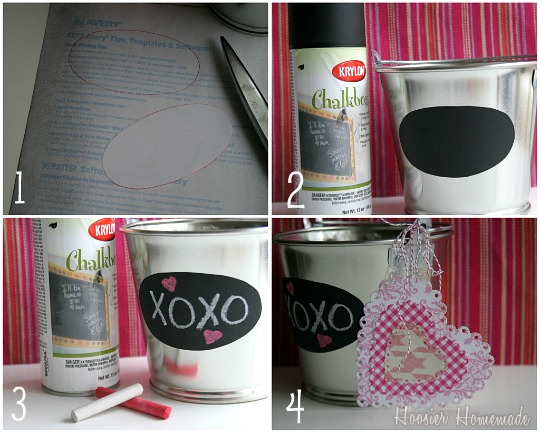 Draw your shape on the back of the labels – we used a cookie cutter to make a paper template. Cut it out.
Attach label to bucket
Add words or symbols with chalk – I used the same trick I used on the Winter Mantel Chalkboard
Add a heart for the gift tag – I had some extra hearts left from the Valentine's Day Garland, so I glued together 3 sizes and tied it on with twine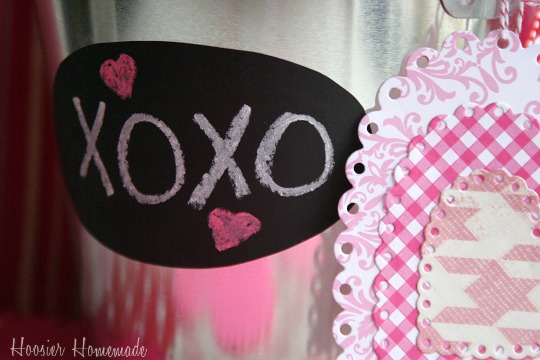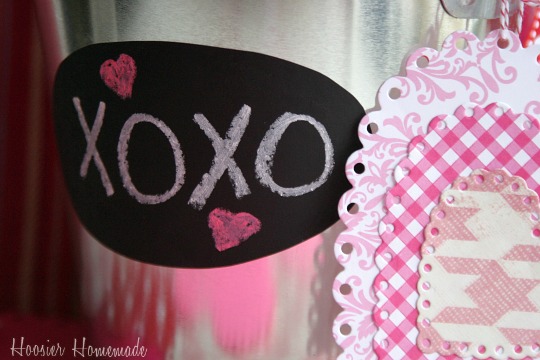 Now it's time to fill the Love Bucket…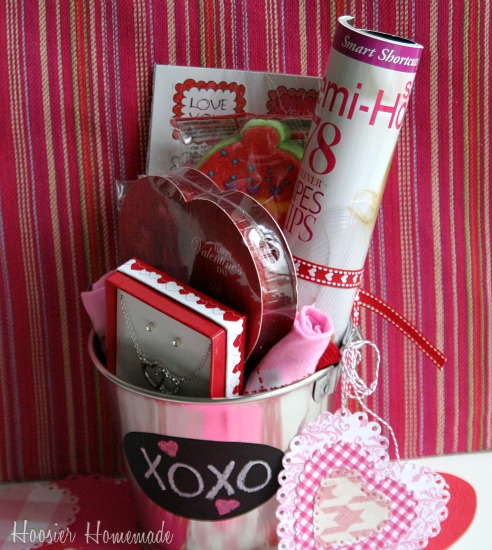 You can of course use anything you like to fill the bucket. I typically buy things for the boys that they "love", like their favorite candy, books, magazines, toys etc. etc. This Love Bucket is filled with gifts for a girlfriend; some fun Valentine stickers, a magazine, Valentine socks, candy and a pretty necklace. I bought everything at Walmart and spent about $13, but you could certainly spend less.
The other great thing about the buckets is that you can use this idea to create endless organizing and craft projects. I'm seeing a fun project in the future for our office.
Tomorrow it's YOUR turn to share! Link up your Valentine recipes, crafts, decorating, pretty much any love filled idea you have to the Valentine Party and it will show up on ALL four blogs at the same time! Pretty cool huh?
AND you won't want to miss the FREE Valentine Printable from The Paper Cupcake! You are going to FLIP out over it!! I also created a Pinterest Board for Valentine's Week, and will be pinning your awesome ideas! So follow along and gather some ideas!
Linking to…Show & Tell Friday, Made By You Monday, Tips & Tutorial Tuesday, Works For Me Wednesday, Saturday Seven, Sundae Scoop, Saturday Night Special