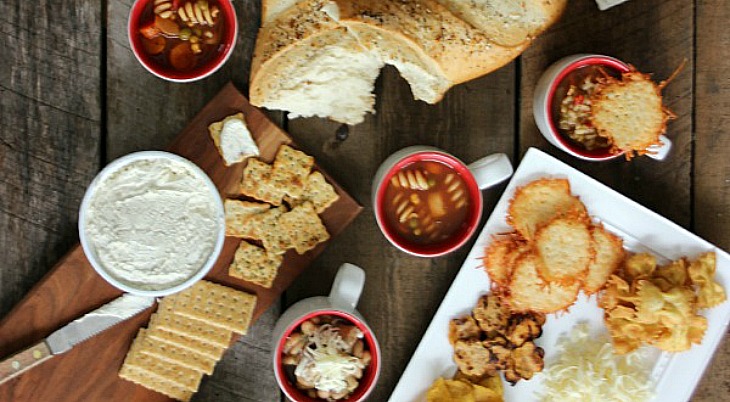 I bet you have heard of a cookie swap but how about a Soup Swap? Gather your friends for a Soup Swap – each person brings 6 containers with their favorite Freezer Soup, you all enjoy the soup and good company – and then go home with dinner to stock your freezer. What could be better than that?
With the holidays behind us, and the Winter weather continuing to keep us inside, we all have a bit of cabin fever. So why not host a Soup Swap?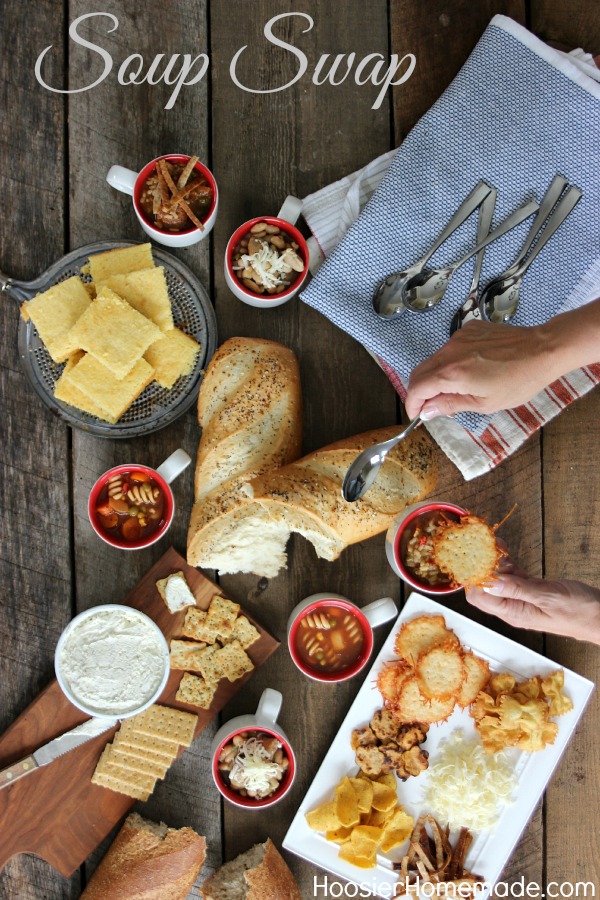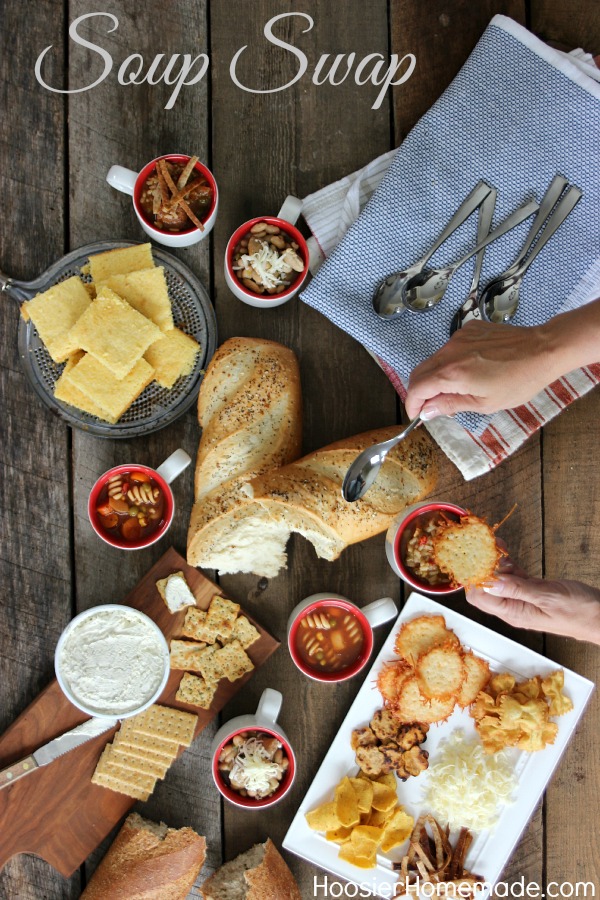 Often times it's nice to host a very simple party. This Soup Swap takes very little effort, but has grand results. From the soup recipes – to the bread – and even the special toppings, everyone will have a great time!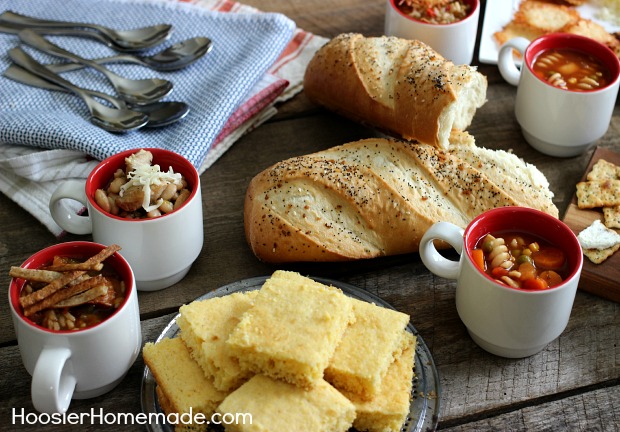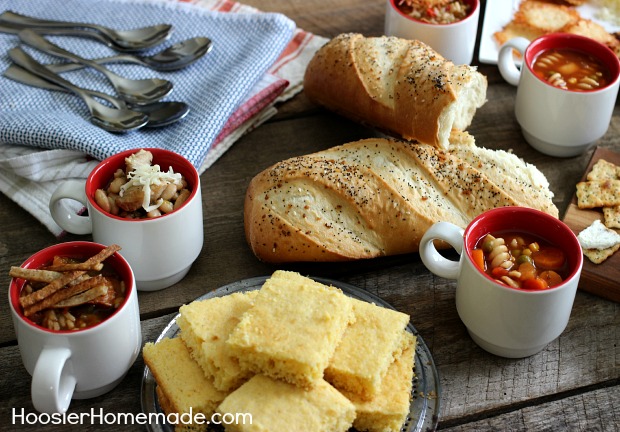 Soup Swap Party – invite 6 friends, they each bring 6 containers of Freezer Soup – the host heats up 1 soup from each person to enjoy together. Add bread, corn bread, cheese and crackers and some fun toppings. Your guests and you all have 5 containers of soup for the freezer to enjoy later.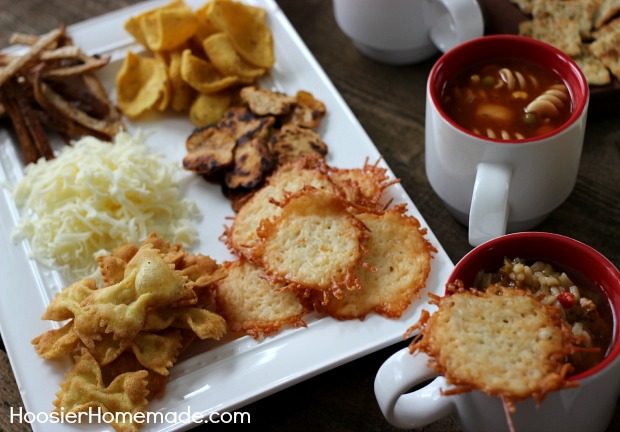 We came up with a few toppings to add to the Soup Swap Party like Pasta Chips and Baked Parmesan Disks. You can find all the recipes over on Pocket Change Gourmet.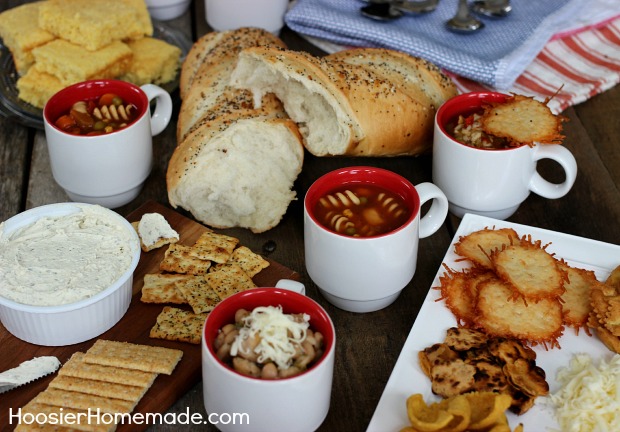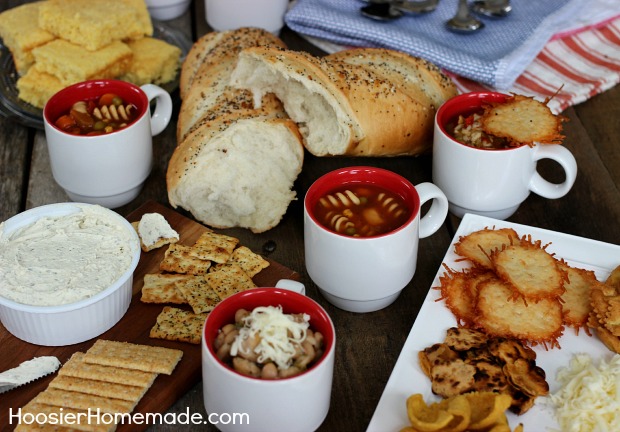 The bread, crackers and cheese as well as all the ingredients are from Walmart. The bread is freshly baked and only $1 per loaf, you can't beat that!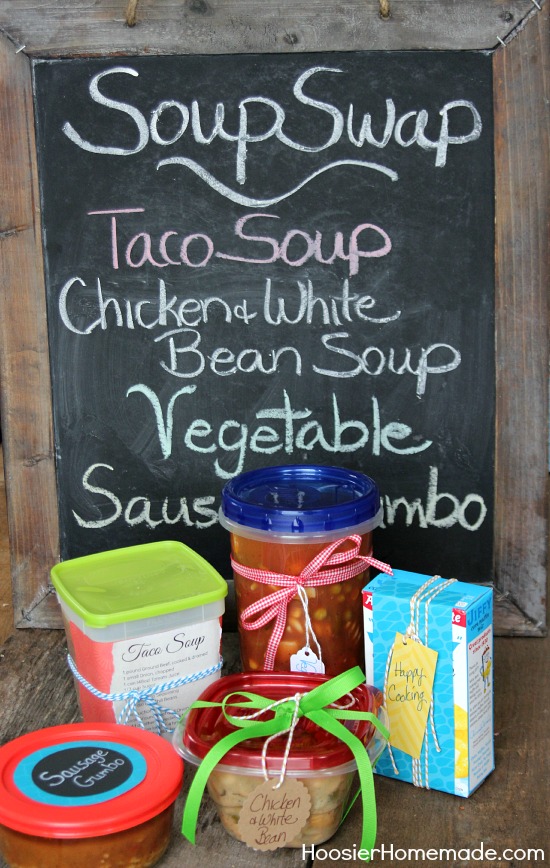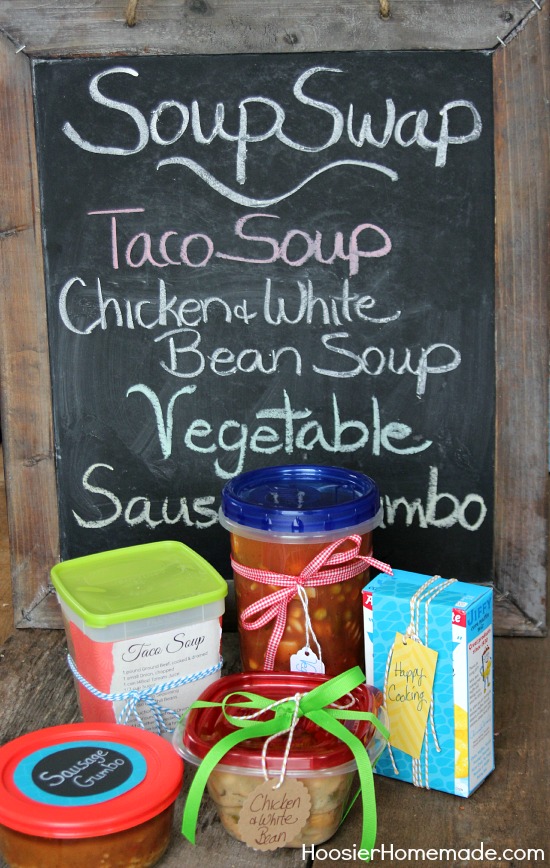 So your guests know what kind of soup everyone brought and for a fun addition to the Soup Swap Party, grab a Chalkboard and list out the soups.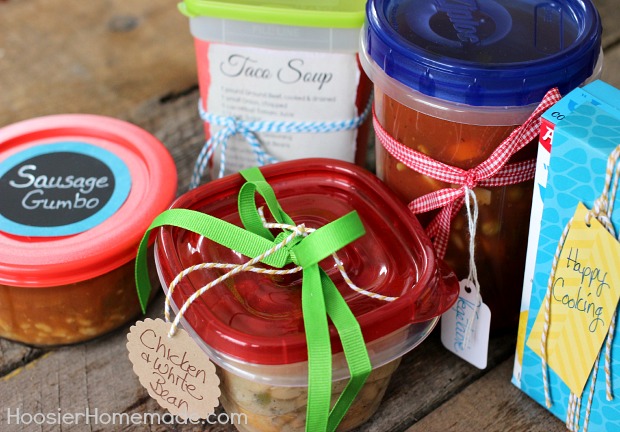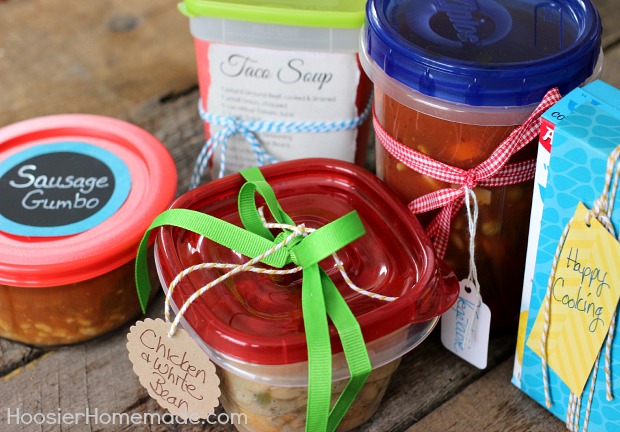 We grabbed several containers that are perfect for Freezing Soup, to show you how fun the Soup Swap can be. Labels, Scrapbook Paper, Tags and Ribbon were added to make them extra special.
For the container with the red ribbon, I used Avery Marking Tags found in the office supply area at Walmart.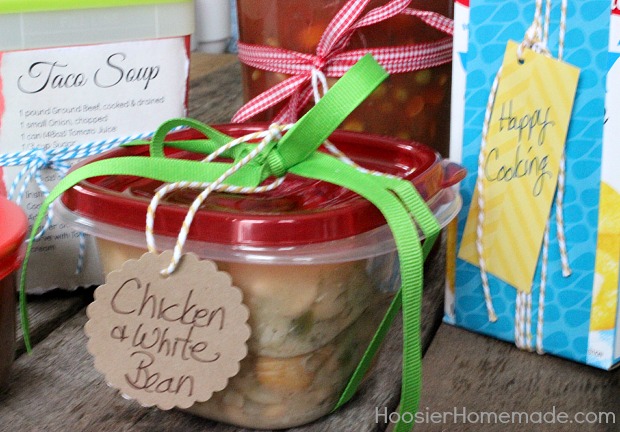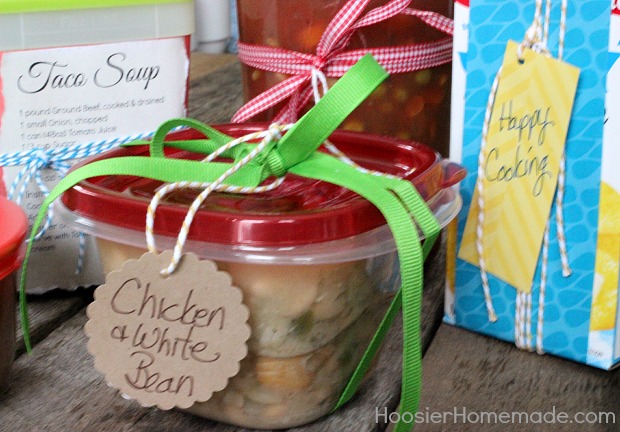 You can find the recipe for Chicken and White Bean Soup along with 5 more Freezing Friendly Soups on Pocket Change Gourmet.
For the label – I used round Avery labels found in the office supply section at Walmart, then punched it out with a 2 inch scalloped hole punch, and attached it with baker's twine.
For the box of Corn Bread – I added scrapbook paper, then cut a smaller rectangle to write on and tied the box with baker's twine.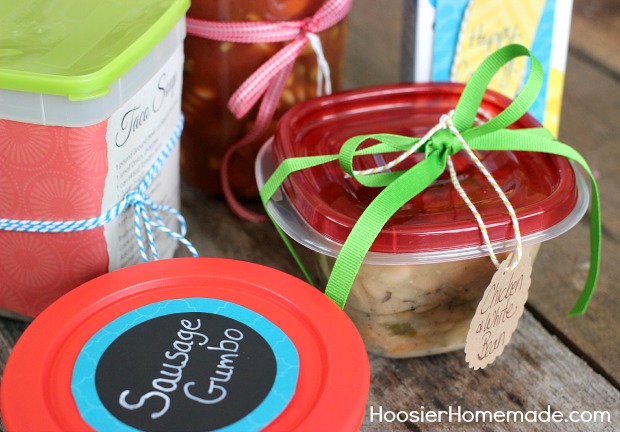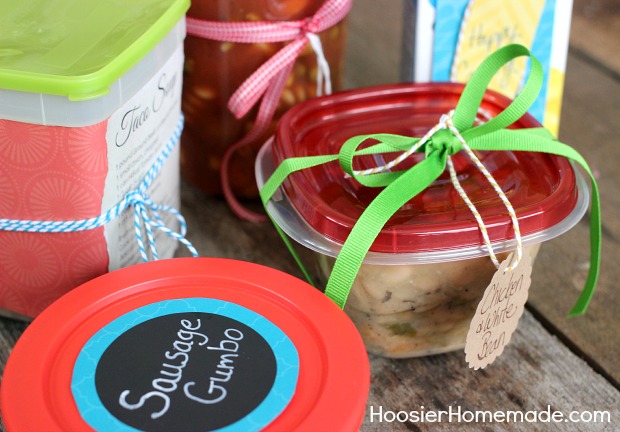 For this label I used one of the Chalkboard Labels and added it to the top on top of scrapbook paper. You can find a package of 4.5 x 7.25 inch photo mats for $3 in the party section at Walmart. And you can learn how to make the Chalkboard Labels, they are fun and easy to make.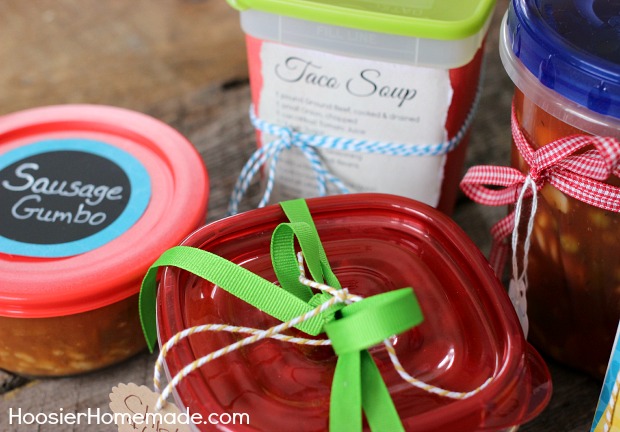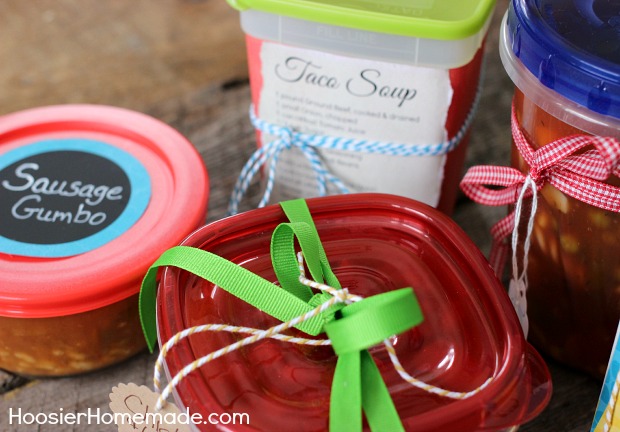 For one of the containers, I printed out the recipe, added a piece of the scrapbook paper under it, then tied it baker's twine.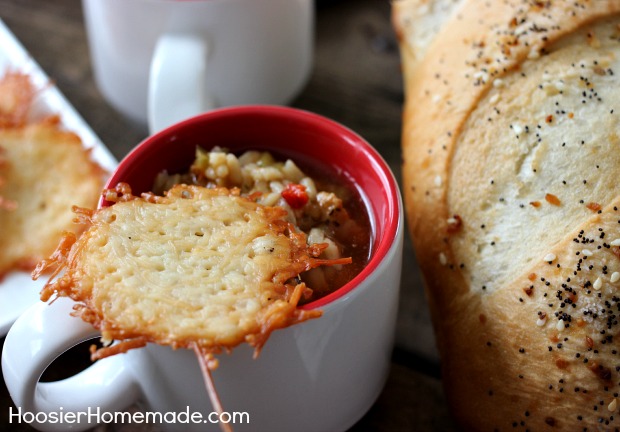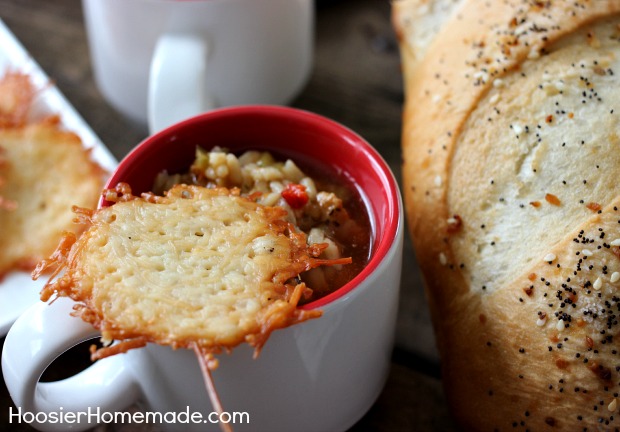 The ideas are endless for the Soup Swap Party – have fun, let your imagination help you create this fun and memorable party for you and your friends!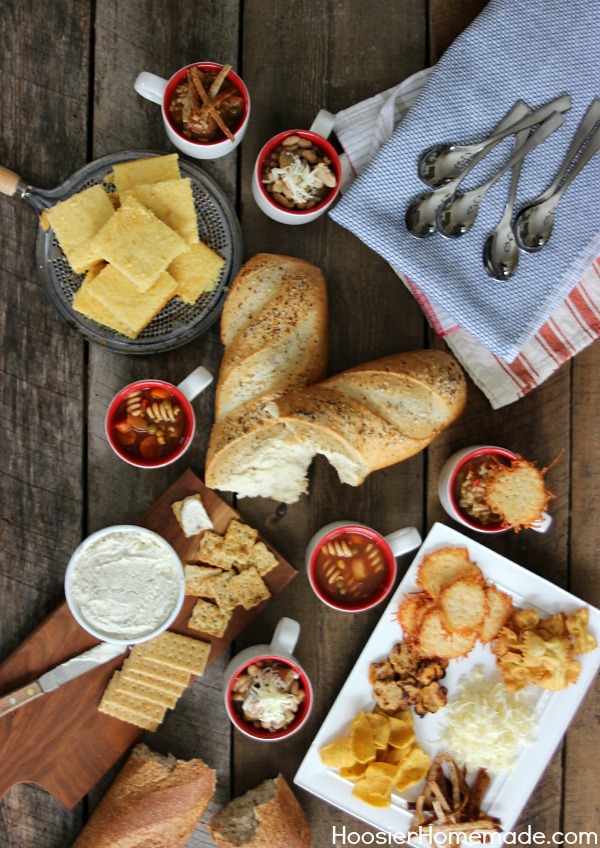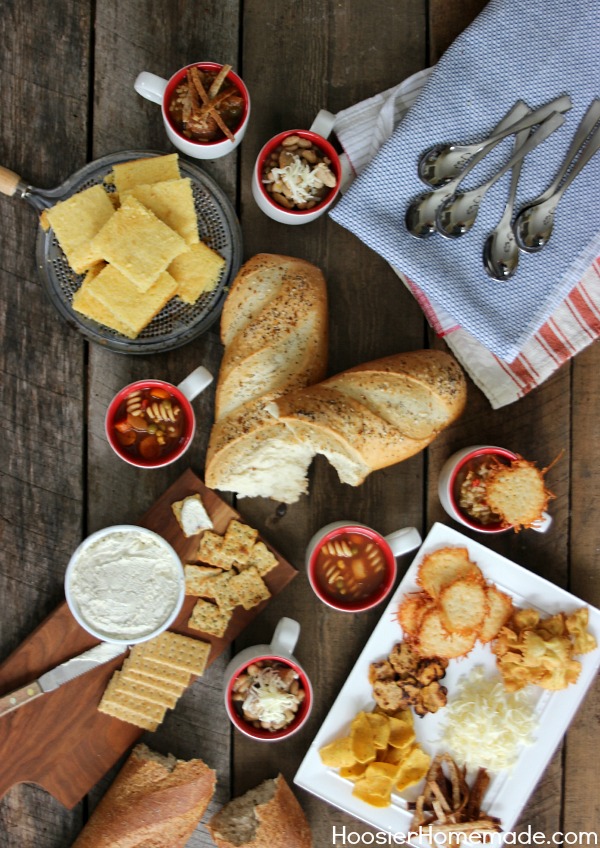 Soup Swap Party Re-cap
Containers – Plastic freezer safe containers are best, but if you use glass, be sure it says freezer safe
Bread – freshly baked for $1 per loaf available in the bakery
Crackers, Cheese and Corn Bread (we keep it simple with Jiffy mix)
Toppings – Pasta Chips, Baked Parmesan Disks and more – recipes on Pocket Change Gourmet
Decorations – Scrapbook Paper, Ribbon and Baker's Twine
Labels – Chalkboard Labels (learn how here) and a variety of labels available in the office supply section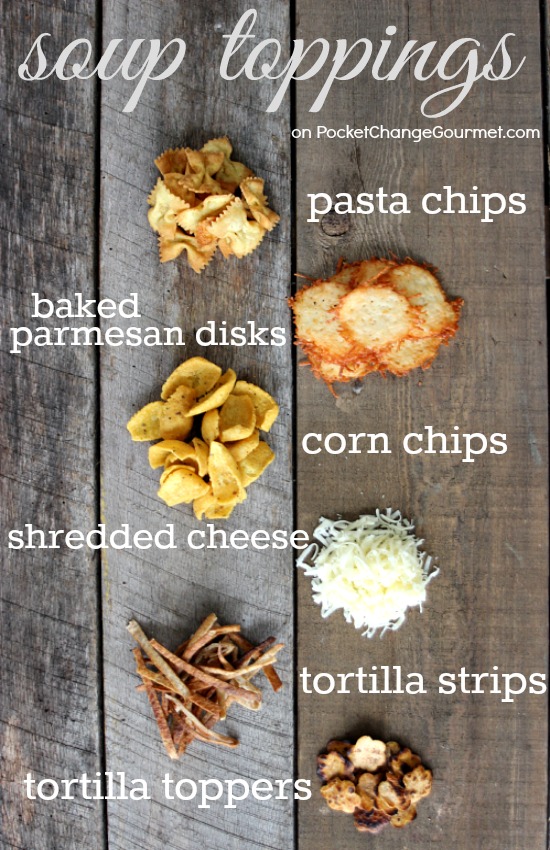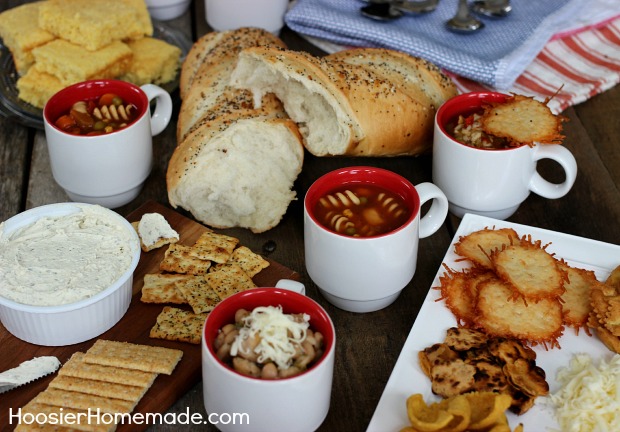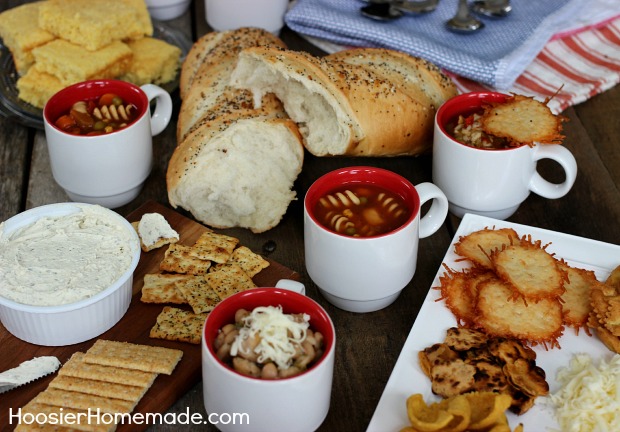 Soup Swap Party Idea originally spotted in Midwest Living Magazine