Spring is a great time to bring the outdoors in. Or in the case of this inspirational post – bring the outdoors to your door. This Fresh Spring Floral Arrangement is a great way to welcome your guests into your home using fresh greenery and flowers that you find in your garden. With just a few clippings, you can have a beautiful door decoration well within your budget.
40 Days of Spring Inspiration continues with Day 36! Each day we are inspiring you with recipes, decorating ideas, crafts, tips for your home and much more!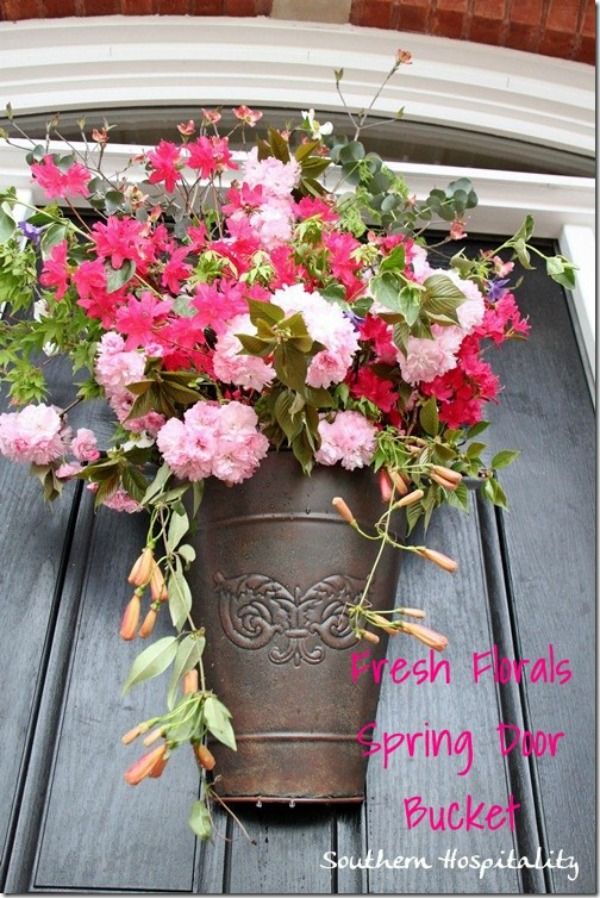 Don't have a lot in bloom in  your garden? There's no reason why you can't make a deal with a neighbor. Buy an extra door bucket and offer to create one for them if they'll allow you to take a few clippings from their flowers, bushes or trees. Many gardeners will gladly show you the best places to do the snipping so they don't kill the plant or make it look uneven. Imagine how pretty this would be with a couple of tulips popped in or hyacinth!
Find fresh Spring floral arrangement by clicking the link below…