You can turn your everyday decorations into fun Fall decorating with just a few pieces to warm up your space for the season. These easy Fall Decorating Ideas on the Hoosier Cabinet can be used anywhere in your home.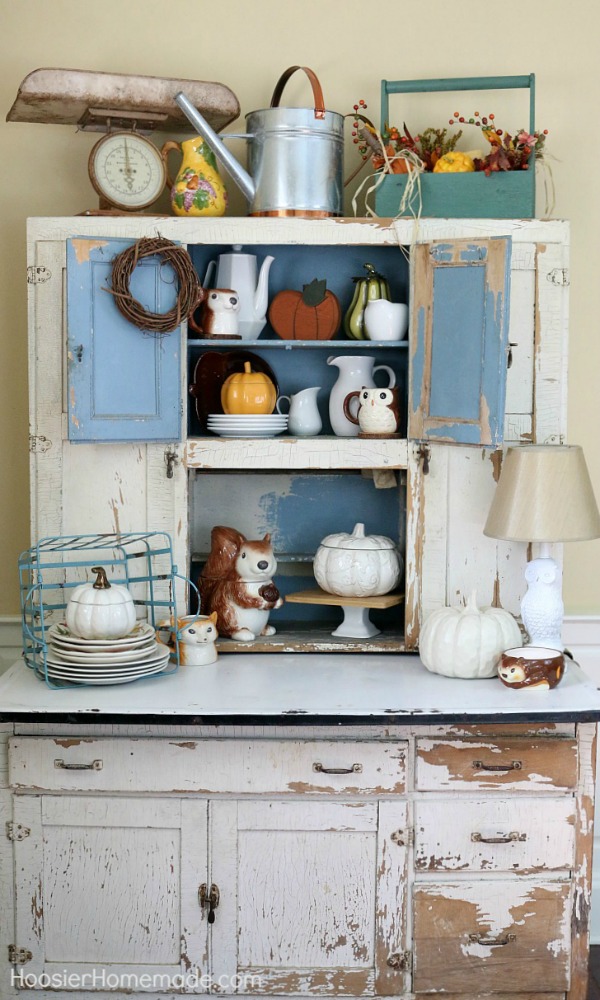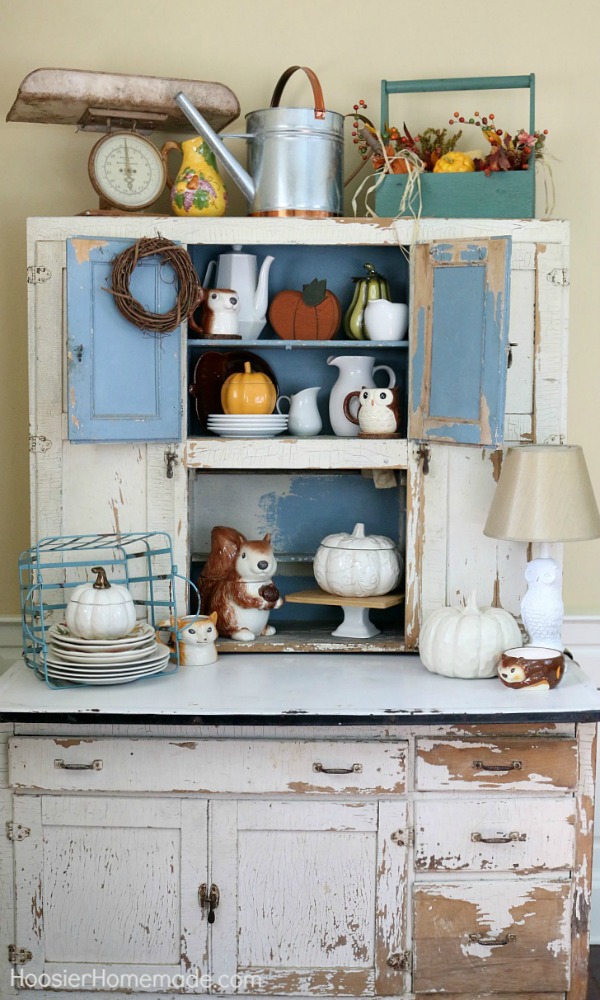 It's been awhile since I shared my Hoosier cabinet with you. It's one of my favorite pieces in our home. A Hoosier cabinet, also known as a "Hoosier," was popular in the first decades of the 20th century, and it was named after the Hoosier manufacturing company in New Castle, Indiana.
Our blog name – Hoosier Homemade – comes from the fact that I am a Hoosier – a native from Indiana.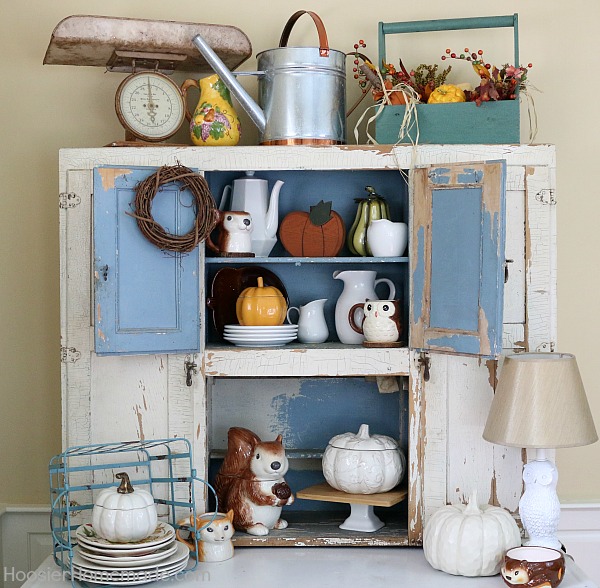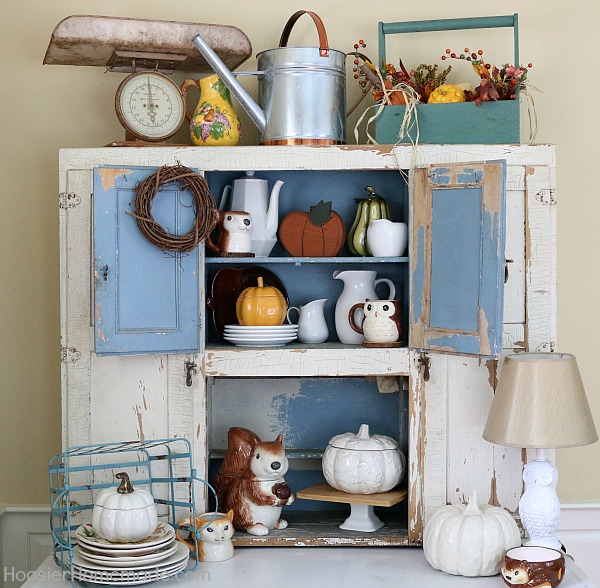 A few weekends ago, I spent the entire weekend rearranging furniture and decorating for Fall. It was the first time in a long while that I had the house to myself.
Does anyone else love to be in their home alone? I really don't ever need a gift of any kind, just give me some time alone to work on decorating and cleaning and I'm a happy girl!
Anyway, we have recently become empty nesters – our oldest son moved into a home of his own, our middle son that graduated college last Spring, returned to the college to be the strength and conditioning coach for the athletes there, and our youngest son is a freshman at Indiana State University.
It's a very different time for us. Everything seems to be strange, yet fun at the same time.
So back to decorating – I moved several pieces around in the house and then decorated. The Hoosier cabinet is always fun to decorate.
I already had several white pieces on it, so I kept it very simple and added just a few pieces to warm up the colors for the season.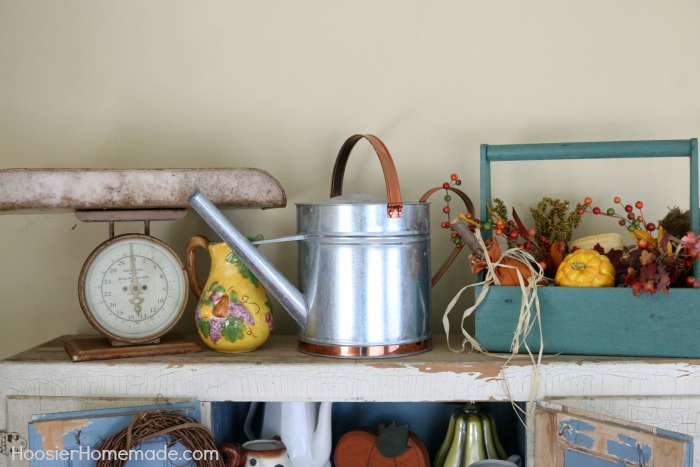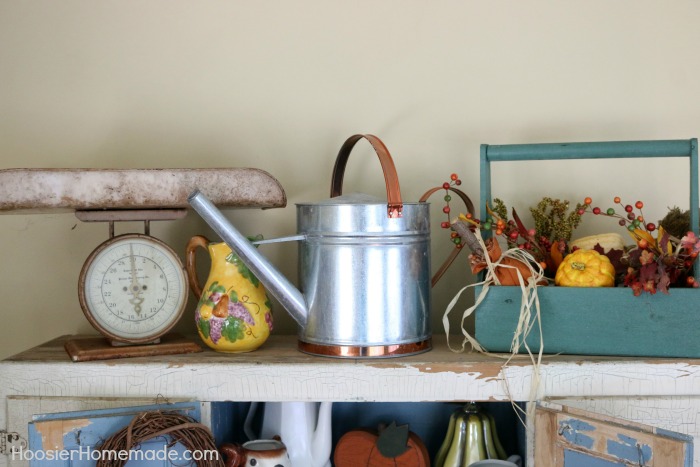 On the top, I left the vintage scale, and added a galvanized watering can, a pitcher for a pop of color and a wooden tool caddy filled with pumpkins and silk foliage for Fall.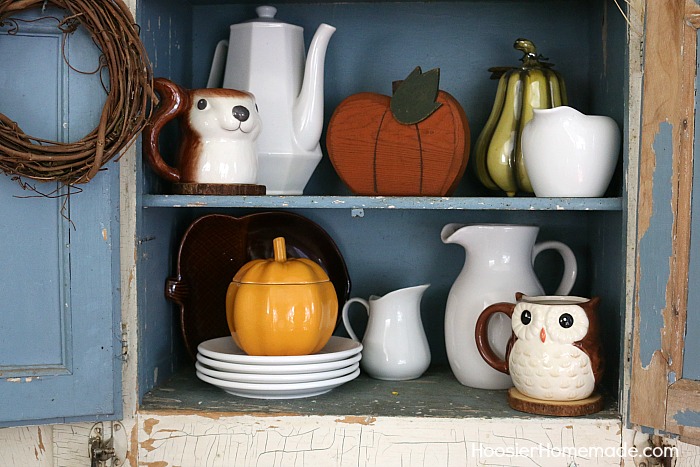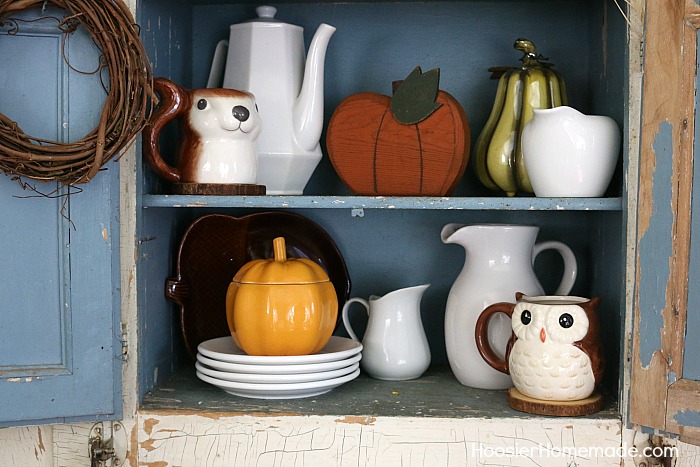 The middle shelves had the white dishes on them. I added the woodland creature mugs, pumpkins and ceramic gourd. The wood coasters add a little dimension as well.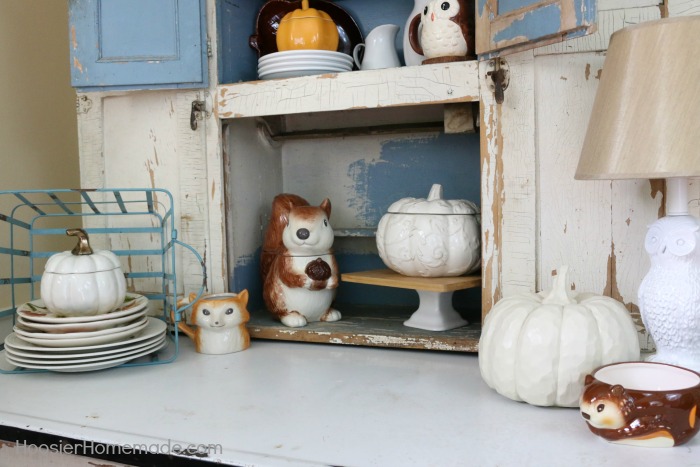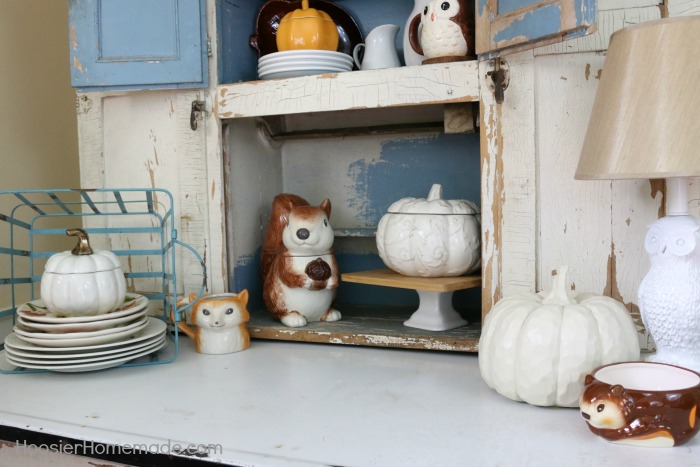 And on the bottom a couple more ceramic woodland creatures and a few white pumpkins – they are my favorite. The small one on the stack of plates is from the Better Homes and Gardens Fall collection this year, the one sitting on the cake plate is one that I had, and the one next to the owl lamp is a new wooden pumpkin that I found at TJ Maxx this year.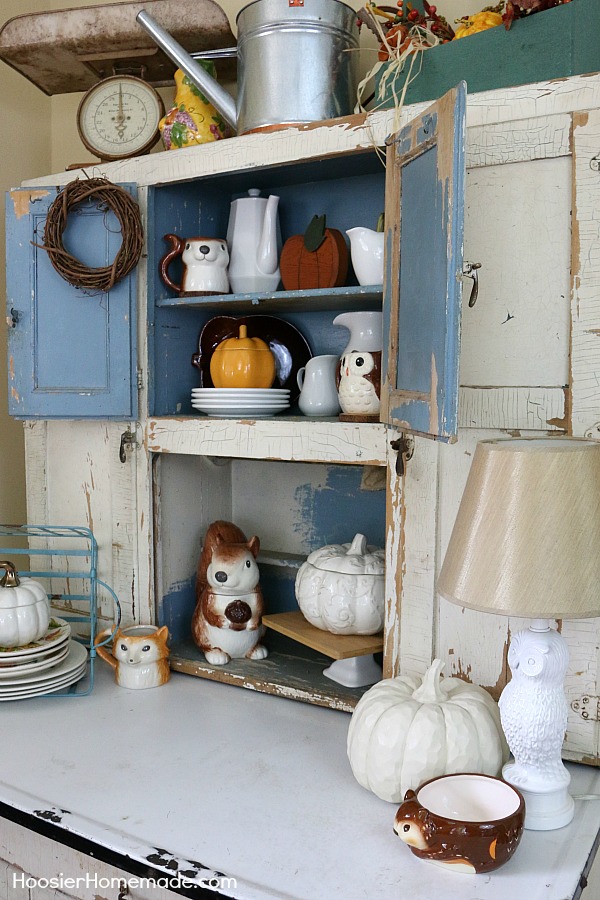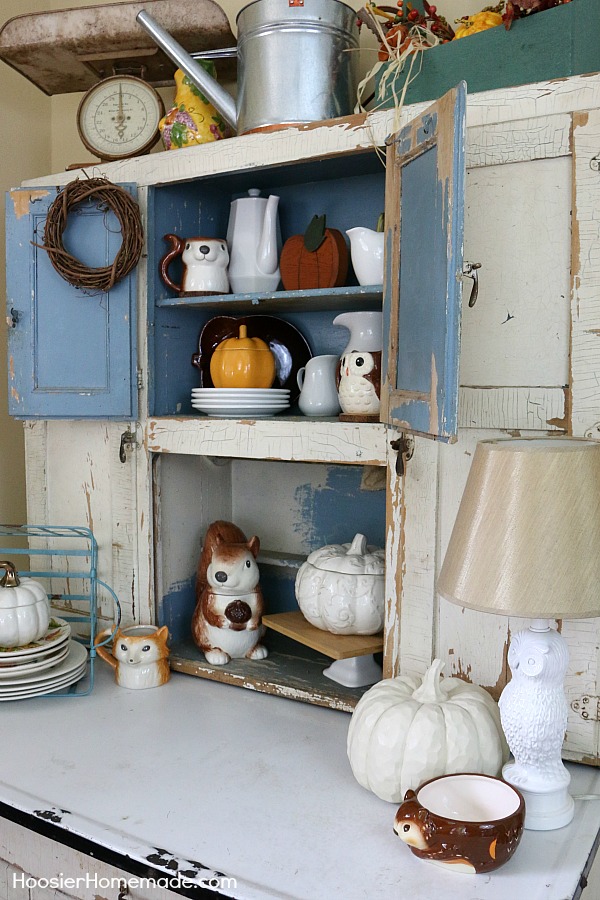 One of the best things about decorating for Fall is that the season lasts so long. You can keep the decorations out from September all the way through Thanksgiving.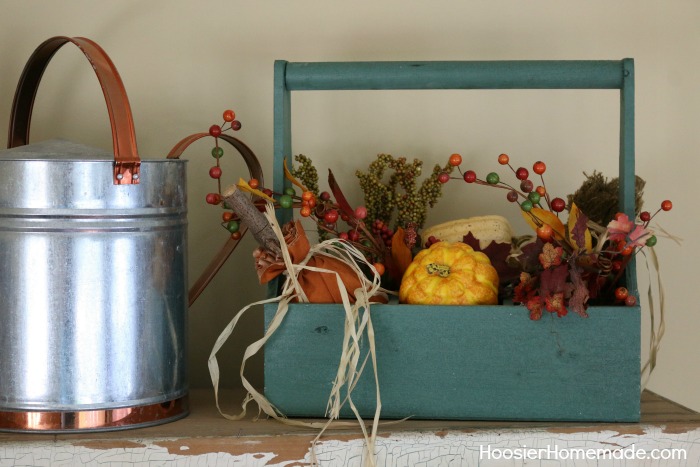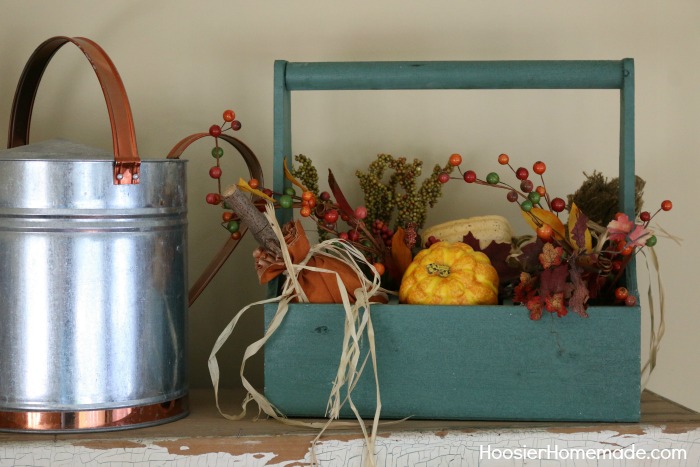 Have you been decorating for Fall yet?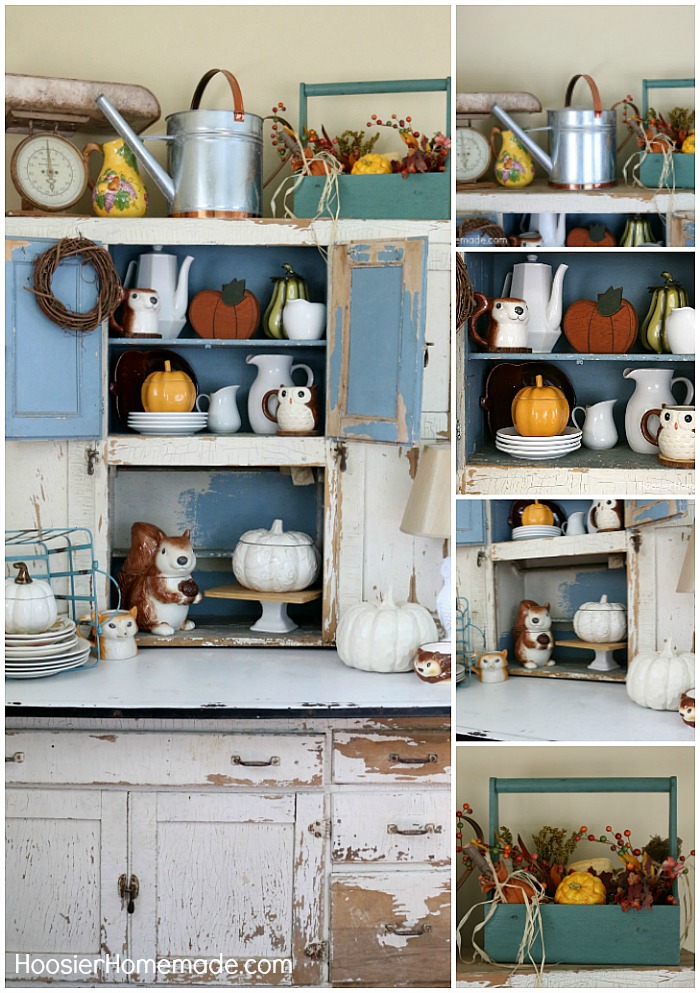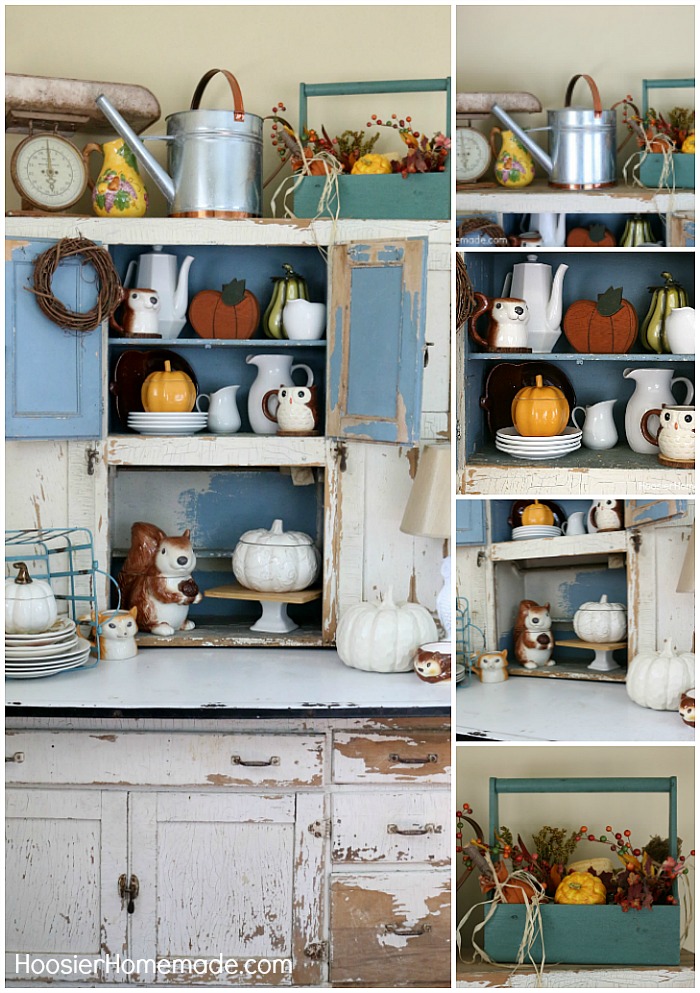 Looking for more Fall Decorating Ideas? Follow our Pinterest Board!