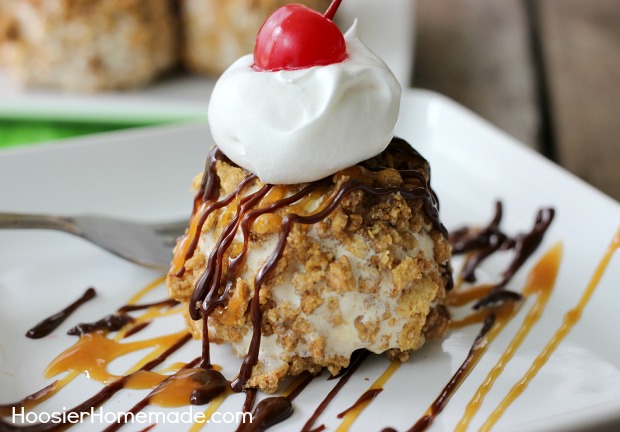 Vanilla Ice Cream, whipped topping and a sprinkle of cinnamon are scooped into balls, then rolled in a mixture of fried cinnamon cereal and butter. Served with a dollop of whipping cream, a drizzle of caramel and hot fudge ice cream topping and a cherry on top. This Easy Fried Ice Cream is so easy it's not even fried.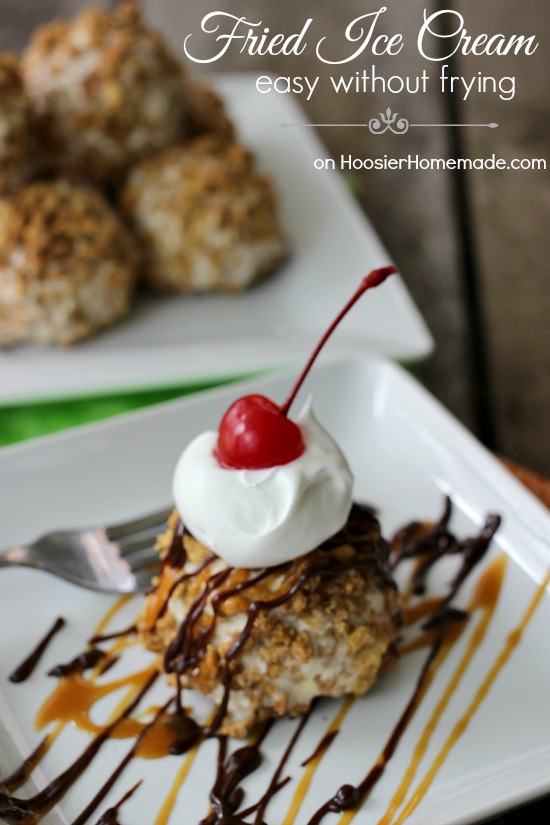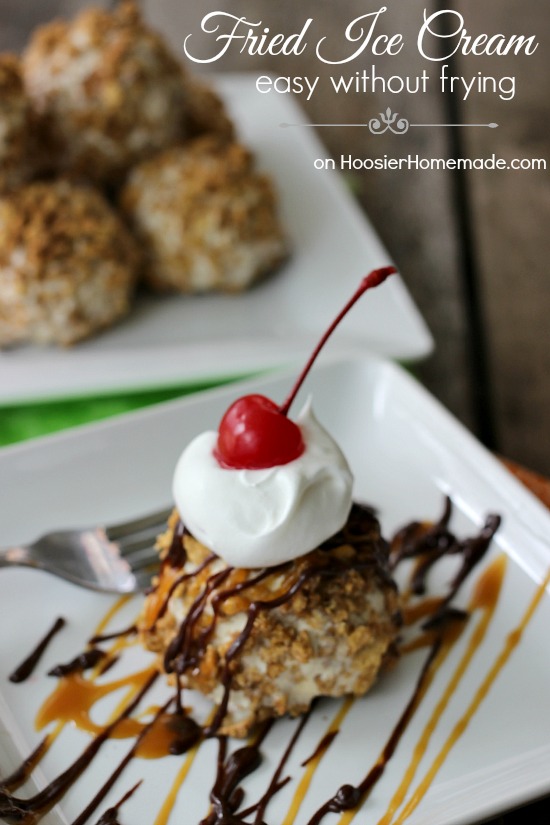 There are many stories of where Fried Ice Cream began, some think it was way back at the 1893 World's Fair where Ice Cream Sundaes were also invented. Or maybe it was in Philadelphia in 1894. Although this delicious dessert was invented long ago, it's popularity began when the Mexican restaurant chain, Chi-Chi's adopted it and began serving it as it's signature dessert.
With Cinco de Mayo, the Spanish fifth of May celebration, coming up, I thought this Easy Fried Ice Cream would be the perfect finish to your Mexican dinner.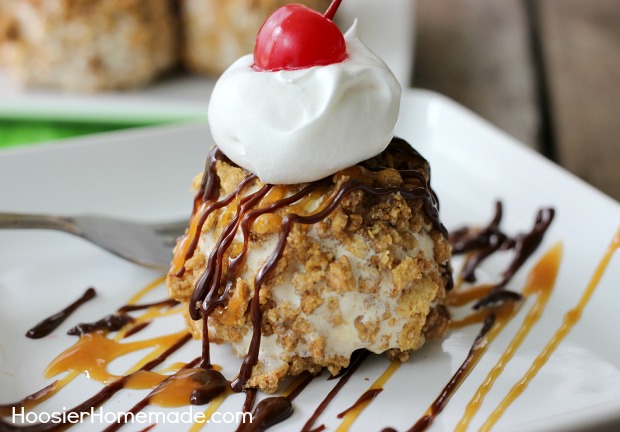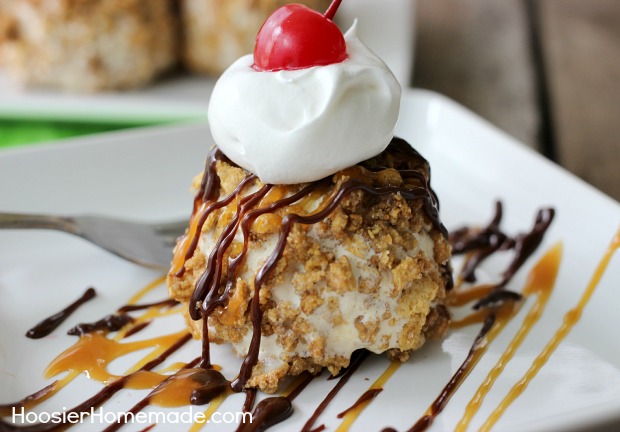 There is a Mexican restaurant that we love to eat at, not very far away. The boys love going there for the chips and salsa they serve before our meal, but we are always too full for dessert. Fried Ice Cream is one of those desserts that we have had our eye on for a long time but never ordered. I had never really thought about making it at home, mostly because it sounds difficult to make. Saying Fried and Ice Cream in the same sentence seems a bit of a contradiction. I pictured a soupy mess of Ice Cream everywhere on the counter while trying to fry it. So I just never attempted it.
When I was thinking of desserts to share with you for Cinco de Mayo (and beyond), other than cupcakes, Fried Ice Cream kept popping into my head. So I did a bit of research, combined a couple different recipes that I found and decided to go with an Unfried – Fried Ice Cream.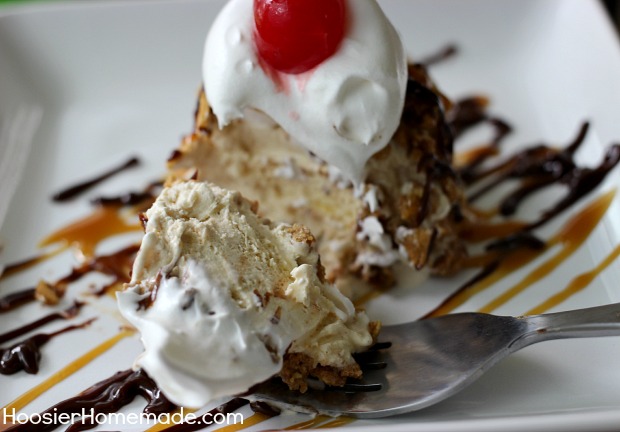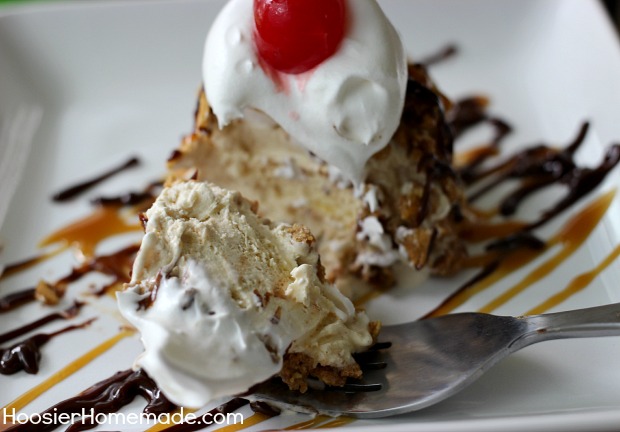 While this recipe is definitely easy, it does take a little time for the freezing process. I began with softened Vanilla Ice Cream, and mixed in thawed Cool Whip Whipped Topping and a sprinkle of cinnamon. Then transfered the mixture to a dish and freeze for about an hour.
Then using an Ice Cream scoop – the kind with the trigger release is easiest – scoop the Ice Cream mixture onto wax paper lined cookie sheets, and back into the freezer for several hours or overnight.
Now is where the frying part comes in. Melt a full stick of butter on the stove top in a large skillet and add crushed Cinnamon Crunch Cereal mixed with sugar. Stirring often, cook the mixture until it's golden brown over medium-low heat for about 3-5 minutes. You will know it's getting close to being done when you can smell the cinnamon cooking. I found all the ingredients at Walmart, including the Cinnamon Crunch Cereal.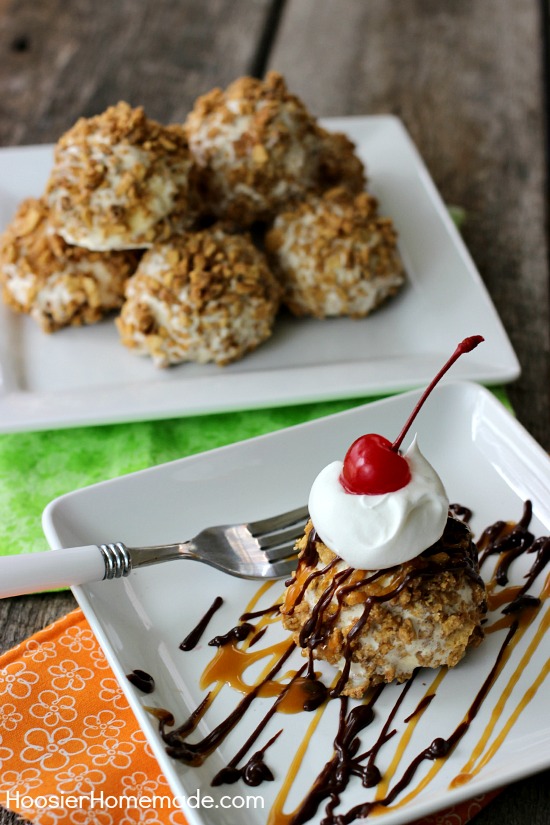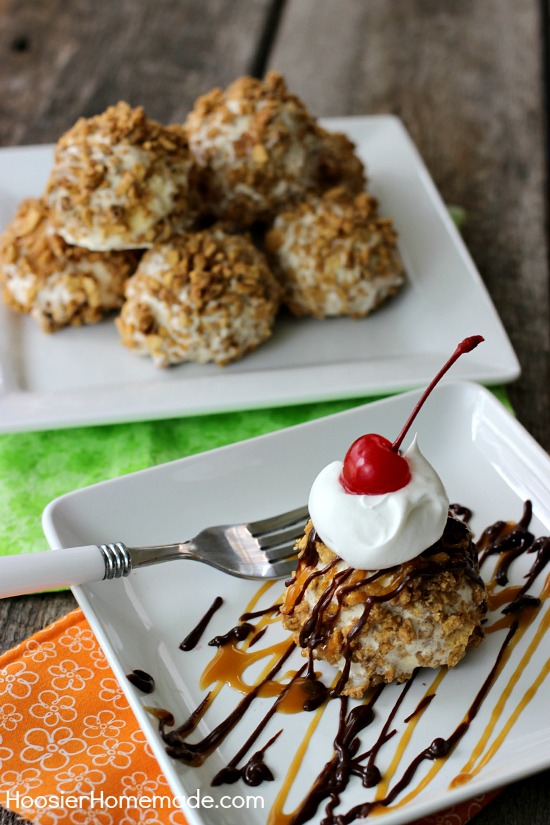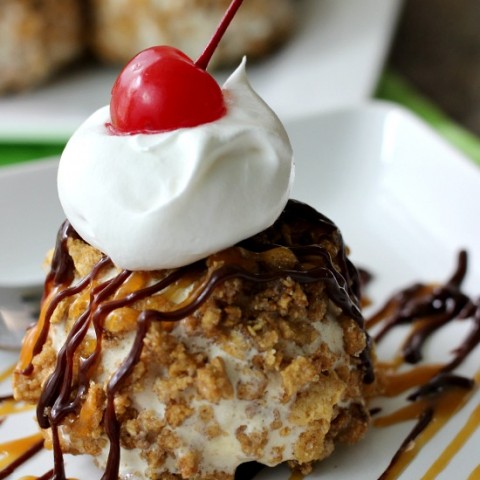 Easy Fried Ice Cream
Fun to make dessert, served at many Mexican restaurants. Recipe on HoosierHomemade.com
Ingredients
1 (1.5 quart) container Vanilla Ice Cream
1 (8 oz) container Cool Whip Whipped Topping, thawed
1 teaspoon cinnamon
3 cups Cinnamon Crunch Cereal, crushed
1/2 cup (1 stick) butter, melted
3/4 cup sugar
Toppings
Cool Whip, Hot Fudge, Caramel, Cherries, optional
Instructions
Tools Needed
Ice Cream Scoop - the kind with the release is easiest
2-3 cookie sheets lined with wax paper
Large resealable bag
Rolling Pin
Large Skillet and cooking utensils
Ice Cream
Let Ice Cream and Cool Whip set on counter to soften about 30 minutes
Then in a large bowl, gently fold together the Ice Cream and Cool Whip. You want to try to combine it without creating too much liquid. Sprinkle in the cinnamon and combine.
Transfer to another container, if necessary and place in freezer for about 1 hour
Remove from freezer and scoop into balls and place on cookie sheet lined with wax paper
Place back in freezer for a few hours or overnight
Coating
Place cereal in resealable bag and crush with rolling pin, pour into large bowl and combine with sugar
In skillet over medium-low heat, melt butter. Add crushed cereal and stir until well coated. Cook for about 3-5 minutes or until golden brown and you can smell the cinnamon cooking.
Remove from heat and spread out on cookie sheet to cool slightly
Remove Ice Cream balls from freezer, one at a time and roll in cereal mixture. Place back in freezer
To serve, drizzle with Caramel and/or Hot Fudge Topping and a dollop of Cool Whip and a cherry, if desired
Store leftovers in airtight container in freezer
Recipe adapted from Life in the Lofthouse
Looking for more Cinco de Mayo Recipes? Head on over to Pocket Change Gourmet, we have 35 for you to choose from!