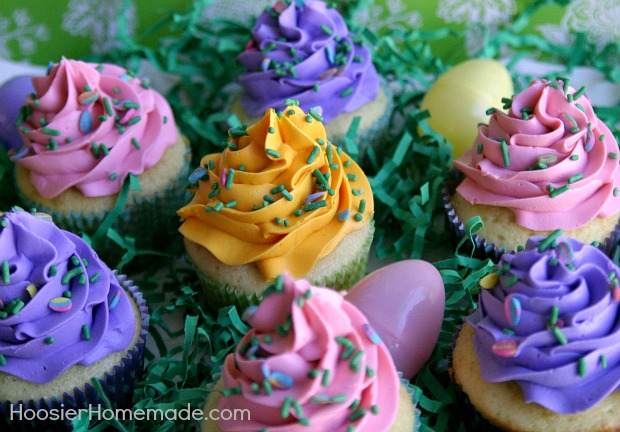 Easter is a few weeks away! Today I'm joined by 21 other amazing bloggers for the Easter Extravaganza! The Easter baking and craft projects are simple adorable, so be sure to check them all out!
What's better to share than Easter Cupcakes, but these aren't just your ordinary, run of the mill, decorated Easter Cupcakes…they have a surprise in the middle! You may remember the heart that I baked in the center of the Valentine's Cupcakes, well these Easter Cupcakes have an Egg baked in the center.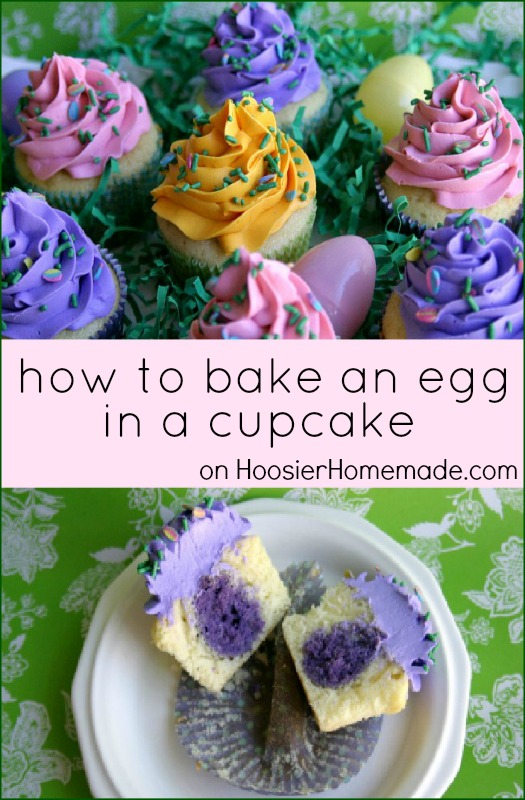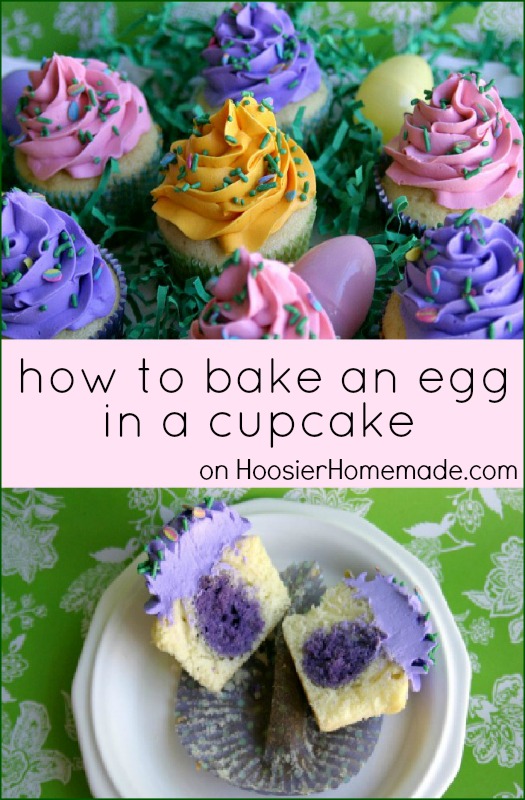 Look for the full recipe below, but first…join us for the Easter Extravaganza!!


3D Easter Bunny by Marielle – De Koekenbakkers
Chick Cupcakes by Robin – Bird On A Cake
Mrs. Bunny Centerpiece by Myriam – Chapix Cookies
Cheesecake Easter Eggs by Beth – Hungry Happenings
Cho "Bunny" Greek Yogurt Pops by Jill – Kitchen Fun With My 3 Sons
Hidden Easter Eggs by Stephanie – Ellie's Bites
Easter Egg Cupcakes by Liz – Hoosier Homemade
Easter Treat Pouches by Elena – Just Me
Mini Meringue Cake by Karyn – Pint Sized Baker
Bunny Cake by Kathia – Pink Little Cake
Easter Gumball Machine by Marlyn – Montreal Confections
Easter Island by Laura – A Dozen Eggs Bake Shoppe
Easter Bunny Sandwich by Michelle – Creative Food
Bunny Garland by Sue – Munchkin Munchies
Egg Hunt Pound Cake by Jennifer – Not Your Momma's Cookie
Dutch Easter Egg by Lorraine – Lorraine's Cookies
Easter Egg Painting Chicks by Mike – Semi Sweet
Easter Basket Cookies by Amber – Sweet Ambs Cookies
The Carrot Patch Cake by Kim – The Partiologist
Cookie Bunny Pop by Meaghan – The Decorated Cookie
Pretzel Bunnies by Sarah – Miss CandiQuik
I, Robot Egg Cookie by Hani – Haniela's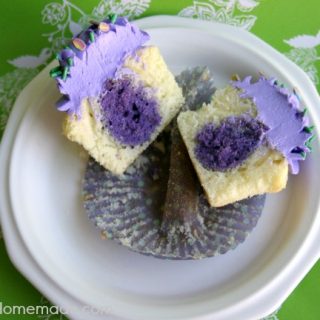 Easter Egg Cupcakes
Dress up your cupcakes with a colored Easter egg baked inside the cupcake. Recipe from HoosierHomemade.com
Ingredients
2 boxes Vanilla cake mix
Coloring for the cake eggs {I used Wilton Violet, Rose Petal and Leaf Green}
Egg shaped cookie cutter - about 1 1/2 inches {I didn't have one this size, so I used a round cutter and bent it a little to make the shape}
Decorator Icing in colors of your choice
Decorator bag fitted with a #1M Tip
Wilton Egg Mix Sprinkles
Instructions
Combine cake mix plus ingredients {learn what I add to make it taste more like homemade}
Divide batter into 3 bowls and color
Bake in either a small cake pan or cupcakes
Cool completely
Wrap in plastic and let set overnight
Combine the second cake mix
Fill a cupcake pan with liners
On a cutting board, cut out the egg shapes {if you use cupcakes, you may need to cut the egg in half lengthwise so it's not too thick}
Add an egg to the cupcake liner, place it upright with the bottom of the egg on the bottom of the liner
While holding onto the egg, carefully spoon cake batter around the egg until it's almost to the top of the egg
Carefully place in oven to bake at 350 degrees for about 10-12 minutes
You may need to check on them half way through and make sure the egg is still in place, mine wanted to float around a bit
Cool completely
Color frosting, and using a decorator bag fitted with a #1M Tip, pipe on frosting and add sprinkles
Notes
The eggs work best if you bake the cake or cupcakes the night before, wrap in plastic and let set overnight