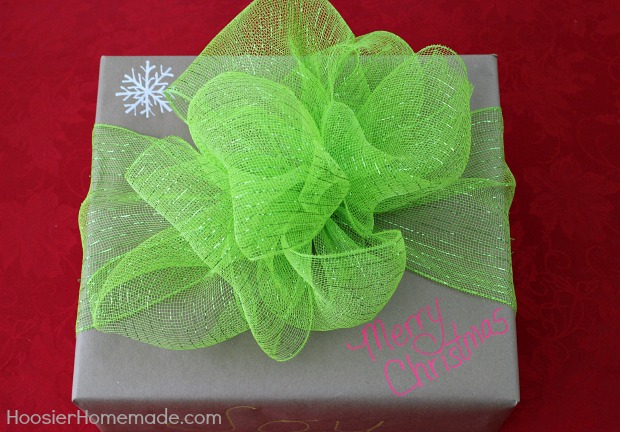 Not only receiving a beautiful wrapped present, but also giving them is a special part of the Holiday Season. Often though, wrapping a present can be time consuming, so today I am sharing several creative ways for you to wrap your Christmas gifts without spending a lot of time or money.
We have put together ideas for family members, women, kids, men and friends using unique details. And I created a video for you on How to Tie a Bow.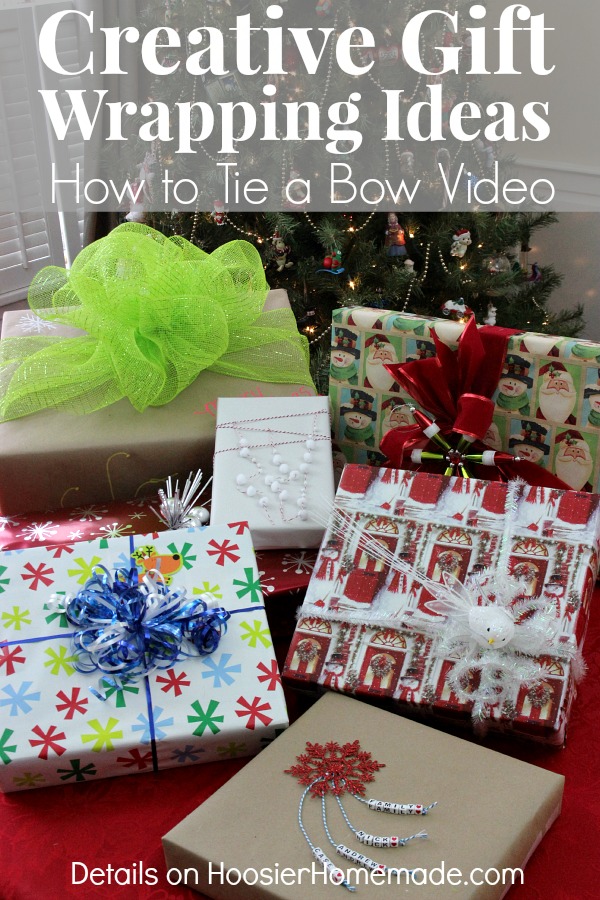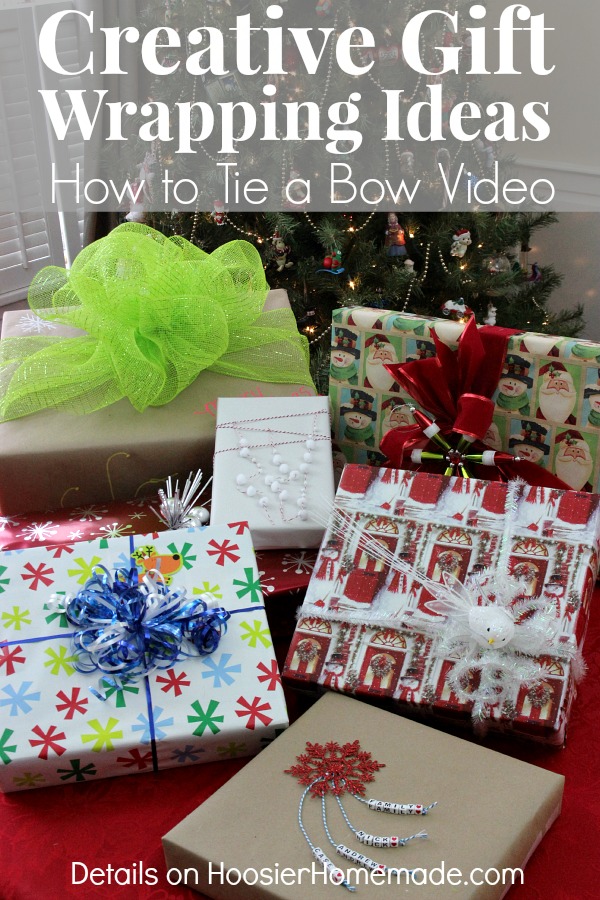 Who wouldn't love to receive one of these gifts? I know I would! We have a lot to cover, so let's get started.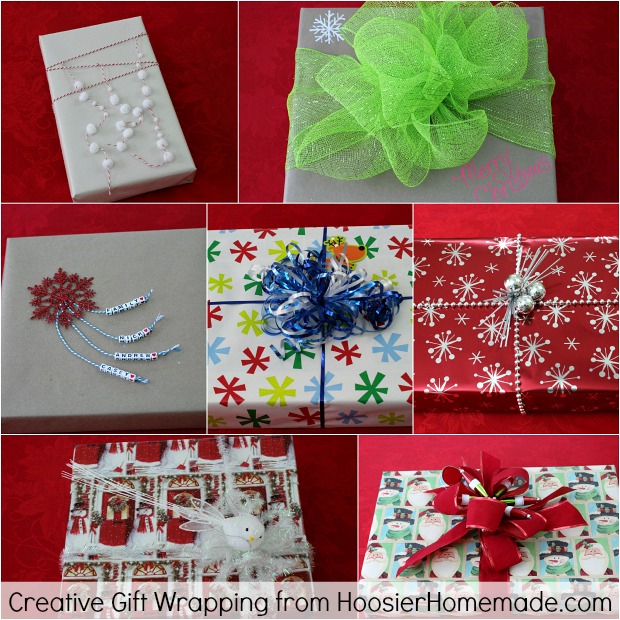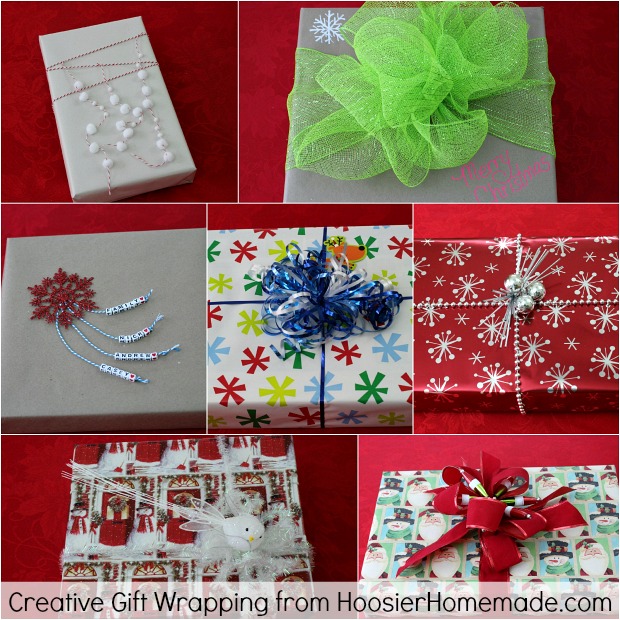 We headed to Walmart to gather all of our supplies…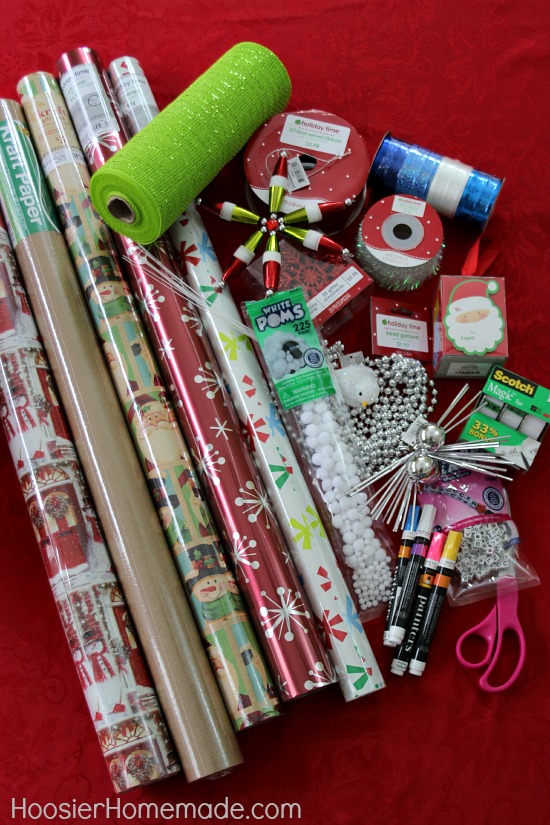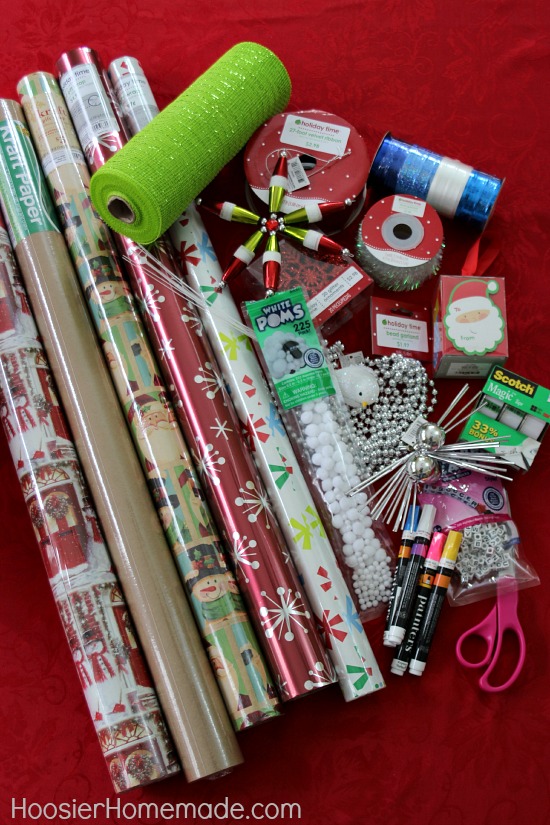 Creative Gift Wrapping Supplies
Gift Wrap – Walmart has a large variety of gift wrap, some rolls we found for as little as $.97 cents. And we also used craft paper
Ribbon – we used a traditional velvet ribbon, some curling ribbon but also found some Tinsel Garland that has wire in it, and Deco Mesh
Ornaments – we used a white bird and silver ornament that both have clips on them, and also a box of glitter ornaments
Beads – a package of silver beads
White Poms – found in the craft department (we used these for snow balls)
Alphabet Beads – found in the craft department
Paint Pens – found in the craft department
Tags – found near the wrapping paper (they have a HUGE selection of really cute tags)
Scissors and Tape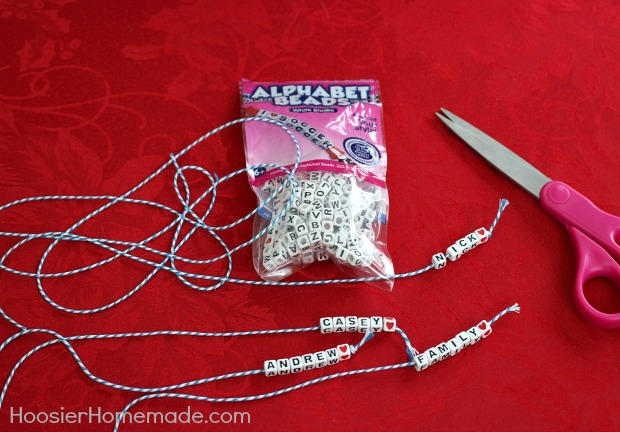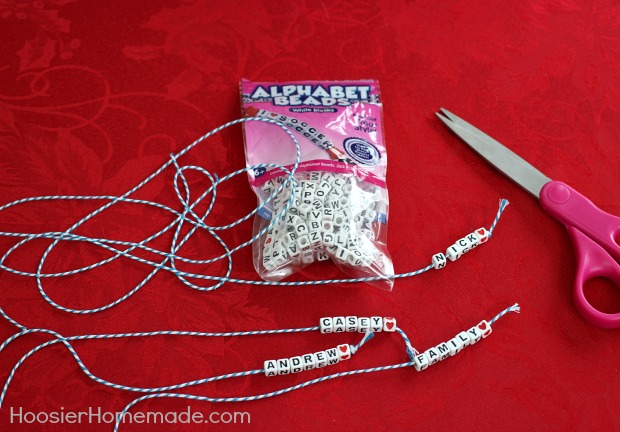 First we made the decorations. The Alphabet Beads make really cute tags. Thread them onto baker's twine or other thread, be sure to tie a knot onto one end first.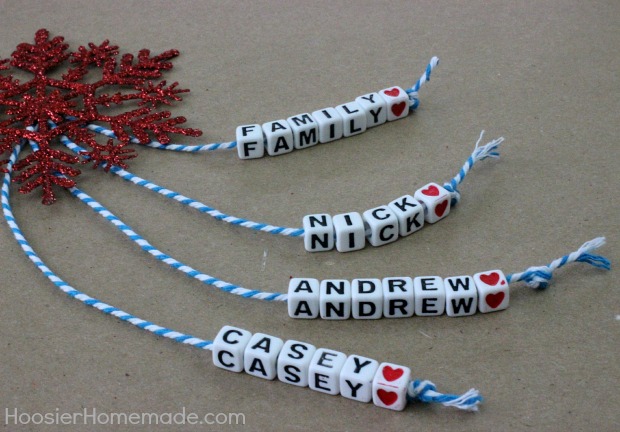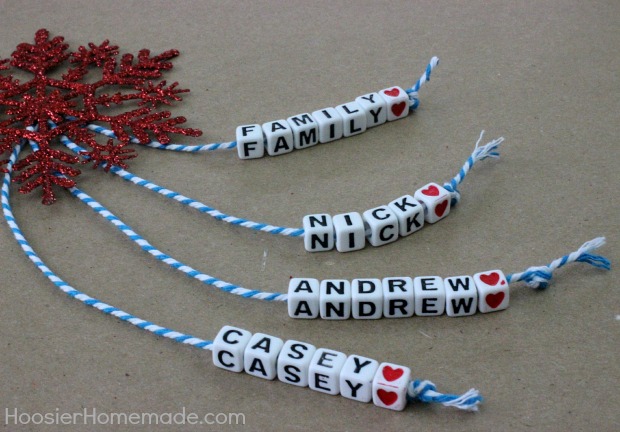 For the Gift – we wrapped the package in brown craft paper, then added the Alphabet Bead Tags and a Glitter Ornament on top.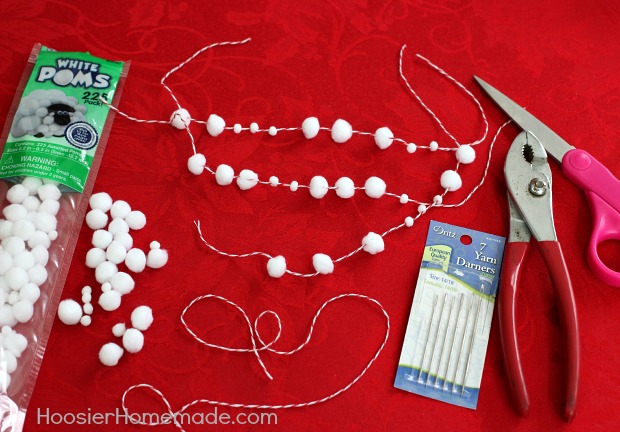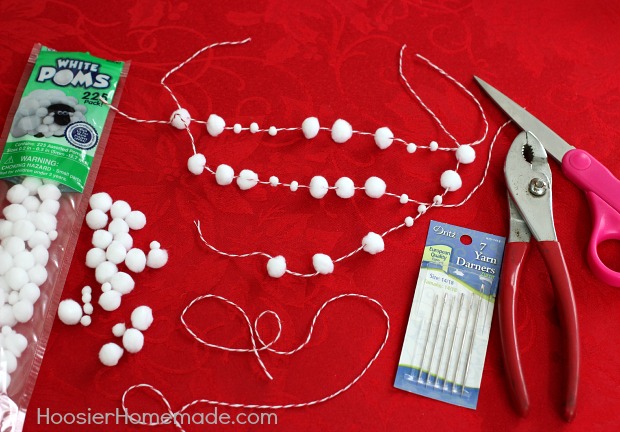 To make the Snow Balls – we used baker's twine and large yarn needle and threaded the Poms onto the twine. You may need to use pliers to pull the needle through on the small poms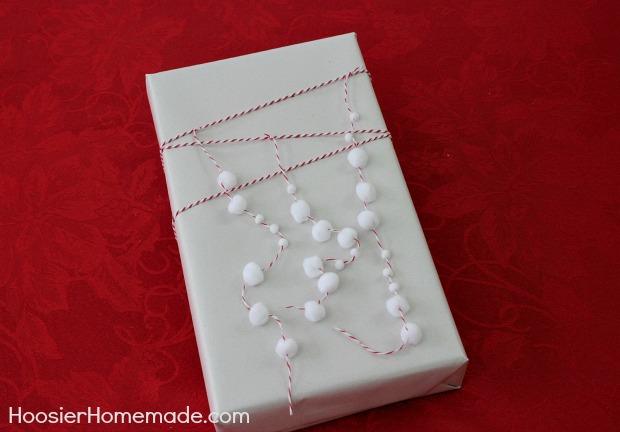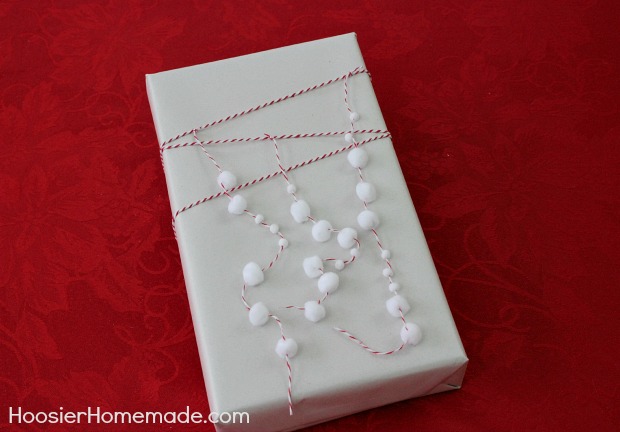 This gift was wrapped in white packing paper, available in the office supply area. Then baker's twine wrapped around and the Snow Ball Ribbons were tied on.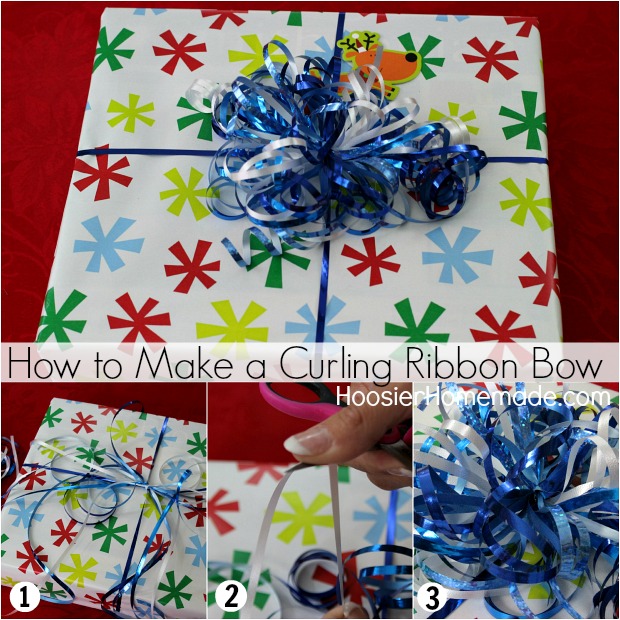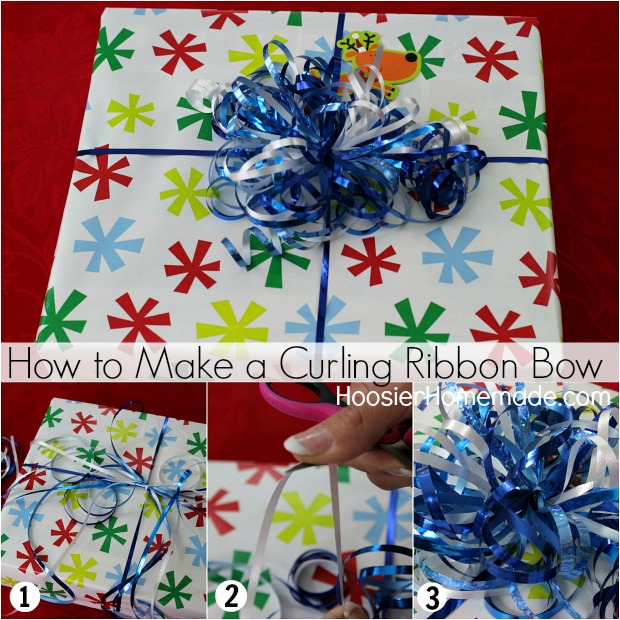 Curling Ribbon Bow
Tie several pieces of curling ribbon around the package
Then using small scissors, curl the ribbon
Tie a bow with the curling ribbon and add it on top of the curled ribbon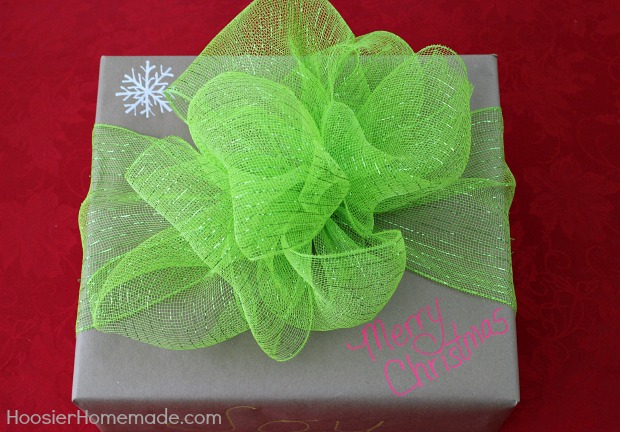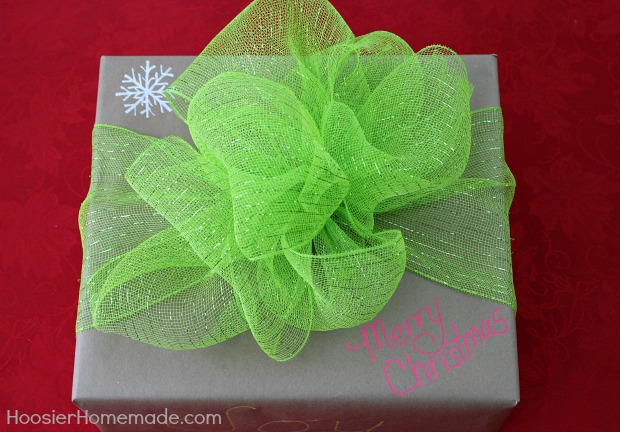 I love how the Deco Mesh Bow turned out. I wrapped the present in brown craft paper. Then tied a bow (see the video below) with Deco Mesh, it's available in lots of different colors. You can find it near the Christmas decorations and also in the Floral Department.
Then tie a piece of Deco Mesh around the present and add the bow.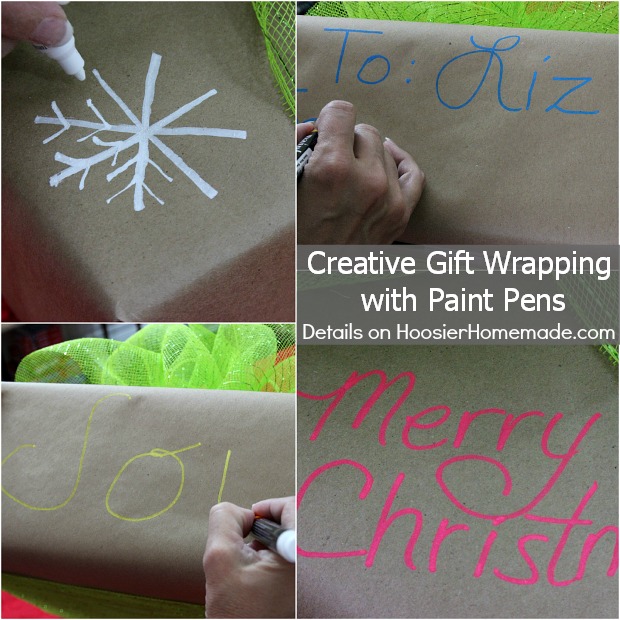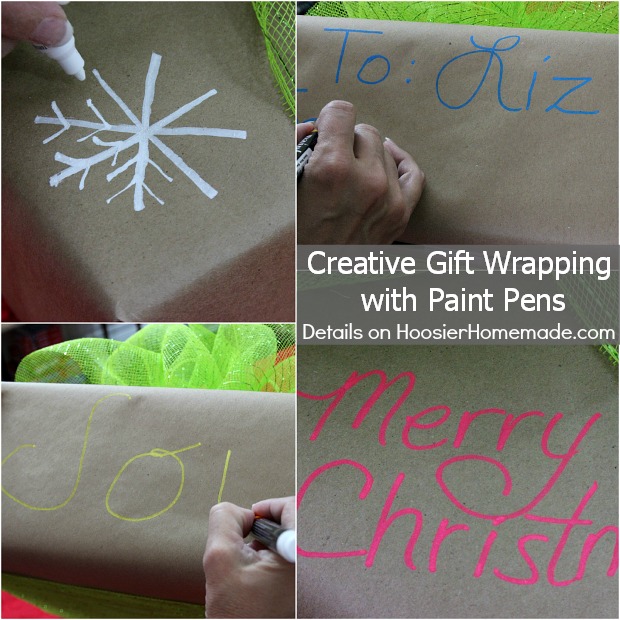 Next I added some color with Paint Pens. They are available in the Craft Department and come in lots of different colors.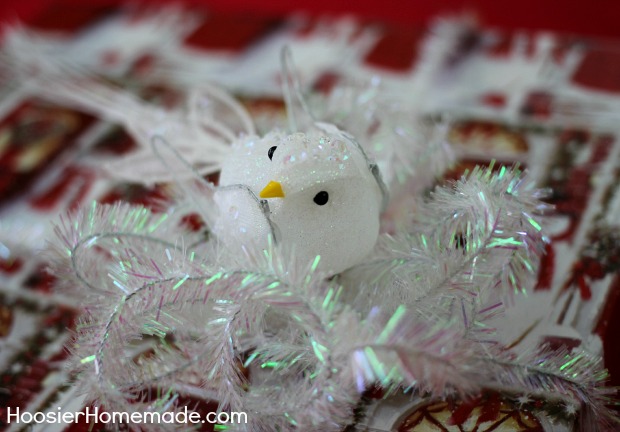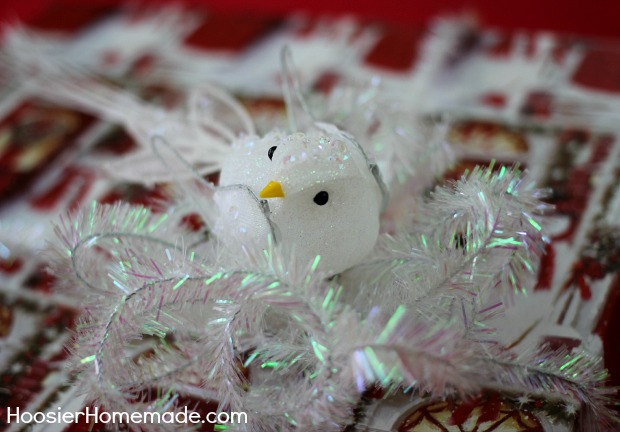 For this present, I used the Tinsel Garland and a White Bird Ornament. I found both in the Christmas decorations area. The Tinsel Garland was great to work with because it's wired. And the bird has a clip on it, making it super easy to attach to the garland.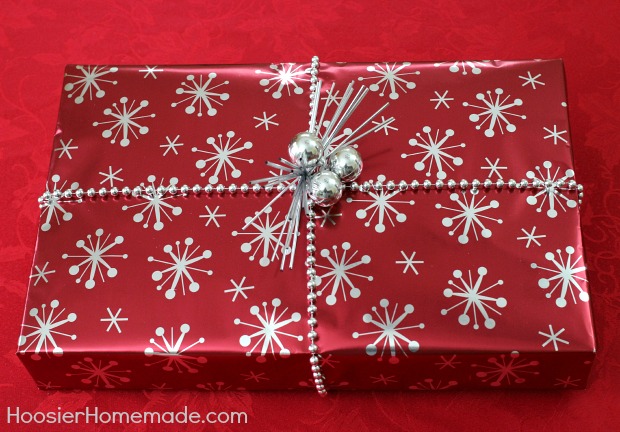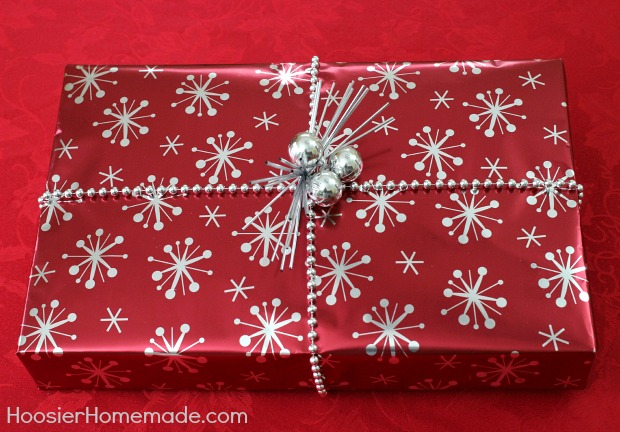 And for this present, I used Silver Beads that you normally string on the tree and also a Silver Ornament with a clip on it. I love how the spikes of the ornament match the wrapping paper.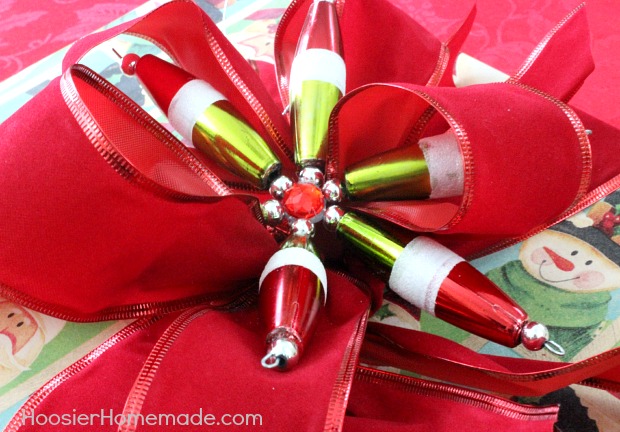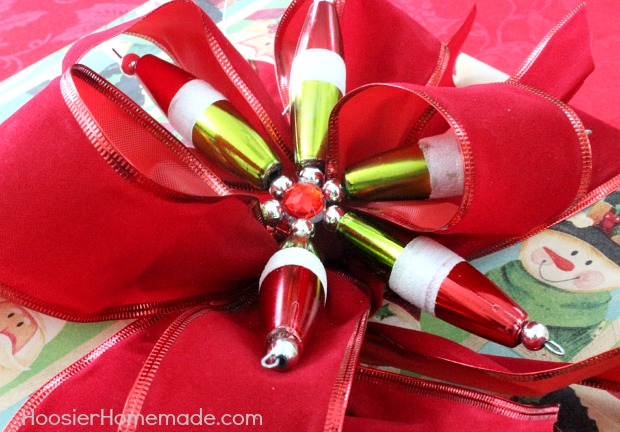 And last, we have the Velvet Bow with the Ornament added. Let me show you How to Tie a Bow…
My Mom was a Florist for 30+ years, so I had lots of practice helping her tie bows for arrangements as well as presents.
This same method will work for any ribbon. I used it to tie the bow with the curling ribbon and also the Deco Mesh Bow.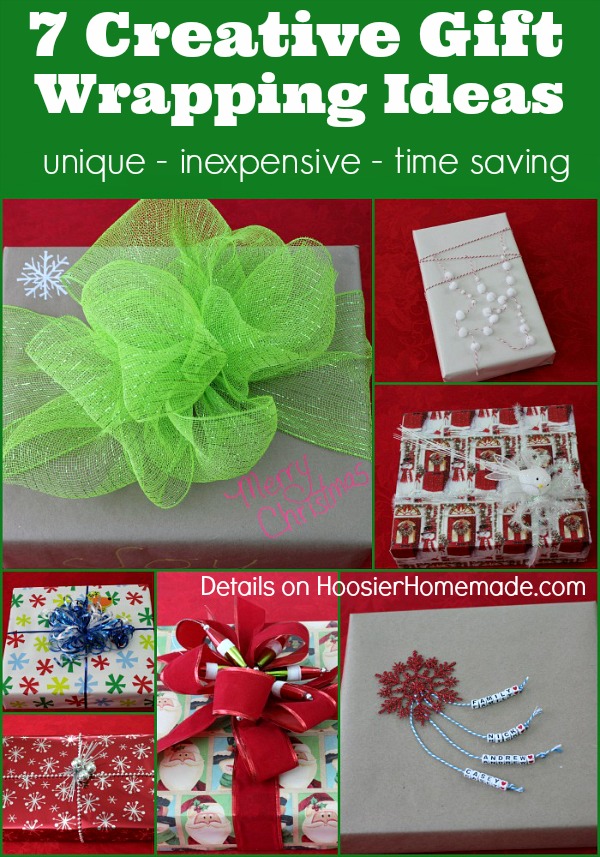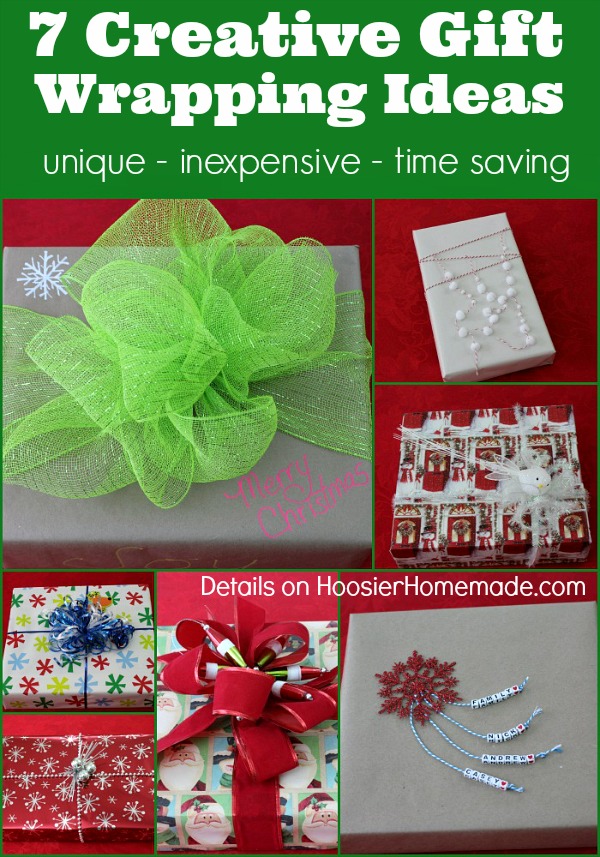 Do you have a favorite?