The buzz is in the air! You can feel the excitement growing as we get closer to Christmas. This Christmas Countdown Calendar will not only keep the kiddos occupied, but I bet it will be fun for you too!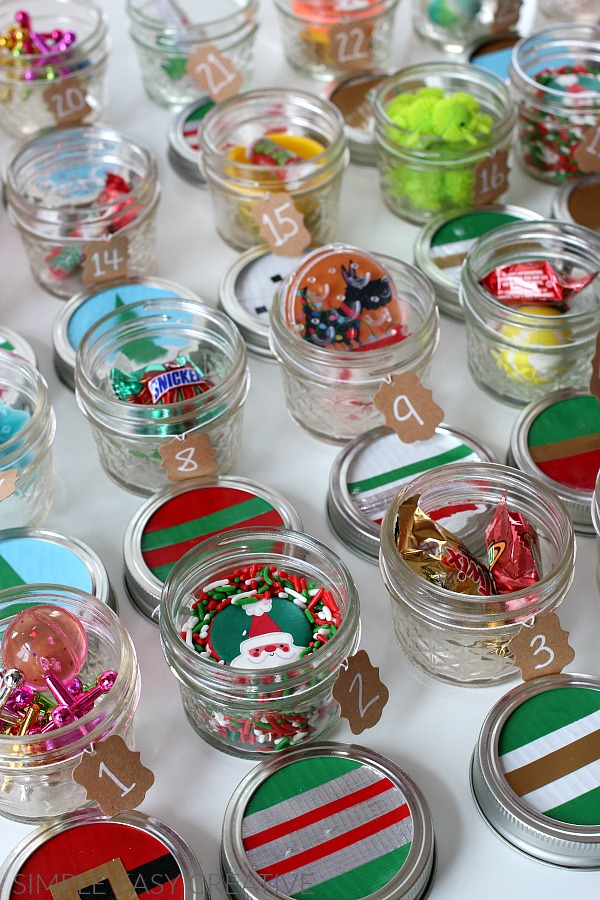 As parents, the anticipation of the Christmas holiday is exciting, yet a little exhausting if we are honest. We all love it, but then there is shopping, baking, cooking, wrapping, parties, and the list goes on and on. One thing I have learned over the years is to keep it simple and enjoy the time with the family, that really is what the holidays are all about.
Part of spending time together is creating fun projects, baking, and decorating the tree. If you don't have a Christmas countdown tradition, may I suggest you create one this year?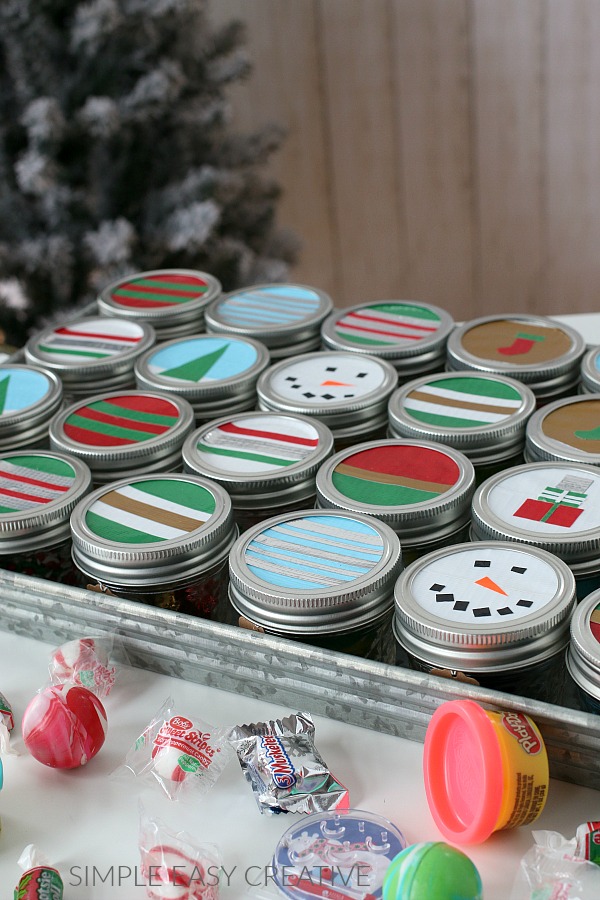 To create your own Countdown Calendar for Christmas, all you need are small mason jars, Duck Tape to decorate the lids and the treats for the jars.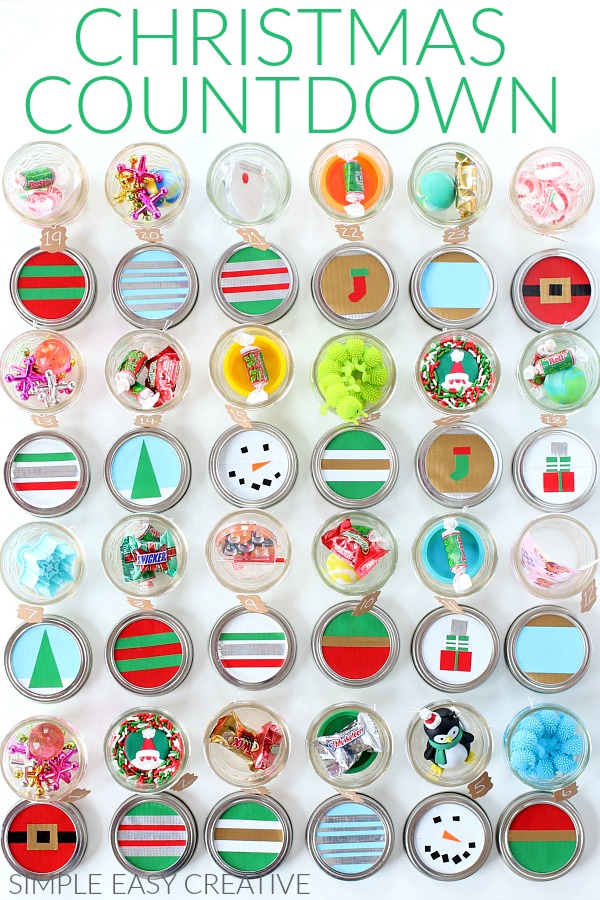 Each of the jars can be filled with whatever you like, to give you some ideas, here is what we added for the 24 days to countdown to Christmas –
Jacks and Ball toys
Let's bake cupcakes – mini cupcake liners and sprinkles
Candy
Playdough and candy
Squeeze toy key chain
Stretchy snake
Let's bake cookies – cookie cutter
Candy
Puzzle toy
Bouncy Ball and candy
Playdough and candy
Stickers
Jacks and Ball toys
Candy
Playdough and candy
Stretchy snack
Mini Cupcake Liners and Sprinkles
Bouncy Ball and candy
Candy
Jacks and Ball toys
Puzzle toy
Playdough and candy
Bouncy ball and candy
Peppermint Balls
Another fun idea for each jar is to add random acts of kindness, then gather the family each day and add kindness to your community.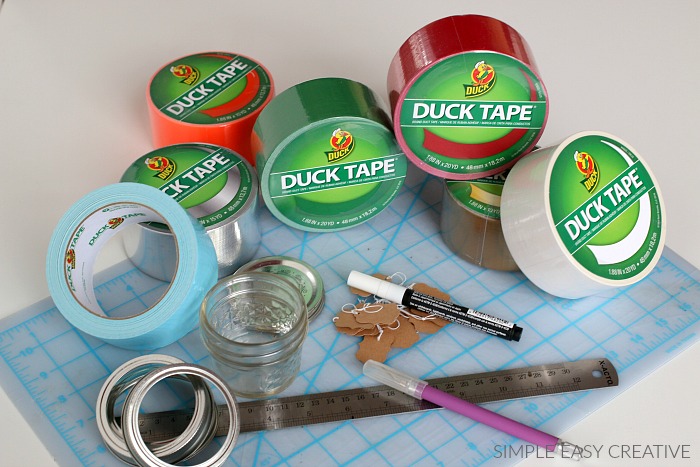 Christmas Countdown Calendar Supplies
Duck Tape in Christmas colors – red, green, gold, silver, white, plus blue and any other colors you want to use
Cutting Mat
Mason Jars with lids and rings – 4 ounce size worked great, or you can use a larger one
Ruler
X-ACTO Knife
Tags
Marker for tag numbers
Let's get started –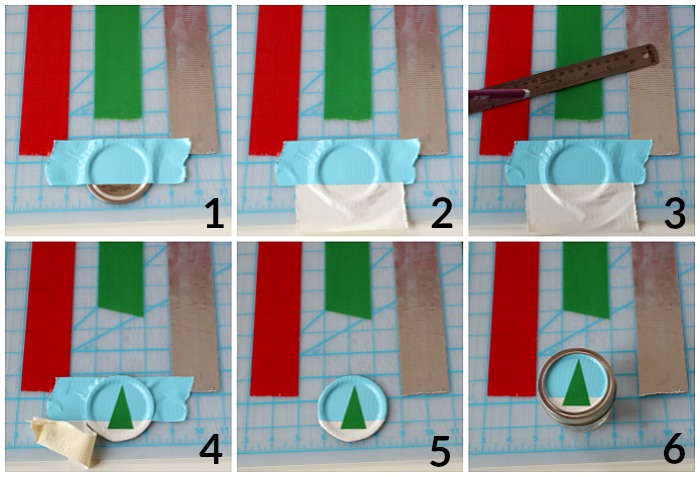 How to make a Christmas Countdown Calendar
Begin my putting several strips of Duck Tape onto a cutting mat. Then add a strip of tape across the lid
Add the next color of Duck Tape, being sure to meet the two piece together, don't overlap.
For the tree, cut the green Duck Tape into a triangle using a ruler and X-ACTO knife.
Add the tree to the lid, then cut off the excess tape
Smooth the tape around the edges, if necessary
Add the ring to the jar
We used 5 different designs – Santa, Snowman, Stocking, Tree and Presents and then filled in the rest with stripes. You can keep it as simple as you like or get detailed. The fun with this Countdown Calendar for Christmas is also in the making, let the kids pick out the designs. Be sure that you are doing the cutting though.
Each of the jars fit nicely into a tray. You could also add them to a basket or sit them on the counter.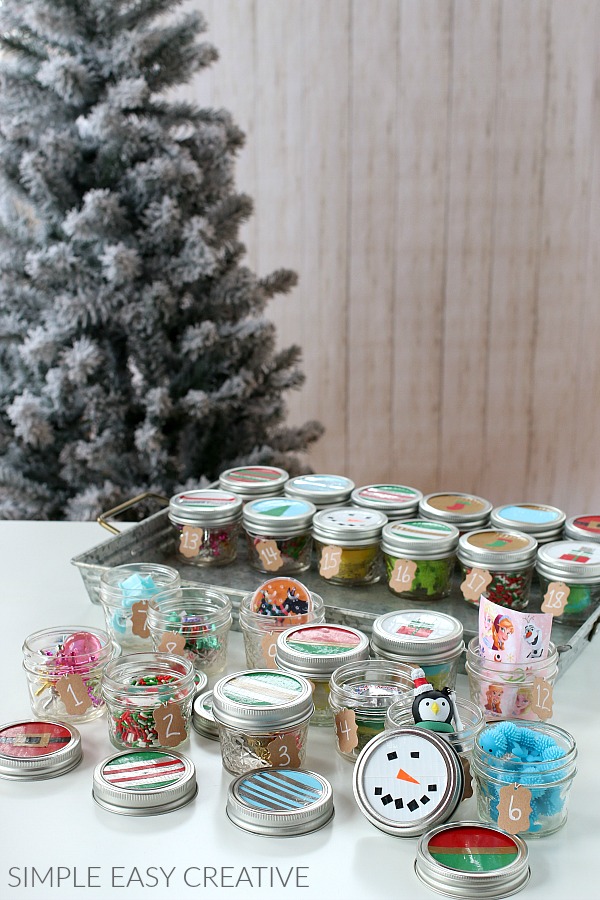 Follow Duck® Brand Tape on Pinterest, Facebook, Instagram and Twitter for more inspiration!
Are you ready for Christmas? Santa is counting down to the big day! Let the countdown begin –
[countdown]