Wall Decor Using Canvas Prints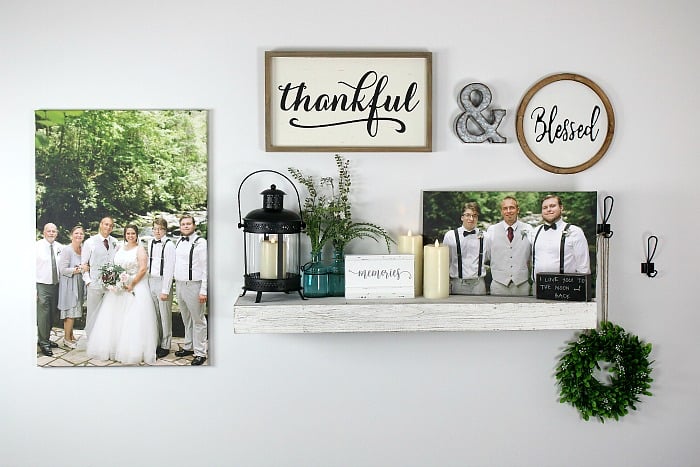 These simple wall decor ideas using canvas prints are sure to brighten up your home. Learn how to combine different textures and elements to make your space special and meaningful.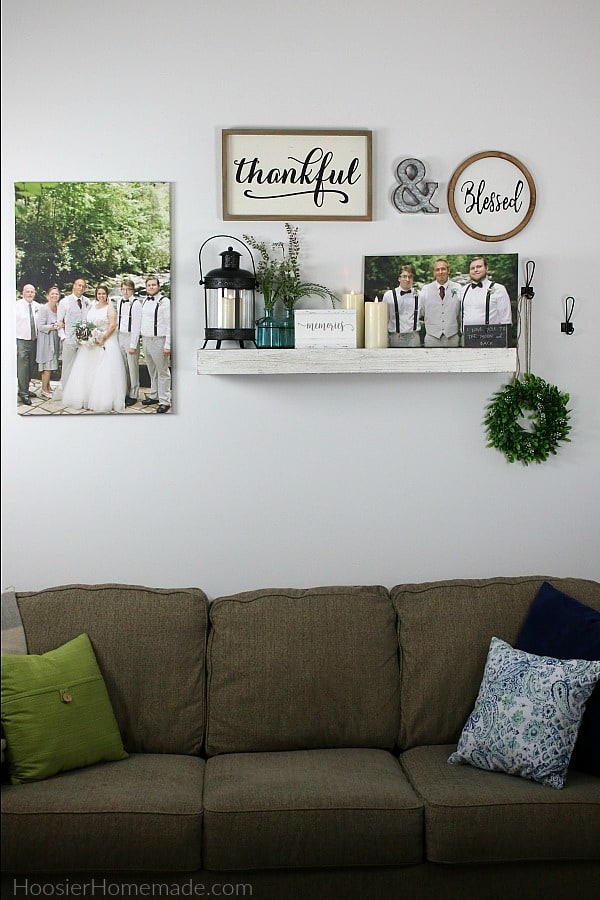 This post is brought to you by CanvasDiscount.com. As always, the opinions are my own.
After living in the same town I was born in for all my life, last Fall we moved to a new home in central Indiana. While I have wanted to jump right in and decorate the whole house, it's been a slow process. The Living Room is a spot where we gather as a family, watch TV and enjoy our time together, so I knew I wanted to bring in lots of elements that speak "family" to me.
In July, my middle son married his love in a gorgeous setting in Tennessee. It was breathtaking and I knew I wanted some photos as a daily reminder of this special time in all of our lives.
And that's where Canvas Prints came in. I had been thinking for awhile that hanging canvases would look great, so when they asked if I would like to use their services, I was really excited.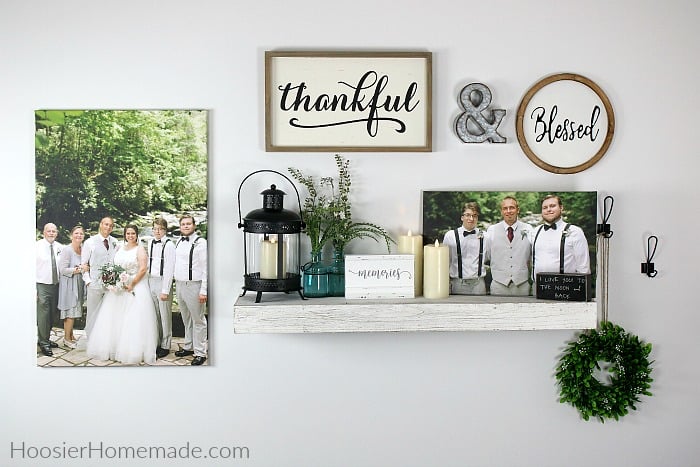 The addition of the canvases on the wall make this newly decorated space warm and cozy. Let's see where we started…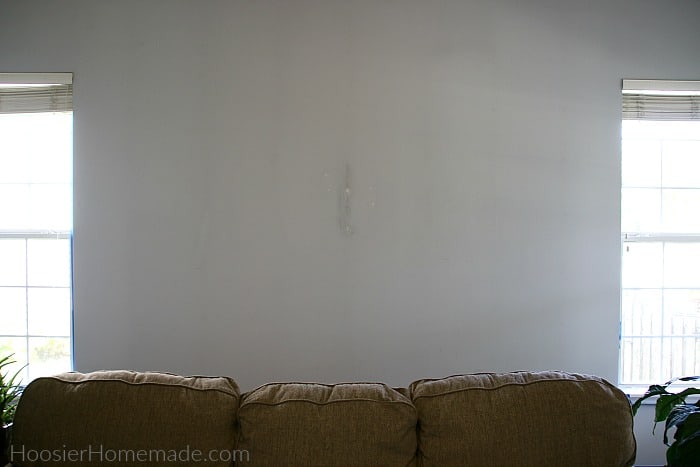 Many of the walls were a bit damaged and in need of painting. This main wall in the Living Room was one of the worst. My husband patched all the holes, sanded them and put two coats of paint on. We decided on a very light gray color for paint called Stone White. Sometimes it looks really white, and other times during the day it looks gray or even blue.
After the whole room was painted and ready, it was time to begin hanging the prints and the wall decorations. To make the placement really easy, we used a piece of painters tape to mark the spot to hang the canvas and the shelf.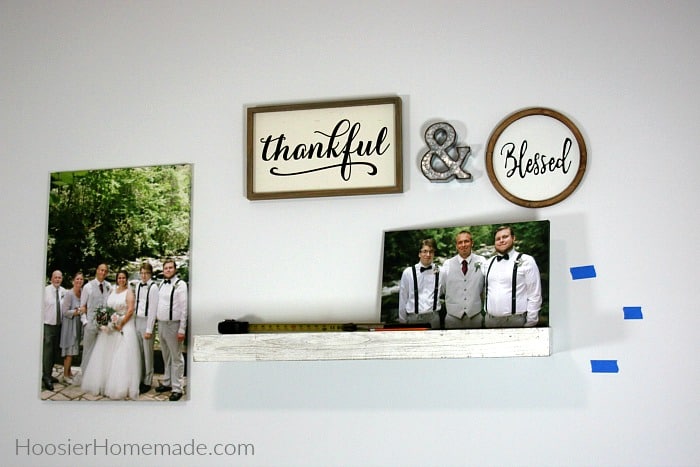 After the large print and the shelf were hung, then it was time to fill in around those core pieces. Also using the painters tape to mark the spot where the hooks would be hung.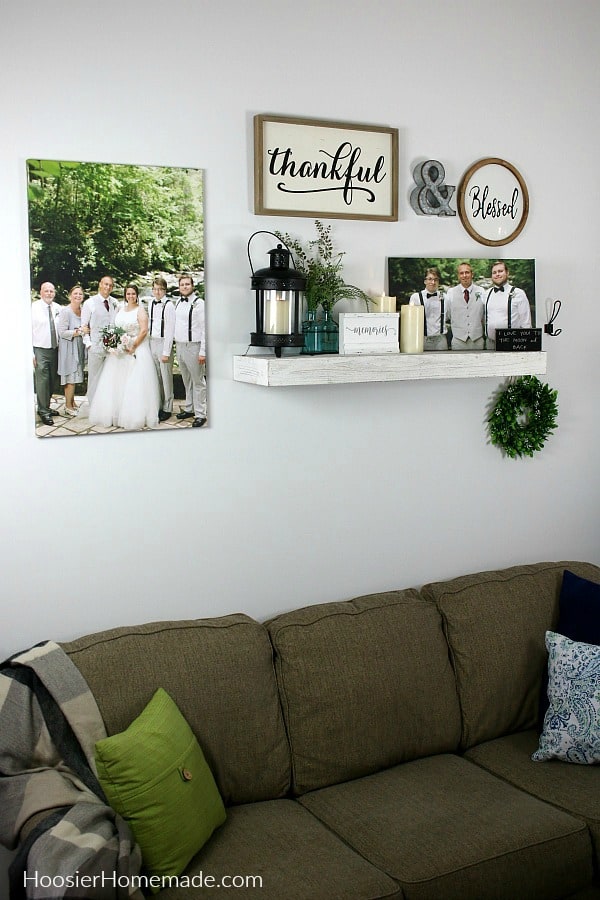 After all the main pieces were added, then it was time to add the rest of the smaller items. The lantern, candles, blue vases and small signs were all items that I already had.
I was honored to have my daughter-in-law ask me to arrange the wedding flowers for her. My Mom was a florist all her life, and I was blessed to have learned the skill from her. The greens in the vases are some of the pieces that were leftover. It's a reminder for me of my Mom, and also of me stretching myself to arrange the flowers.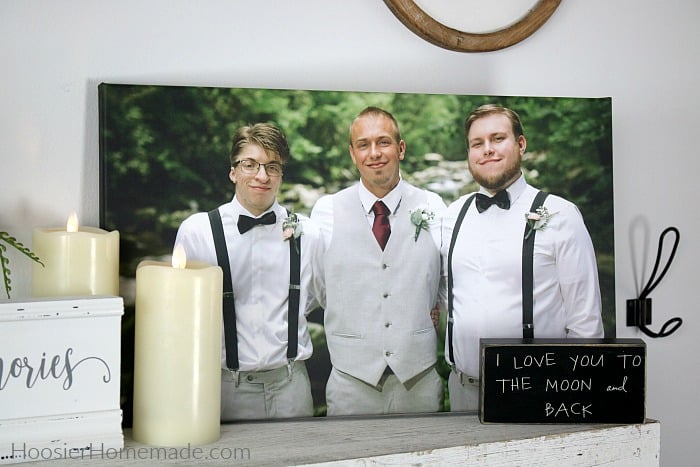 As a Mom to all boys, I find it often difficult to get photos of them, especially all together. I was so happy with this photo. They grow up way too fast!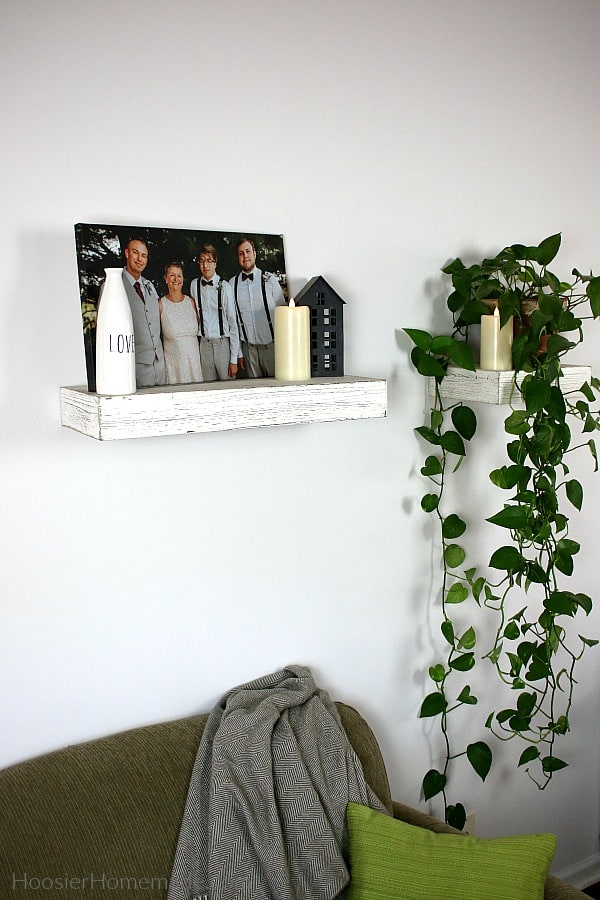 The opposite wall received an update as well. Since the wedding was in Tennessee, it was only for close friends and family. Then a couple weeks later, we had a reception for all of the kids' college friends, more family members and co-workers. This photo was taken at the reception. Somehow at the wedding, we missed getting a photo of just the four of us, so having one at the reception was a must.
The shelves match the one on the main wall, they are just shorter. The addition of the candles pulls together the items on the other shelf, and the vase with "love" on it says it all.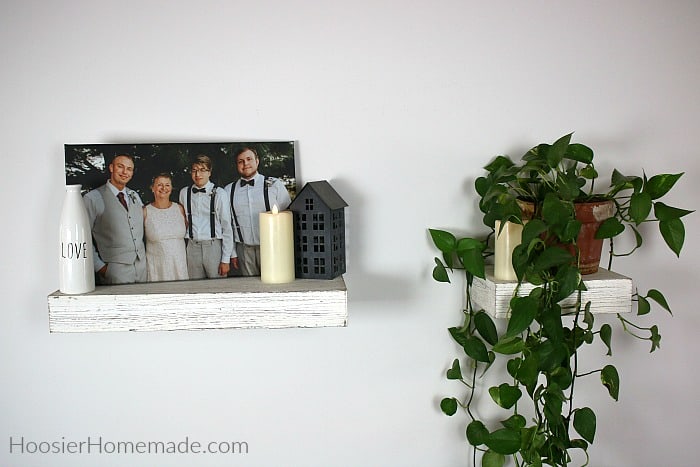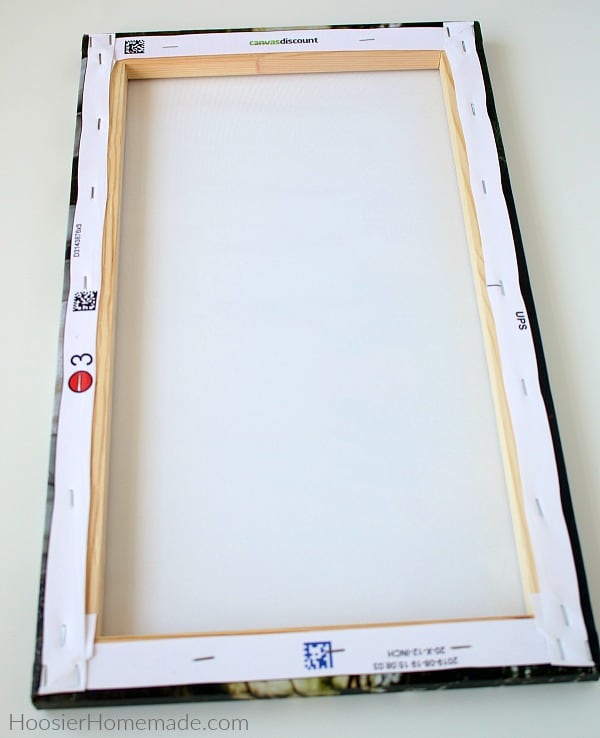 Ordering the canvas prints was super easy, they were shipped in less than 24 hours, and I had them in 3 days. They offer top-quality canvas prints made in the United States and a money-back guarantee. All orders over $70 are also shipped free.
Their canvas prints are also very reasonably priced and they regularly offer coupons as well.
CanvasDiscount.com is offering all my readers an additional 15% OFF to all already discounted canvas prints

Here is what you need to do to get your discount –
Click HERE
Choose a photo for your new canvas print
Upload your image to CanvasDiscount.com
Select size, edge thickness and frame design
Add an optional quote or other text
Proceed to checkout page and enter HOOSIERHOMEMADE to receive an additional 15% OFF
Place your order