Happy Cupcake Tuesday! I'm so excited you are here! Looking for a cupcake recipe? Be sure to check out the Cupcake Heaven page, there are over 200 cupcake recipes and decorating ideas!
Well…I had big plans for the Valentine's Cupcakes for today…and then it hit me! No, thank goodness not the flu…the dreaded…"can't decorate a cupcake for the life of me" day. Really…I tried at least 4 different decorations on top of these cupcakes, and nothing seemed to be going the right way.
However, I do love how they turned out, and most important is the recipe for Vanilla Cupcakes and Buttercream Frosting. The decorations can really be whatever you have on hand or pick up at the store.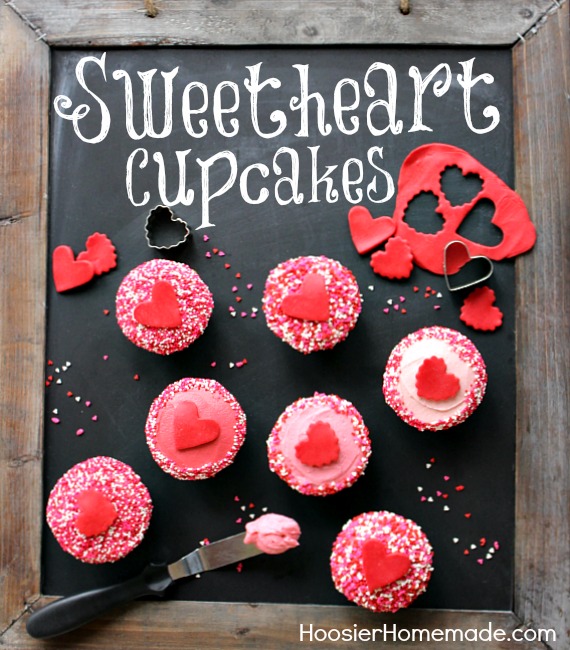 A few weeks back, after an email from a reader looking for my favorite Vanilla Cupcake Recipe, I decided I better start looking for a recipe that I could call my favorite. This recipe comes from Glorious Treats, she calls them Perfect Vanilla Cupcakes. And I will have to say, they are pretty good!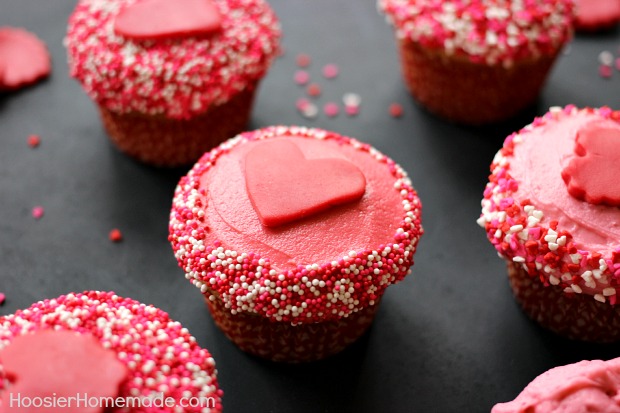 I followed Glory's recipe exactly, purchasing a new box of cake flour, which definitely does make a difference in baking. The only change I made was the vanilla, I used what I had on hand, and probably had I used a better quality vanilla, the taste would have been a little richer.
I frosted with homemade Buttercream, then rolled in Valentine's sprinkles and topped each cupcake with a simple red heart made with Candy Clay.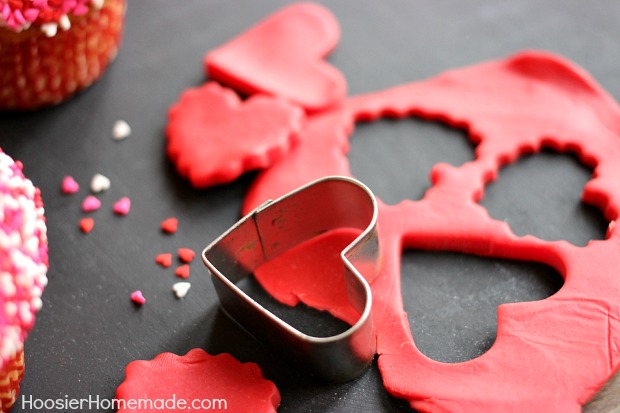 Candy Clay…a mixture of candy melts and corn syrup…is easy to make and super easy to roll out and work with. Oh and…it's delicious, not like fondant! Most recently I used it on the Notre Dame Cupcakes. You can grab the recipe and instructions for the Candy Clay.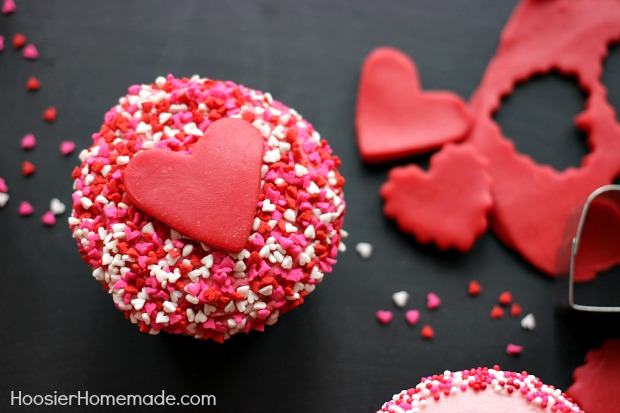 The micro heart sprinkles make me happy!
Yields 12 cupcakes
Vanilla Cupcake Recipe with Buttercream Frosting
A light and fluffy cupcake that stays together and doesn't crumble. Recipe from HoosierHomemade.com. Adapted from Glorious Treats
10 minPrep Time
14 minCook Time
Ingredients
Vanilla Cupcakes

1 1/4 cup cake flour, like Softasilk
1 1/4 teaspoons baking powder
1/2 teaspoon baking soda
1/2 teaspoon salt
2 eggs, room temp is best
3/4 cup sugar
1 1/2 teaspoons vanilla
1/2 cup oil
1/2 cup buttermilk {splash of vinegar in a measuring cup, fill with milk and let set for a couple minutes}

Buttercream Frosting

1 cup real butter, unsalted, room temp
4-5 cups powdered sugar
2 tablespoons heavy cream or milk
1 teaspoon vanilla
Instructions
Cupcakes

Preheat oven to 350 degrees and fill pan with cupcake liners
Whisk together flour, baking powder, soda and salt. Set aside
In a large bowl, beat the eggs, add sugar and continue beating for about 30 seconds
Add oil and vanilla and beat well
Gradually add dry ingredients alternating with buttermilk
Beat until well combined, batter will be thin
Divide into cupcake liners, 2/3 full - be careful NOT to overfill
Bake for 12-14 minutes or until a toothpick inserted in the center comes out clean
Cool completely and frost

Buttercream Frosting

Beat butter until fluffy
Gradually add powdered sugar, alternating with heavy cream and vanilla
Whip until fluffy and desired consistency
Frost cooled cupcakes
Notes
Recipe only makes 12 cupcakes, can be doubled easily
http://hoosierhomemade.com/valentines-cupcakes-vanilla-cupcake-recipe-with-buttercream-frosting/
Resources:
Original recipe from Glorious Treats
Valentine Cupcake Liners from Hobby Lobby