Pumpkin is one of the most popular Fall flavors. I love pumpkin flavored baked treats! Pumpkin Bread is my all time favorite though. Followed closely behind are these Mini Pumpkin Whoopie Pies.
The flavor options are endless for Whoopie Pies, today we are creating these Pumpkin Whoopie Pies from a cake mix.
Creating and serving mini treats is perfect – whether you are wanting just a small bite of something sweet after dinner or making them easy for little hands to hold.
These Mini Pumpkin Whoopie Pies were part of our Fall Party for Kids. The adults will love them just as much as the kids though. In fact, did you know that the Whoopie Pie name is known to come from farmers finding the treats in their lunch, they would shout "Whoopie!" It is thought that the original Whoopie Pies may have been made from cake batter leftovers, which makes perfect sense to start with a cake mix to make them.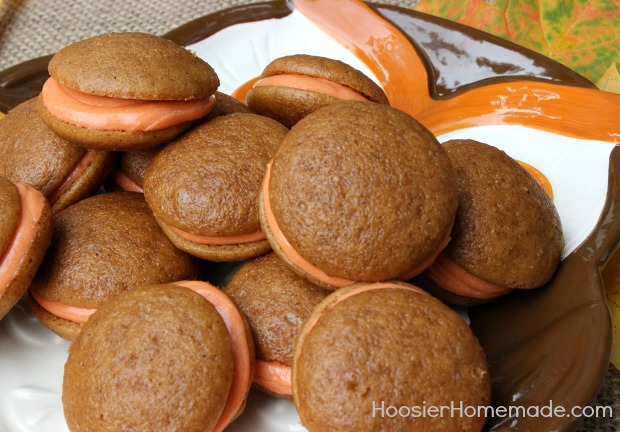 Making Whoopie Pies from a cake mix is super easy, these Pumpkin Whoopie Pies started with the new limited edition Duncan Hines Pumpkin Spice Cupcake. The mix even comes with the frosting to fill the center of the whoopie pies and a bag for piping.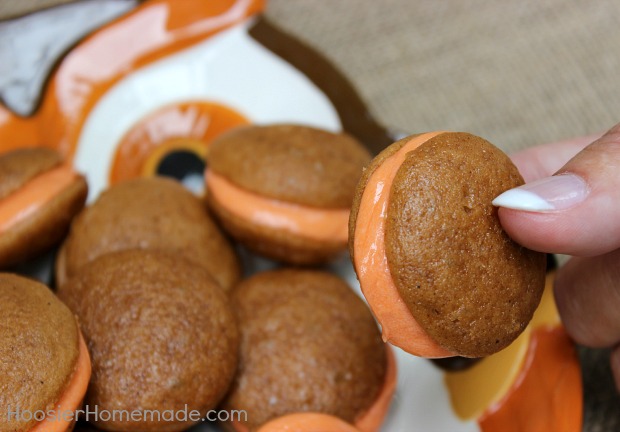 Mini Pumpkin Whoopie Pies
Easy Whoopie Pies made from a cake mix. Recipe on HoosierHomemade.,com
Serves:
25-30 mini whoopie pies
Ingredients
1 Duncan Hines Pumpkin Spice Cupcake Mix or other pumpkin mix
1 small box instant butterscotch pudding
½ cup flour {you may need a little more if the cookies are flat}
⅓ cup oil
3 large eggs
1 cup water
Instructions
Preheat oven to 350 degrees
Spray cookie sheet with non-stick cooking spray
In a large bowl, add all cake ingredients, mix well
To make small pies, fit a decorator bag with a large round tip or resealable baggie and fill with cake batter. Pipe a small circle onto cookie sheet.
Run an offset spatula under hot water and smooth the top of the cookie if necessary
Bake at 350 degrees for about 7-8 minutes, depending on size of cookie you made need to bake longer
When cookies are firm but soft to the touch, they are done. You can also test with a toothpick.
Cool completely
Frosting
Combine frosting mix from the Pumpkin Spice Cupcake Mix according to directions on box.
Fill decorator bag or resealable baggie and pipe on frosting to the bottom of cookie, top with another