Valentine's Day is this weekend. Do you have your gifts ready? If not, here is a fun idea that I started doing for my boys many, many years ago.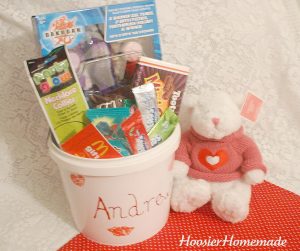 Love Buckets! I started with white paint buckets, you can buy them at Walmart for around $2, then I used a bottle of paint, the kind you can use on fabric, to write their name on the bucket. Then using rubber stamps and paint, I randomly painted XOXO's, lips and hearts on the bucket.
Then, fill it with everything that your special sweetie loves. You can buy toys and candy, or even head to the Dollar Store for some small items. A card game, book or puzzle are great ideas too.
I have done both, typically buying a small toy and candy. My oldest son, collects Pez, so I usually include a new Pez dispenser or two. My middle son likes sports, some gifts I have bought for him are new baseballs, or a sports magazine. My youngest son loves trading cards and books.
When they were younger, I cut hearts out of construction paper and wrote some heartfelt words on them like…
You are perfect
Love is sweet
You are so cute
I love you to the Moon and back
I'm proud of you
You are the best
You're #1
You are a GREAT kid
Smile
I love you
The list goes on.
I used 3 different colors, then laid them out on the floor to lead to the bucket.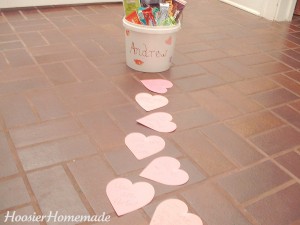 Last week I hosted my first Valentine Linky Party. It was so much fun! I loved seeing all the awesome Valentine ideas and yummy treats! I was thrilled to have 32 bloggers link up and also have 45 comments. Thanks to everyone who entered. If you missed it, please take a minute to visit some of the great posts, the ideas can very easily be used for other holidays, as well as Valentine's Day (you still have a few days left) 🙂
And the winners are…
Congrats to all the winners! Please email me your address so I can have the goodies sent to you.
This post linked to:
~Friday Linky hosted by The Inspired Room
~Show and Tell hosted by My Romantic Home
~Finer Things Friday hosted by The Finer Things in Life
~Transformation Thursday hosted by The Shabby Chic Cottage
~Crafty Thursday hosted by Life as Lori
~DIY Day hosted by A Soft Place to Land
~Works For Me Wednesday hosted by We Are THAT Family