NCAA Football '13 is the latest installment in EA's 20 year old franchise. This yearly renewed franchise emphasizes realism and immersion into the world of college football, in the style of ESPN.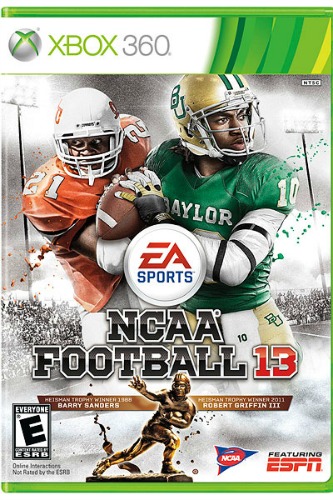 If your family loves football, this game is sure to be a hit. Here are the key features…
Heisman Challenge—Win it for your school as you play as one of 10 former Heisman Trophy winners under center, in the backfield, or split wide, see if you can utilize his legendary skills for your favorite college team in a quest to match his award-winning historical performances and win the Heisman Trophy once again.
An All-New Passing Game—A revolutionary passing system brings added authenticity to the Quarterback position from ball trajectory to play action pass to the option. Enhanced receiver control puts you in position to make a play on the ball and new read and react defensive coverage delivers greater realism on the gridiron.
Reaction Time—Great players see and feel the game differently. With Reaction Time, the game slows down during key moments, increasing your on-field awareness and opening up more opportunities as you sense things before they happen.
Dynamic Dynasty—Recruiting goes deeper than ever with the addition of dynamic recruiting pitches. For the first time ever, your recruiting grades can change each week based on your performance in Dynasty mode. In addition, Gameday Saturdays come to life with live studio updates and enhanced commentary by Rece Davis.
And as far as actual gameplay goes, they hit that feeling pretty well with some fine tuned gameplay. It's getting to the game that's the difficult part.
Let's start with the bad stuff first. The main issue is the menus. They find that middle ground between intricate and simplistic, but in all the wrong ways.  The menus seem just clunky enough to not be a total eyesore, yet they don't have enough going for them to be visually interesting. That is but a minor gripe when compared to how they work. Menus will take some time to load, and even when they do they often become jittery and stutter often. This wouldn't be so bad if the game didn't feature a mode that is menu reliant. Looking through statistics and recruitments quickly becomes a chore.
When you drag your way through the menus, however, inside is a game worthy of any football fan. The gameplay feels great, save for a few hiccups. A lot of the times that you receive an interception it feels as though it's through luck instead of skill. Other than that, passes feel great, rushes are fun,  and everything works together nicely. There are a few graphical errors occur on the sidelines, mostly with the fans, but that's not what everyone came for. They came for fun and immersive football, and in that way NCAA '13 delivers. The only bad parts are the menu navigation and the lack of new content. The Heisman mode is a new and quite fun mode, but with only 10 players to start with, it seems the game is skimping on content. For players who play each installment this becomes a problem. But on its own this game stands as a good football game. You just have to dig a bit to find it. I give it a rating of 5.5 out of 10.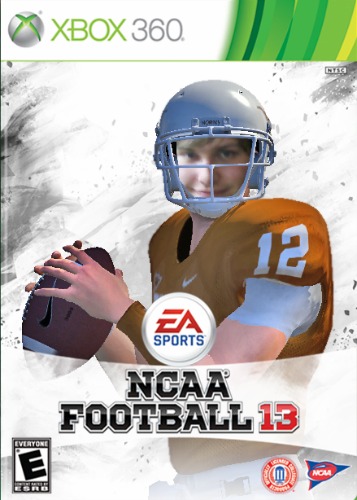 One of the areas the game does best is make you feel like a star. From stepping into the shoes of a Heisman winner, to coaching your way to victory, this game excels at making you the star. And Walmart has the app to build on that feeling.
Create your own NCAA Football Cover
Head over to the Walmart Facebook App
There you can alter the cover of the game so that you are the star player. Just pick your console, your team, and your photo for editing. Place and adjust your photo and you're ready to go.
You can then share it with your friends, then print it out at home or at Walmart. If you choose to print at Walmart, you'll be taken to the Walmart Photo Center page where you'll be given a code to print your custom cover at your local Walmart.
Finally go to your local Walmart to pick up your free 5×7 photo. Place it in the sleeve of your case and bam! You're covered as an all star!

Disclosure: This post is part of a campaign I am participating in with the Walmart Moms. Walmart has provided me with compensation and product for this post. My participation is voluntary and opinions, as always are my own.