Clorox Icktionary: Crud Cozie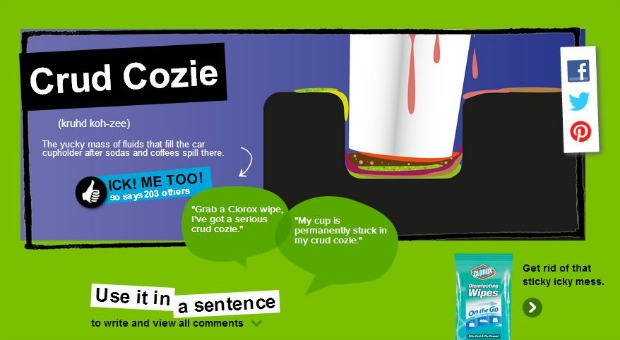 As a mother of three, there are always a countless number of messes around the house and the car. Everywhere I turn I am encountered with more grim and goo. But one of the worst messes is that mess in the car.
We all know that grim in the cup holders of our cars. We are never sure what it is from; liquid from spilled drinks, dirt blown in the window, and sometimes even some change or a pair of ear rings get stuck in the cup holder.
Clorox® Ick-tionary™ has given names to many of the gross things that life throws at us and adds definitions them. Whether you have toddlers or teens, or pets, you are sure to get a chuckle from some of the Ick-tionary terms.  
Over the years I have learned how to stay on top of most of the messes in the house, but the car seems to always get away from me. I think maybe because once we leave the car, it's forgotten, until the next time we jump in to head to the store and there is an icky mess in the cup holder.
The Clorox® Ick-tionary™  calls this mysterious goo the Crud Cozie (kruhd koh-zee) or a yucky mess of fluids that fill the car cup holder after sodas and coffees spill there.

Tell me about one of your back-to-school ick moments for a chance to win $250 from Clorox! Visit www.icktionary.com to learn the new language for ick and how Clorox® cleaning and laundry products can help you tackle the next icky situation in your home, play games and win coupons while supplies last!
 
This post is brought to you by The Clorox Company.  I have partnered with them to spread the word about Clorox's Ick-tionary program. To share Ick-tionary terms and real life messes, visit [www.icktionary.com].  All opinions and stories are my own.