I just found a couple good deals at Walgreens this week.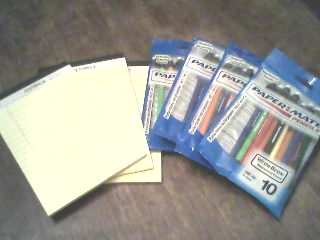 The mechanical pencils were only $.39 per bag. I probably should have bought more, since my boys seem to eat them during the school year.
And the legal pads were 3 for $1.00, another good deal. Wish I would have had some Register Rewards, I would have done even better. But, I did save $9.81.
Total Spent  $2.74
For more great deals, please visit:
~Super Savings Saturday hosted by Money Saving Mom
~Walgreens Deals of the Week hosted by Deal Seeking Mom
~Mission Possible hosted by A Virtuous Woman
~Walgreens $5 Challenge hosted by Kingdom First Mom