I had such fun decorating and sharing my Winter Mantle with you, and with all the great posts in blogsphere with Valentine decorations, I got inspired to decorate my mantle for Valentine's Day.
You all know, if you have visited my blog before, how much I love decorating, especially for the holidays.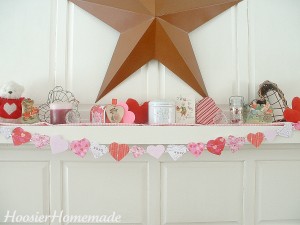 In the next week or so, I will be sharing lots of decorating, crafting and baking goodies for Valentine's Day. Be sure to subscribe so you don't miss the fun

Be sure to mark your calendar, I'm having a Valentine Linky Party on February 1st. Bring your best ideas for Valentine Baking, Decorating, Dates or Fun for the Kids. And there will be some awesome giveaways too!
Now, onto the Valentine Mantle…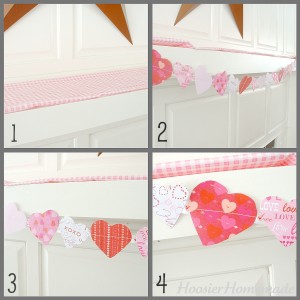 I started with a pink gingham piece of fabric (like I used on the Wnter Mantle) with so much white on the Mantle and shelves around it, I like to start with color
Then I added the heart garland, stay tuned, I will share the DIY on Sunday for it
Another look
Even closer look
If you can't wait for the DIY or don't have time to make a garland, hop on over to my Etsy shop and grab one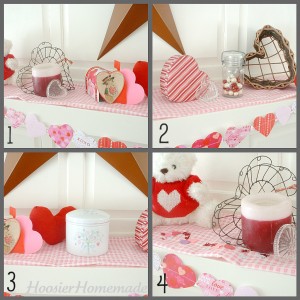 I gathered all my Valentine decorations and started adding, I started with the ends, I always put the largest pieces on the ends for balance
The other end
Then a medium size piece in the middle
I like mixing textures, the bear, a wire heart basket, a candle and a crystal heart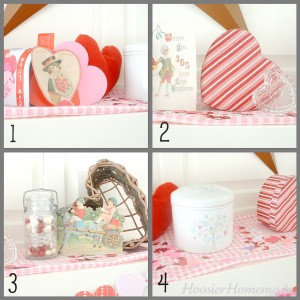 Then I start filling in with smaller items, here is my $1 Target mailbox (DIY coming soon) that I decorated and filled with hearts and a vintage Valentine
Another vintage Valentine, a striped heart box and the other crystal heart
A heart basket, a jar that I filled with white, red and crystal beads and my favorite vintage Valentine
Then I sprinkled Valentine confetti for a final touch
This was once again, another frugal decorating project (my favorite kind). I had all the decorations, except the mailbox ($1) and the scrapbook paper for the garland ($1 at Target, only used about half, .50).
Do you decorate for Valentine's Day? Share your favorite Valentine frugal tip with us!
This post linked to:
~DIY hosted by Funky Junk Interiors
~Linky Party hosted by The Inspired Room
~Show and Tell hosted by My Romantic Home
~Frugal Friday hosted by Life As Mom
~Finer Things Friday hosted by The Finer Things in Life
~Mantle Party hosted by The Stories of A to Z
~Frugalicious Friday hosted by Finding Fabulous
~Creative Cats hosted by Poppies at Play
~Transformation Thursday hosted by The Shabby Chic Cottage
~Crafty Thursday hosted by Life as Lori